The Turf Club Bar & Grill: It's Available Last Minute but Is It Any Good?
Know Before You Go
The Turf Club Bar & Grill is located at the Saratoga Springs Resort, and is only open for dinner. Appetizers range from $9-22, entrees from $23 to $36, and desserts are all around $8. A full three-course meal will run you about $50-$55 on average, not including drinks or gratuities.
Reservations are accepted, and are usually available only a few days (or hours) in advance. The dress code is casual: feel free to wear whatever you've got on from your day in the parks.
Preludes
Bread Service
The bread service was a slightly cheesy, herby roll that was served with herbed butter. Soft and quite delicious.

Mocktails
Grapefruit Spritzer – $5.49
Ruby Red Grapefruit and Lime Juices topped with Soda Water
Sparkling No-jito – $4.99
Lime Juice, Pure Cane Sugar, and Mint topped with Soda Water
Raspberry Sparkling No-jito – $4.99
No-jito (above) with added raspberry puree and raspberry garnish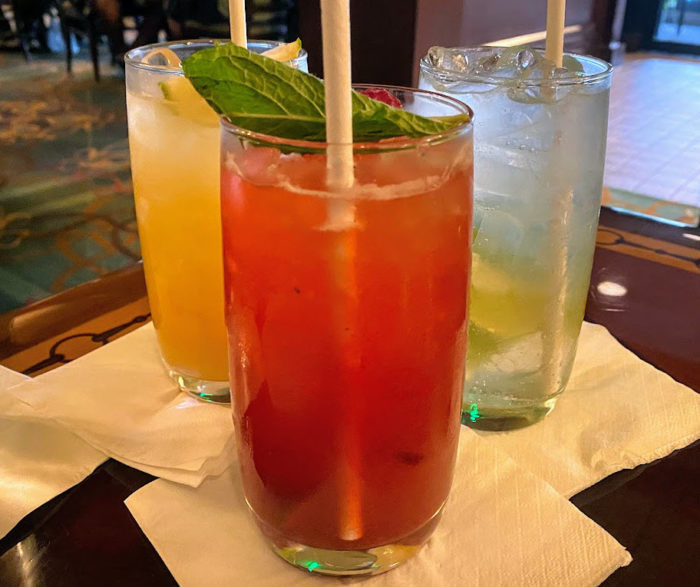 Reactions to this trio of zero-proof cocktails were mixed. The Grapefruit Spritzer was good, but unsweetened; the grapefruit fans loved it but it was quite sour and not to everyone's taste. The Raspberry Sparkling No-jito was the sweetest, with the flavor of raspberry very prominent, but I still wouldn't call it sweet. The Sparkling No-jito had the least distinct flavor: refreshing but not forward just like its namesake. Adults will mostly like these, but don't mistake them for kids' drinks.
Appetizers
French Onion Soup – $9
Caramelized Onions, Rich Beef Broth, melted Fontina and Gruyère cheeses with House-made Brioche Crouton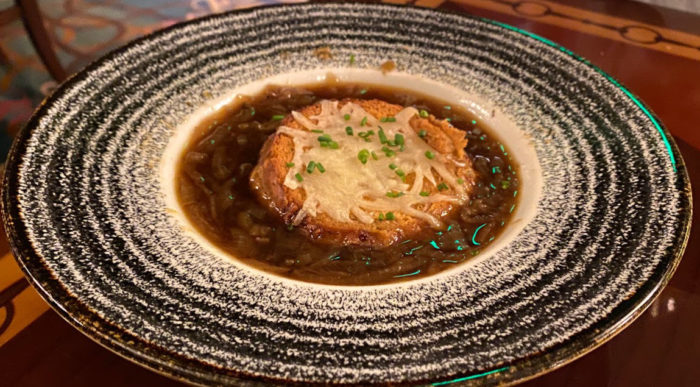 If you're looking for the blanket of melty cheese you'll be disappointed as there is just a sprinkling on top of the crouton. But the onions are well caramelized, almost to the point of bitterness but not quite, and the flavor is deep and rich without being overly salty as onion soup can often be. If you're a fan of onion soup and the cheese lid isn't a must-have, this is a good pick.
Fritto Misto – $16
Tempura-battered Calamari, Shrimp, Broccolini, Green Beans, and Pepperoncini served with Spicy Marinara Sauce and Garlic Aïoli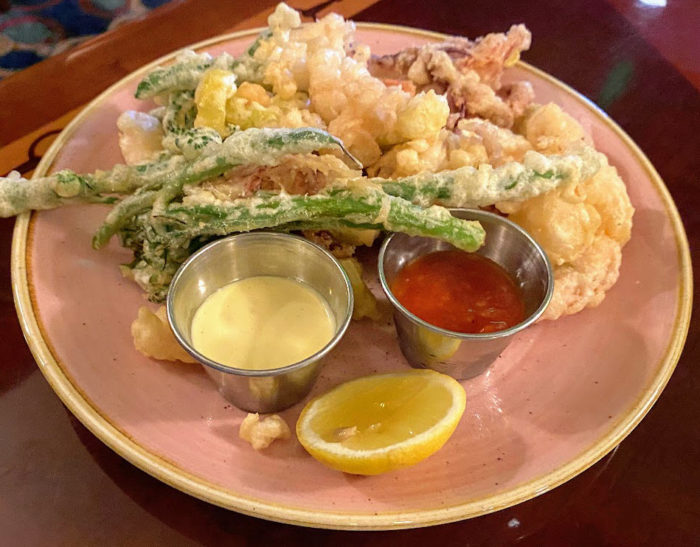 The tempura batter was light and the fry was well done, leaving everything crispy without being greasy. The pepperoncini in particular were delightful and I could eat the green beans all day long. Some items such as the shrimp would have benefited from a smaller size to have a better balance between the breading and the interior.
Charcuterie for Two – $22
Chef's selection of Cheeses, Cured Meats, and House-made Accompaniments

The meats and cheeses were spot on but nothing special on this plate. The true stars were the accompaniments: a cucumber and carrot pickle that was briny with a peppery bite, a fruit lekvar that was sweet and rich, and pickled golden raisins that balanced on the knife edge of sweet and acid so well that I ate more than my fair share and wasn't sorry about it in the least. Hey, those who missed out shouldn't have spent so much time on the cheese, amirite?
Grilled Artichokes – $12
Grilled Artichoke Hearts, Crispy Baby Artichokes, Roasted Garlic Tahini Sauce, Pickled Golden Raisins, Roasted Shallot Vinaigrette (Plant-based)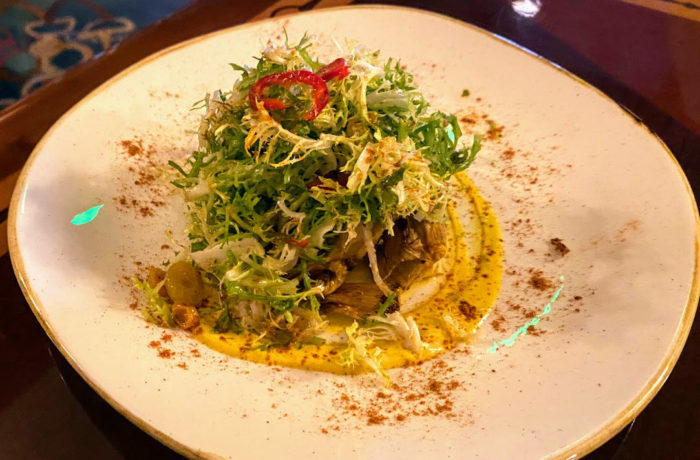 Those pickled raisins were back in this dish, and the roasted garlic tahini sauce was complex and just the right texture. The frisee salad on top was light and refreshing with its dressing of roasted shallot vinaigrette. But alas the artichokes themselves were very vinegary; enough to overwhelm the artichoke flavor and also overbalance the other components. Given the name, one should not be left thinking that it would have been an excellent dish if only the artichokes had been left out.
Entrees
Carrot-filled Agnolotti – $23.50
House-made Agnolotti Pasta, Carrot Purée, Royal Trumpet and Maitake Mushrooms, Truffle-Onion "Cream" (Plant-based)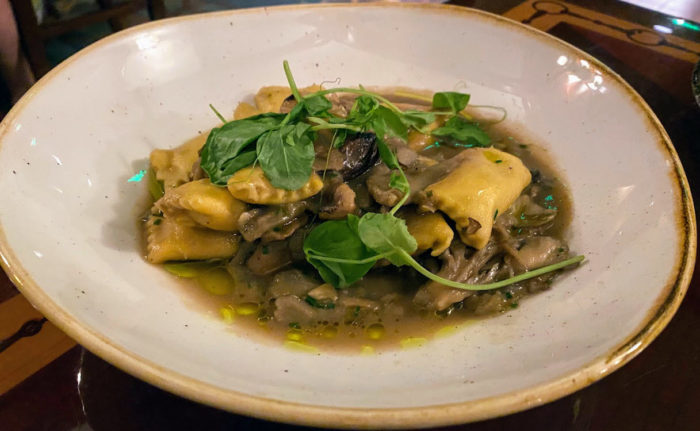 The truffle onion cream was sublime, and the liquid from the mushrooms melded with it so well that we ordered extra bread to sop up the sauce when the pasta was gone. But this dish was a mixed bag; agnolotti should have a balance of filling and pasta similar to a ravioli, but the pasta on this was so thick it was more like a gnocchi. And the carrot puree made a tasty filling, but it was sweet and had only one note (carrot) that didn't really go with the umami of the sauce.
Braised Lamb Tagliatelle – $28
Braised Lamb Shank, House-made Tagliatelle Pasta, Peas, Crispy Potato Straws, Whipped Goat Cheese, and Sherry Gastrique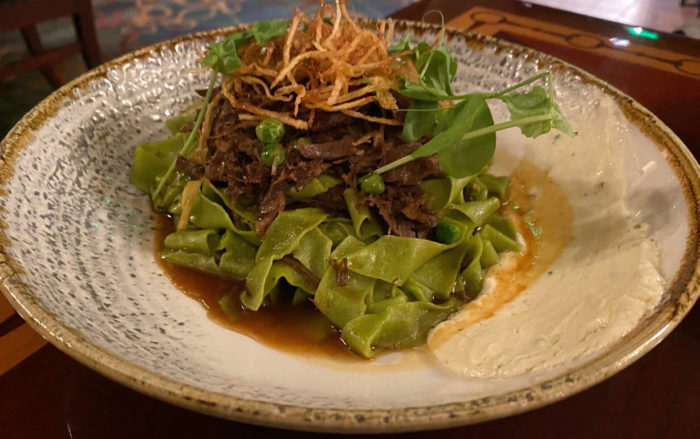 This dish was a winner: the braised lamb was moist and not overly dry, with the rich, meaty stew taste you would expect from reading the description of the dish. The tagliatelle was excellent and the creamy whipped goat cheese was delicious both on its own and as part of a complete bite with the lamb and pasta.
Pan-seared Salmon – $29.50
Roasted Fingerling Potatoes, Caramelized Root Vegetable with Shellfish Bisque and Peperonata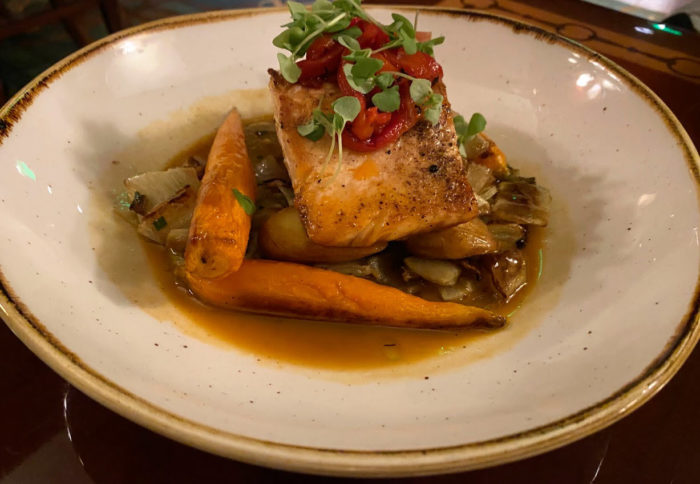 This dish was perfectly fine, but not at all exciting. The salmon was cooked nicely, the bisque was flavorful but not strong, and the peperonata, carrots, and potatoes were all mild enough to complement the fish without talking over it. If you have a picky eater who is scared off by strong flavors this could be a good choice; it has fancy-sounding components but not a particularly fancy flavor.
Grilled Pork Chop – $26.50
Fennel Pollen-dusted Pork Chop, Sweet Potato Purée, Cannellini Beans, Baby Kale, 'Nduja Vinaigrette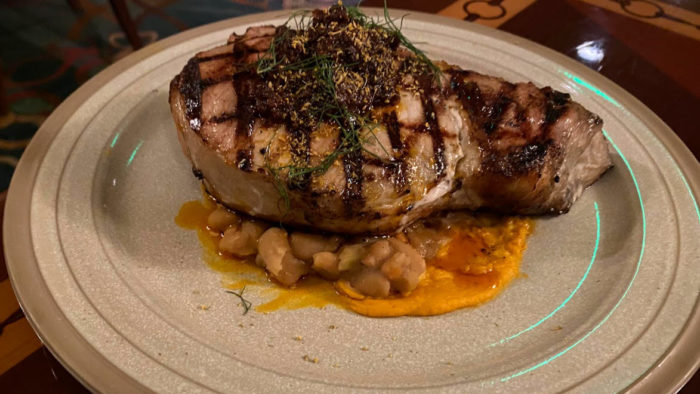 The pork chop was beautifully cooked to the medium temperature we had ordered and the exterior seasoning made a bite that was full of flavor, although I can't say that I tasted the fennel. The cannellini beans and sweet potato puree didn't particularly complement the pork, but they were so more-ish that I rudely swiped the last of them off the plate with my finger. If I had a complaint about this dish it would be that it was very meat-heavy because the pork chop was so large that everything else just felt like a garnish.
Crispy Boneless Chicken – $25
Crispy Chicken Thighs, Roasted Mushrooms, Sautéed Swiss Chard, Fingerling Potatoes, and Sherry Jus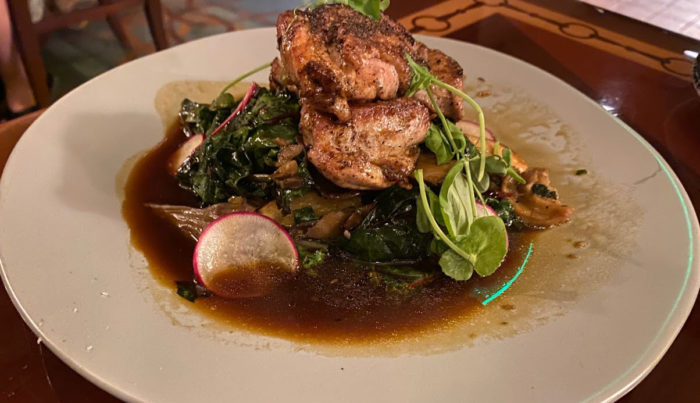 This dish was the unquestioned star of our meal. The brick chicken-style preparation was superb with the skin well seasoned and crispy, the jus was strong enough to stand up to the other flavors, and the sauteed swiss chard was oh-so-perfectly wilted. The mushrooms were unnecessary, but it doesn't matter – if I ate here again tomorrow this is the dish I'm ordering and it's no contest.
Dessert
New York Cheesecake – $9.50
Berry Sauce, Chambord-macerated Berries, Brachetto Crème, Crisp Meringue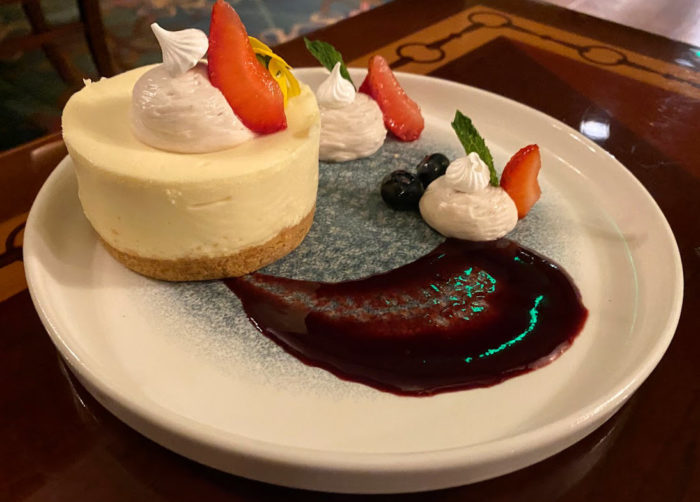 Cheesecake is often my last choice on a dessert menu if anything more "different" is present. This one was so good that it should not be passed over as something you can get on any other menu. The texture was creamy and moist, it was sweet but not too sweet, and the combination with berries and berry sauce is a classic. My kid who doesn't like cheesecake gave it 5 stars.
Black and White – $8.50
Buttermilk Panna Cotta, Chocolate Financier, Frangelico-Chocolate Sauce, Cocoa Crumble, White Chocolate Dust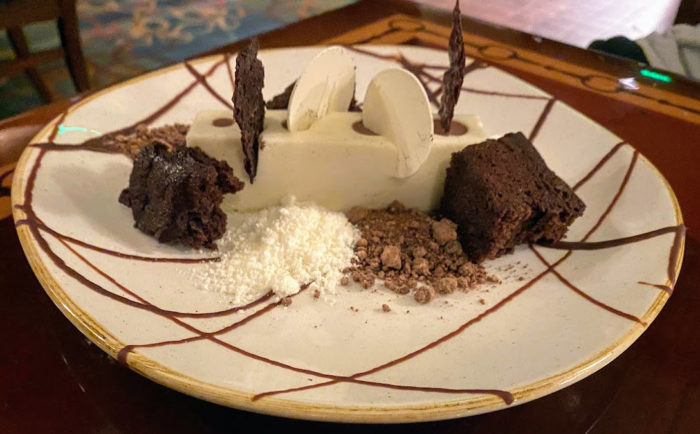 This plate was stylish and flashy, and better yet it tasted great. The pannacotta was on the firm side, which was a good choice to stand up to the texture of the financier and the cocoa crumble. This dessert looked fancy and definitely took up a lot of space on the plate, but because the pannacotta was the centerpiece it was relatively light and very approachable at the end of a long meal. If you're feeling a bit stuffed by the time you get to dessert, choose this instead of the cheesecake.
Mango-Passion Fruit Creme Brulee – $8
Chocolate Sauce, Fresh Raspberries, Raspberry-Beet Gel (Plant-based)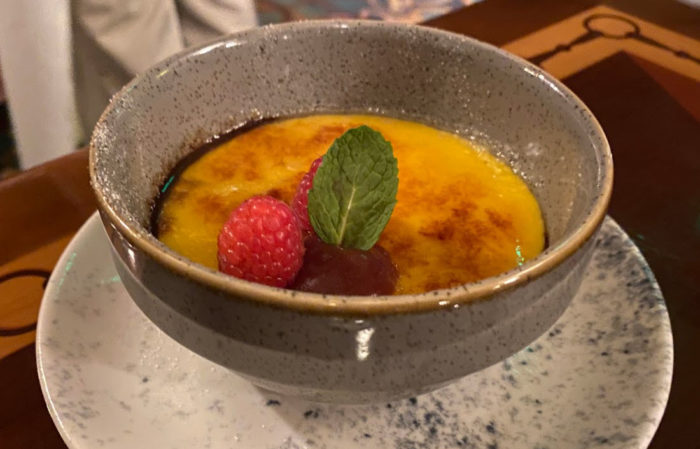 Creme brulee is my favorite dessert in the world, and I've eaten a lot of it. The mango-passion fruit creme brulee was delicious, with the proper texture and the tang of the fruit a nice variation on the basic recipe. But after the first couple of bites the chocolate sauce and the raspberry-beet gel that were layered underneath broke through and mixed with the custard in every bite. Perhaps if there had been less sauce this would have been a success, but as it was — Not A Good Thing. The mixture of components was muddled and brown and the flavor was too.
Ricotta-Basil Gelato – $7.50
Strawberry Consommé, Basil Oil, Crispy Meringue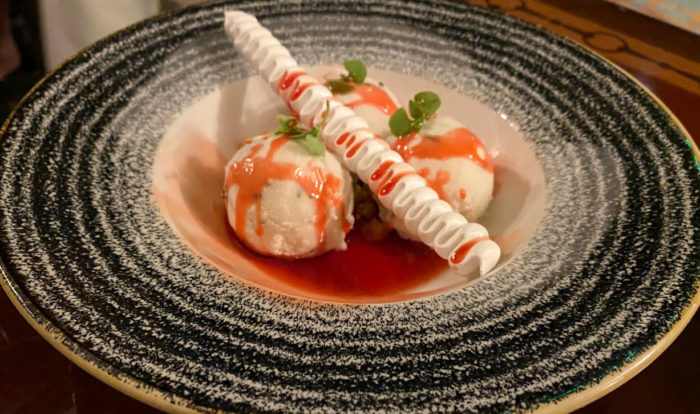 Our gelato arrived too frozen to cut with a spoon, and we needed to let it warm up. The first bites that we carved off before letting it sit were unimpressive, with the basil flavor limited to the visible pieces we could see and not present as the subtle aromatic it should have been. But our patience was rewarded: the softening gelato melded with the strawberry sauce to produce a light dessert that was more than the sum of its parts and reminiscent of a strawberry pannacotta or strawberries and mascarpone. It was lovely, even if it still didn't particularly taste of basil.
Wrapping Up
The Turf Club's menu reads like fine dining, and the dishes are mostly not quite what they aspire to be. That said, the flaws are in the composition and not the execution of individual components. For the most part everything we were served was very tasty and our meal was good; you'll only be disappointed if you're chasing the complete bite that marries the flavors of everything on the plate.
Plant-based dishes were less successful than the more routine fare, and we found that the closer a dish was to a standard found in other eateries the more successful it was likely to be. We didn't try the Prime Rib or the Filet Mignon, but given that trend I would expect them to be solidly in the top half of the menu.
The Turf Club is currently ranked 78th out of 97 table service restaurants at Disney World, but that's a little deceptive as 85% of our survey responses indicate that diners were happy with their experience. I think that's fair: I wouldn't rush to book a reservation here 60 days out but I also wouldn't hesitate to eat here again if I was looking for a convenient reservation. Especially the chicken!