REVIEW – Mobile Ordering Takeout from Three Bridges Bar and Grill
Our team loves the ability to order takeout food from select Disney resort hotel restaurants via mobile ordering. It's a great way to enjoy some of Disney's delectable food from select table service restaurants without having to actually dine at the restaurant. Many folks are looking for ways to dine outside in the interest of safety, and this is a great option. You do not have to be staying at the resort to do the mobile ordering to-go.
Our team recently visited Disney's Coronado Springs Resort to scope out the beautiful holiday decorations. And doing so gave a nice chance to try out the new takeout option via mobile ordering at Three Bridges Bar and Grill. The interesting thing about Three Bridges is that it is an outdoor bar and grill. With this in mind, the takeout options seems somewhat unnecessary, but being able to do mobile order takeout food allows guests to enjoy their food in whatever space they feel comfortable. Our team found there to be lots of seating options in the area, with great views.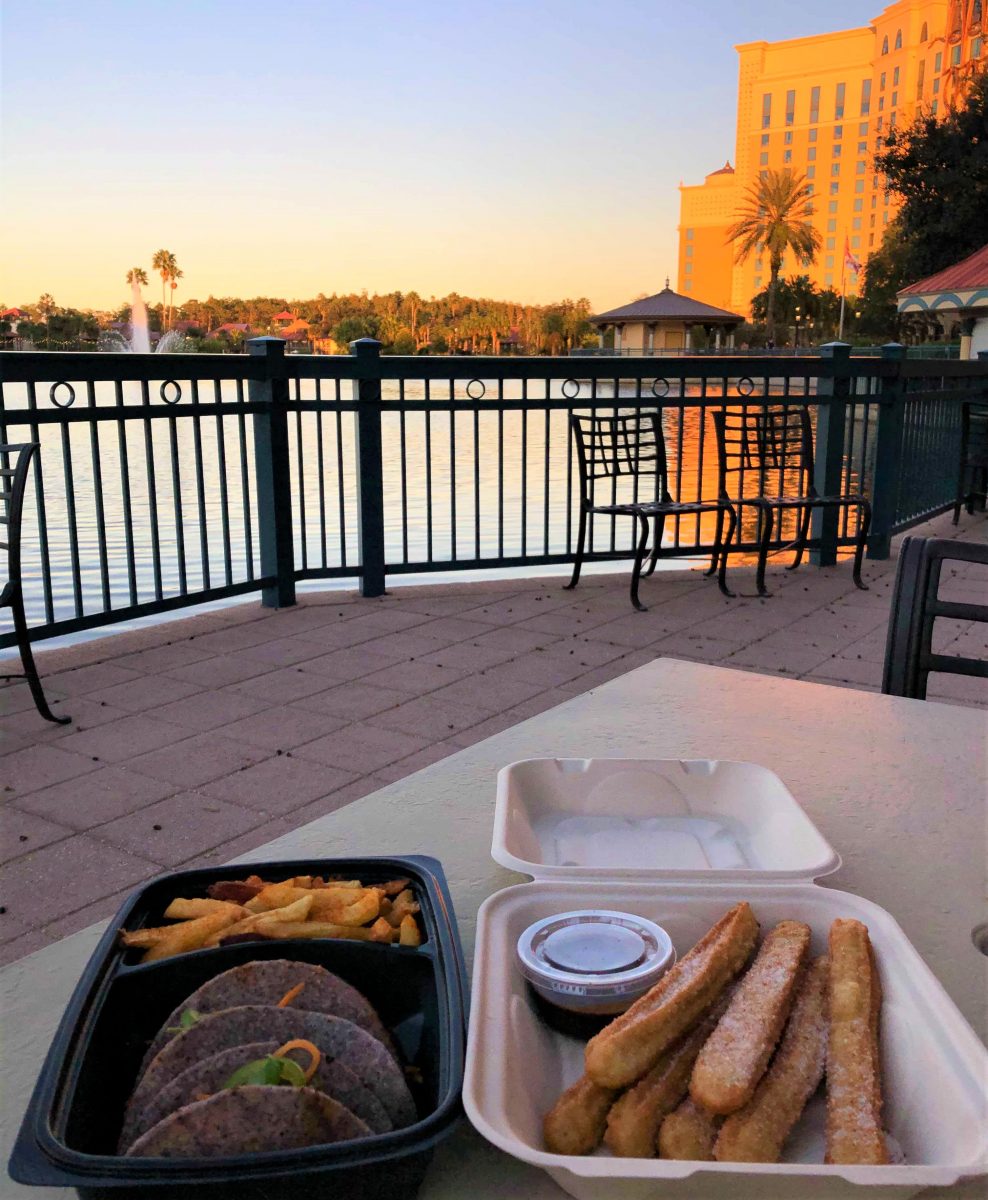 The menu at Three Bridges Bar and Grill has a nice variety of small plates, entrees, and desserts that have fresh, vibrant flavors. The cuisine is internationally inspired rather than focusing just on Central American flavors. Our team ordered Braised Pork Tacos and Warm Churros. The Braised Pork Tacos has radish and carrot slaw, salsa verde, and Cojita cheese served with smoked paprika fries or fruit. For $14.00 the order came with three tacos and a nice serving of smoked paprika fries. This is just about the same price as some quick service meals in the parks, but so much better. It was a nice touch that the to-go container had a separate section for the side. This was a very satisfying meal, and a pretty good value.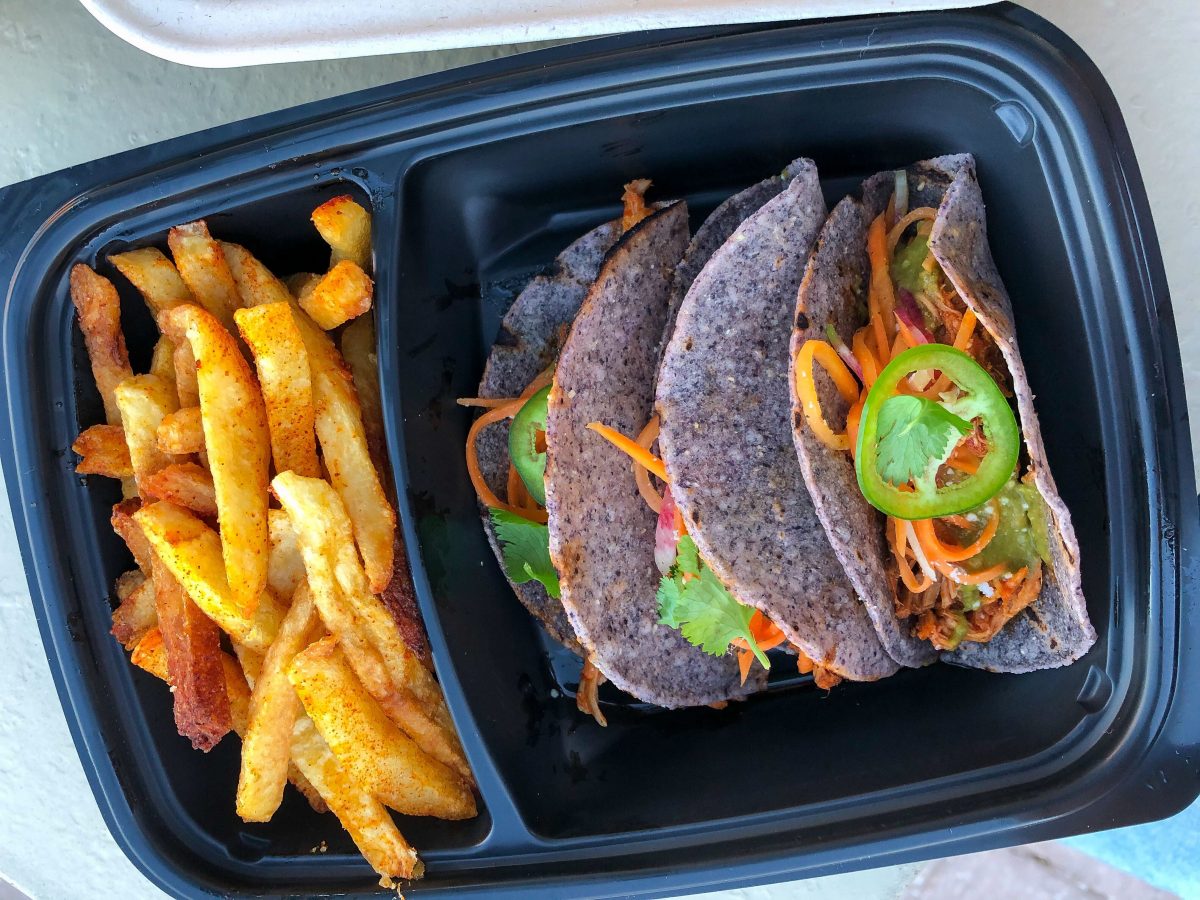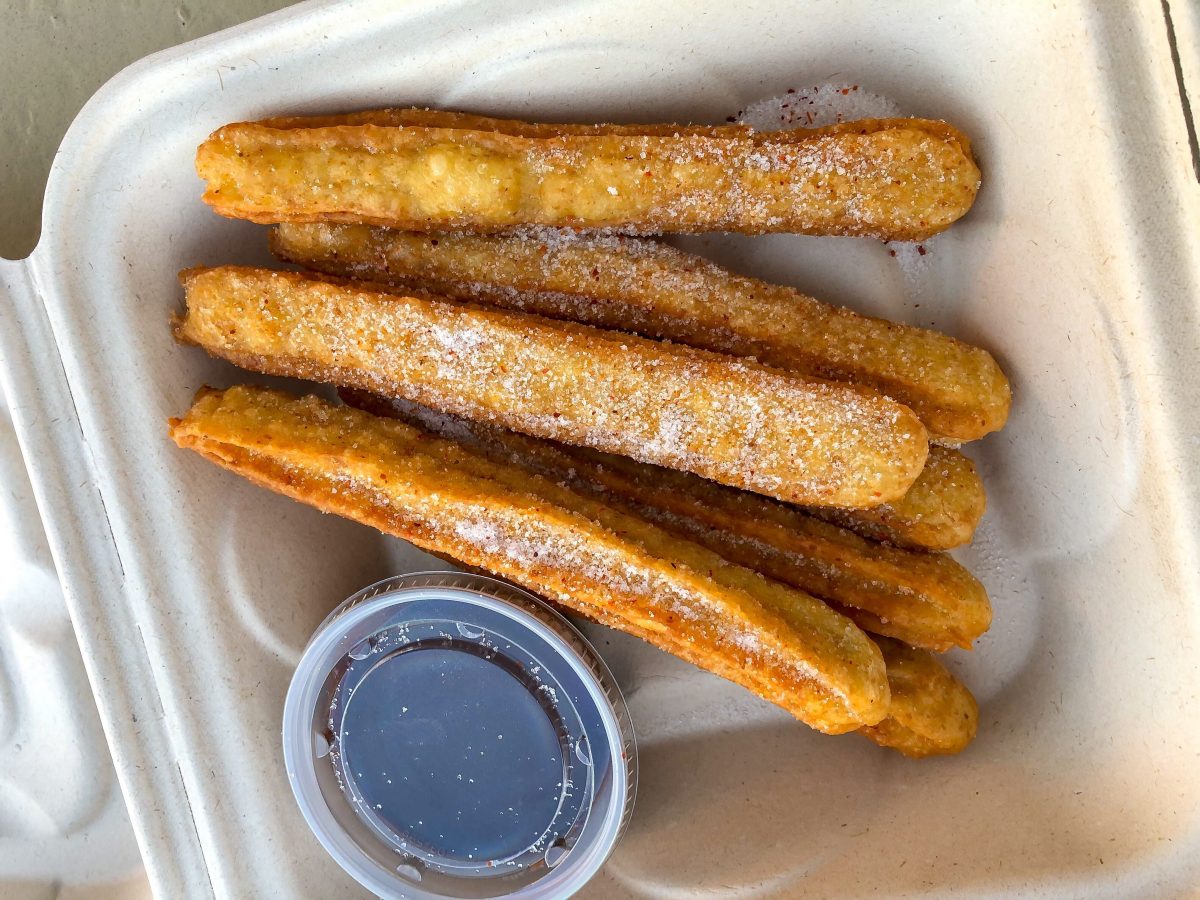 The Warm Churros for $9.00 are served with chocolate sauce. These churros are slightly elevated with espelette sugar, which is a spice blend originating in France. It has a warm, bold flavor with mild heat, and tastes a little more sophisticated than the standard theme park churros. And, the serving of seven small churros was very generous.
In total our meal came to $23.00 before tax and was very satisfying. It's not surprising that our meal was great, Three Bridges is currently rating number 35 out of 109 table service options at Walt Disney World, according to our readers. With plenty of outdoor seating throughout Coronado Springs Resort getting take out from Three Bridges via the MyDisneyExperience app is a convenient way to have a socially distant meal that is still full of quality.
Have you tried mobile ordering for takeout food from some of Disney's resort restaurants? Which restaurant do you hope is next?