Five Things to Know About Mickey and Minnie's Runaway Railway
Mickey and Minnie's Runaway Railway (MMRR) is the first ride-though Disney theme park attraction to feature Mickey Mouse (and Minnie!). The look and feel of the experience are drawn – literally – from the new Mickey Mouse cartoon shorts. Below, we'll take you on a tour of 5 things you need to know about this popular ride at Hollywood Studios. But if you'd like to jump the tracks and head straight to the whys, wheres and hows, here's your shortcut.
1. Where to board the train.
You'll catch your ride in Hollywood Studios' Chinese Theater, right at the end of Hollywood Boulevard. If you've never been to California, you might not know that the entrance facade of the Theater in Hollywood Studios is almost an exact replica of Grauman's Chinese Theater in Los Angeles. It's the first thing you see in the distance as you walk through the tapstiles, and really sets the vibe of the park.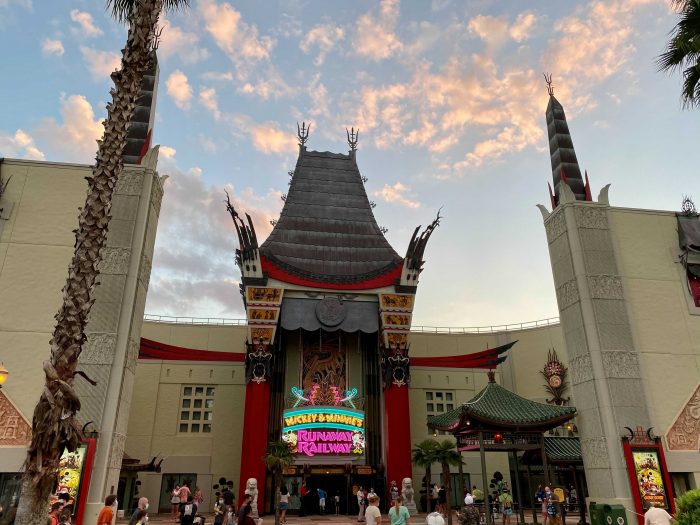 You're invited to the theater to view the new cartoon feature, "Perfect Picnic" starring Mickey and Minnie. Once you enter, you'll find that much of the queue is styled in keeping with an old-timey theater, with plush reds and carpet. Actually, the queue wasn't restyled all that much after the theater's former movie-themed occupant, The Great Movie Ride, moved out!
You'll enter a small theatre area where the cartoon feature begins. It seems Mickey, Minnie, and Pluto are going out for a drive. Unfortunately, Pluto gets packed in the car's trunk! They head out and pass Goofy, who's the conductor of a train. Chaos ensues (don't want to spoil the plot) but the cartoon ends as Goofy's train blows a hole through the movie screen, and you're invited into the cartoon world yourself! You walk through the hole and enter a cartoon railway station where you'll board Goofy's train. But as you might expect, the chaos isn't over yet…
2. Nothing can stop you now!
Engineer Goofy welcomes you aboard for a ride around Runamuck Park. But almost immediately all of the train cars separate, and Goofy doesn't even notice that he's lost all his passengers! You'll ride through 10 cartoon scenes. Each uses a combination of cartoon drawing, video projections, and audio-animatronics to surround you in the cartoon world of the Disney short features. In the end, you return to the station, safe and sound, but not before Daisy Duck teaches you how to cha cha! The whole ride lasts around 4 1/2 minutes.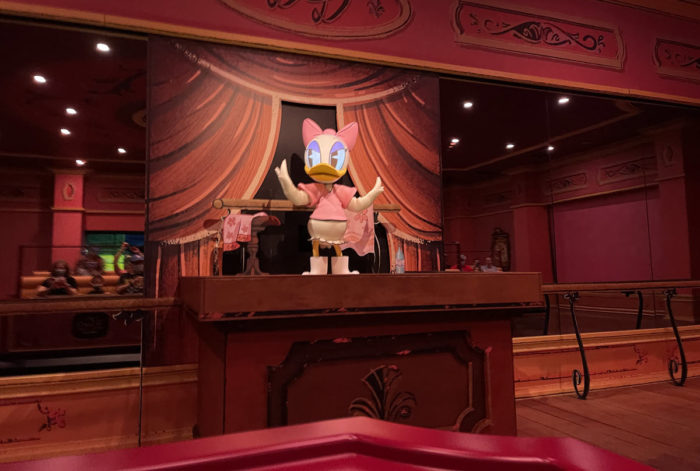 The really amazing part is that this trackless ride ensures that you'll have a different experience every time. Depending on which car you're riding in, you'll be afforded a different view of each scene you pass through. This means you'll always have a chance to see something you hadn't seen before. Each scene is so heavily laden with Easter eggs, hidden Mickeys, and fun characters, it's impossible to catch everything on only one or two rides. And while the main plotline features Mickey and Minnie doing their best to help all the train cars reunite with the engine, there's a secondary plot you can follow, involving poor Pluto trying to get the picnic basket back.
3. How the cartoon world came to life.
Mickey and Minnie's Runaway Railway was announced in July 2017 at the D23 Expo, and construction began in August. The announcement mentioned that the ride would feature "2 1/2 D" technology so there would be no 3D glasses required to enjoy all the effects. At the time, Disney Imagineer Kevin Rafferty said: "This is one of the boldest…most impossible things I've ever worked on in almost 40 years of being an Imagineer. And you know what? That's what I love about it. Well, that, and Mickey," […] "This is not going to be a small attraction, it's going to be game-changing."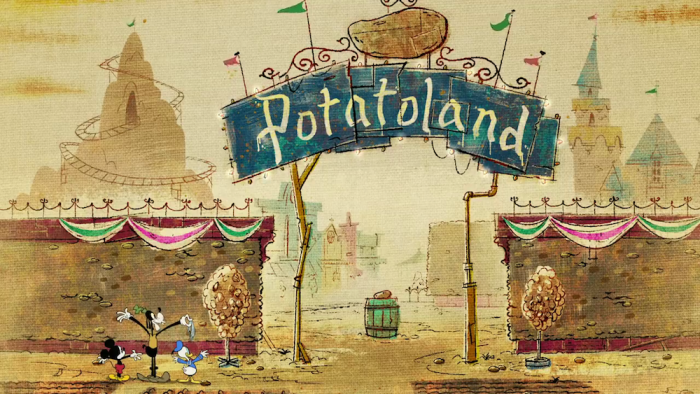 The ride is styled after the new Mickey Mouse Shorts headed up by Paul Rudish on the Disney Channel. And to ensure you would truly feel as if you entered this cartoon world, the team who worked on the new Mickey Mouse shorts collaborated with the Imagineers to create the amazing sets and scenes you'll experience.
The ride finally opened on March 4, 2020, and was the last ride that offered Fastpass+ to open at Disney World. Since Fastpass+ was retired, new rides have generally used a Virtual Queue when they first open, including the version of Mickey & Minnie's Runaway Railway that opened at Disneyland in January 2023.
4. Easter eggs, secrets, and more, oh my!
A while back, we devoted an article to the Easter eggs of MMMR. Here are a few of those, plus some we didn't mention the first time around.
The locomotive whistle you hear is the same whistle you hear in Mickey Mouse's debut cartoon in 1928, "Steamboat Willie." And three more facts in rapid fire: the posters you pass in the lobby were created by the Disney animation team who worked on the cartoon shorts. In the city scene, a newspaper headline reads "Oswald Wins!", referring to Oswald the Lucky Rabbit, the character Walt created prior to Mickey. And a parking garage is labeled as "Retlaw Parking." This is Walter spelled backward, one of several nods to Walt Disney throughout the ride.
MMRR utilizes several sound effects originally created for Disney cartoons as far back as the 1930s. They were the work of Disney Legend Jimmy Macdonald who was also the official voice of Mickey Mouse from 1947-1977. Some new effects were created using his original equipment.
There's a little orange bird who appears toward the beginning and end of your ride. Created for MMRR, Chuuby was supposed to be named "Chubby," but a typo misspelled the name and it stuck.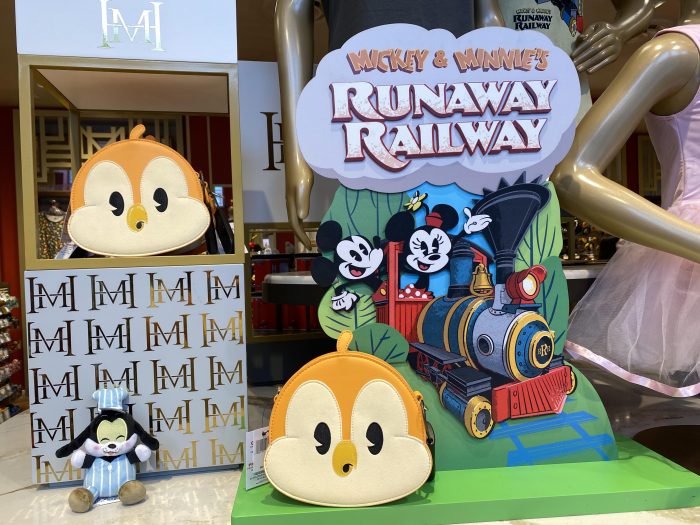 A little tiny crab peeks out at you in nearly every scene! Hard to spot in some cases, the best video guide I've found to spotting them all is this one.
Finally, "Nothing Can Stop Us Now" was written by the award-winning composer Christopher Willis and his wife Elyse Willis. It rivals "It's a Small World (After All)" as one of those Disney earworms you can't seem to shake even long after you've left the attraction. Well done, Willis folks!
5. The Nuts and Bolts.
Mickey and Minnie's Runaway Railway is in Disney's Hollywood Studios. It's right in the center of the park, at the end of Hollywood Boulevard. The big marquee out front ensures you'll find it easily. Since the ride is indoors, it doesn't close for weather. But when the line is at all long (which it often is), it spills over into a covered area outside which is exposed to the elements.
The ride vehicles are hard bench seats with a single pull-down lap bar. There are 4 train cars, each with 2 rows of 3-5 people, depending on size. so about 32 people can ride on each train.  There's a very small step up and then down to enter the car.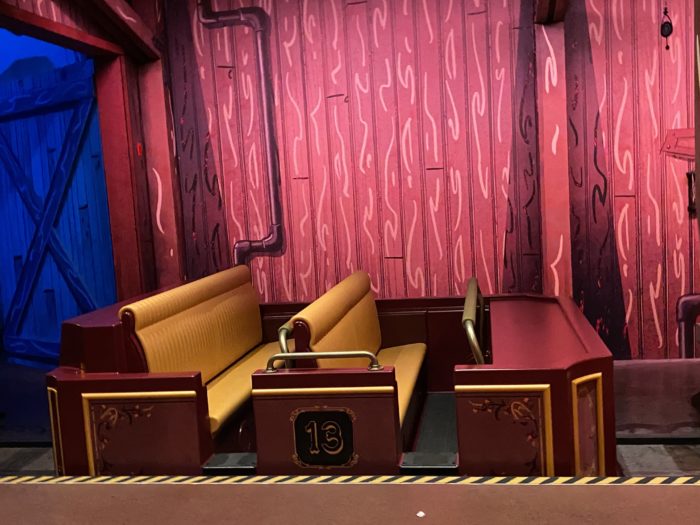 Wheelchair and ECV users must transfer out their devices to board the ride. There's no height requirement to ride MMRR, so the whole family can enjoy the attraction. Handheld Captioning and Audio Description Devices are available. There are no health and safety warnings for the ride, but it's worth noting that some passengers find the occasionally zippy motion of the ride vehicles combined with screen technology induces motion sickness. It's not as common on MMMR as it is on rides that use screen-based effects with 3D glasses, so if you can ride those you should be fine.
Runaway Railway is one of the most popular attractions in Hollywood Studios. Consequently, there are long lines all day long. The attraction does offer Lightning Lane via Genie+. And it's open for Early Theme Park Entry.
The Bottom Line.
We rate this attraction as not to be missed. After riding it several times, I'm convinced there's so much going on in some scenes, you could ride MMRR a dozen times and still miss something. It's that layered, that good, and that much fun!
Will you ride the Runaway Railway? How many hidden details have you spotted? Tell us in the comments below.