Where to Find the Best Pool Chairs at Aulani
We're sharing this with the understanding that we have dibs on this spot during future visits to Aulani because, at Disney's version of tropical paradise, pool chairs are serious business.
How serious? Well, while there are variety of spots to park your gear, they tend to go quick! This is why Aulani has implemented the following Pool Chair Policy:
Before 8:00 a.m., guests must be using their chair; any unattended items will be taken to the nearest Kawele Korner.
From 8:00 a.m. until pool closing, belongings that are left unattended for more than an hour will be removed and taken to the nearest Kawele Korner.
Upon returning to a chair, guests are to pull the folded towel down to let Cast Members know they are actively using the chair.
But before we reveal where to find the BEST pool chairs at Aulani, let's talk about the pool.
Waikolohe Pool
Waikolohe Pool is the largest pool at Aulani. Not only is it a zero-entry pool boasting 8,200 square feet with a family slide and a body slide that zips you through a volcano, but it's also central to food, restrooms, and most importantly, coffee and shaved ice!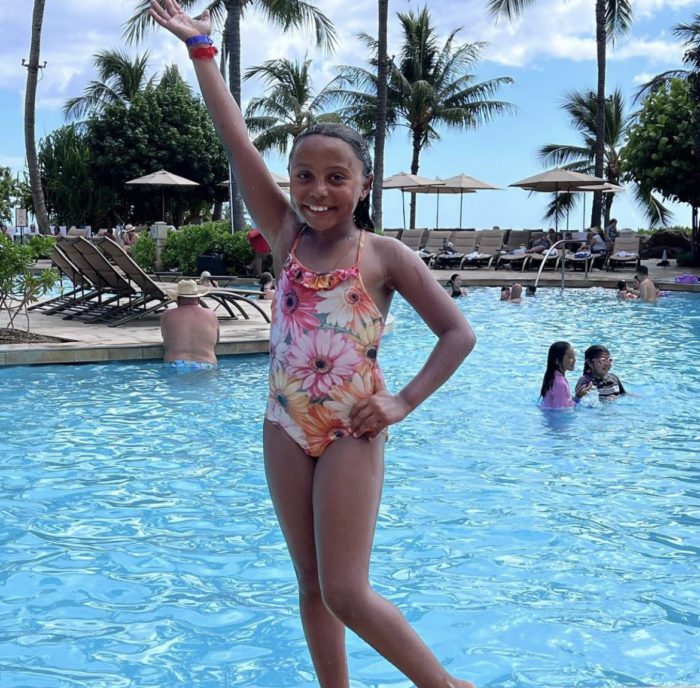 Wristbands
Aulani requires guests to get a wristband each day for pool access. The color changes daily and makes a neat scrapbook item. Guests can pick up their bands starting at 8:00 a.m. the day of or after 5:00 p.m. the day prior.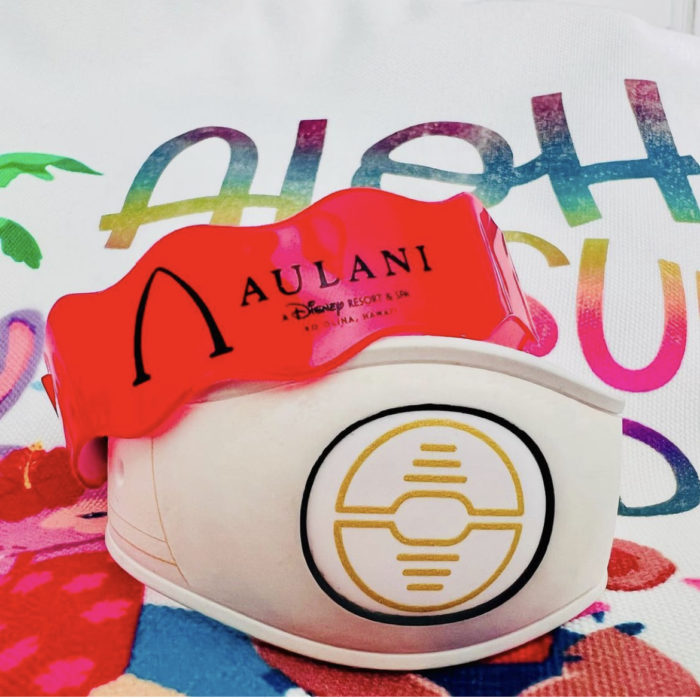 Also, each person in your party needs to be present to get their bands – little ones included. A Cast Member will scan your room card or MagicBand to certify your stay, clip on the bands, and then give you as many towels as you need. This is all included in your stay, and you can come back all day for more towels.
Best Pool Chair Spot 
In all fairness, there are no bad spots around this pool; but after much testing, our team discovered the absolute BEST spot!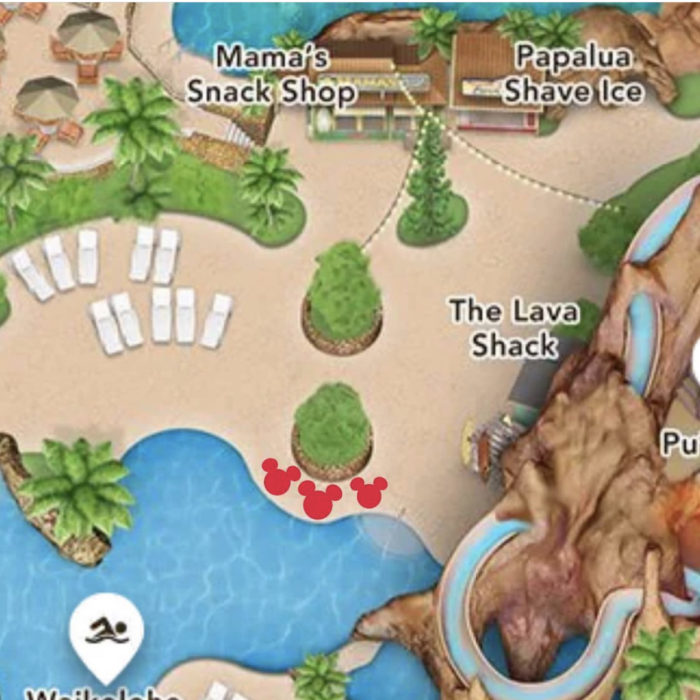 While conducting "research," we can report that these chairs will keep you in the shade until around 3:00 p.m., all while allowing you to keep your kiddo within sight and even within arm's reach. As a bonus, you've got one of the most unreal views of the pool AND the ocean in one.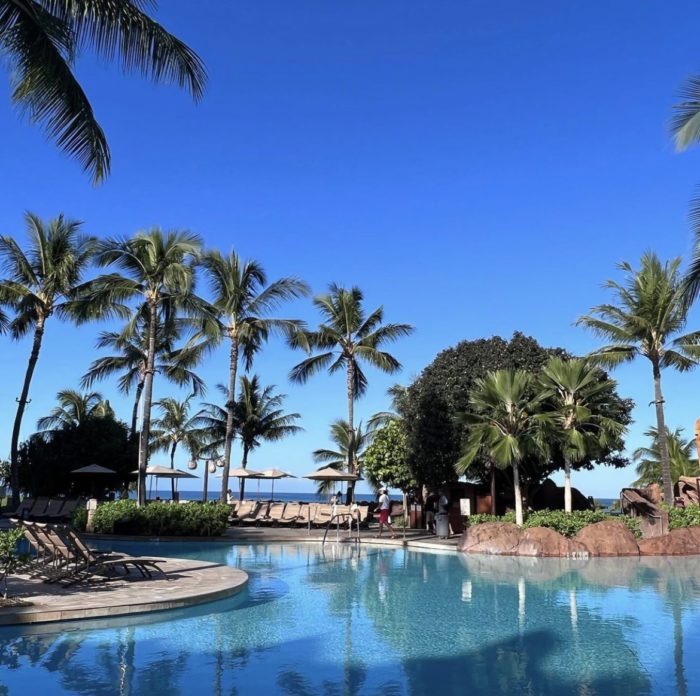 See? We spent the entire day saying "it looks fake" because of how beautiful it is.
Also, since Aulani is perfection, food and drink service is available – to your chair – beginning at 11:00 a.m. Please spend the extra $9.00 to get your drink served in a pineapple. At least once!
As for your actual proximity to snacks, you're only 38 steps away from Mickey-shaped shaved ice and the best coconut shrimp we've ever had!
Now, since Aulani has a chair policy, we did develop a strategy for how secure our favorite spot. Have someone plop down in our favorite spot at 7:00 a.m. and bring them coffee and breakfast for payment. Boom. Chairs secured.
Don't have an extra someone to hold your chairs? No worries. There are still good spots at 8:00 a.m. Just don't take island time too seriously when it comes to securing yourself a pool chair!
If you're interested in experiencing Aulani for yourself, let one of our Travel Experts send you a free quote for Aulani today!
Have you ever stayed at Aulani? Is this Disney destination on your to-do list? Let us know in the comments!