The Ultimate Guide to Celebrating the Holidays at Disney's Hollywood Studios
Walt Disney World is the merriest place on Earth this time of year. Disney's Hollywood Studios is one of the first parks to get into the holiday spirit. Tinsel stars started adorning Sunset Blvd nearly two weeks before Halloween. Let's take a look at every single thing this tinsel town park does to celebrate Christmas and the holidays.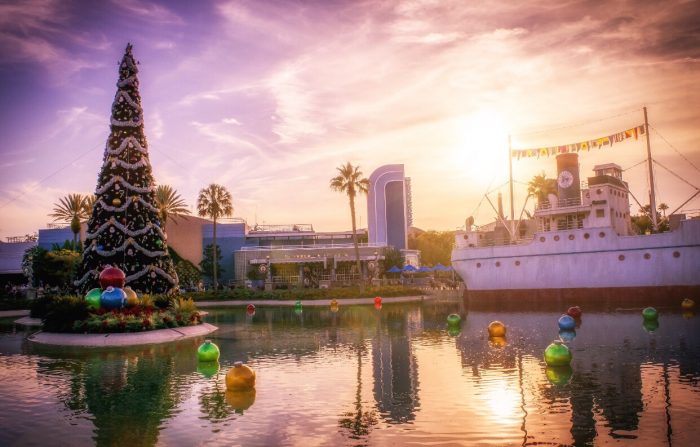 Holiday Activities at Disney's Hollywood Studios
Jingle Bell, Jingle BAM!
Whether you're a fan of the animated holiday special "Prep and Landing" or have no idea what a prep and landing is, Jingle Bell, Jingle BAM! is a fun holiday spectacle to behold. A mix of fireworks and brilliant projection mapping technology makes for an impressive night time spectacular, all with an overboard dose of holiday spirit. This show is performed nightly from November 8, 2019, to January 5, 2020. Times may vary so be sure to check the park's schedule.
Sunset Seasons Greetings 
Get into the Hollywood holiday spirit as Sunset Blvd becomes a holly-jolly street with festive decor and so much more. The Hollywood Tower Hotel is no longer hauntingly beautiful when the sun sets, instead it becomes a dazzling display as projections create joyful and fun holiday seasons. As an added bonus, like fancy wrapping on a gift, billboards on Sunset Blvd come to life with four different Disney scenes including Mickey and Minnie, Toy Story, Swedish Chef from The Muppets, and everyone's favorite snowman, Olaf!
Toy Story Land Holiday Fun
Not only have Andy's toys created a frolicking fun time in his backyard, they've even gotten into the holiday spirit. There's holiday decorations everywhere and because you're the size of a toy, these decorations are larger than life! Plus you can hear sleigh bells ringing on Slinky Dog Dash, and Alien Swirling Saucers offers two holiday tracks, and special lighting, though some of the regular songs play too. 
Echo Lake Christmas Tree and Decorations
Anyone who loves classic Christmas music and decorations is sure to fall in love with the vibe at Echo Lake during the holidays. This relaxing area is just to the left of the park's center courtyard, and with the relocation of the park's massive Christmas tree to this spot, it has become a very popular place for photo opportunities. And of course, who could resist the adorableness of Gertie the dinosaur sporting a Santa hat?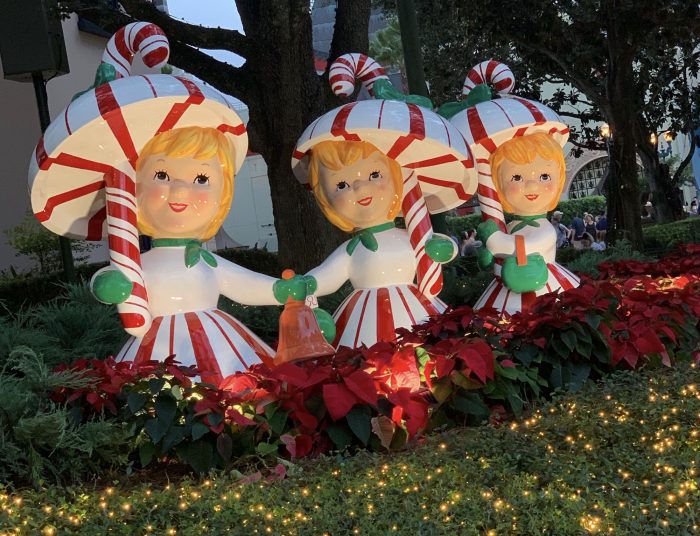 Grand Avenue Music and Decorations
Just before Batuu (Star Wars Galaxy's Edge) is Grand Avenue. This LA-inspired mini-land came about as the remnants of the facades of Streets of America. Now home to BaseLine Tap House, this little part of the park plays funky, modern Christmas music. Plus it is next to the Muppets courtyard with its few but zany decorations. Plus, It's a Wonderful Shop, a year-round Christmas store is tucked into this courtyard too. Keep an eye out for Santa making his way down the fire escape.
Holiday Food and Treats at Disney's Hollywood Studios
Jingle Bell, Jingle BAM! Holiday Dessert Party
As if the holidays aren't sweet enough, you can give your sweet tooth the gift of endless desserts at the Jingle Bell, Jingle BAM! Holiday Dessert Party. You'll also be treated to a special reserved spot to watch the show and fireworks. You can rest your feet as you sit at banquet tables under the wintry stars and enjoy the show. Beer, wine, pre-made speciality alcoholic beverages, and non-alcoholic beverages are included. New this year, the party takes place along Echo Lake.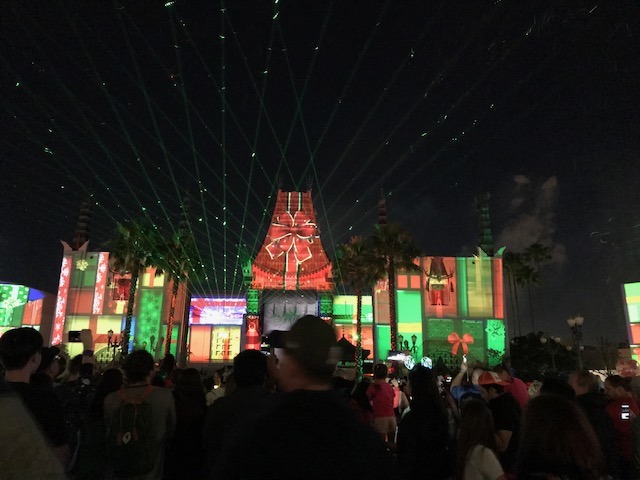 Minnie's Holiday Dine at Hollywood and Vine
Minnie and her friends have invited you to a holiday dinner party of sorts. This character dining buffet receives a fun holiday overlay with characters in holiday gay appearal and a few seasonal favorites on the buffet line. This actually a great way to get pictures with the characters in holiday attire as many of the regular meet and greet locations do not include the characters dressed up for the holidays.
Starbucks
Don't forget, each of the four theme parks has its own fully functional Starbucks locations (though Epcot's is being rebuilt), which means you can enjoy your favorite seasonal Starbucks beverages and treats right in the middle of the magic. The Trolley Car Cafe inside Hollywood Studios is one of the best that matches the theme of the park. It used to be a merchandise shop that resembled a trolley car garage. It is adorable as a coffee shop. Outside of the standard Starbucks treats, this location also offers the Chocolate Chestnut Pinecone, which is a rich chocolate mouse with a nutty hint, and a crunchy praline base. It is velvety smooth and decadent. You can also catch the Chocolate Chestnut Pinecone at Backlot Express. 
ABC Commissary
This counter service location usually has a great display of television show costumes and memorabilia. During the holidays there are a few seasonal treats you may want to add to your holiday to-do list. There's the punny named Mickey's Santa Hat Chocolate Mousse (only available here), Strawberry Mint Verrine, Holiday Wreath Cookie, and Winterberry Margarita. I'm a pass on the margarita, but there are so folks who dig it. Pizzarizzo also serves the Strawbery Mint Verrine and the Winterberry Margarita. For those wondering, the term verrine refers to the slender glass that the food is served in. Some verrines can be small bites and appetizers, or in this case, a dessert.
BaseLine Tap House
One of my favorite recent additions to the Disney's Hollywood Studios bar line up is kind of skimpy on the holiday offerings. There's Elsa's Magical Macarons (I guess she's French now?) and a gingerbread cookie. Wouldn't it be great if they offered a seasonal cider and beer on the menu with a seasonal savory snack? Hey Santa, put that on the list for next year, please.
Rosie's All American Cafe and Catalina Eddie's
Not so hot chocolate, or frozen hot chocolate, is a reoccurring theme throughout Walt Disney World. Goofy's Hot Chocolate, Not Hot Chocolate Verrine (say that three times fast!) is available in a few spots. This treat is a base of dense chocolate cake covered in milk chocolate mousse topped with a rich cream, toasted mini marshmallows, and chocolate pearls. You can also find this chocolate delight at Backlot Express. Besides the Not Hot Chocolate Verrine, Rosie's offers the Winterberry Margarita. Right next door to Rosie's is Catalina Eddie's, which is the only place to offer the Caramel Apple Verrine (perfect for those not ready to let go of the fall flavors).
Fairfax Fare
Near Rosie's and Eddie's, you can grab two treats at Fairfax Fare. If your visit to DHS is on a rare chilly Florida night, consider the Hot Cocoa Flight. And if you like more of a creamy flavor paired with your chocolate, there's Olaf's Chocolate Marshmallow Verrine. For those of you counting at home, that makes this the fourth verrine offered at Disney's Hollywood Studios.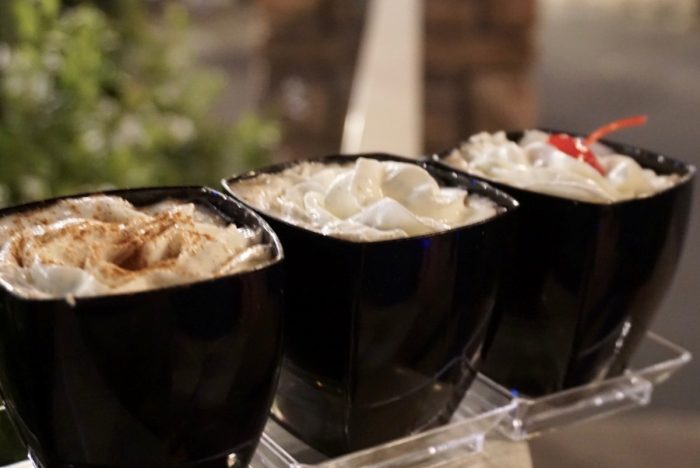 Dockside Diner
It is surprising that this location isn't the holiday food and drink central of the park since it is on Echo Lake, where the best holiday decorations of the park are located. All that is offered here is the Hot Cocoa Flight and Gingerbread Cookies. But if you're looking for a quick holiday fix while gazing at Santa Gertie the Dinosaur and all that Echo Lake offers, this is your spot.
Backlot Express
Here you'll find the previously mentioned Goofy's Hot Chocolate, Not Hot Chocolate Verrine and the Chocolate Chestnut Pinecone. Given the choice between the two, the Chocolate Chestnut Pinecone is richer and a more sophisticated flavor. If you want something that isn't chocolate, you can go for the Holiday Blondie. It's packed with dried cranberry and orange pieces. The sweetness of the blondie pairs great with the tart fruit, and the dollop of buttercream frosting is truly the icing on the cake.
Woody's Lunch Box
I recommend visiting Toy Story Land at night during the holidays to get the full effect of the adorable decorations. Grab yourself a Hot Cocoa Flight at Woody's Lunch Box or go for the Lunch Box Tart, which is a hit with most everyone. The seasonal flavor for the holidays is apple cinnamon, so warm and cozy.
Holiday Merchandise at Disney's Hollywood Studios
You can find much of the standard holiday merchandise at the Mickey's of Hollywood store near the front of the park. Many locations throughout Walt Disney World carry the same Christmas, Hanukkah, and holiday merchandise. However, Disney's Hollywood Studios also has a small selection of Prep and Landing / Jingle Bell Jingle BAM! themed merchandise. You can usually find this special merchandise near Echo Lake and in the Hollywood Five and Dime, across the street from Mickey's of Hollywood.
Tips and Information
Don't forget you can mobile order from all counter service locations, including the seasonal food. The mobile order system is a real time saver and one of my favorite features.
The Hot Cocoa Flight contains alcohol. Disney's flyer that lists the seasonal foods doesn't make that clear. The flight is Baileys and Hot Chocolate with cinnamon, Vanilla Vodka and Hot Chocolate, and Cherry Bourbon and Hot Chocolate. These are also available as individual beverages, at full size for $12.00 each.
Although visiting at night offers the full holiday experience with dazzling lights and nighttime shows, visiting during the day offers its own holiday magic too. So try visiting during both periods.