The Ultimate Guide to the Holidays at Disney's Animal Kingdom
Now that the holiday season is in full swing at Walt Disney World, it's time to explore its wildest theme park. Disney's Animal Kingdom hasn't always been the most merry. But this year it is packed with festive holiday fun. You should not overlook this park if you're looking for holiday cheer. Here's everything you need to know about the holidays at Disney's Animal Kingdom.
Disney's Animal Kingdom Christmas Tree
This year Disney's Animal Kingdom has holiday decorations in every single land. But what is interesting is that it is the only Disney theme park whose Christmas tree isn't inside its gate. The towering Christmas tree at Disney's Animal Kingdom is located at the front entrance, in front of the ticket windows. Decorations made of telephone wire in African villages and other handmade ornaments dress this tree. At night it sparkles with warm white, bronze, and gold lights. At the base of the tree are Disney characters, gift packages, and a train set that is a tribute to the park's train ride at Rafiki's Planet Watch, the Eastern Star Railway.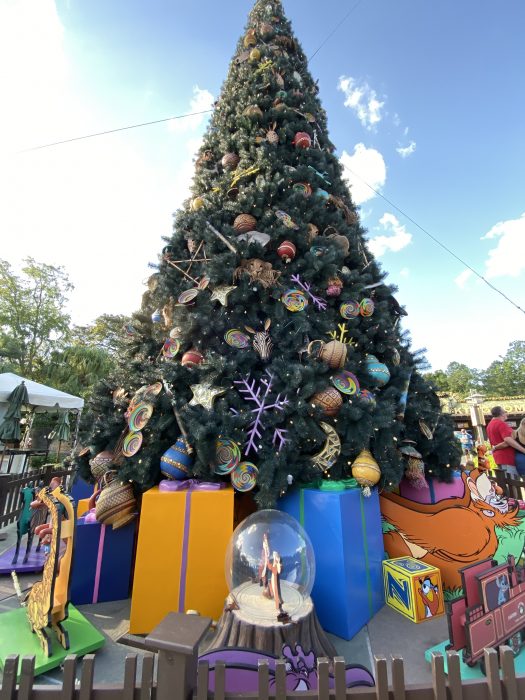 New Holiday Motif at Disney's Animal Kingdom
As you pull into the parking plaza or walk into the front entrance, take notice of the new banners with the Disney's Animal Kingdom logo and a new snowflake motif. The snowflakes are composed of animal silhouettes. This new motif is beautiful and creates a touch of sophistication but is also playful with the incorporation of the animal silhouettes. This motif is carried throughout the front entrance and connects with the new decorations at Discovery Island.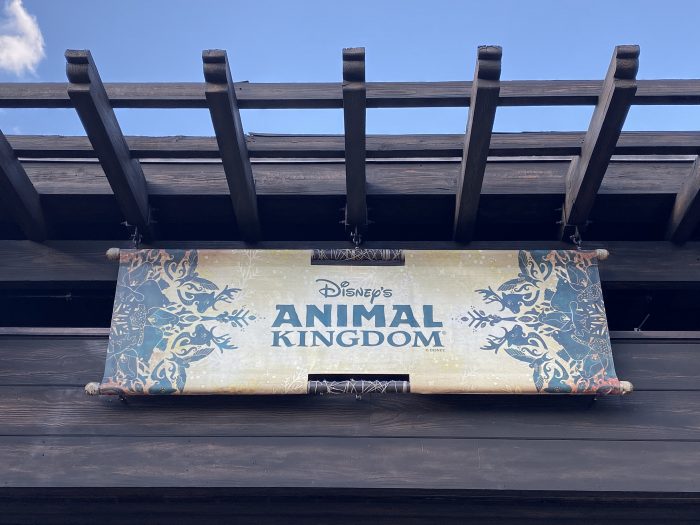 Holiday Decorations at Discovery Island
The park's hub is Discovery Island. Here the Tree of Life stands proud and branches out. The spirit of this land is "viva gaia" evoking a celebration of life itself. Colorful island-style buildings flank the open courtyard. During the holidays in the past these buildings have received a respectful amount of holiday decorations, but now the holiday cheer is even greater. The decorations have been enhanced and there are wintry luminaries that line the tops of each building. These luminaries are in the shapes of the various animals represented in the Merry Menagerie that takes place on Discovery Island. The decorations are delightful during the day, and cast a glowing warm light at night.
Merry Menagerie at Disney's Animal Kingdom
As a roaming steel drum player produces holiday music with a tropical flair, the courtyard of Discovery Island becomes a winter wonderland of flocking fun. Beautiful puppets of animals that hail from northern climates dance in the street and interact with guests. You might see a mama penguin and her four little babies. Or a mama polar bear and her cub. These beautiful puppets and their talented puppeteers appear intermittently from 10:00 a.m – 5:00 p.m. daily during the holiday season.
Tree of Life Awakenings – Holiday Edition
As the sun sets over Disney's Animal Kingdom, get ready for an awakening. The Tree of Life Awakenings show happens about every 15 minutes once the sun has set. This show uses brilliant projection mapping technology. The crisp colors are stunning and during the holiday season you can watch as some of the animals from the Merry Menagerie frolic on the Tree of Life. Other little holiday stories are told in this show throughout the evening.
Holiday Decorations in Harambe
In years past Harambe, the East African Village represented at Animal Kingdom, has had some decorations. This year a few Christmas trees with bright lights made of various recycled material, including bicycle wheels, can be found in between Kilimanjaro Safaris and Rafiki's Planet Watch. Other decorations can be found around and near Harambe Market, and near Tamu Tamu Refreshments.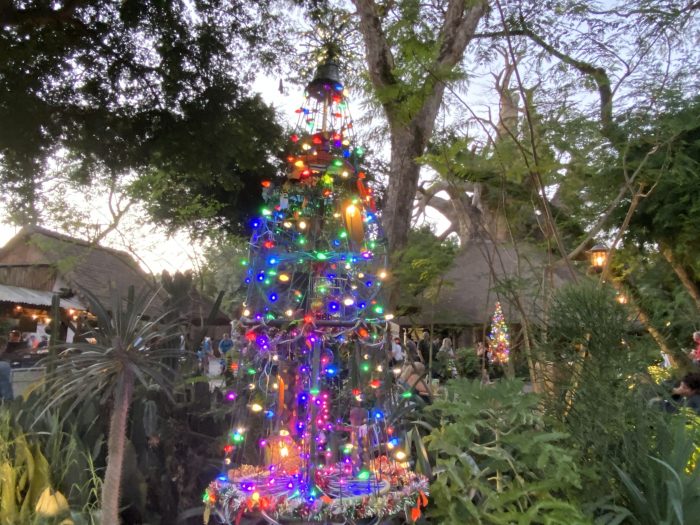 Celebrating Diwali
In Anandapur, Animal Kingdom's representation of Asia, you can get a taste of Diwali, the festival of lights celebrated in India. Special lanterns hang overheard and fill the night sky with bright color. A special dance show highlights some of the many ways this festival is celebrated with family and friends. The Bollywood Beats show takes place throughout the day, usually 11:30 a.m., 1:00 p.m., 2:00 p.m., 5:30 p.m., and 6:30 p.m.
A Touch of the Holidays at Pandora: World of Avatar
Since Pandora: World of Avatar is inhabited in part by expatriated humans, the residents have decorated one of the refreshment outposts with traditional holiday decorations. This mashup of traditional decorations in an other worldly setting is quite unique. The Pongu Pongu refreshment stand has decorations throughout so be sure to take a few moments to look around to catch it all, including a few menorahs and a Na'vi nutcracker.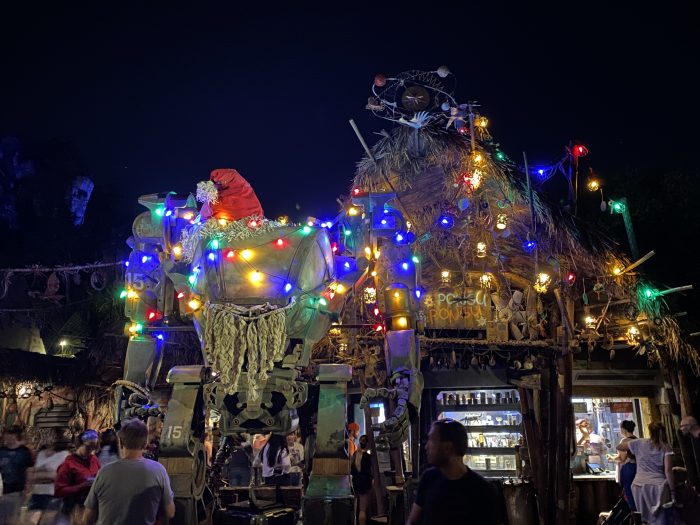 Holiday Decorations and Character Meet and Greets at DinoLand U.S.A.
Dinoland U.S.A. has long been one of the tackiest and cheesiest theme park lands, and with the recent Donald's DinoLand Bash addition it is even moreso. Now with the holidays in full effect, this land has lights and decorations almost everywhere. They are bright, holly jolly, and tacky. The character meet and greets each have their own wonderful decorations. I highly recommend venturing up The Cretaceous Trail for an adorable Daisy Duck meet and greet, and Chip and Dale meet and greet. Don't forget to find the "Reindeer-Osaurus".
Holiday Snacks at Disney's Animal Kingdom
Admittedly, when compared to the other theme parks, the holiday food and beverage offerings at Animal Kingdom are extremely disappointing. At Satu'li Canteen in Pandora you can indulge in the Pumpkin Cheesecake for $5.49. Nearly every ice cream cart offers the packaged Lion Paw Print cookie, and for the holidays it has a red and green makeover. It is essentially a thick and sweet sugar cookie for $3.50. At the Anandapur Ice Cream Truck near Expedition Everest enjoy a frosty Peppermint Soft Serve Ice Cream with peppermint sprinkles for $4.99. This ice cream cone is a decent value and is one of the better treats available. For the Disney standard holiday cupcakes, cookies, and specialty apples visit Zuri's Sweet Shop in Harambe.
DinoLand U.S.A. has two of the most popular treats this year. The Peppermint Bark Churro at Dino Diner is a mashup of warm cinnamon sugar, crispy and chewy churro, dipped in chocolate and sprinkled with crushed peppermint candy. A little pricey for a churro at $6.19. Instead, go for the hit of the holiday snacks, the Double-Chocolate Peppermint Ice Cream Sandwich. Two chocolate cookies sandwich a scoop of vanilla ice cream, and then rolled in crushed peppermint candy and dipped in a red and white striped white chocolate. This is the best holiday treat at the park, though quite messy, and not a bad overall value at $6.99. It can be found at Dino-Bites Snacks on the main pathway in DinoLand U.S.A.
Holiday Merchandise at Disney's Animal Kingdom
You can find practically all of the standard holiday merchandise found throughout Walt Disney World at Island Mercantile and Discovery Trading Company. There are two pieces of park exclusive holiday merchandise at Island Mercantile. First, a wood ornament which features the lovely animal snowflake motif and is dated 2019. At $19.99 it is a smidge too high priced for me, but I do love the motif. There is also a long sleeve, wine colored shirt with a gold foil animal snowflake print with Disney's Animal Kingdom 2019 for $34.99. It was hard for me to resist these two items since I love the new holiday offerings at Disney's Animal Kingdom so much.
Tips and Information
Going to Animal Kingdom an hour before dusk is a great way to enjoy all the holiday offerings in the park. Lots of guests head out around that time and it is still daylight to catch some of the animal experiences. Then as the sun sets and the holiday lights come on you can enjoy the festive spirit.
Disney's PhotoPass service has a beautiful digital frame you can add to your PhotoPass photos in the My Disney Experience app. It features the Tree of Life and the animals of the Merry Menagerie. I suggest getting a photo in one of the Tree of Life PhotoPass locations so you can make the best use of the beautiful frame.
Take your time and interact with the puppets and puppeteers of the Merry Menagerie, there are some magical moments to enjoy here.