Theme Parks See Busiest Post-Reopening Day on Saturday
It looks like Walt Disney World and Universal Orlando had their busiest post-reopening days yesterday, with long lines in the Magic Kingdom, Universal Studios, and Islands of Adventure. We took a look at our Crowd Calendar and remembered this is the weekend before many of Central Florida schools go back in session.
Let's take a look at the actual wait times pulled from our Lines app and compare them to the posted wait times. We use exclusive technology to constantly update our app, Lines, to provide you with real-time wait times, as they are actually experienced.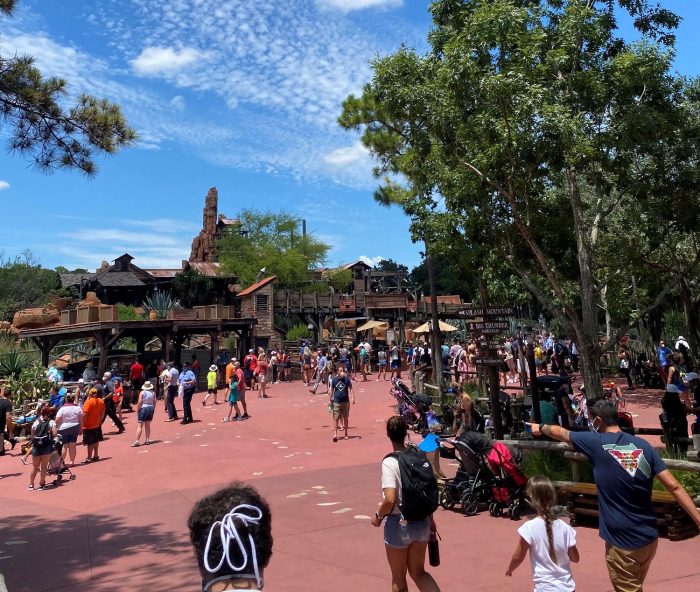 Magic Kingdom Actual Wait Times August 8, 2020
Currently Magic Kingdom is open 9:00 a.m. – 7:00 p.m. and we have found that all of the parks wind down leading up to the final hour of operations, now that there is no nighttime finale to anchor them. The peak wait times tend to be in the very middle of the day and early afternoon. Such was the case yesterday.
Around 2:45 p.m. we saw many wait times peak. However, there were quite a few cases in which Disney's posted wait time was 10 – 15 minutes higher than the wait times being calculated and reported in our Lines app. To make sure the data in our app is accurate we often wait in the lines and ride attractions ourselves to verify the actual wait times.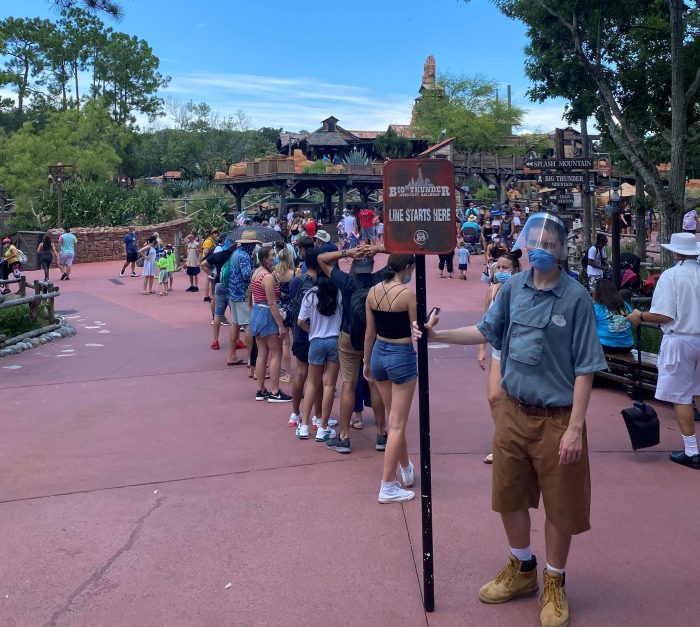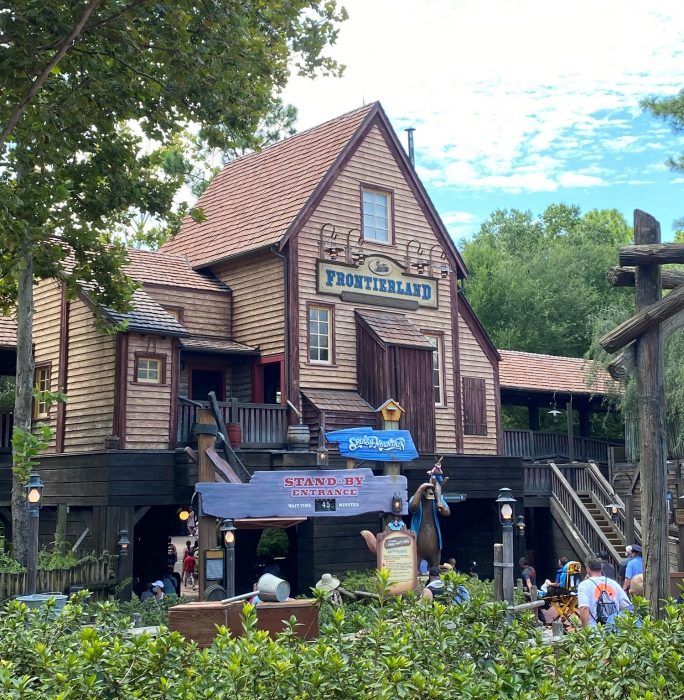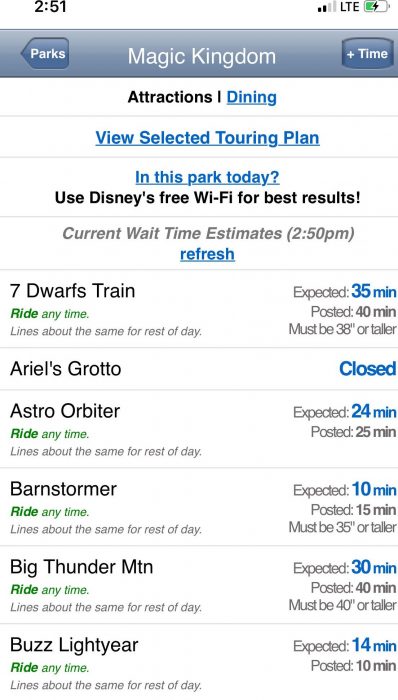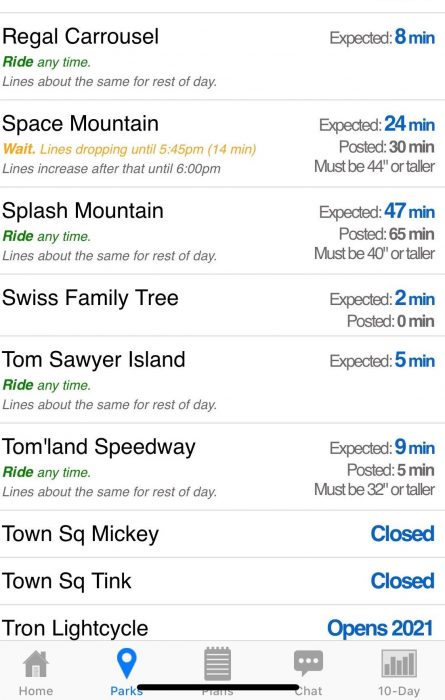 Expected Wait Times below are the wait times expected based on data calculated in our Lines app. Any Actual wait times below are from people actually waiting in line and riding.
Big Thunder Mountain

Posted Wait Time 40 / Expected 30

Seven Dwarfs Mine Train

Posted Wait Time 40 / Expected 35 / Actual 30

Space Mountain

Posted Wait Time 20 / Expected 24

Splash Mountain

2:10 p.m. Posted Wait Time 65 / Expected 47
2:45 p.m. Posted Wait Time 45 / Expected 53 / Actual 49

Haunted Mansion

Posted Wait Time 45 / Actual 29
A few pieces of insight can be gained by looking at these Expected and Actual wait times. It is pretty well known that Splash Mountain has the lower wait times in the morning, because everyone wants to ride it in the sweltering summer heat in the afternoon.
And it is interesting to see how Disney's posted wait time changed by 20 minutes in the span of 35 minutes. Our Expected Wait Time in our Lines app stayed within a 6-minute difference in that same time-frame, and ended up being very accurate.
You can also see that some of the minor attractions at Magic Kingdom still had manageable wait times when the major attractions had longer waits. In a few cases, such as Buzz Lightyear's Space Ranger Spin, our Expected Wait Time was slightly higher than Disney's posted wait time.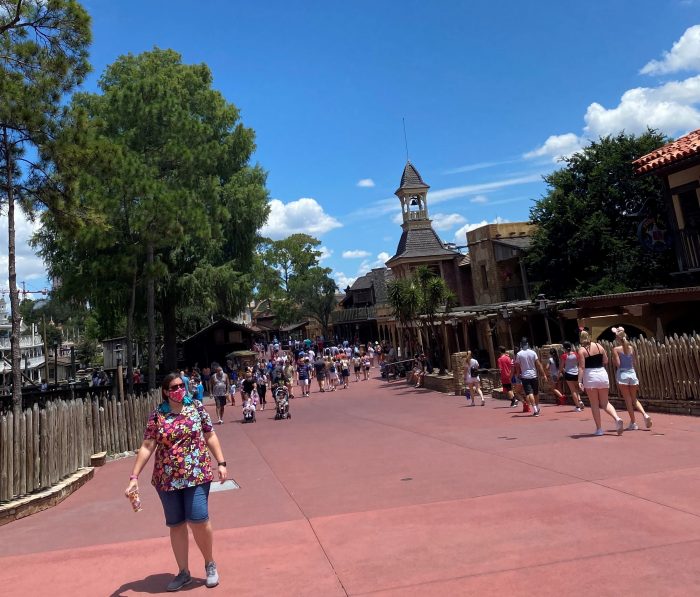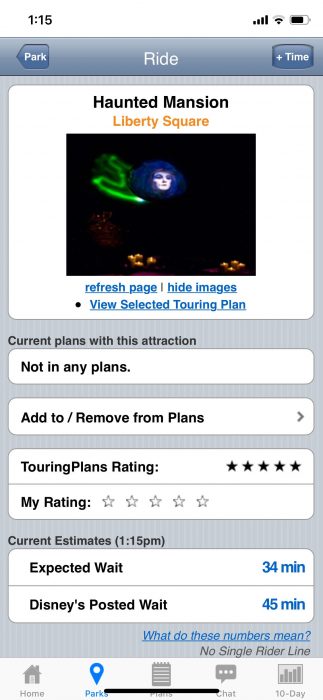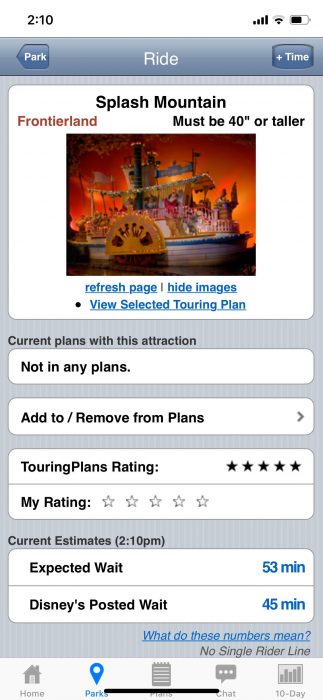 We all know this year is dramatically different than any other time in Walt Disney World's history. But, since we have the data (we're nerdy and scientific that way), let's take a look at the wait times for this equivalent day last year (the Saturday before school was back in session locally in the Walt Disney World area).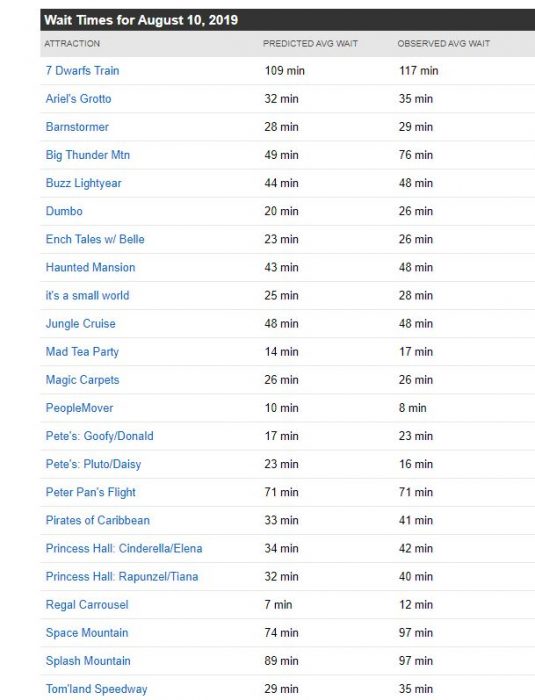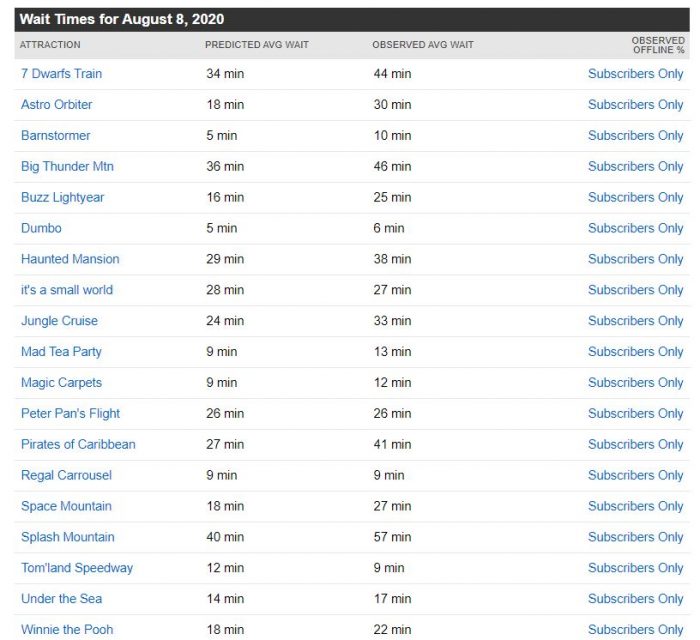 Seeing this comparison makes us realize that yes, Magic Kingdom was busier yesterday than it has been since the parks have reopened, but wait times are still dramatically less than this same day last year. It is also interesting to see that yesterday the Expected and Actual wait times we observed were on average less than Disney's posted wait times, whereas this time in 2019 observed wait times were longer than what Disney posted. If you're interested in viewing Magic Kingdom's actual wait times from yesterday and other past days, check them out on our site.
On our site you can view graphs with observed wait times compared to expected wait times for any past days. Anytime you see a green dot, that is an actual wait time submitted by a Lines app user, or a Liner as we affectionately call them.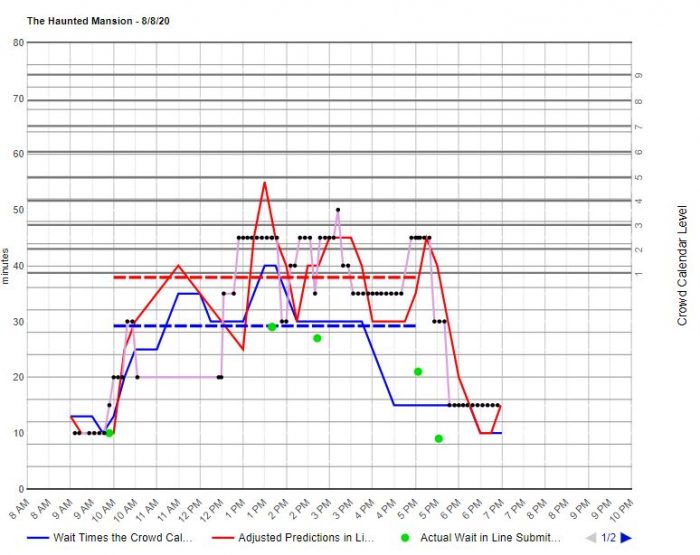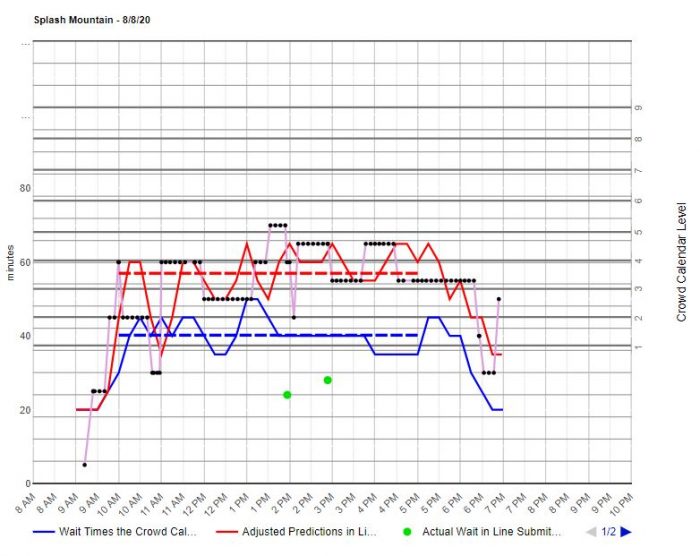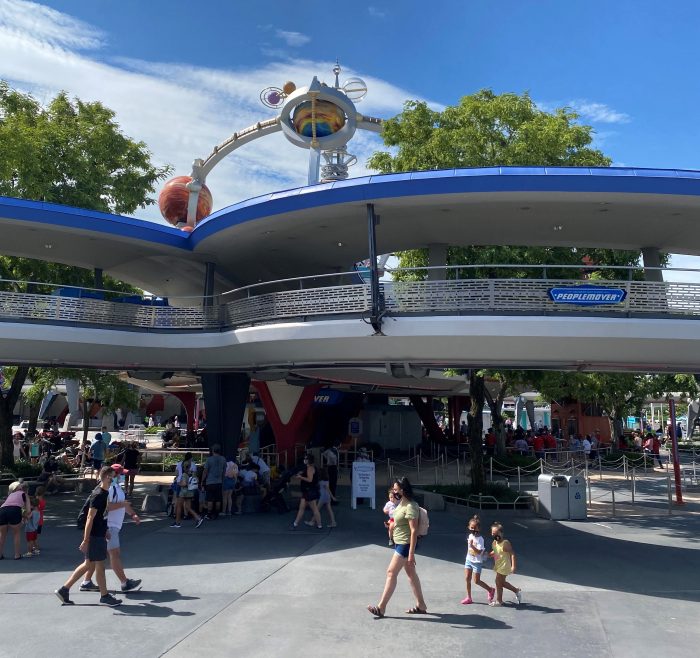 Highest Crowds Since Reopening
The overall crowd level for the Magic Kingdom was a 2 on our scale of 1 to 10. This is the first time the Magic Kingdom has been above a 1 since the park reopened on July 11, 2020. In addition, Universal Studios Florida was a 9 on our scale, and Islands of Adventure was a 7. Both of those are the highest crowd levels recorded since the parks reopened.
Seeing that attendance has picked up this weekend compared to other recent weekends makes us think that other historically busier weekends, like Labor Day weekend coming up, may continue to see an uptick. Certainly, wait times will not be what there were in the past, but it seems possible that holidays and historically busy weekends may continue to provide a small boost to attendance.
We are constantly evaluating data and observing the Disney theme parks. Stick with us on our social media channels and our blog for helping planning information and news.
We're also testing out different content to find new ways to help our readers.
What do you think of this style of post? Would you like more in-park observations? How about pairing those observations with data from our Lines app and website?
Thanks for reading!