Three Galaxy's Edge 360 Photo Op Tips
On Batuu, just like on other off-world planets (like, you know, Walt Disney World), there are photographers available to capture images from your visit.
One of the coolest photo ops in Galaxy's Edge is a 360-degree view of you on Batuu. The 360 image is treated just like any other picture taken by a PhotoPass photographer in the parks. This means that if you've purchased a Memory Maker, your 360 photos are included.
Here are three things you need to know to get the most out of the experience.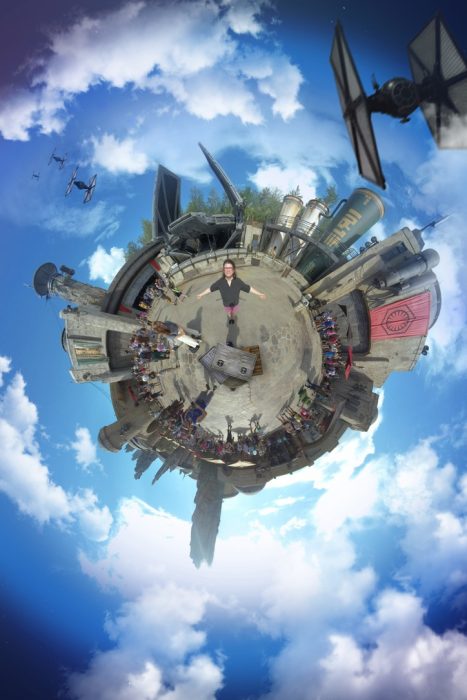 1. Where is this experience?
Like nearly everything else on Galaxy's Edge, there is no signage pointing where to go to get a magic photo. This experience is located near the First Order Cargo Shop. The queue for the experience starts at one edge of the stage in front of the life-size TIE Fighter. When I visited, there were some red umbrellas for shade, but some of the queue is exposed to the bright Batuu sun.
The 360 degree cameras are another tell that you're in the right place. The cameras, black balls posted on tall sticks, look more like droids than some of the actual droids.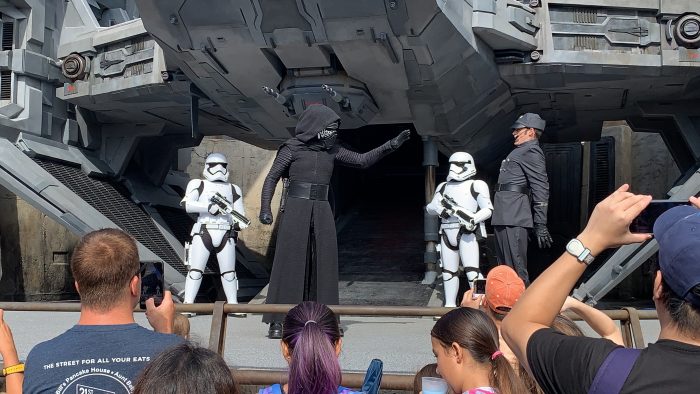 2. These shots are better with a group.
In the photo above, that's just me in the picture, with the black shirt. Despite her relatively prominent position in the image, I don't know the woman on the left side of the photo. She's another guest, on deck waiting for her turn. If you have a party of three or more people, the photographer will position you in a ring around the camera and you'll be in central circle, with any other guests pushed further out of frame.
With a larger party, the picture will then have only people in your group prominently featured in the center.
3. Ask to see the picture before leaving the photo spot.
The 360 photo area can be EXTREMELY sunny. The photographer will ask you to look skyward as he or she takes the picture. Depending on what time of day you visit, it may be nearly impossible to look upward without scrunching your face to avoid the glare. If you're in that situation, ask the photographer if you can take a quick look at their datapad to see the photo before you walk away. They'll give you a do-over if you don't like what you see.
You can also ask the photographer to take more than one shot if you want the members of your party in different positions around the circle.
Have you had this photo experience? Do you have any additional tips? Let us know in the comments.