Toledo at Disney's Coronado Springs: Small Plates, Big Flavor
Disney's Coronado Springs Resort's rooftop restaurant – Toledo – Tapas, Steak, & Seafood – has returned to the roster of Disney World's fine dining establishments.
Located on the 16th floor of the resort's Gran Destino Tower, Toledo is an upscale, surrealist Spanish restaurant with a wall of windows offering rooftop views of Walt Disney World and its nightly fireworks shows. In addition, Toldeo boasts a color-changing vaulted ceiling coupled with elegant olive trees for a natural flair.
However, Toledo isn't the only occupant of the Grand Destino Tower's 16th floor. Guests can also visit the Dahlia Lounge for additional views, drinks, and deliciousness.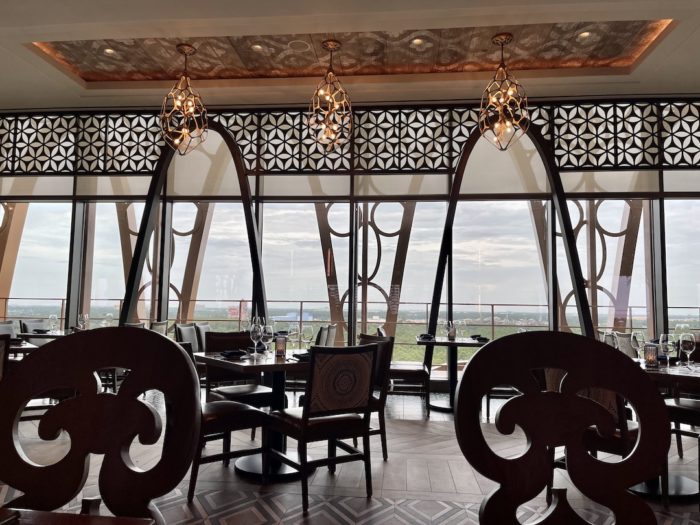 What You Need to Know
Toledo is only open for dinner; its current posted hours are 5:00 p.m. to 10:00 p.m. The average price ranges from $35.00 to $59.99 per adult. 
Our park reporter Chrissy visited Toledo upon its reopening to see what had changed and what's worth checking out! Here's what she discovered:
Per the restaurant manager, Raphael, Chrissy learned Toledo is operating at 70% and is accepting walk-ups in person and on the My Disney Experience app. Still, advance dining reservations are always recommended; but if you're already within that 60-day window, consider using the TouringPlans Reservation Finder.
Children are welcome, but she recommends Toledo as an adult experience since the service is formal and deferential but unrushed. The staff suggested that she order one or two tapas at a time while having a drink. She appreciated that they never tried to hustle her along.
Parties are encouraged to order one or two tapas at a time to enjoy a very leisurely meal. She thinks that's part of what justifies the significant prices – guests are in a stunning environment with no bad views and encouraged to really enjoy drinks and each stage of the meal.
Listed as Spanish-style sausage, Rioja wine, and onions, Chrissy says this was spicy, delicious, and just what you expect from a tapas spot. She liked that the stone platters they're served in were hot, and they made a lovely presentation while helping the food to retain heat.
A plant-based item, this is crushed tomato, olive oil, and charred bread; but unfortunately, Chrissy found it to be wholly underwhelming and a bit shocking for $10.00. It wasn't special in either taste or presentation. She says 100% skip.
Fans of octopus will like this one as it's properly cooked and seasoned well.
This one was warm, tangy, and plentiful. Chrissy says she would order this one again to have on the table through drinks. Granted, it wasn't anything you couldn't do yourself at a decent grocery cold bar, but it was nicely presented and a good nibble.
Listed as White Anchovy, Manchego, cracked black pepper, and a soft-poached egg, Chrissy considered Toledo's Romaine Salad as an excellent value! She liked the pillow of Machengo on top as it gave its Caesar-ish vibe a different flavor.
She admitted she was on the fence about it initially, but she would get it again! The twist on familiar flavors was both tasty and filling.
So the menu described this one as chilled mussels 'Escabèche', olive oil-poached tuna with lemon, 'Tortilla Española' Spanish potato omelet, Valdeón Blue cheese with fig and honey. Chrissy's take? There was no middle ground with any of these four.
The chilled mussels and olive oil-poached tuna just tasted overly handled/manipulated. All of the oils and sauces took away from seafood and didn't add much joy. The blue cheese, fig, and honey, however, was delightful! The cheese was powerful and strong and the most outstanding balance to the sweet fig and honey. She only wishes they would offer these separately like they used to.
She felt the same about the Spanish potato omelet. It was so delicate and outstanding with perfect layers of flavor and texture. The olives, ham, and egg were just fantastic together. Three perfect bites and an entire plate would have been appreciated.
Spaniard for Two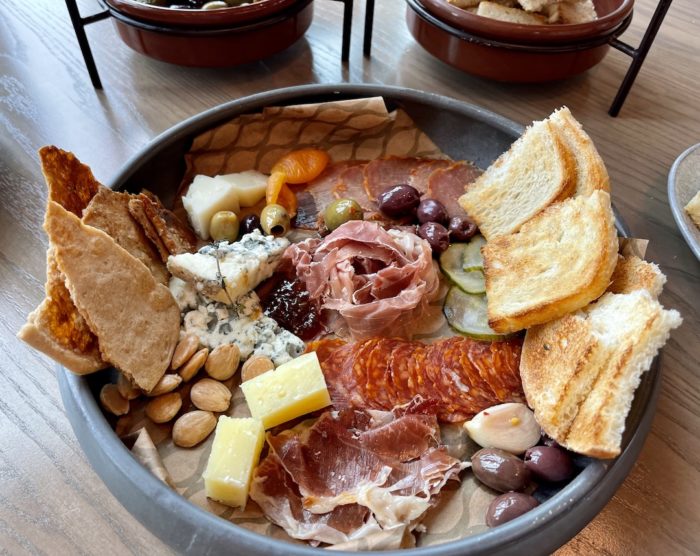 The chef's selection of artisanal charcuterie and cheeses, Chrissy says she would get this one every single time no matter who she had with her!
When it comes to charcuterie, she says blank spaces simply do not belong on charcuterie boards and that she'll die on that hill. If you have room, you need to add something or get a smaller platter. The ham was tissue-thin and delicate but the cured saltiness was powerful. Also, how can you go wrong with a Manchego cheese so strong you can smell it two feet away in the same bite as precious Marcona almonds and sticky, sweet fig jam that is basically jellied candy?!? You could 100% do this on your own at a specialty deli, but you'd spend a fortune and probably won't make it look like this. Well worth the price. She'd get this again and linger over something fruity and strong.
Entrees
Served with cauliflower, Cipolloni onions, and Valencia orange, Chrissy says the Grouper was leagues better than the filet, scallops, and cauliflower entree. It's one of the two entrees that she would suggest. There was about a pound of good butter on this one, but the result was flaky and delicious.
Also, she admits she's a sucker for a good sear on properly cooked fish, and this was a star example of that. The braised orange on top was such a tasty and lovely addition! Although, she could have done without the onions. Yes, they are on-theme with the menu, but fish this happy doesn't need anything but the bit of citrus on top. She enjoyed this much more when she pushed the onions aside. If you order the charcuterie and this, you'll happily feed two.
Chrissy said this entree was properly cooked, sweet, delicious, but a wee underwhelming compared to other locations currently doing scallops like rock stars (*ahem* Topolino's).
Served with vegetable puree, olives, Harissa vinaigrette, and roasted carrots, Chrissy believes it's not worth the $32.00 price tag. Yes, she knows the scallops at Topolino's are $49.00, but they're worth the money and then some. This dish isn't bad, it just isn't great or even a good value.
So Chrissy ordered her filet medium rare, and it was the correct temperature and color. Unfortunately, it was still tough. The seasoning was tart and deep; but when the cut isn't tender, it doesn't matter what else is thrown at it. Skip. Soooo many other options on Disney property for great steak.
Perhaps the best dark meat Chrissy's had on property in a very long time. She was agitated with the chips on top feeling them to be superfluous and totally in the way of an otherwise delightful dish. However, sauce on the chicken – especially the dark meat – was the deepest reduction of wine and those delicious bits that stick to the pan when you sear meat correctly. Lovely.
With the exception of the braised Gigante beans which were fine but unremarkable, Chrissy says she would get each of Toledo's sides again! The $8.00 price tag for each is solid considering the volume of food.
Gigante Beans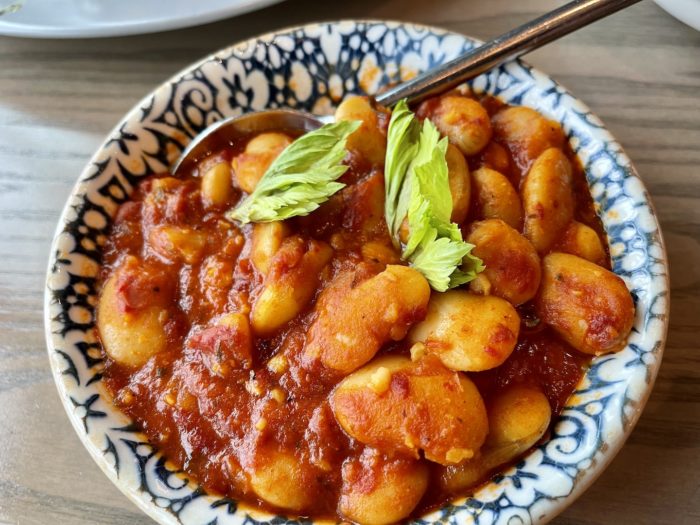 Her one complaint about the sides is the repetition of a few on the main dishes. It made them feel less special but no less tasty. A good example of this is the Roasted Cauliflower.
Roasted Cauliflower
Chrissy says these were like a bowl of veggie candy. Granted, they're not as good as Le Cellier, but still pretty great.
So spicy and good! Waaaay too many for two or three people, but a nice plate to have on the table.
A delightful and flavorful side for your meat and potatoes kind of person.
Desserts
She had no words for this one. She admits her taste in desserts is more six-year-old-at-the-fair; but sweet baby Willy Wonka, this is an affront to sugar and desserts everywhere! It should be taken off the dessert menu and put on the "Try This if You Dare" menu and then don't get it. The strawberry basil sorbet is waaaay more basil than strawberry and way more not good than daring. The chocolate and avocado is fine but why?!?! Why mix those two?!? NOPE NOPE NOPE NOPE.
Final Thoughts