Top 5 Highest Rated Disneyland Quick Service Restaurants
Not sure where to eat in Disneyland? We're here to help. Today we're going to take a look at the top 5 highest rated quick service restaurants, as rated by you and your fellow TouringPlans and Unofficial Guide to Disneyland readers. Keep in mind this list only includes quick service restaurants. No full service locations, outdoor vending carts, or snack stands (some of which may rank higher in our surveys) will be on this list.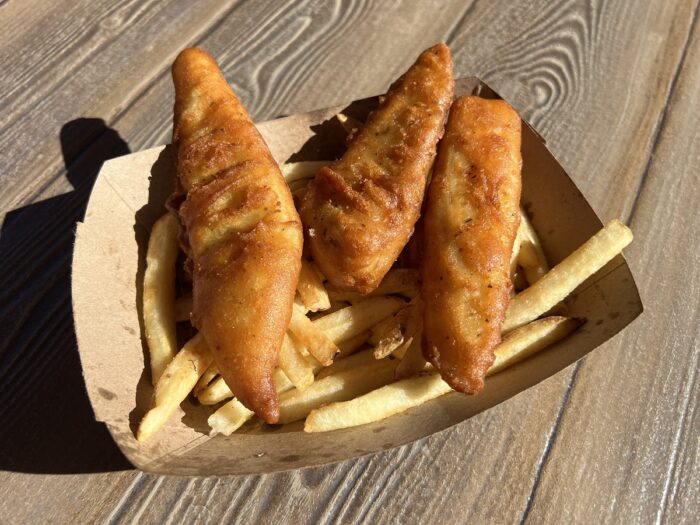 #5 Stage Door Cafe – Frontierland
Rating: 91% thumbs up
Summary: Stage Door Cafe is located in Frontierland next to The Golden Horseshoe, which is shares much of the same menu with. Outdoor seating is available across the walkway and offers nice views of the Rivers of America. Here you people watch as they stroll by, as well as observe the various watercraft that travel along the river. The menu is mostly made up of fried goods. The fish is edible (albeit previously frozen), but the fries and nuggets are bland. The highlight of the menu is Disneyland's famous hand-dipped corndog.
House Specialties: Corndogs, fish & chips, chicken tenders.
Comments: Stage Door Cafe somehow just beat out Plaza Inn for the number 5 spot. Plaza Inn is of course home of Disneyland's beloved fried chicken, but we suspect Stage Door beat it out because in recent years it became an alternate home to the incredibly popular corndogs. If you find yourself having to eat at Stage Door, the corndogs are the only thing we recommend getting.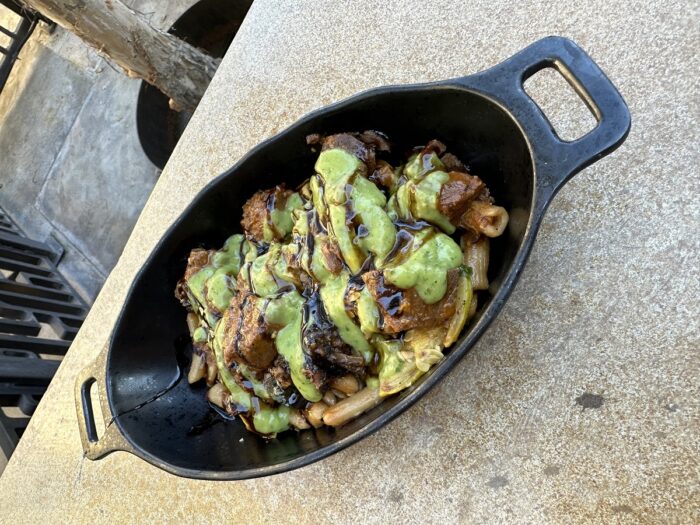 #4 Docking Bay 7 Food and Cargo – Star Wars Galaxy's Edge
Rating: 92% thumbs up
Summary: All of the food at Docking Bay 7 is named after unpronounceable otherworldly species, but rest assured that it's really made of earthbound ingredients, many of which are sustainably sourced. The food here is a cut above typical theme park fare, and approaches the resort's sit-down restaurants in quality and price; the Yobshrimp Mix Stew with Swamp Grains is white tablecloth worthy.
House Specialties: Yobshrimp Mix Stew with Swamp Grains (Spicy Tomato Curry Pan Roast with Shrimp, Sausage, Vegetables, Herb Rice), Endorian Fried Chicken Tip-Yip (Crispy Chicken, Roasted Vegetable Potato Mash with Green Gravy), Felucian Kefta & Hummus Garden Spread (Impossible Meatballs, Herb Hummus, Tomato-Cucumber Relish, Pita).
Comments: Docking Bay 7 is one of our favorite dining locations in all of Disneyland Resort. It offers unique items that aren't found at any other quick service locations and there's usually something new to try on the menu. Entrees are just below $20, which is high for quick service food, but the taste and quality make it worth it when compared to lesser items at other restaurants in the park. We'd much rather pay $18.99 for Trandoshan-style Pasta with Braised Bantha (Chile-braised Beef, Buttered Garlic Cavatelli, Seasonal Vegetables, Zesty Avocado Sauce, Balsamic Glaze) than $13 for a subpar theme park hamburger.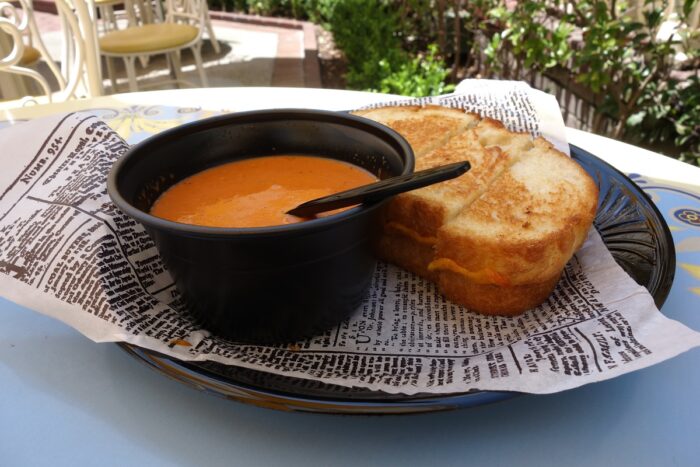 #3 Jolly Holiday Bakery – Main Street, U.S.A.
Rating: 93% thumbs up
Summary: Themed to Mary Poppins, with stained glass windows featuring penguin waiters, this is a good spot for a light breakfast or lunch, though lines can grow long at peak mealtimes. Seating is outdoors only, and soup and quiche portions are small, but the salads and sandwiches are substantial and savory. Don't miss the massive Matterhorn coconut macaroons.
House Specialties: Matterhorn macaroon, Jolly Holiday Combo (grilled cheese sandwich with tomato soup), Caprese on Focaccia Bread, and a large variety of seasonal goodies.
Comments: Jolly Holiday ranks high because of a number of factors. There's something for everyone, it's affordable, it has a convenient central location, and the food is good. Nothing on the menu is inventive or will blow you away, but it's all solid. We also enjoy the constant seasonal items that come and go throughout the year.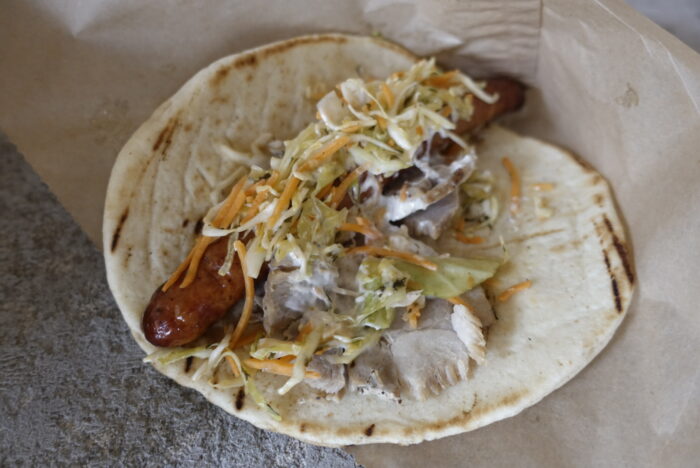 #2 Ronto Roasters – Star Wars Galaxy's Edge
Rating: 94% thumbs up
Summary: A disgruntled smelting droid named 8D-J8 does the cooking here, turning alien meats on a rotating spit as they roast underneath a recycled podracing engine. The pita sandwiches, dressed with tangy slaw and spicy szechuan peppercorn "clutch sauce," are our favorite snack in Batuu. Wash it down with a tart Tatooine Sunset melon and blueberry limeade.
House Specialties: Ronto Wrap (flatbread sandwich filled with roasted pork and grilled Portuguese sausage), nonalcoholic fruit punch.
Comments: We're not surprised both of two Star Wars Galaxy's Edge dining locations make the top 5. Ronto Roaster's wrap can be quickly obtained and eaten on the go, they're relatively cheap, and they taste great. We do enjoy the regular Ronto Wrap with its roasted pork, grilled pork sausage, peppercorn sauce, and tangy slaw, the Ronto-less Garden Wrap (Plant-based Sausage, spicy Kimchi Slaw, sweet Pickled Cucumber, Plant-based Gochujang Spread, wrapped in Pita) is also very good. We also think the Ronto Morning Wrap (Scrambled Eggs, Grilled Pork Sausage, Shredded Cheddar, Peppercorn Sauce, wrapped in Pita) is one of the best breakfast items in the park.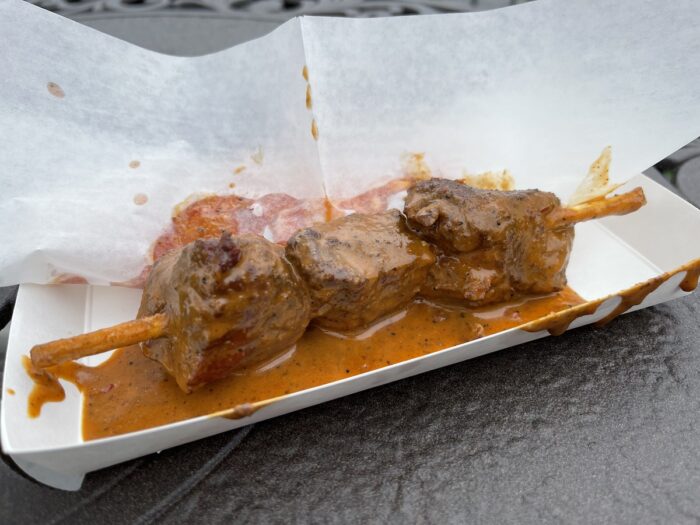 #1 Bengal Barbecue – Adventureland
Rating: 96% thumbs up
Summary: Skewers, skewers, skewers. It's hard not to notice the irresistible smell of barbecued meat wafting through Adventureland. The sauce they put on the Banyan Beef Skewer is so good, you'll want to drink it.
House Specialties: Beef, chicken, and vegetable skewers
Comments: Bengal Barbeque continues its dominance in our surveys. It remains Disneyland's highest rated quick service restaurant with our readers for 5 years in a row. Skewers are small, but prices are around $7. The bacon-wrapped asparagus and Polynesian chicken skewers are best, proving the old adage that everything tastes better on a stick. Portions have shrunk noticeably over the years, but this is still a good fast food alternative to the dine-in options inside the park.
Are you a Disneyland Magic Key holder? Be sure to check out our Disneyland Crowd Calendar, which rates every day of the year on a scale of 1 to 10 so you can see how busy Disneyland and DCA will be during your visit. Also check out our Disneyland Touring Plans. These itineraries can show you how to beat the crowds and spend less time in line at your favorite rides. Our Touring Plans can also be personalized! All of our tools are used by hundreds of thousands of visitors each year and are constantly being updated by our in-park team of researchers and data scientists.
Do you agree with how our readers rate the top 5 Disneyland quick service restaurants? Let me know in the comments as well as your favorite Disneyland dining locations.