Toy Story Land is Getting a Rootin' Tootin' New Restaurant
Hey howdy hey! Disney's Hollywood Studios will be home to a new restaurant, opening on March 23, 2023. The new spot, Roundup Rodeo BBQ, will be located in the Toy Story section of the park, near Slinky Dog Dash, Alien Swirling Saucers, and Toy Story Midway Mania.
This venue will serve smoked meats (and some smoked plant-based alternatives) along with sides, salads, desserts, and beverages. All the entrees are served with an assortment of BBQ sauces in traditional, sweet, and spicy flavors. We don't have any word on pricing yet, but we do have the full menu.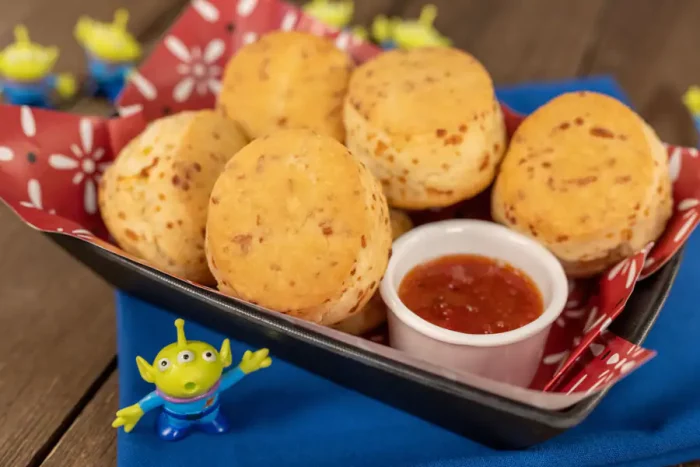 Salads and Starters
Prospector's Homemade Cheddar Biscuits: served with sweet pepper jelly.
Tomato Salad: Tomatoes, cucumbers, and pickled red onions tossed in a white balsamic vinaigrette and garnished with fresh dill (plant-based)

Rex's Romaine and Kale Salad: Romaine and kale mixed with green apples, pumpkin seeds, and dried cranberries tossed with green goddess dressing
Watermelon Salad: Cubed watermelon garnished with freshly torn mint leaves (plant-based)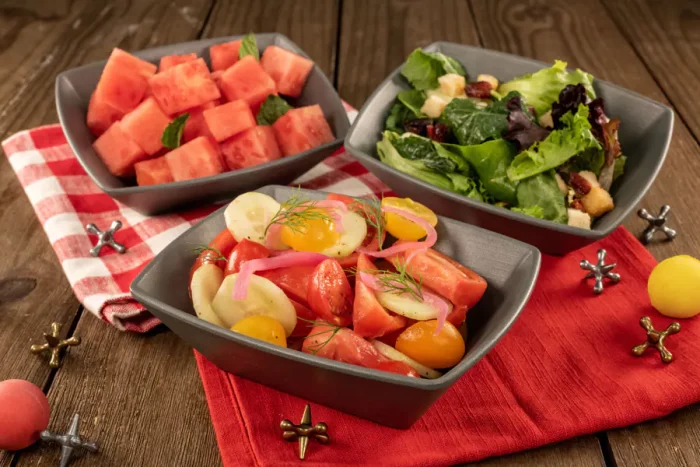 Entrees
Evil Dr. Smoked Ribs: Fall-off-the-bone pork ribs, slow-cooked for hours in an onsite smokehouse
Buttercup's Beef Brisket: Hand-sliced beef brisket, smoked then slow-cooked
There's a Sausage in My Boot: Spiced pork sausage fire-grilled over live oak
BBQ Chicken – with Style! Chicken brined for 48 hours, rubbed with BBQ spice and smoked to tender
Slow-smoked Cauliflower topped with sweet harissa drizzle and crunchy walnut gremolata (plant-based)
Oven-roasted "Bratwurst" (plant-based)
Impossible "Rib Chop" seasoned with spices, then roasted and glazed with sweet BBQ sauce and skewered on a sugar cane "bone"  (plant-based)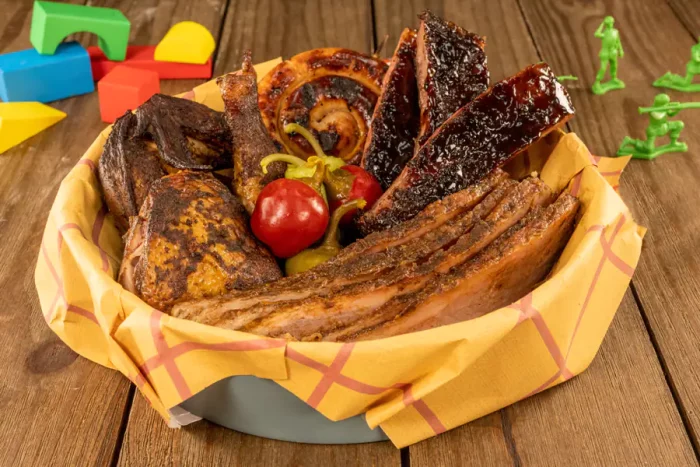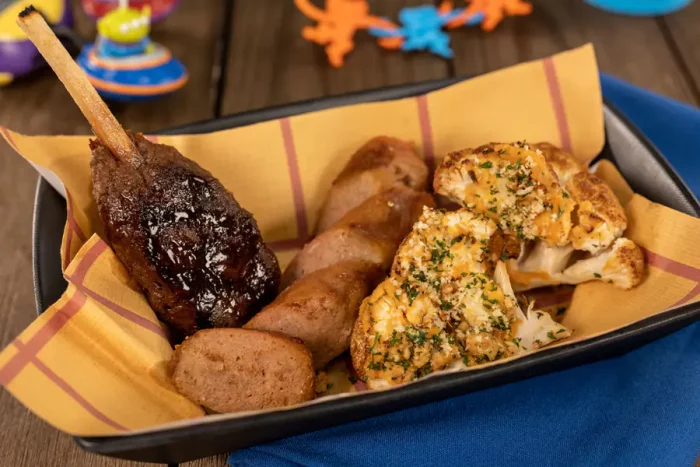 Side Dishes (Choose four for the table)
The Married Spuds: Loaded potato barrels drizzled with green goddess dressing, cheese sauce, and seasoned BBQ spices
Force Field Fried Pickles: Jumbo pickle spears coated with a dill-flavored breading and then fried
Slinky Doooooooooog Mac & Cheese: Spiral pasta in a creamy house-made cheese sauce topped with crumbled cheddar crackers
Buckin' Baked Beans: A traditional BBQ picnic favorite (plant-based)
Cowpoke Corn on the Cob: Grilled and seasoned with a chili-lime spice blend, cilantro, cotija cheese, and lime juice
Mean Old Potato Salad: Homestyle with red-skinned potatoes
Veggie Slaw: Crunchy shredded veggie slaw (plant-based)
Campfire-roasted Vegetables: A variety of roasted seasonal vegetables (plant-based)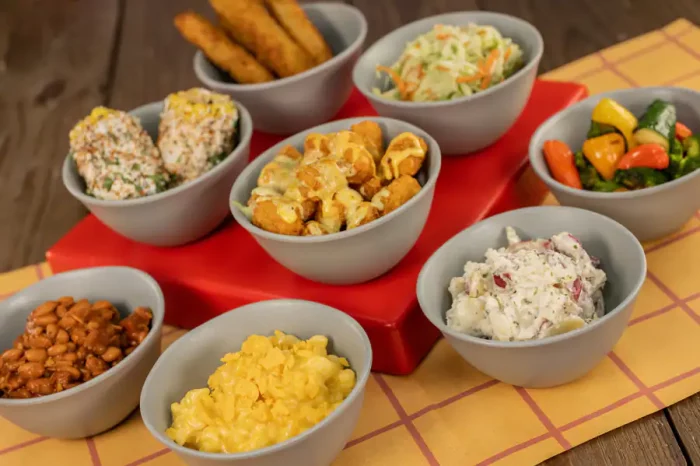 Desserts (Choose from a selection for the table)
Cupcake à la Forky: Classic chocolate cake with a gooey chocolate ganache center topped with graham cracker buttercream and a sugar cookie
Lemon and Blueberry Cheesecake
Billy's Chocolate Silk Pie: Layers of graham cracker crust and chocolate mousse topped with chantilly cream
Goat's Apple Pie: Tart apples and warm pie spices with a creamy sweet filling under a crumble crust
Gruff's Peach-Strawberry Pie: Sweet peaches and tart strawberries (plant-based)
Craft Cocktails
Snake Eye Margarita: Inspired by a summertime BBQ featuring watermelon, smoke, and a bit of spice
Rum Punch: Rum punch with passion fruit and pineapple finished with a smoky spiced garnish
Chocolate with a Grown-up Twist: A blend of chocolate rum, horchata liqueur, cocoa, and flavors of toasted marshmallow
Frozen Peanut Butter & Jelly: A frozen twist on the classic peanut butter & jelly featuring peanut butter whiskey
Whiskey Lemonade: Strawberry lemonade made with Tennessee whiskey and Italian bitter aperitif
The Rodeo Mule: Vodka with fresh juices and ginger beer
A selection of beer, hard cider, and wines by the glass are also available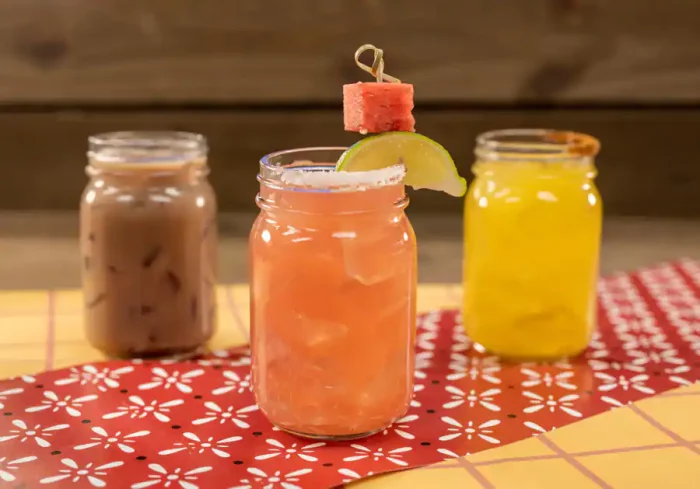 Non-alocholic Beverages
Molly's Frozen Iced Tea: A frosty concoction with iced tea and citrus flavors
Frozen Cocoa: A frozen blend of cocoa and vanilla topped with miniature marshmallows
Partysaurus Tex: Strawberry lemonade is garnished with gummy worms
Plus the usual assortment of Coca-Cola products
Let us know which items you're looking forward to!