Vacation Grocery Delivery Review (and Stroller Too!)
My family always orders in groceries when we travel to Walt Disney World. Even for a short trip. With young kids, we're needing things like milk and juice in the room. And we always prefer keeping some breakfast food in the room so that we can eat there before heading to a park, or packing something up to eat while waiting for the rope to drop. In the past, I've just used Instacart and ordered things to be delivered to our room right before our arrival and then picked it up when we checked in. But for our most recent vacation, I found a totally new service through the Ear For Each Other Facebook group (which supports current and former cast members in some of their new and supplementary ventures).
Why Vacation Grocery Delivery?
If you read any of my articles or watch my YouTube videos, you will not be surprised to find out that I do a LOT of research before making any vacation-related decisions. Instacart has always bothered me with their delivery fees or fluctuating prices, and I've had a few flubs with missed or inappropriately-swapped items that I then have to flail to fix or replace.
While perusing Ear For Each Other, I found several positive reviews from Vacation Grocery Delivery. And then they posted that they were starting stroller rentals in time for our trip. My kids are 6 and 3.5, so I consider them generally too old for strollers – but I knew that given our all-day touring style, the three-year-old would probably need some help later in the day. And I'd much rather stick her in a stroller than carry her around. But I didn't want to fly with a stroller, or spend a TON of money renting one as backup.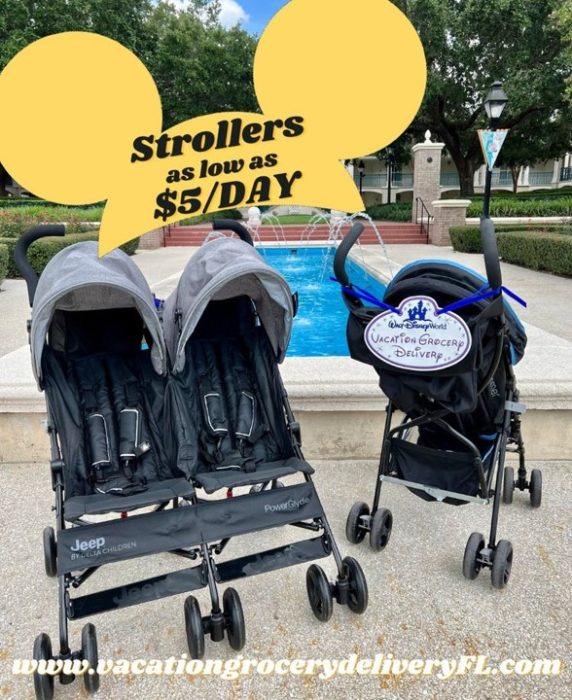 Vacation Grocery Delivery announced that their strollers were $5/day (for a single) and the delivery fee is waived if you also place a grocery order. $5 a day! And it was just a handy Summer 3D Mini (a ~$50 stroller if you purchase it yourself). No giant cumbersome stroller to haul around as mostly a back-up. It would allow us to travel light and move quickly if we needed to.
Pre-Vacation Experience
I booked my stroller and grocery delivery on the same day (but they are two separate reservation forms).
The grocery delivery allows you to select a delivery date and your resort – you can deliver to Disney resorts or Universal or "Good Neighbor" hotels. You agree to pay a $25 delivery fee. Important note: this is really the only fee related to the entire process. No hidden costs, no secretly more-expensive items, etc. It also allows you to preselect a tip for your delivery person, in terms of a percentage or exact number.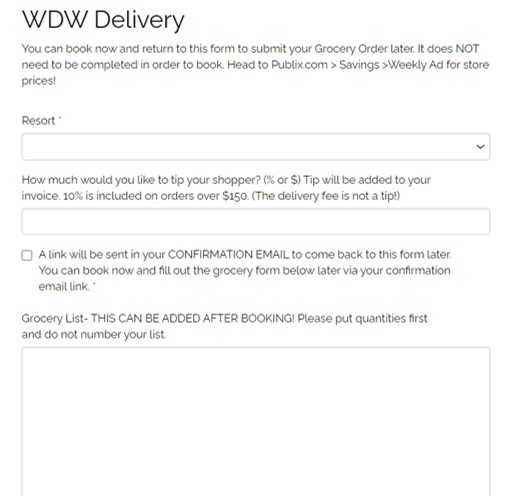 Then you're given a big free-text box to type out your grocery list. I actually really loved this feature, because instead of just scrolling and selecting an item, I could type out descriptions and acceptable replacements. Aka, "One 8-count box of S'mores Pop-Tarts. Can replace with 8-count of Cookies'n'Cream or Chocolate Fudge" or "Two 20 fl oz bottles of Diet Dr. Pepper" or "4 bananas, ideally fully ripe". This list is editable up to three days before your trip. I filled it out initially, and then came back and edited it later when I decided what we really wanted. If you only do a grocery delivery, the order will be delivered to bell services and stored for you. If you also book a rental, then the groceries will be delivered with the rental.
Next I booked our stroller. Again, super-easy. This time, you pick what you want to rent (single stroller, double stroller, box fan) and a delivery date. But for rentals you also have to select a drop-off time. Unlike with groceries, Vacation Grocery Delivery can't drop an item with bell services. So you have to select an hour-long window, during which you will meet the delivery person at the main lobby at your resort. Once you book, they will then send you an email where you will select a 30-minute pick up window to meet the delivery person again so that they can take the rental item back from you.
Delivery Experience
On our Disney arrival day, we had a schedule that was pretty busy. Our flight was scheduled to land at 2 pm. Then we'd pick up our rental car, check in, and I had to get ready for a fancy dinner while the rest of my family walked over to Riviera to spend their evening there.
Vacation Grocery Delivery was able to communicate with me via text, starting about 2 hours before the scheduled delivery time. Our originally-selected delivery window was 4:15-5:15, and it ended up that we'd be arriving at our resort around 3:30. I texted to let the delivery person know at 3:15 that we'd be arriving in 15 minutes and she offered to meet us at the main lobby as we were pulling in and before we went to our room. Perfect! Saves me a drive or a walk. We pulled up under the awning, and she was there waiting in the temporary parking.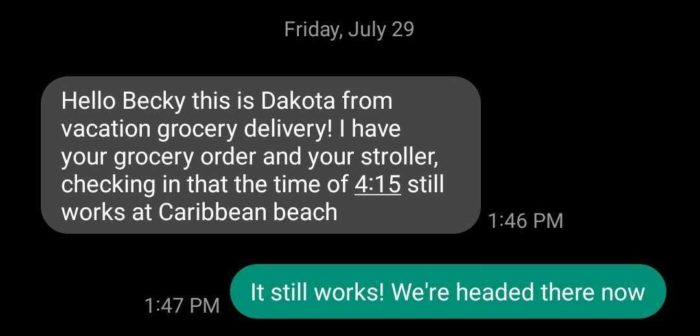 She walked over with a cart that had two bags of groceries and the stroller. She did a quick stroller demo, had me sign a release form for the stroller, and we were off! This went even faster than it would have if we had to wait for bell services to retrieve our groceries and/or stroller when we arrived. I was very pleasantly surprised.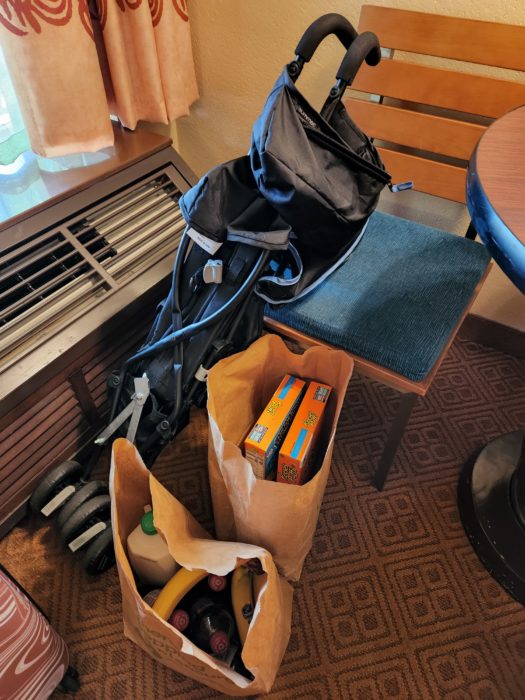 Pickup Experience
I had selected an 8:32-9:02 am return window (every window offered was 2 minutes askew from the hour/half-hour at the time) on our departure day. We had 9:45 reservations at Whispering Canyon Cafe, so we wanted to leave the room and check out sometime before 9:15.
I got a text from the pickup person at 8:15 that let me know he would be there around 8:45. Perfect. Then we got an update right before he arrived. My husband just popped the stroller into the trunk and drove to the main lobby at 8:45. Pickup was already there. They checked over the stroller for damage, and then allowed us to go on our way. Very easy – again, didn't take any more time than it would have to drop the stroller off at bell services to be picked up later.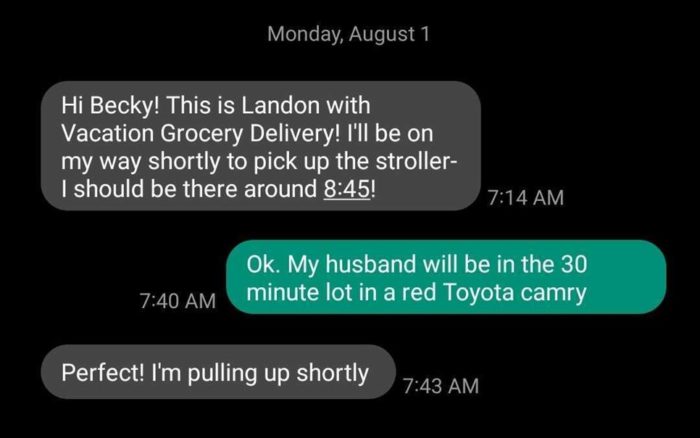 Theoretical Cost Comparison
Grocery
Vacation Grocery Delivery charges you based on the exact receipt for the sale from Publix. You're even allowed to shop the weekly ad to tailor your order to take advantage of sales. And their shoppers are trained to take advantage of sales on your behalf as well. So our total for our relatively small order was $33.76. We even got two boxes of Reese's Puffs instead of one, because it was on a BOGO sale. After a 10% tip, that total came to $37.14.
I also paid the $25 delivery fee, which on a small order seems like a lot. It is a lot. With a much bigger order, that would make a lot less of a difference. But even on this same small order, I priced out the equivalent order on Instacart. I wouldn't have gotten the bonus box of cereal, and the order including fees and tip would've been $57.26. So I paid $4.88 more, but got more cereal, confidence that my order would meet my needs, and a quick delivery. I'm fully confident with a bigger order, I'd save money and have a better experience. The break-even point typically happens if you have a grocery order of $45 or more.
Stroller
Here is where the cost was a big win. The other stroller company that we typically rent from is Scooterbug, which is the only company that can deliver to and pick up from bell services so that you don't have to meet the delivery company. Their cheapest stroller options for the long weekend that we needed was the Britax Pathway, which was $37.28 including tax. Really that's not bad anyway, but the stroller was a bit bulky and heavy for our needs. Instead, we got our Summer 3D mini for $15, also including tax. Saved $22.28, more than making up for the slightly higher grocery cost.
Overall Impression
I would 100% use this service again. I found it myself after research, I booked it myself, and I paid for it myself. I'm only writing about it here because it was such a positive experience that I want to share it with others. It will often save money compared to other grocery delivery services, it will always save money compared to other stroller rental companies, and it seems to be a much more pleasant experience. On top of that, you're supporting current and former cast members and this new service that they're providing. They're used to making your vacation magical, and it shows.