Disney in a Minute: What is Stroller Parking?
We're here with a series of quick posts, "Disney in a Minute," bite-sized nuggets of information that can better help you understand a Disney term or planning topic. Enjoy!
Being the quintessential family-friendly vacation spot, it's not surprising that Walt Disney World is a place where you'll encounter strollers – lots and lots and lots of strollers. As prevalent as these wheeled child conveyances are, there are a number of places where you can't bring them at Disney World. For example, strollers are not allowed in most attraction queues or in most table service restaurants. (A notable exception to this rule is strollers used as wheelchairs for guests with medical issues.)
So what do you do with your stroller when you want to take your tot on a ride? The answer is stroller parking.
Somewhere near the center of each region of each park (like Fantasyland at Magic Kingdom or Future World West at EPCOT) you'll see "Stroller Parking" signage. If there are lots of people in the park it's generally evident where the stroller parking areas are even without the signage; you'll see a sea of prams clustered together. If you happen to get to the park early and the signs are not immediately evident, just ask any nearby cast member. In additional to stroller parking areas, also keep an eye out for "no stroller parking" signs that indicate areas where stroller parking is not allowed.
Whenever you leave a stroller in a stroller parking zone, be aware that it may not be precisely where you left it when you return. To keep the stroller parking areas organized, with the space used efficiently, cast members occasionally move strollers around a bit within the parking areas. If you're concerned about this, try tying something like a colorful bandana to your stroller's handle to make identification quick and easy.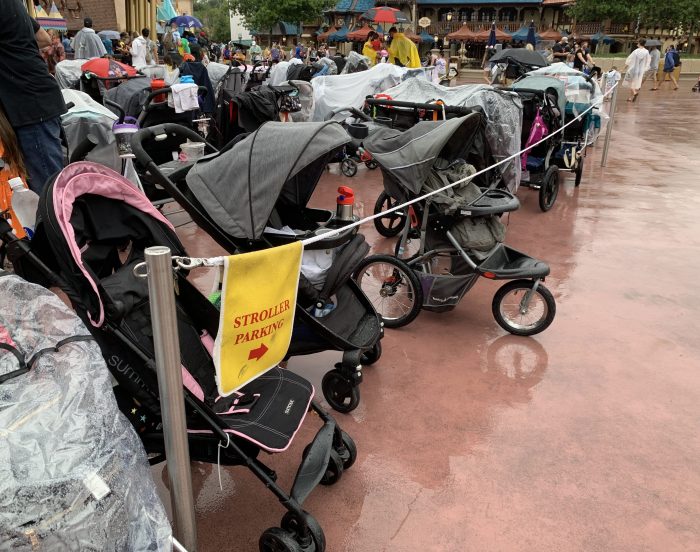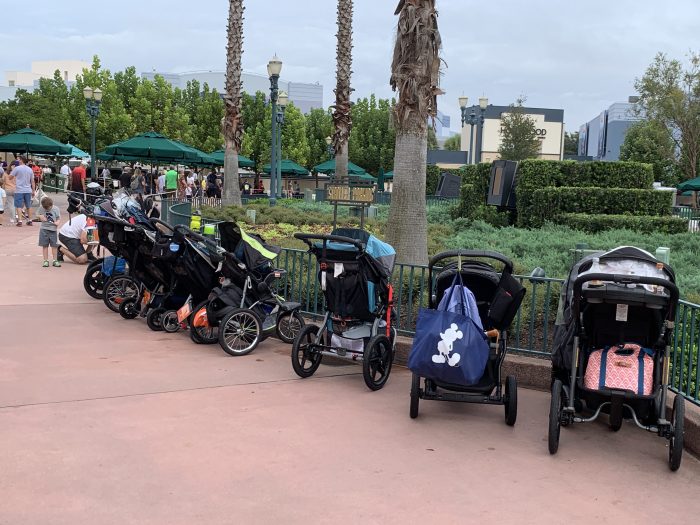 Have any questions for Disney in a Minute? Let us know in the comments.