Walt Disney World Annual Passholders Get More Disney Park Pass Reservations Dates and Pass Extension
We all knew that the reopening of the Walt Disney World Resort theme parks would see some unique challenges. One such challenge has been for Walt Disney World Annual Passholders who have been unable to make theme park reservations in the new Disney Park Pass system. This is due to there not being days on the calendar available to them, even though day Guests have been able to purchase tickets day of.
As you can see, July has no current availability and August has very limited availability, with almost none on the weekends.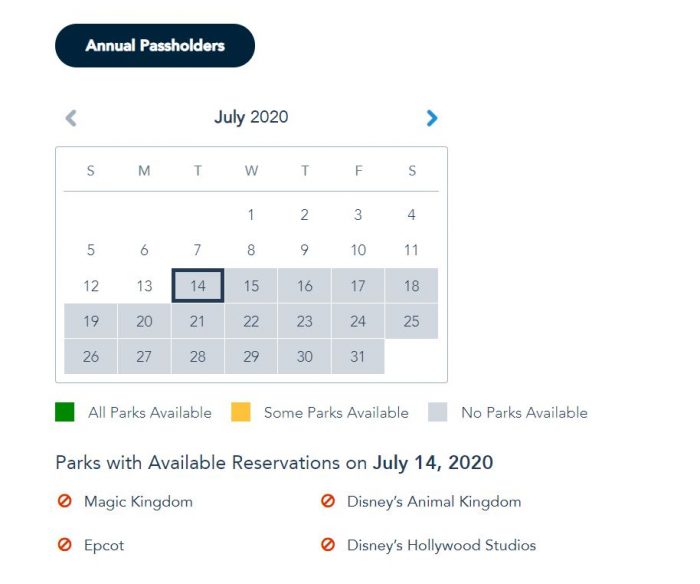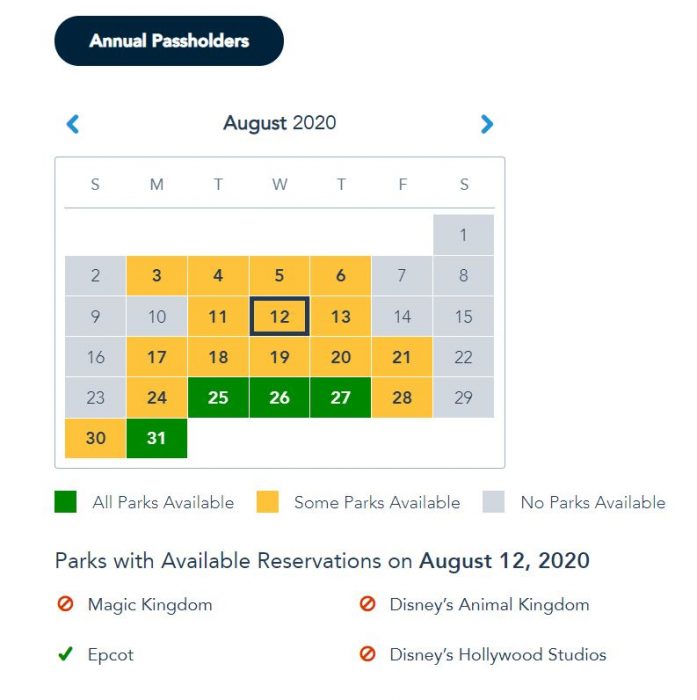 Today, Disney has announced that they are going to add additional Disney Park Pass reservations to Annual Passholders beginning on July 16. Select dates will be added in July and August at the Magic Kingdom, EPCOT, and Disney's Animal Kingdom. Disney would like to stress the fact that this additional Disney Park Pass reservation availability does not reflect an increase in Park attendance. Attendance still remains limited during this reopening period.
In addition, in case you missed it, Disney made another helpful change. Annual Passholders who are staying at a Walt Disney World Resort or other select hotels with valid Theme Park admission are now eligible to make Theme Park reservations for each day of their resort stay(s), in addition to holding up to 3 days of theme park reservations at a time on a rolling basis. Before, you could either have one or the other – not both. Once you use a theme park reservation, you can make another reservation for a future date.
In addition, back in June, Disney let Passholders know that they would be receiving a one-month (30 days) extension to their pass. This additional month will automatically be processed and visible in their My Disney Experience account here soon! So yay!
For those who would rather though, you still can cancel your pass and receive any applicable refund in lieu of the additional month. This option is only available for a limited time and can only be done now through August 11. You can also call V.I.PASSHOLDER Support at 407-939-7277 for assistance.