Walt Disney World to Remain Closed Due to Coronavirus Concerns
According to The Walt Disney Company, the Walt Disney World Resort will remain closed until further notice due to concerns about Coronavirus (COVID-19.)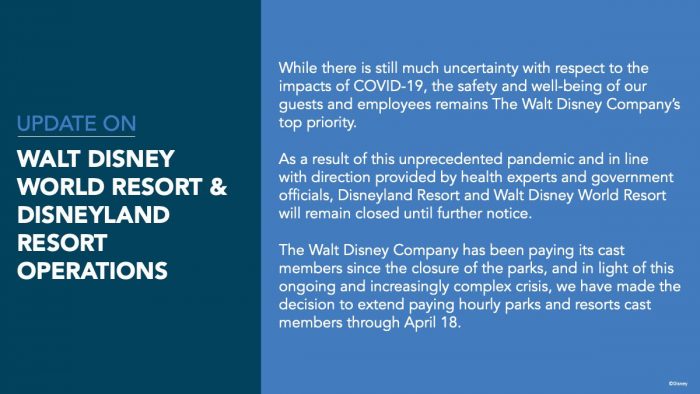 While there is still much uncertainty with respect to the impacts of COVID-19, the safety and well-being of our guests and employees remains The Walt Disney Company's top priority. 
As a result of this unprecedented pandemic and in line with direction provided by health experts and government officials, Walt Disney World Resort will remain closed until further notice. 
The Walt Disney Company has been paying its cast members since the closure of the parks, and in light of this ongoing and increasingly complex crisis, we have made the decision to extend paying hourly parks and resorts cast members through April 18. 
Now, two things stand out in this announcement. One…they don't officially announce a reopening date as of this moment. The second thing that stands out is that I would expect that sometime around April 18, they will re-evaluate what happens with the parks as things in relation to this pandemic are ever changing. So, if you have a trip scheduled for late April or early May, honestly, I think it's still too early to say if the parks will officially be open at that point. This is all a guessing game based on how this pandemic spreads or slows.
For more information about the impacts of Coronavirus, please follow along with our page here.