Why Choose Starbucks at Disney?
If you take a look at the TouringPlans reader ratings for Walt Disney World restaurants, there's a lot that makes sense: Pineapple Lanai has fun variations on Dole Whip, Les Halles Boulangerie-Patisserie offers treats from France, and Sleepy Hollow has waffle sandwiches. And then, at spot number eight, there's Creature Comforts. Creature Comforts is … Starbucks … yes, that Starbucks.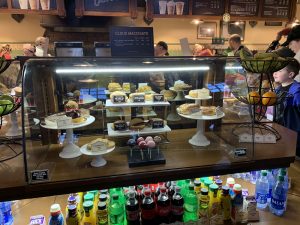 In fact, there are six Starbucks locations at Walt Disney World: Creature Comforts at Disney's Animal Kingdom, Trolley Car Cafe at Disney's Hollywood Studios, Main Street Bakery at Magic Kingdom, Traveler's Cafe at EPCOT, and two locations at Disney Springs. They all rate well with our readers, begging the question, "Why?" Why go all the way to Disney World just to have the same Starbucks you get anywhere in America?
Here are some reasons why you might opt for Starbucks while you're at Walt Disney World:
You're not an American: While there are Starbucks locations in many countries, if you're not a U.S. native, you might be curious to see what this American chain offers, or how this version differs from the one you have at home.
Convenient location: Just like the Starbucks locations out in the real world, the Starbucks outposts in the parks are conveniently located, generally near a park entrance or along a well-traveled path.
Timing: During breakfast hours, Starbucks may be your only available option.
Familiarity: When you're on vacation, there's a lot that is different, maybe even overwhelming. Sometimes you need to counteract that with a familiar favorite. This goes double if you have a child with you. If you know your kid will eat the egg sandwich from Starbucks, feeding it to him at Disney World may be the battle you choose not to fight.
Nutritional information: Disney is getting better with providing healthier food options in the parks. However, they're not often transparent about the nutritional content of their food offerings. Either you have to dig or the data is simply not available to guests. Contrast that with Starbucks, which has complete ingredient lists, calorie counts, protein information, and more, right on the website. If you or a family member has a food-related medical issue, easy access to that information can be a real life saver.
Price: It's fair to complain about Starbucks pricing, but when you compare it to the pricing of other options in the parks, it's not that bad. For example, a cafe latte at Joffrey's Coffee at EPCOT costs $5.09. A grande Caffe Latte at a Disney Starbucks costs $4.29.
Payment Method: The Starbucks locations at Disney World accept Starbucks gift cards and the Starbucks app as payment methods. There are many reasons why you might prefer to use those payment options whenever possible.
Preference: You may simply prefer the taste of Starbucks coffee to that of the Joffrey's coffee sold elsewhere in the parks.
Merchandise: The are fun Disney-themed glassware that may only be found at the Starbucks locations in the parks. If you're a "You Are Here" mug fan, the Disney Starbucks locations are likely a must-visit location.
Whether you're looking for coffee or something else, the Lines 2.0 app's menu search can help you find exactly what you're looking for. Download today, and access all of the app's features by becoming a TouringPlans subscriber.
Let us know your thoughts on where you get your coffee while on a Disney World vacation.
First published October 1, 2020. Updated May 9, 2021.