Yak & Yeti Did Not Leave Us Yakking About the Amazing Food
Yak & Yeti is located in Animal Kingdom, right off the path as you walk from Africa to Dinoland. The menu is pan-Asian, but most of the dishes have an Americanized feel to them. Small plates are $13-16; entrees $20-38, and desserts are $13-14. Altogether, a three-course meal consisting of one appetizer, one entree, and one dessert will run you about $50-60, not including drinks and gratuities. The same menu is served at lunch and dinner.
The interior is richly themed and fun to look at, with both upstairs and downstairs seating. In a park without much air-conditioning, a nice chilled Table Service venue might be just what you're looking for to get out of the heat for lunch or dinner. If it's not busy, it's worth walking through the multi-room layout to see some of the decor.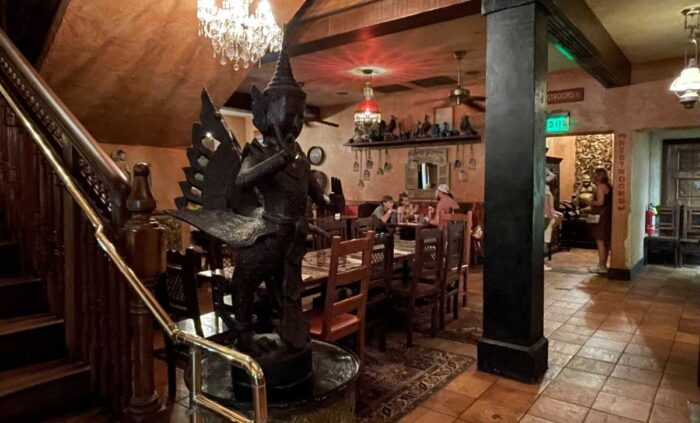 Reservations are accepted, and often hard to come by. Your best bet is to book when your dining window opens. Dress is casual, as you would expect from any restaurant inside the parks. And like all restaurants within the parks themselves, you'll need valid park admission to dine here.
Appetizers
Wok-Fried Green Beans – $12.99
Battered green beans, sweet Thai chili dipping sauce
These were beautifully fried and not greasy. They were tasty. But there was nothing whatsoever special about them compared to a fried green bean dish that you might find on some other menu. Recommended, but only because fried green beans are hard to find and I love them.
Bang Bang Calamari – $15.99
Crispy battered medley of calamari & vegetables, sweet chili sauce, Bang Bang sauce
A crisp tempura batter and an excellent bang-bang sauce, plus vegetables that aren't standard in the chain restaurant version of this dish. It was pretty good.
Korean Fried Chicken – $16.99
Hand-breaded tenders tossed in gochujang maple syrup, dipping sauce
If these were tossed before arriving at our table, it was a very light tossing; they more appeared to be drizzled with the syrupy sauce. The chicken was chicken tenders, and the sauce was sweet, sweet enough that I guess we should have been grateful the chicken wasn't thoroughly doused after all. If the restaurant says there was gochujang in it then I believe it, but I couldn't taste it.
Ahi Tuna Nachos – $21.99
Sushi grade Ahi tuna, Asian slaw, crispy fried wontons, wasabi aioli, sweet soy glaze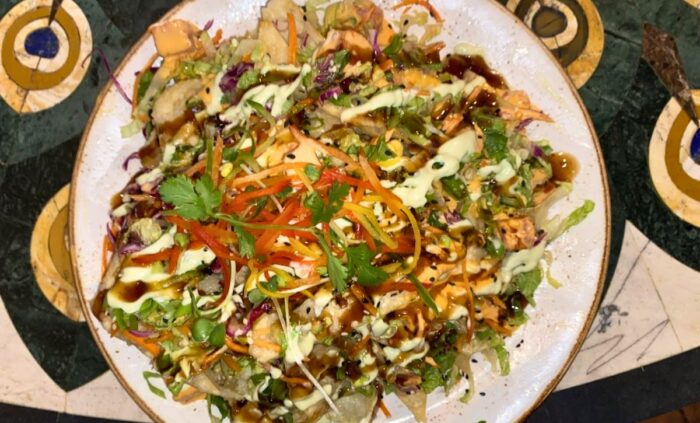 Definitely looks like a hot mess in the picture, right? In 3D, it was a lot more attractive. It's hard to go wrong with fried wontons, ahi tuna, and spicy mayo, and this didn't disappoint. Somehow the presence of a second creamy sauce and a sweeter soy glaze harmonized well instead of turning it all into mud. This was very good, and would be one of my picks to order again. But it wasn't better than the high side of average for the same dish that you'd find on other menus. The portion was huge, and you could easily make a whole meal of it if you wanted to.
Lettuce Cups – $19.99
Minced chicken breast, chopped vegetables, Saigon Haison sauce, crisp lettuce cups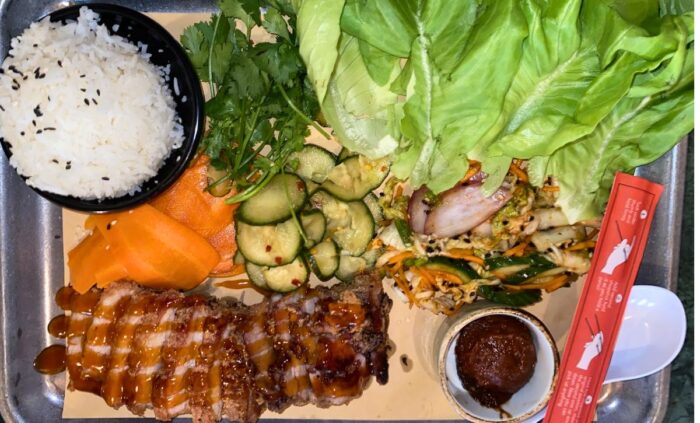 This was one of the best dishes of the night. The sauce was sweet (you'll see this is going to be a theme), but the hefty dose of vegetables kept it from being one-note. Like the nachos, you could definitely make a meal of this. And you should think about it, as it was better than many of the entrees we had.
Entrees
Dragon Roll Bowl – $27.99
Spicy tuna, Dynamite crab, teriyaki salmon, cucumbers, edamame, carrots, mango, tempura crunch over sushi rice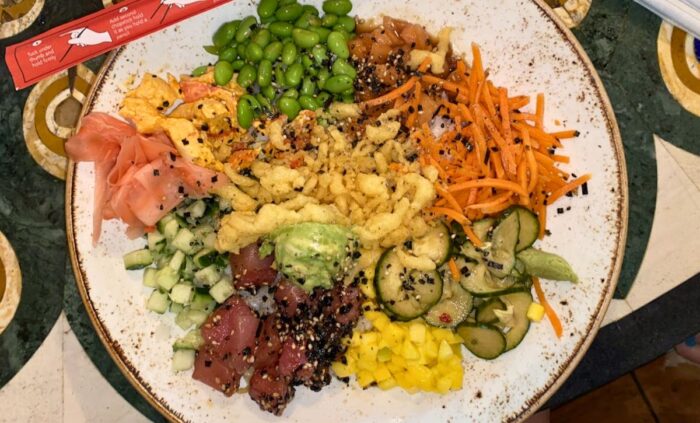 Exactly as advertised: all the flavors of a dragon roll in a really nice presentation with the rice and sauce underneath. If you dug your fork down to the bottom and got a bit of everything together for a complete bite, the flavor was dragon roll yummy. I know that edamame is not a typical dragon roll ingredient, and I little bit felt like it was standing in for the flavor of the nori. The carrot is also not typical, but it worked somehow. This is a great pick on a hot day, especially if you are a sushi aficionado.
Chicken Tikka Masala – $27.99
Boneless chicken breast marinated in yogurt and freshly ground herbs cooked in a traditional Masala sauce, jasmine rice, garlic naan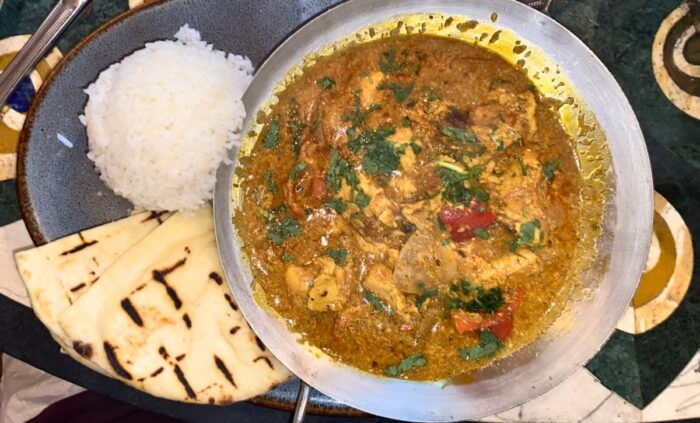 This could have been a pretty nice chicken tikka masala. The chicken was tender, and it had a bit of a kick. But, the flavor felt unbalanced and flat, and as you can see in the picture it was a bit on the oily side. Nobody would call chicken tikka masala "eating light", but I feel like it usually has more tomato, a bit more cream, and less of an oil slick. The naan did not impress either.
Coconut Shrimp – $26.99
Coconut crusted shrimp, jasmine rice, stir-fried vegetables, served with plum BBQ sauce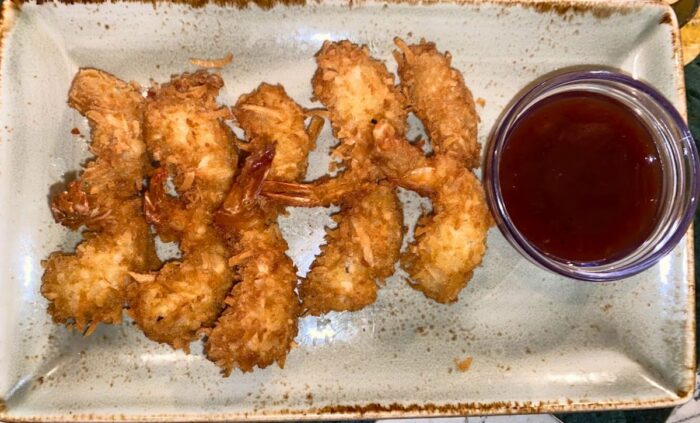 My notes said: "They were coconut shrimp". Yep. There was absolutely nothing wrong with them. There's just not much more you need to say about them.
Bhaktapur Duck – $37.99
Roasted half duckling, plum BBQ sauce, jasmine rice, stir-fried vegetables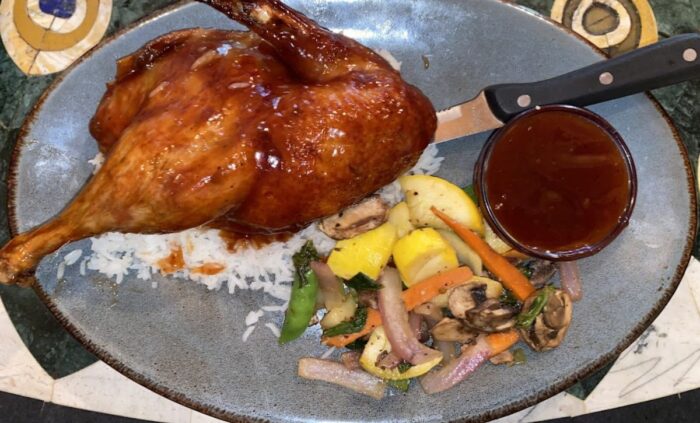 A beautiful mahogany-colored duck with a flavor to match, this was unquestionably one of the best dishes of the meal. The sauce was still sweet, as you would expect from a plum sauce. But the crispy roasted skin and the slightly gamy flavor of the duck married it into something truly delicious. With a different set of vegetables, I would have liked to see this served with roti or a pancake so that it could be wrapped and eaten like a Peking Duck. But while these vegetables were fine, they were best enjoyed on their own. This is one of the more expensive dishes on the menu, but for my money you should think about getting it to share. Order an extra appetizer if you need to, but this was head and shoulders above many of the other entrees.
Korean Beef – $23.99
Wok-fried beef, peppers, onions, pineapple, Korean BBQ sauce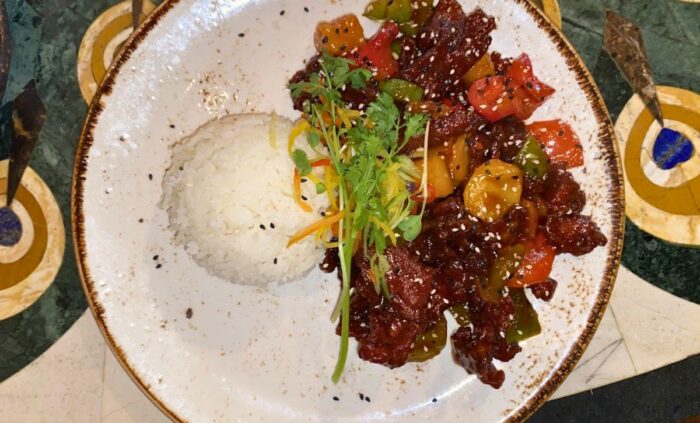 The beef was beautifully cooked, with a bit of a crunchy sear. And that's where the accolades end. There wasn't anything particularly wrong with this dish, but it tasted pretty much exactly like it looked. And if I'd had my eyes closed, I would never have known it was doused in BBQ sauce, Korean or otherwise. The sauce was tasty, but mostly sweet – think teriyaki, not bbq.
Honey Chicken – $22.99
Tempura chicken, fresh vegetables tossed in honey sauce served with choice of jasmine or brown rice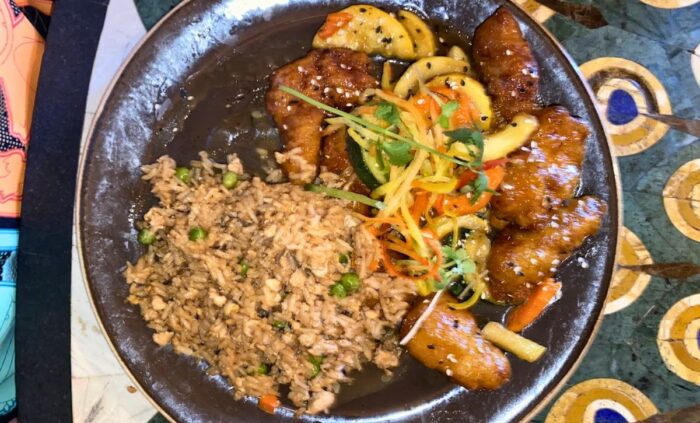 This was unmistakably battered chicken doused in sauce. Nothing wrong with that! Especially when the sauce was light and – despite the honey in the name – noticeably less sweet than many other sauces in this meal. The veggies were nicely cooked and also took some of the sweet edge off the sauce. We got this with the chicken fried rice on the side instead of the standard brown or white rice, and if you're sharing the dish, I'd recommend this substitution. The rice was a little soy-forward but had a great texture, and it added some umami to balance the mostly-one-note sauce and keep the plate interesting after the first few bites.
Sweet & Sour Chicken – $22.99
Tempura chicken, ginger, garlic, bell peppers, pineapple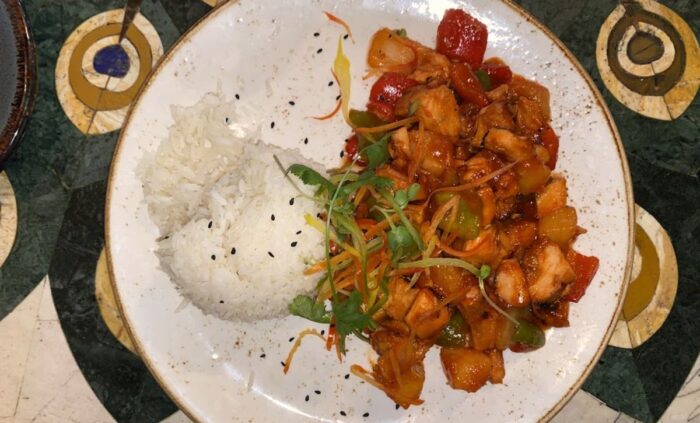 When I was a child growing up in New York City, we had two kinds of Chinese food. There was the kind that you got in Chinatown, and occasionally from other places if you were lucky enough that your local takeout was well beyond average. And then there was your standard Americanized Chinese food from the local takeout. Adults ordered more adult things, and picky kids who hadn't yet developed a taste for the more unfamiliar dishes (like Beef with Broccoli) ate sweet & sour chicken. Despite not being fluorescent pink, this dish tasted exactly like that. But with more pineapple than I remember.
Dessert
Fried Wontons – $13.49
Skewers of fresh pineapple and cream cheese wontons, vanilla ice cream, honey-vanilla drizzle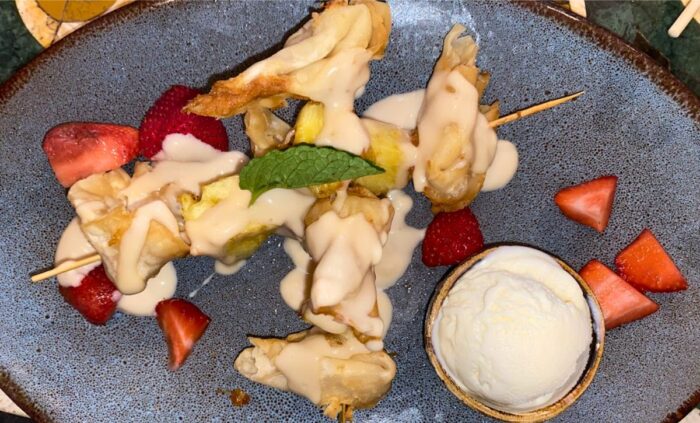 I am a sucker for fried crunchy things, and a sucker for things like "honey-vanilla drizzle". And we have a crab rangoon fiend in the family, so you would have thought we'd be fighting over these. Maybe we were all just too stuffed from having ordered too much food, but no. There wasn't anything on this plate that wasn't good. There just wasn't anything about it that made it more than the sum of its parts.
Wrapping Up
If you like duck sauce, this is the restaurant for you. Ingredients such as tamarind and chile gave the omnipresent sauces a bit of depth, but overall they were mostly sweet-tart and reminiscent of every Chinese takeout sweet & sour dish you've ever had. There were a few standout plates, but nothing I'd feel compelled to go back for.
I admit, I cheat and read other people's reviews before we visit a restaurant. Most of the coverage of Yak & Yeti was really positive, and I found that hard to square with our experience. I'm going to guess that it's a form of privilege. I grew up in New York City and live near Boston; mediocre Chinese food is plentiful, good stuff isn't hard to find, and even the sublime is available with a little effort. From that perspective, this meal was entirely forgettable; a good bit better than mediocre Asian takeout but not quite as good as even a higher-end chain like P.F. Chang's.
But, it was tasty. Although there were only a few dishes we were really excited to eat, there weren't any that we would be like "Ugh, I'll never eat that again!" If I lived somewhere where halfway decent Chinese or Asian dishes were hard to come by, I'd be pretty happy to eat this food. It would be different and interesting, if sweet.
So, where do you hail from? My guess is that the local restaurant scene is likely to affect how you'd feel about a meal at Yak & Yeti. But on the flip side, you don't need to chance it. This is Animal Kingdom, and there's so much great food. You can do better.
Have you eaten at Yak & Yeti? What was your experience? Let us know in the comments!