Pop Eats Food Studio: 2023 EPCOT Festival of Arts
Located near Port of Entry, Pop Eats dishes have a noticeable pop of color.
Our recommendation: The Pimento Cheese grilled cheese is new this year and a new favorite for us. If you've got a more picky eater, the "regular" Grilled Cheese is also awesome. But the cake … ah, this disappoints us every year.
Booth Overview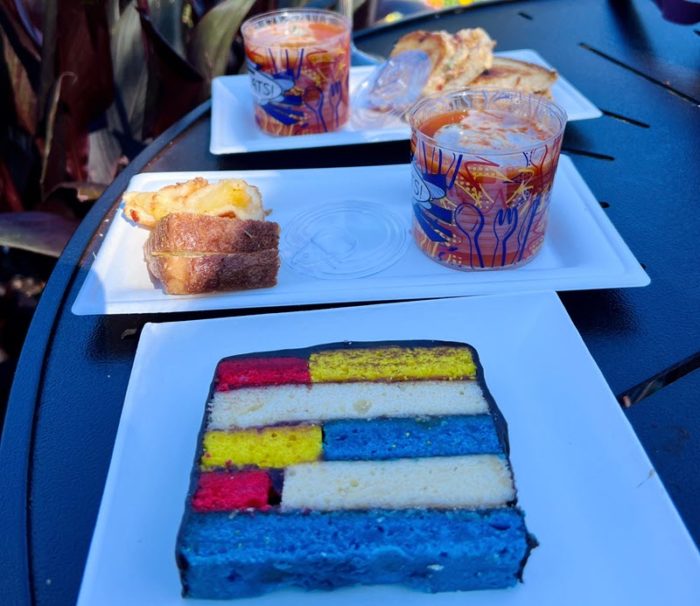 Food
Tomato Soup
– with Grilled Cheese – $5.75
–

New!

with Pimento Cheese, Bacon and Fried Green Tomato Grilled Cheese – $6.50
Almond Frangipane Cake 🌈 – $4.75
– layered with Raspberry Jam and Belgian Chocolate
Beverages
Brooklyn Brewery Pulp Art Hazy IPA, Brooklyn, NY – $5.50/$9.50
Bleu Spectrum – $10.50
– Blanc de Bleu Cuveé Mousseux with Boba Pearls
Our Thoughts
Best of the Booth
The Tomato Soup with Pimento Cheese, Bacon, and Fried Green Tomato Grilled Cheese is in our top 3 dishes of the whole Festival. Dip a corner of this excellent sandwich in the soup and you're set.
Rest of the Booth
The Tomato Soup with Grilled Cheese is all you need to cope with the harsh chill that that sometimes hits Florida in the winter. The soup is creamy and salty and sweet and just so good. This is also a very reasonable price and is going to make even the most picky eater in your group so happy.
The Almond Frangipane Cake is the food symbol for the festival, perfectly capturing the food-as-art motif. But it isn't the taste standard. We haven't found a soul who actually enjoys this cake but we all still get it so we can get a great picture—which is always lovely even though the dry texture isn't.