Five Things to Know About Journey Into Imagination with Figment
Take a tour of the zany Imagination Institute on Journey into Imagination! Stimulating your five senses – and then some – you'll encounter optical illusions, a room that defies gravity, and some brain teasers. Along the way, Figment (a purple dragon) makes surprise appearances. If you want to learn more, read on; but if you like to skip ahead to the nuts and bolts, here's your shortcut.
1. Your host is not your tour guide
The storyline for this attraction is simple: you're a guest taking a ride-through tour of the Imagination Institute. As a guest, you'll enter the Imagination Institute by wandering down a long hallway lined with pictures of honored inventors, office doors, and warehouse shelves (more about this later).  After boarding your Omnimover vehicle, you'll meet your host: the chairman of the Institute, Dr. Nigel Channing (played by Eric Idle of Monty Python fame). His intention is to show you how the five senses capture the imagination, and you'll head onwards to experience each one of the five sensory labs: sound, sight, smell, taste, and touch.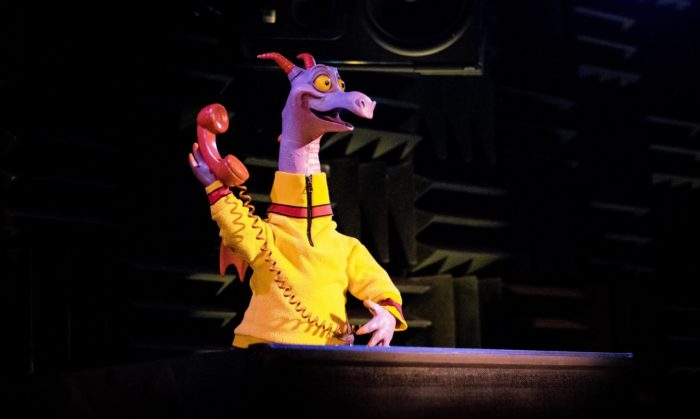 That's the plan, anyway. But Figment (the figment of your imagination – get it?) the purple dragon, pops up to come along on the ride. Chaos ensues, and after Figment's running commentary and a little skunk incident, Dr. Channing has had it and thinks it's best to end your tour without visiting the Taste and Touch labs. But it's not the end! Figment seizes control and directs you through his own Imagination open house to experience an "explosion of creativity". At the end of the ride Dr. Channing and Figment, reconciled, sing the ride's theme song "One Little Spark" together. And on that happy note, you'll exit through ImageWorks, an interactive play space where you're encouraged to use your imagination to make music, pictures, and more.
2. The third time's the charm
Created by Imagineers Tony Baxter and Steve Kirk, Journey into Imagination was the original name of the attraction when it opened on March 5, 1983. It featured Figment and a character called the Dreamfinder, and was an immediate hit. The Sherman Brothers (composers of "it's a small world after all" and music for other rides) wrote the attraction's theme song, "One Little Spark." Outside the pavilion, people could interact with the Dreamfinder and a puppet version of Figment. Truth be told, those who remember the original ride and this meet-and-greet still miss it!
This first version closed in 1998 for refurbishment, reopening in 1999 as Journey into Your Imagination. Dr. Nigel Channing was introduced, replacing the Dreamfinder, who only appeared at the ride's end in a very diminished role. Figment's role was restricted to the queue, where he appeared in a few movie cameos. The theme song was removed. This version of the attraction received such an overwhelmingly negative response from guests that it closed in 2001, barely 2 years after opening.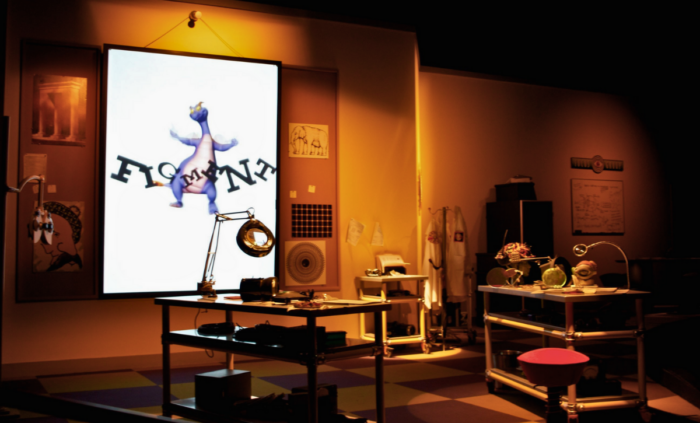 Figment fans were happy to hear Figment's role would be enlarged in the third version of the ride, now entitled Journey into Imagination with Figment. While the Dreamfinder is still gone, Figment appears throughout the ride. The theme song is back. Even so, Tony Baxter (a creator of the original) has said that this version was a "sham of an attraction… and if you can explain to me what an upside down toilet on the ceiling and learning how a skunk smells improve your imagination, it would help me a lot, 'cause, I for one, can't figure it out."
3. You're not imagining those insider references
What would your imagination be without a few secret imaginings? There are quite a few hiding here, starting in the queue. As you go down the hall, one of the offices belongs to Professor Brainard, the name of Fred MacMurray's character in the original The Absent-Minded Professor film. A picture of Robin Williams also hangs in the queue; he played the professor in the 1997 remake. Wayne Szalinski has an office, too, referencing Rick Moranis in the Honey, I Shrunk the Kids series. You'll hear the voice from overhead speakers calling for Brainard, Szalinski, Merlin Jones (played by Tommy Kirk in the 1964 film The Misadventures of Merlin Jones), Dexter Riley (Kurt Russell from 1969's The Computer Wore Tennis Shoes) and others. During the ride, after you exit the Sound Lab, you pass a computer room with a sign on the door that reads "No tennis shoes allowed!" Obscure references, to be sure, but they strike a chord with older visitors like me!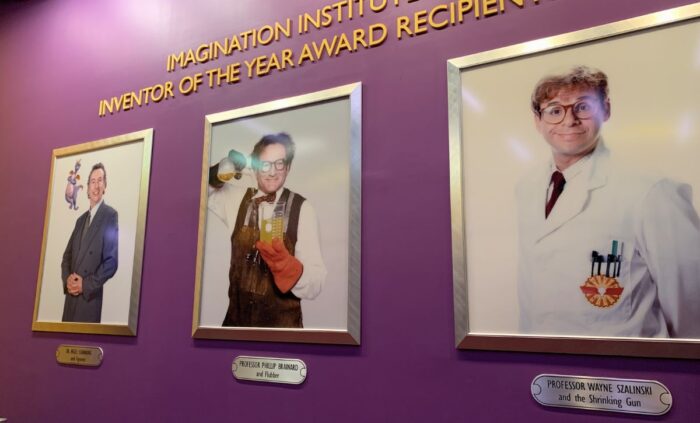 Maybe the most obtuse reference is on an office door before you get to the Sound Lab. The name on the door: "Dean Finder." It's meant as a nod to the Dreamfinder, the attraction's first host. One last note: while you may think a dragon should be green, Figment is purple. That's because the original sponsor of the attraction was Kodak; green was the color of their rival Fuji Film. So purple was chosen as an alternative that wouldn't create any nod to a rival brand.
4. After the ride, you can exercise your imagination.
The ImageWorks – the "What If" Labs area – is an interactive "playground of the future" where kids of all ages can use their imagination. Interactive musical and digital exhibits are the highlight here, and there's enough variety that everyone is sure to find a fun way to be creative.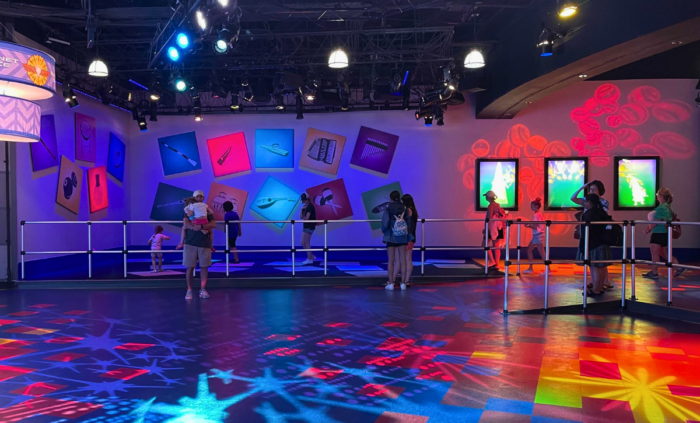 Stepping Tones (get it?) allow you to create melodies of your own just by stepping on them. You can take and send a picture using what's been billed as the "world's largest digital camera." Figment's Melody Maker makes an accomplished conductor out of anyone – you can have Figment play an instrument and change the pitch, all to the tune of One Little Spark. Some guests have said that the different interactive areas are so much fun, it can delay your exit from the Imagination Pavilion for 20 minutes! If you and the littles need a respite from your schedule, this is the place!
5. The Nuts and Bolts.
Journey Into Imagination with Figment is located in EPCOT World Celebration inside the glass-pyramid Imagination Pavilion. The ride lasts a total of six minutes, and operates rain or shine since it's indoors.
Ride vehicles seat 3 to 4 guests per row, two rows per car. (Usually, three guests take the front row and four sit in the back.) The seats are hard benches with a back. There are no safety restraints, and there's a small step up into the Omnimover vehicle. The vehicles are stationary while boarding.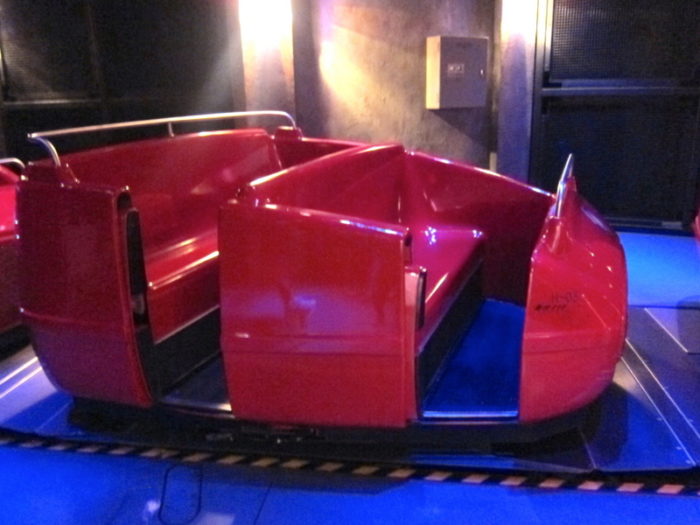 Guests may remain in their wheelchair/ECV to experience this attraction. Journey Into Imagination with Figment has no health or safety advisories and no height requirement. It's worth noting that there is a brief period of darkness, a skunk-like scent effect, and a bright flash with a puff of air effect that may startle those with sensory concerns. So everyone can enjoy this attraction, audio description and handheld captioning are available.
Journey Into Imagination with Figment offers Lightning Lane entry via Genie+, but since there's seldom a wait longer than 10 minutes, we don't recommend that you use it.
The Bottom Line.
When it comes to Figment, people clearly fall into two groups: they love Figment, or they can do without Figment. There doesn't seem to be much middle ground. Reader survey responses are pretty consistent, echoing this one from a Franklin, Tennessee, family of three: "Journey into Imagination should be experienced only if you're a HUGE Figment fan. We, on the other hand, hated it." It's up to you to imagine whether or not it's an attraction you'll see or skip. But it's air-conditioned, and sometimes, that alone can make it worth the stop on a hot day.
Have you been through Journey Into Imagination with Figment? What did you think? Let us know in the comments.