The 10 Best Disney Cruise Line Tips
I am often asked for tips or helpful hints for an upcoming cruise on Disney Cruise Line, and there's no short answer to that! I've learned a lot of helpful things over the years both from obsessive reading about Disney cruises and experiencing Disney cruises (the latter being the most fun of course). I thought I'd share my 10 favorite tips. Share yours in the comments!
1. Rebook Onboard – It may sound a little funny spending time on your current vacation planning the next one, but do it. If you think you will ever cruise again on Disney, stop by the booking desk and book another one. Even if you have no idea when or where you want to cruise again, book something. Currently you will save 10% on the published fare (a few blacked out dates notwithstanding), you will get 50% off your deposit on cruises of 7-nights or longer, and you will get a nice onboard credit for your new booking. If you book something and change the dates, those benefits will move to the next date as long as that date is within 24 months of booking. You can move the dates as many times as you need to in those 24 months! So rebook onboard! It's worth a few minutes of your time. (But, don't wait until the last night of the cruise to rebook. The desk will be VERY busy at that time!)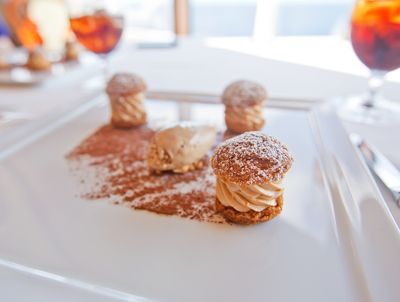 2. Palo and Remy are Not Full – They're not! Even if it said so when you tried to book them online. Disney holds back several reservations (as much as half) so that guests can book them onboard on embarkation day. When you check in, there will be a location listed for dining changes in your Personal Navigator. Go there as soon as you board. Don't wait until the time listed, because it usually opens much earlier. Hopefully you can snag the exact time you wanted at these adult-only restaurants. Go do this first! Lunch can wait! At least a few minutes.
3. Cheap Upgrades – It's possible to get steeply discounted upgrades on your Disney cruise. How you ask? By inquiring when you get to the terminal to check in! If you get to the terminal early enough, and if your sailing isn't full, there may be some upgrades available. You can get some idea of how full your sailing is by checking online a few days before you leave to see how many categories are still available. These upgrades are usually a small percentage of what you would pay if you upgraded before the day of sailing. The supervisor's desk in the terminal is the place to check! There are many times that there are absolutely no upgrades available, so I recommend you don't ever book a category that you won't be happy in. But it's always worth a shot!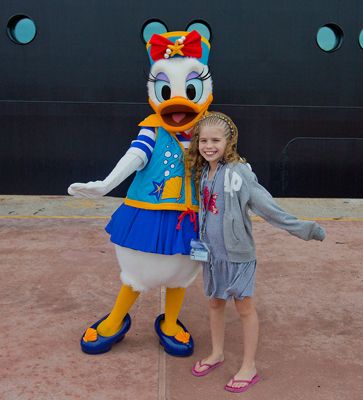 4. Pack Judiciously – The staterooms on a Disney cruise ship are bigger than standard rooms on most other lines, but they are still fairly modest compared to your average hotel. Pack wisely. Lay out everything you think you need and then reduce it by half. You really don't need as much as you think you do, and if you run low there are washers and dryers onboard (or Disney will do you laundry for a pretty penny). Make sure you pack medications and anything else you may need that first day in your carry-on bag just in case your luggage gets delayed somewhere.
5. Bring a Souvenir to Get Signed – There's an added bonus to saving all that room in your suitcase – more room for souvenirs! And one of the coolest souvenirs around will require you to bring something with you. At the beginning of the cruise you can drop an item (2 per stateroom) and some markers off at guest services to be autographed by the wonderful characters onboard. You can choose Mickey and friends or princesses. By the end of your cruise the item(s) will appear in your stateroom covered in autographs! Typical items that work well are pillowcases, t-shirts, canvas bags, and photo mats. Fabric markers are best for fabric items! It's a great and unique keepsake. Imagine how long you'd have to wait in line for all those autographs at Walt Disney World!
6. BYOB – For someone who does not drink alcohol, I realize I bring up this tip a lot! Disney Cruise Line is one of the only lines that lets you carry on alcohol without any real restrictions. The only restriction is that it must fit in your carry-on and not be packed in your checked luggage. For those of you that like to imbibe, bringing your own alcohol can save you some serious money onboard!
7. Pay Attention to Your First Navigator – That first Personal Navigator they hand you when you check in has lots of important information. If you are interested in seeing Anna and Elsa, the Navigator will tell you where and when to pick up tickets. A meet and greet with several princesses? Same place. If you are interested in a mixology class or tasting of some kind, they will be listed in that first Navigator and it will tell you where to pick up tickets. During special sailings like the Very Merrytime cruises during the holidays, Disney may have extra activities like gingerbread-house building which you will need tickets for. The Navigator will tell you where and when to get those tickets. There are not enough tickets for everyone onboard for these activities so make sure you take care of getting them as soon as you can!
8. The Answer to Your Food Questions is "Yes" – Okay, that's not really true, but your servers don't say no very often when it comes to food. They are going to bend over backwards to accommodate you. If you are eyeing the filet mignon but you don't want to go anywhere near an orange potato? Yes, I know they're called sweet potatoes, but that doesn't make them taste better. Ask for the lovely potatoes au gratin that come with the pork chop! It's true, you may end up with the pork chop in addition to those potatoes, but that's probably not a bad thing? Can't decide between desserts? Well get them both of course! Would you like a side of lobster with your lobster? Do it.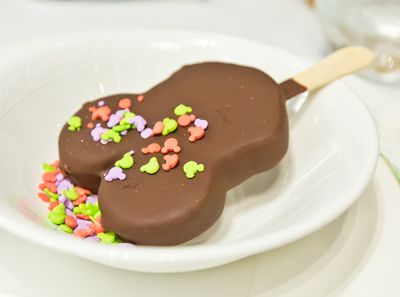 9. Mickey Bars are Onboard – Mickey bars! They're everywhere!! Well, maybe not everywhere, but more places than you'll realize! Mickey bars are not on the (adult) menus in the main dining rooms, but they're always available. Anytime – lunch, dinner, or dare I say it? Breakfast? Mickey bars are also not listed on the room service menu, but trust me, they're available! And we have learned that room service often doesn't like to send just one Mickey bar. They must take great joy in throwing in a bonus bar, and we therefore take great joy in eating them.
10. Fish Extenders – Fish Extender gift exchanges with your fellow guests have become quite popular over the years. These exchanges are set up by individual cruisers before they ever set sell. Guests that sign up agree to give a small gift to everyone on their list and will receive a gift from everyone on their list. So what the heck does it have to do with a fish? Outside the stateroom doors there is a metal fixture where your stateroom host will sometimes leave things like Palo confirmations for you. On the classic ships they are all shaped like fish, on the Dream and Fantasy there are fish as well as starfish. Guest participating in the exchange will hang a bag or organizer of some kind off of their fish or starfish so gifts can be left there. Hence the name! The bags "extend" the fish. The gifts range from small bags of candy to elaborate homemade items. The thought is (supposed to be) what counts! If you are interested in joining, you can usually find your group on Facebook by searching your ship name and sail date. Join in if it sounds like fun to you!
So what are your favorite tips? I'd love to hear!