10 Great Souvenirs to Buy at Disneyland
Calling all shoppers!!  It's time to talk souvenirs!!  Not free souvenirs, mind you, that's another blog for another day.  We're talking real souvenirs!  Souvenirs you have to spend some time in the shops for!  After countless trips, we have brought home our fair share of souvenirs that we "had to have" at the time and thought they would be used or loved and adored for years.  Ninety percent of which ended up in a garage sale a few short months later.  We've also bought some wonderful souvenirs and started some collections that we love to this day.  So I tried to come up with a list of the ones that have stood the test of time for us.  Souvenirs that are fairly unique and still bring back memories of wonderful vacations.  Here are mine!  I'd love to hear some of yours!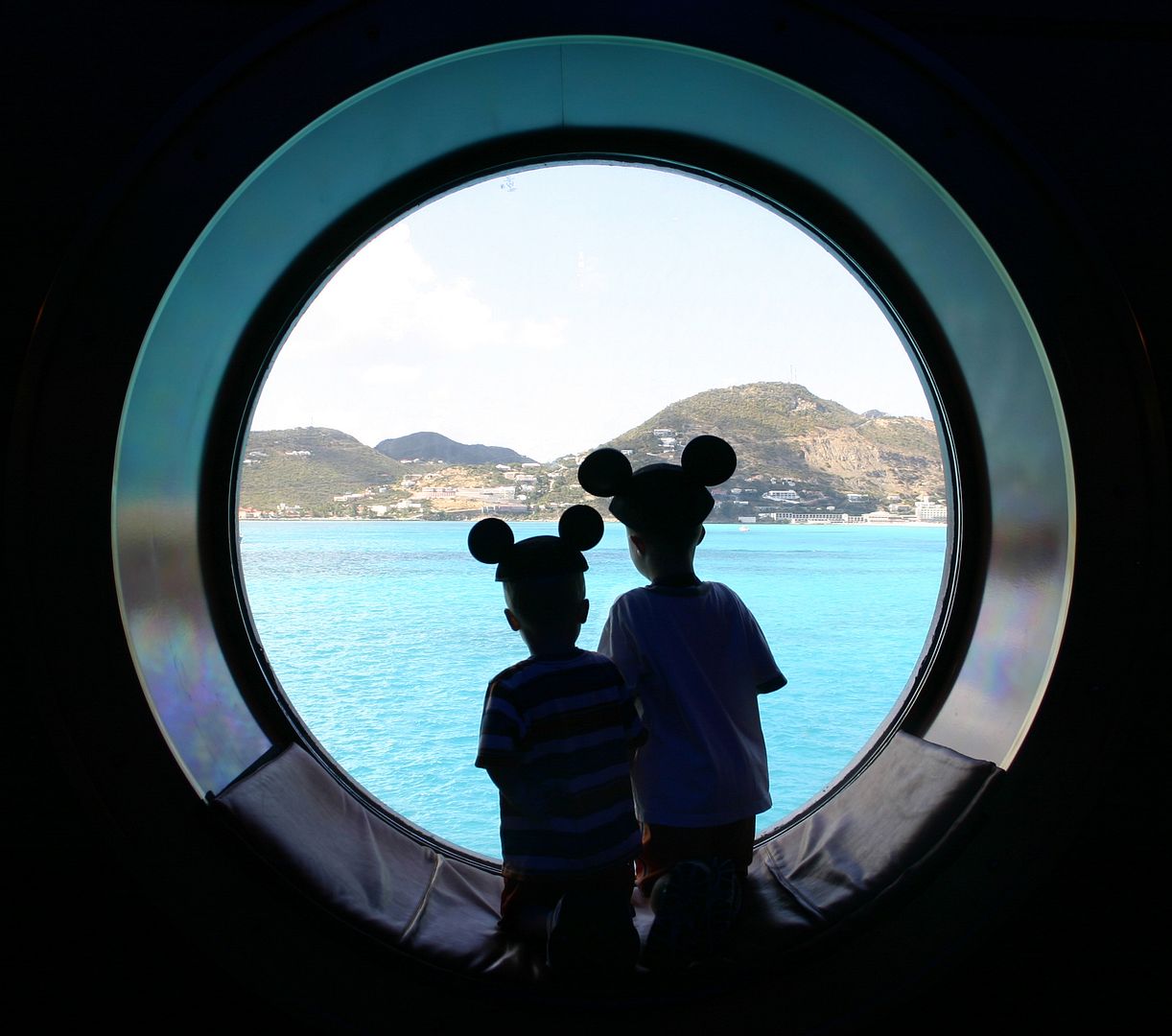 1. Mickey Ears –When I enter the gates at Disneyland and start walking towards the castle with "I'm walking Right Down the Middle of Main Street U.S.A" playing incessantly in my head, I have an irresistible urge to sprint to the nearest store and buy some ears before Mickey sees me without them.  Mickey ears are the quintessential Disney souvenir.  When I get on Soarin' Over California, I want to take off "these little beauties".  I never feel as festive in normal life as I do at Disney wearing those ears.  They bring out the kid in all of us.  Our Mickey ears have made appearances in countless vacation photos over the years.  You know the ones, pictures with the ears in the foreground, castle in the back.  Pictures of my nephews on a Disney cruise years ago in front of a giant porthole with the unmistakable silhouette of the ears on their heads.  Blackmail pictures of a certain, usually very dignified, Air Force officer I happen to be married too, strolling the park in red Santa Claus Mickey ears.  The opportunities are endless!  These are the one souvenir I recommend that you will probably never use a single time outside of the parks.  But they are THE souvenir to get you in the Disney spirit and make you feel like a kid—plus, in the last few years, Disney has come up with dozens upon dozens of really cool designs for these quintessential souvenirs.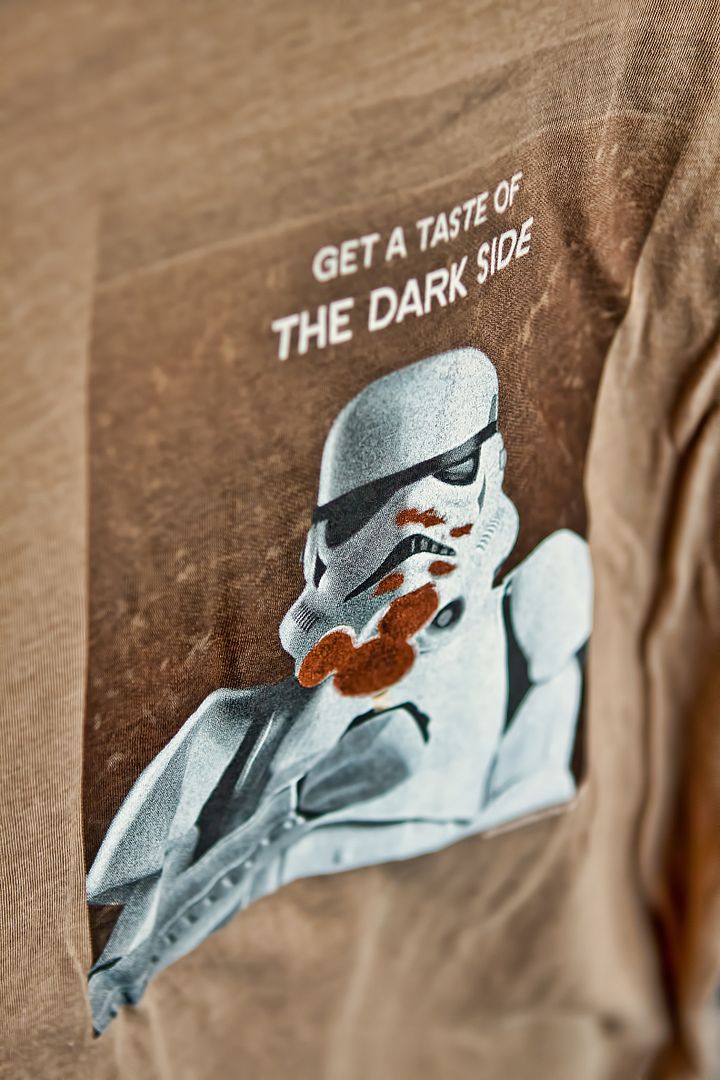 2. Star Wars Merchandise – I'm sure some of the more knowledgeable Star Wars fans will correct me, but I don't know of many places where you can keep buying new Star Wars merchandise outside of Disney World and Disneyland.  Inside Disneyland, check out the really cool store as you depart Star Tours – The Adventures Continue!  We love this store, and you definitely can find Star Wars merchandise with Mickey or Donald cleverly inserted into classic scenes that you won't find anywhere else!  What Star Wars fan doesn't love the T-shirt with the Stormtrooper supposedly munching down on a Mickey bar?  Sure that's hard to do when you don't have a mouth, but the concept is still hilarious!  My rather petite daughter wore her Yoda shirt with the caption "Judge Me by My Size, Do you?" on it for years and years.  And Darth Tater?  Don't even get me started.  As a family full of Star Wars fans, we think the Star Wars merchandise sold at Disneyland is genius.
3. Christmas Ornaments –Disneyland has some really neat Christmas merchandise, much of which you can find year round.  Even in the most tastefully decorated of homes you can celebrate Mickey at Christmas.  There are some adorable and amazing Disney ornaments for sale at Disneyland.  There are ornaments that look exactly like your favorite characters.  There are glass Mickey heads in every color imaginable.  Did you ever want a whole princess Christmas tree for your little girl?  Here's your source.  Or just make a new tradition of picking out a new ornament every time you go.  When you break them out at Christmas, you'll get to relive some of your favorite vacation memories.
4. Pins – We are pin fans.  We are not the fanatical pin lovers who stand outside the pin stores with books and books of pins, waiting for someone to come by with a pin they don't have, not that there's anything wrong with that, but that's not us.  We just enjoy pins.  When our kids were younger, they absolutely loved the quest for the trade and the desire to complete a particular collection they'd probably just started 5 minutes ago.  Countless times on our way to the next ride we were stopped dead in our tracks by the sighting of a cast member wearing the beloved green lanyard signifying they could only trade with kids.  Now the pin books don't leave the closet very often, but they've both got impressive collections that at one point they worked hard on!  And pins turned into great souvenirs for us.  Each pin was relatively inexpensive, could signify something new we'd done, or even a new place we'd stayed.  And even better?  They would fit in even the most full of suitcases when we were packing to go home!
5. A Personalized Parasol – If you've got a little girl in your life, she may need a parasol with her name on it!  They're just adorable!  In New Orleans Square, they sell several colors and it only takes a few minutes to personalize them.  Our daughter has had hers for years.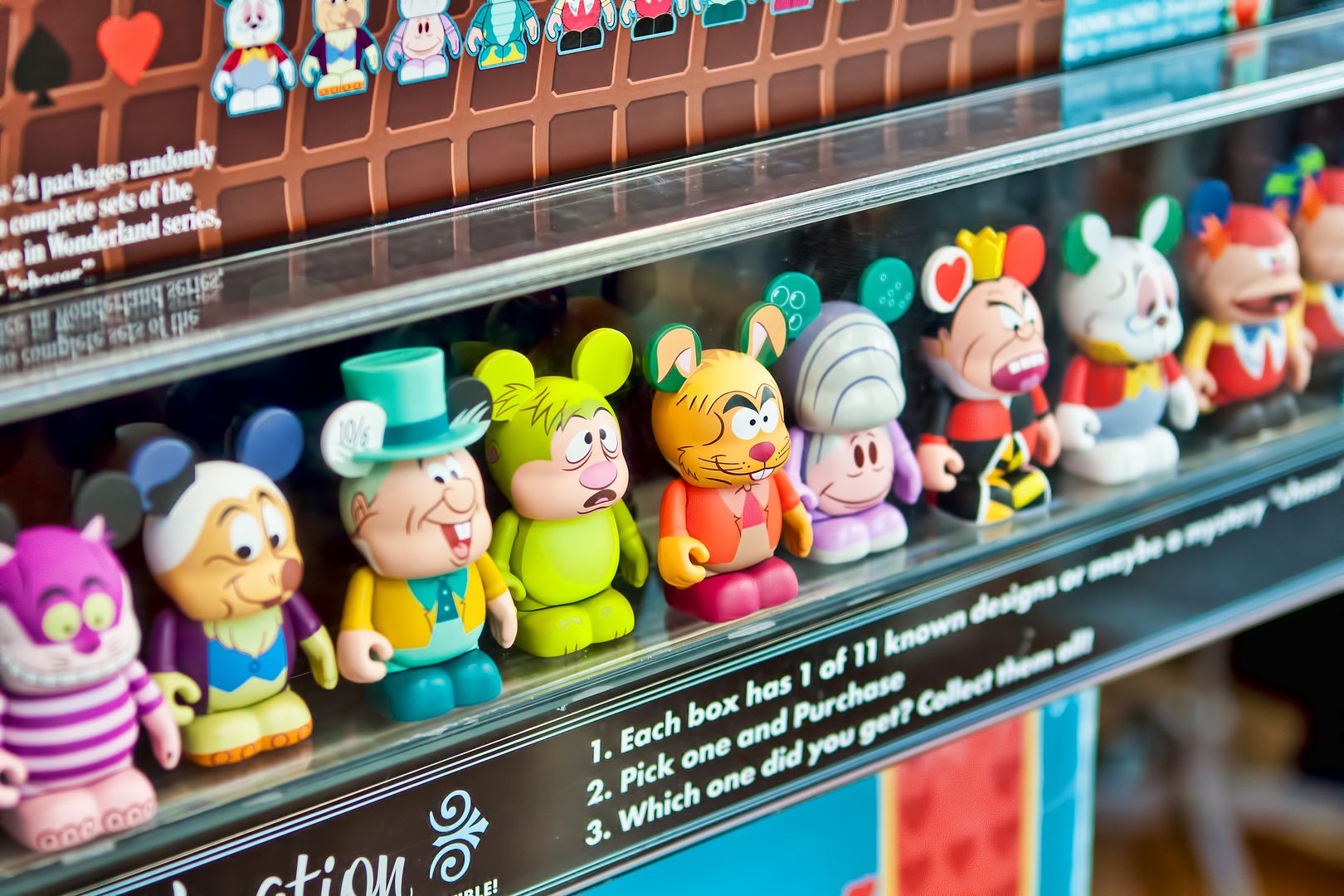 6. Vinylmations – Vinylmations haven't been around all that many years, but we're into them.  If you haven't seen them, Vinylmations are adorable little Mickey shaped figures that are painted in hundreds of different ways.  There are many different series, Star Wars, Alice in Wonderland, Toy Story, Muppets, etc.  You can purchase Vinylmations in a clear box where you know exactly what you're getting, or Vinylmations in a black box or printed box with no idea which Vinylmation you'll get.  The box will say what series you are purchasing (i.e. Toy Story), but you won't know which particular Toy Story character you get until you open the box and the bag inside.  Disney knows how much kids like to trade things, so they've got several trading opportunities in the stores so you can trade if you get something you don't want.  And, they're just adorable on a shelf at home.  Ah, the genius of Disney marketing.
7. Dooney & Bourke – Okay, not a cheap souvenir by any stretch of the imagination.  And I'll admit it, I have two and both were gifts.  I haven't actually sprung for one myself.  But wow, have I admired them.  The designer purse makers did Disney fans a favor when they decided to let Mickey grace their wonderful bags.  Any woman who has ever carried a purse will recognize the quality as soon as they touch a Dooney & Bourke bag.  They're insanely expensive, but the craftsmanship is wonderful.  With dozens of different designs now, there's probably one that will appeal to any female Disney fan in your life.  And here's a tip for you.  If that craftsmanship should ever let you down, Dooney will repair it for free!  I had one for two years when the cording began to fray.  I sent it in, and voila!  They sent back a bag that looked like new again at no cost to me.
8. Anything from the LEGO Imagination Center (aka The Lego Store) – Seriously.  Anything.  Is the Lego store the greatest store ever to come to this planet?  This has been a family favorite for years, and even though my teenagers don't break out the Legos very often today, we still get them out when we have kids coming to visit, and they are almost always a bigger hit than the newest video game!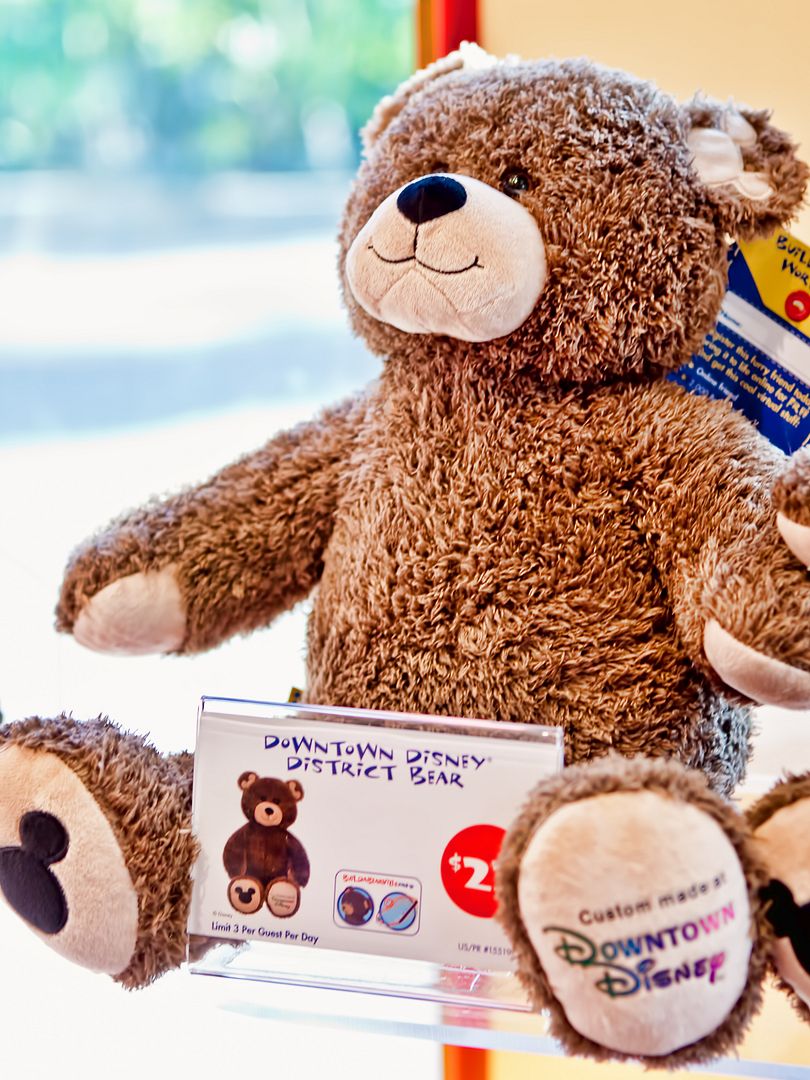 9. Build a Bear with a Downtown Disney Stamp – Who doesn't like picking out a bear or other furry creature, stuffing it and then spending even more money on clothes and accessories?  I can't think of anyone!  Okay, maybe my husband.  While you can find Build a Bear stores in shopping malls across the country, you can't get some of these bears anywhere else.  Because these bears have a stamp on their foot that says Downtown Disney!  You can't even get these at Disney World!  Sure, they have dinosaurs and all that, but it's not the same.  By the way, if building bears isn't your (or your kids') thing, try out RideMakerz.  This is basically the same idea as Build a Bear, but now you are building RC vehicles….
10. Caricatures – Okay this one you'll actually need the kids for, so don't send them back to the hotel while you shop.  At least for this trip.  We love getting caricatures from Disney.  The artists are usually great, and they show a real progression of our kids over time.  The artists will depict your kids however you would like barring any copyright restrictions.  Our kids always picked their favorite activity at the time.  A soccer player in their current team's colors, a NASCAR driver in a #24 suit, a Jedi knight a mermaid, and the list goes on.  You can find the artists all over.  In the parks, Downtown Disney, all over!  Try to get one every year or two and you'll have a great collection!
So I know you've got them!  What are your favorite souvenirs?