10 Years of The Wizarding World of Harry Potter
Ten years ago today, a boy wizard's adventures turned the theme park world upside down. The Wizarding World of Harry Potter – Hogsmeade redefined theme parks forever with movie-accurate buildings, themed dining options, outstanding merchandise, and world-class attractions. The theme park industry, which at that time was focusing on optimization and refinement, pivoted to new immersive lands and attractions based on movies. Groundbreaking attractions like Flight of Passage and Star Wars: Rise of the Resistance's roots all trace back to the original Hogsmeade.
To celebrate this land's 10th anniversary, we will look back at the history of this incredible theme park land and its influences.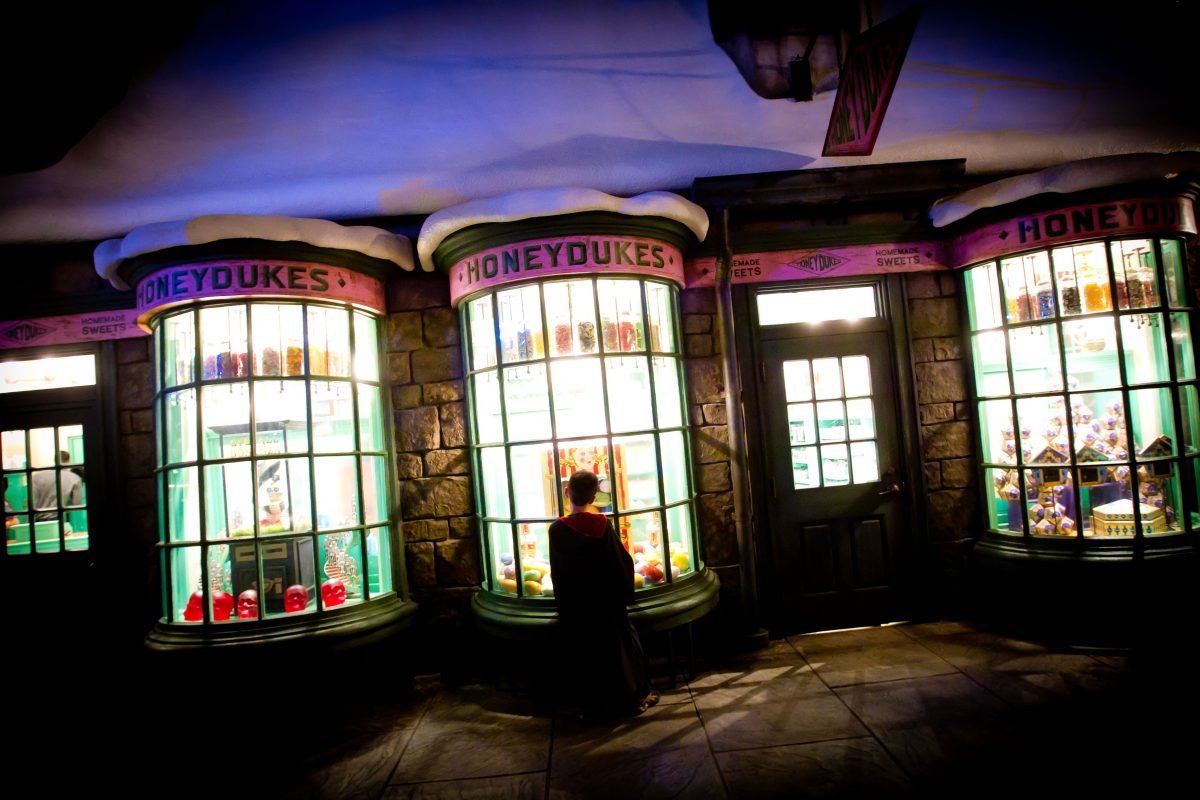 In the Beginning
Upon the book release of Harry Potter and the Sorcerer's Stone a fierce bidding war started for the series' movie and licensing rights. Every major movie studio, and even the video game company Nintendo, put their hat into the ring. In the end, Warner Bros. won with a £1m offer and a promise to keep the casting, filming, and production in the United Kingdom. The first film, directed by Chris Columbus, released November 2001 and broke the biggest opening day, biggest second day, and biggest opening weekend box office records.
One month later in late December 2001, the first Harry Potter attraction opened at Warner Bros. Movie World in Queensland, Australia: the Harry Potter Movie Magic Experience. A re-creation of Platform 9 3/4, Diagon Alley, and Olivanders, the attraction offered guests a walk-through experience of the movie sets. It was updated once in 2002 to add elements from the newly released Chamber of Secrets before closing in 2003.
Disney and Universal
Across the Pacific, Disney and Universal competed for the rights to adapt the books and films into theme park attractions. In 2000, Universal Creative proposed a Harry Potter stage show for Universal Studios Hollywood which was rejected. Disney signed a letter of intent in 2004 to develop Harry Potter-based attractions with a plan to enter a formal agreement at a later date. "I had heard rumors that both parks had the rights locked up until the actual announcement – but I was always expecting Disney to win out just because of the sheer power they seemingly had," said Brian Glenn, editor-in-chief of Inside Universal.
Walt Disney Imagineering brought several plans to the table including a mini-land on the former 20,000 Leagues Under the Sea featuring an interactive wand ominmover ride. Rumors state Disney's plans were rejected for not being ambitious enough and the involvement of Warner Bros and set designer Stuard Craig were requested. Facing a shareholder revolt under Michael Eisner, a new CEO with Bob Iger, and discussions on acquiring Pixar, Disney walked away from the table and tore up the letter of intent. Disney believed the demands were too much and WDI could create something spectacular without interference from a competing studio.
Universal heard about the breakup and saw an opening. Universal Creative came back with a modest retheme of the existing Merlin's Woods area of Lost Continent in Islands of Adventure which were also met with rejection. After many meetings, discussions, and revisions, Universal Creative with the help of Warner Bros. created a theme park proposal that satisfied all parties.
Announcement and Construction
Rumors spread in early 2007 that Universal acquired the Harry Potter theme park rights. "A source revealed it to me. Without specifically mentioning the IP (a condition imposed by the source), I wrote about the epic impending announcement and hinted about wizards and the like," says Arthur Levine, owner of AboutThemeParks.net. "That led to speculation about properties such as The Wizard of Oz. It was a load of fun to watch the events unfold, to have been in on it, and to have been a small part of the excitement."
On May 31, 2007, Universal and Warner Bros revealed the worst-kept secret: The Wizarding World of Harry Potter coming to Universal's Islands of Adventure in 2009. Universal's plans encompassed a 20-acre land, based around the iconic Hogwarts School for Witchcraft and Wizardry and the quaint, magical Hogsmeade village. A new state-of-the-art dark ride would find its home in the castle while two existing rides, the Flying Unicorn and Dueling Dragons, would be repurposed with new Potter themes. With only one piece of concept art, the internet's collective imagination ran wild with rumors of a Ford Anglea ride and a Hogwarts Dining Hall experience.
Construction started in January 2008, on Project Strong Arm, which would eventually become the Harry Potter and the Forbidden Journey attraction. By July 2008, construction moved into Merlin's Wood with the demolition of the Enchanted Oak Tavern and that area of Lost Continent. In early 2009, the village of Hogsmeade started popping up above the construction walls and a revised opening date of spring 2010 was announced. Fans religiously followed the construction updates on forums and websites, waiting to see the first glimpses of the Hogwarts Express or Three Broomsticks.
"I remember seeing the Lost Continent slowly transform into Hogsmeade and thinking this was going to be huge for Universal." -Brian Glenn, Inside Universal
The Dueling Dragons coaster closed for refurbishment and reopened with new theming in March 2010. Construction crews worked around the clock, placing the finishing touches on the land (including leaving two Powerade bottles in a window on the castle. . . oops) with construction ending in early May 2010. Guests who purchased vacation packages finally stepped into the Wizarding World on May 28, 2010. Early reviews were glowing, but no one was ready for what would come next.
Grand Opening
On June 16, 2010, Universal Orlando hosted the press event for the Wizarding World of Harry Potter. In attendance were the film's stars Daniel Radcliff, Rupert Grint, Michael Gambon, Tom Felton, and more, plus film composer John Williams conducting the Orlando Philharmonic Orchestra. Two days later on June 18, 2020, the star-studded grand opening took place, officially opening the land to all guests. Hogsmeade brought out the crowds as tens of thousands of guests flooded into the resort. Cars started lining up at 3:00 a.m. and before the parking garages could open at 5:00 a.m. traffic was backed up onto I-4. In an iconic photo, crowds of guests are seen wrapped around CityWalk waiting for their turn to enter the park. Once inside, the queue to enter Hogsmeade wrapped around the park, with Team Members informing guests the wait could be up to nine hours long. The crowds never let up the whole summer and Universal implemented a ticketing system to enter the land.
But once inside none of that mattered. "I was astounded by the level of devotion to the theme. I couldn't believe that the shops only carried items that one would expect to find in Hogsmeade, that all of the food and beverage choices were inspired by the setting and the Potter mythology, or that cast members remained in character to such an incredible degree," remarked Arthur. "Details such as the ways that the shops' buildings appeared to have settled through the centuries and the moss- and soot-stained patina on the weathered facades were extraordinary."
Guests were blown away by the, at the time, revolutionary level of detail. Olivanders was not just a shop, it was an interactive show, windows animated and lit up as if placed under a spell, and the beverage choices reflected this was a remote town in Scottland. In a move that at the time was scandalous, no Coca-Cola products were available in the land–only newly invented drinks such as Butterbeer, Peach Tea Fizz, and Pumpkin Juice.
"I was truly blown away. I was immediately aware that Universal had created something revolutionary." – Arthur Levine, AboutThemeParks
Harry Potter and the Forbidden Journey, the keystone E-ticket attraction in the land, did what no one thought was possible: top the already world-renowned Amazing Adventures of Spider-Man located across the lagoon. "Forbidden Journey really was the pièce de résistance of Hogsmeade, and has been the barometer for all theme park attractions since its opening," notes Brian. Arthur adds "my first experience was jaw-dropping. It immediately vaulted to the top of my best attractions list." Not only a breathtaking ride, Forbidden Journey's queue also acted as a tour of Hogwarts castle. Universal pulled out all the stops with state of the art Musion projections, incredible moving portraits, and recreations of iconic film locations. For many years requesting the "castle tour" would send you through the at-the-time unused Universal Express queue.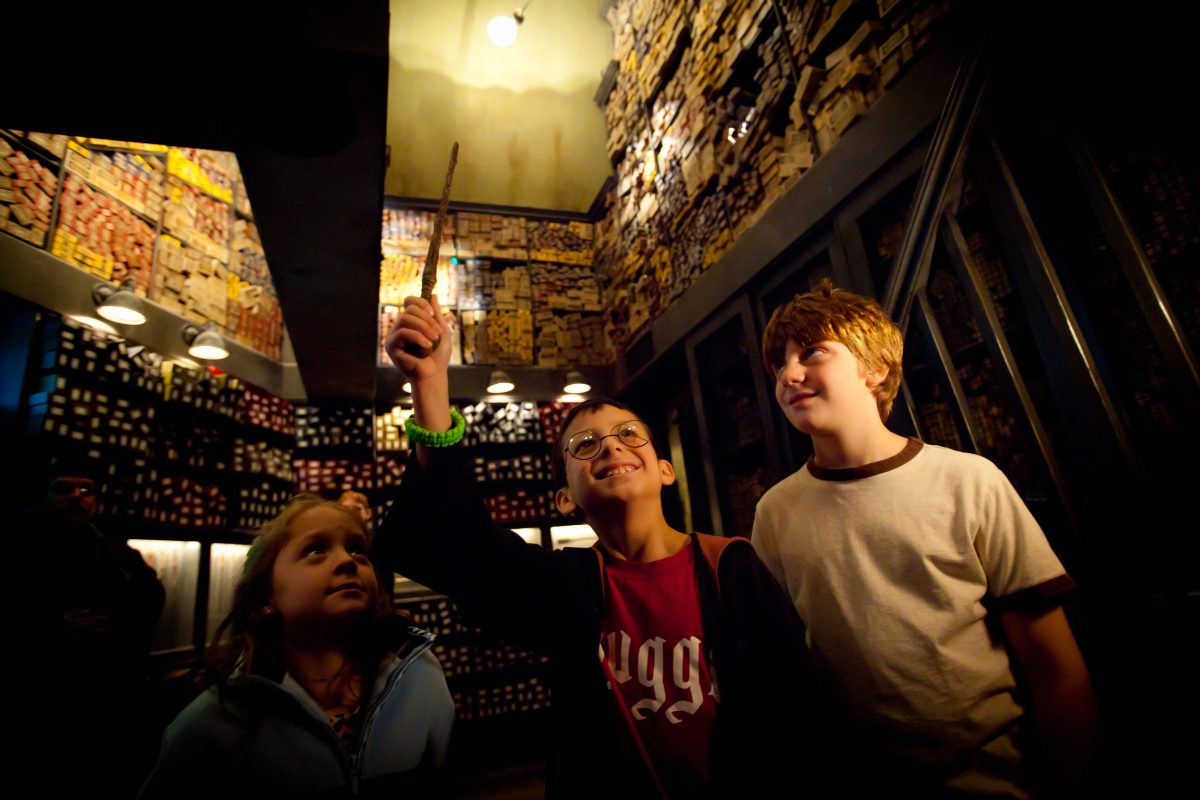 Lasting Impact
It is easy to look back in 2020 and see this all as inevitable: of course Universal was going to knock it out of the park, it was going to be successful, and the industry would follow. Yet at the moment many questioned Potter's longevity or if Universal could actually pull it off. Reportedly Disney scoffed at Universal building during a recession, thinking they were mad. After opening Universal's fortunes turned around overnight; attendance at Islands of Adventure increased over 60% from 2009 to 2011, guest occupancy at on-site resorts increased, and in-park spending skyrocketed. "Hogsmeade's success was instrumental in Universal turning into a bonafide destination," says Brian. New resorts such as Cabana Bay Beach Resort and Sapphire Falls opened to accommodate the demand. Volcano Bay, a totally new water park, opened in 2017 in addition to over a dozen new additions to the resort.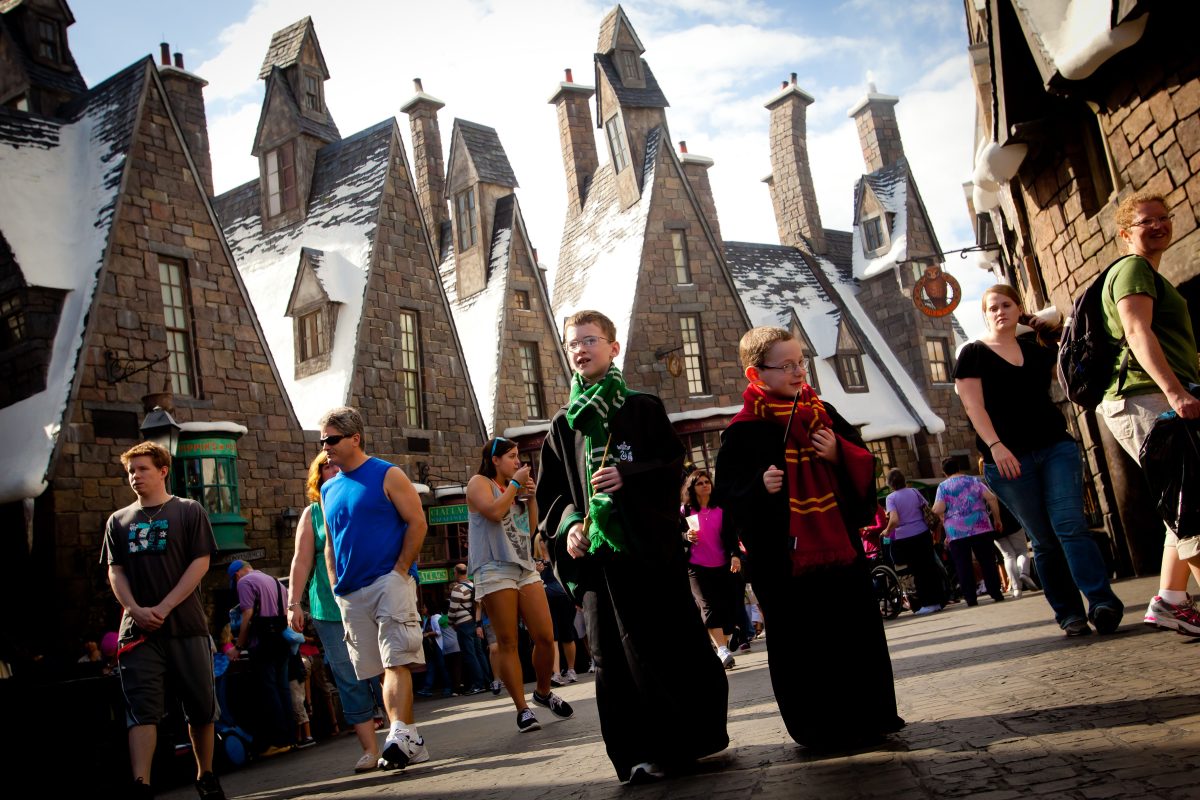 Pottermania at Universal did not end. Universal Studios Florida opened Diagon Alley in 2014, a new themed land with a Hogwarts Express attraction connecting it to the original Hogsmeade. In Osaka, Japan, Universal Studios Japan opened their own version of Hogsmeade with a recreation of the Black Lake. Hollywood opened the west coast annex of Hogwarts in 2016 where rumor has it Olivanders sold over one million dollars worth of wands in just one day. Even Universal Studios Beijing, opening in 2021, will have its own Hogsmeade on opening day.
Disney, seeing financial and attendance shifts in the industry, quickly created new plans to refresh their parks. "It put Disney on notice, and since then – we've gotten some pretty great additions with Pandora and Star Wars: Galaxy's Edge" added Brian. New Fantasyland in the Magic Kingdom received changes with the addition of the Seven Dwarfs Mine Train coaster and even its own Butterbeer knock-off in LeFou's Brew. In December 2011 Disney partnered with 21st Century Fox to bring the James Cameron movie Avatar to Disney's Animal Kingdom. Carsland, which found inspiration from Hogsmeade's food, beverage, and merchandising, topped off the huge Disney's California Adventure refresh in 2012. Finally, in 2019 Disney opened Star Wars: Galaxy's Edge with its own themed dining options, outstanding merchandise, and world-class attractions.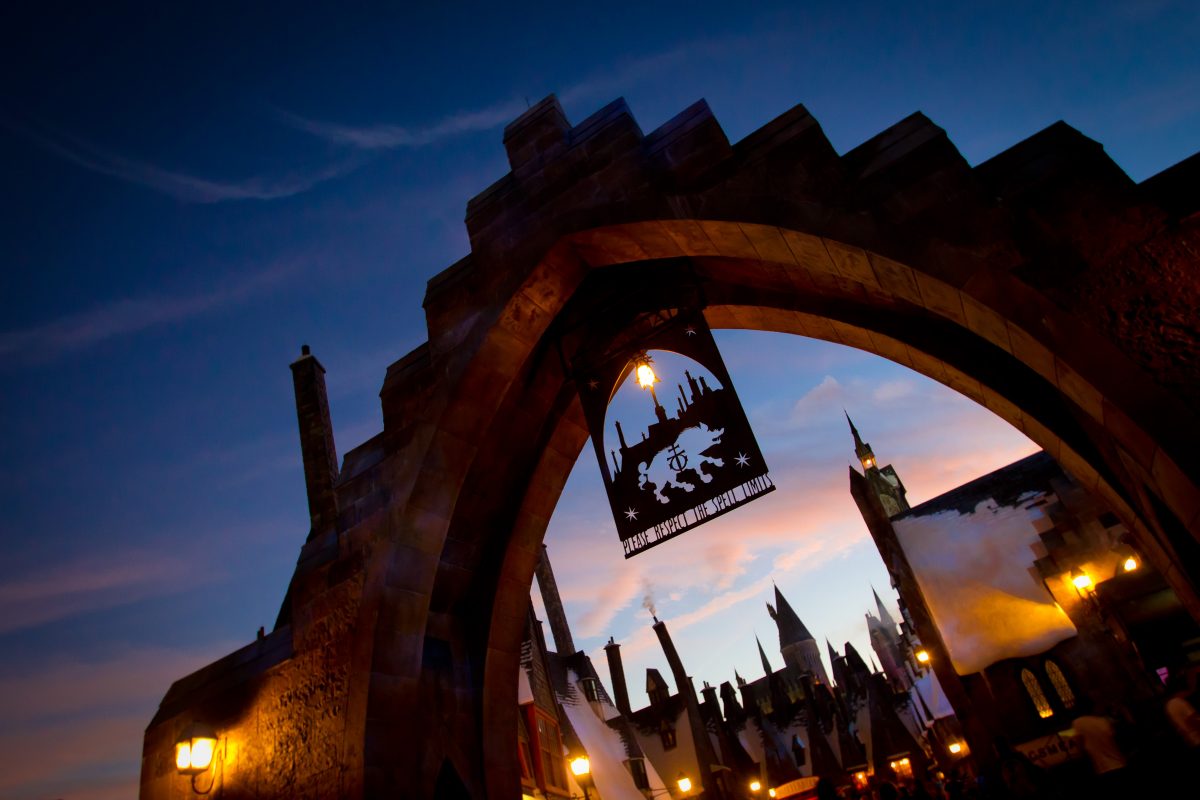 The effects of Potter on the theme park industry are still felt today with Universal's Epic Universe opening in 2024 focusing on immersive lands. Nintendo was so impressed with Universal's work with Warner Bros. that they entered a partnership to bring Nintendo properties to the parks, starting this year with Super Nintendo World at Universal Studios Japan. Disney is not resting either with the soon-to-open Avenger's Campus at Calfornia Adventure and a total redevelopment of EPCOT scheduled through 2022. It is incredible to see how the industry pivoted over the past decade and what the next ten years will bring us. To think it all started with a mysterious boy who lived under the stairs on Privet Drive.
---
Thank you to Brian Glenn from Inside Universal and Arthur Levine from AboutThemeParks.net for their help and contributions to the article. If this whetted your appetite about Hogsmeade then continue on to read Robert Niles's in-depth oral history detailing the opening day of The Wizarding World of Harry Potter at Theme Park Insider. As always make sure to follow Touring Plans for ways to save time and money on your next vacation.