Getting to Know Universal – Harry Potter and the Forbidden Journey
Grab your floo powder, this week we are whisked away to Hogwarts Castle and the iconic attraction Harry Potter and the Forbidden Journey. Located in Islands of Adventure, Forbidden Journey opened with Hogsmeade Village in 2010 as part of the first Wizarding World of Harry Potter. Unlike the rest of Hogsmeade Village (which replaced Merlin's Woods subsection of Lost Continent), Forbidden Journey was built on a new plot of land set aside for future expansion.
Quick Glance
Location: Islands of Adventure
Attraction Type: Motion Simulator Dark Ride
Scope: Super Headliner
TouringPlans Rating: 5 stars
Height Requirement: 48 inches
The Experience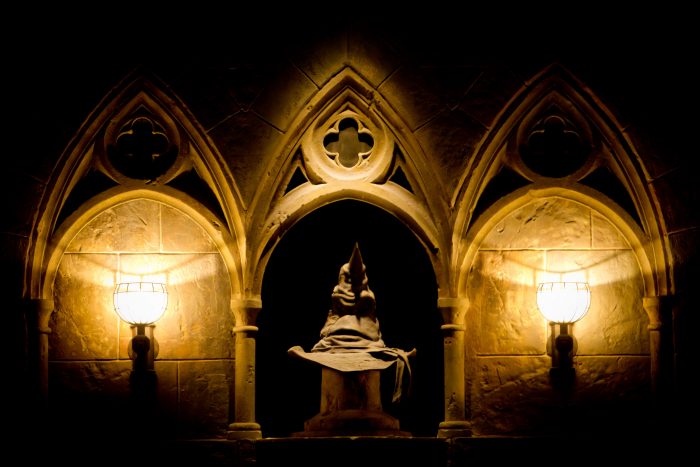 Perched high atop a Scottish cliff, Hogwarts Castle is home to Hogwarts School of Witchcraft and Wizardry. Hogwarts, as it is known colloquially, is United Kingdom's premier school for young witches and wizards. We, definitely not witches and wizards, are invited to tour the school grounds by headmaster Albus Dumbledore with the hope one of us could be the next great wizard. Of course, none of this story actually matters because we are so excited to live our own Potter fantasy. The queue acts as a tour of the magical boarding school walking through caves, greenhouses, offices, classrooms, and common rooms.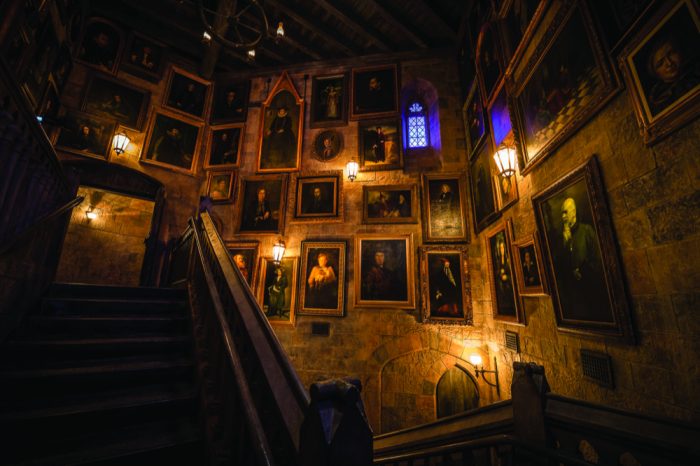 Throughout our tour are dozens of magical "moving" paintings – think stationary dioramas with moving actors. Using patented techniques (digital manipulation, clear brushstrokes over a projection, and more) Universal creates a passable illusion of a painting come to life. These paintings facilitate a conversation between the founders of Hogwarts, give story details, and even deliver the attraction's safety spiel.
Characters from the film also appear in the queue through complicated holographic projections similar to the ones used to reanimate dead musicians. Michale Gambon as Dumbledore welcomes us to Hogwarts and wishes for us to attend a lesson on the history of magic. Once inside the lecture hall we catch up with Harry, Ron, and Hermione who have a better idea: ditch class and catch a game of Quidditch.
We swiftly enter the Room of Requirement and board our transit: magical flying benches. The "magic" comes from Kuka Robotics technology – fans of the old EPCOT Innoventions attraction Sum of all Thrills are familiar with these amazing articulating robots that toss and turn guests. Unlike Sum of all Thrills, the magical benches at Forbidden Journey travel along a dark ride track through elaborate show scenes and seamlessly transition to and from projection domes. What guests experience is the closest approximations of levitation any of us will likely experience.
While the plot of the ride itself is totally nonsensical (something about Quidditch, dragons, and Dementors), it still hits all the major elements that made us fall in love with the books and movies. Our benches travel throughout Hogwarts, past iconic characters, and dodge a whole host of monsters. Thankfully Harry saves us at the last minute and we are given a hero's welcome back to Hogwarts.
The Opinion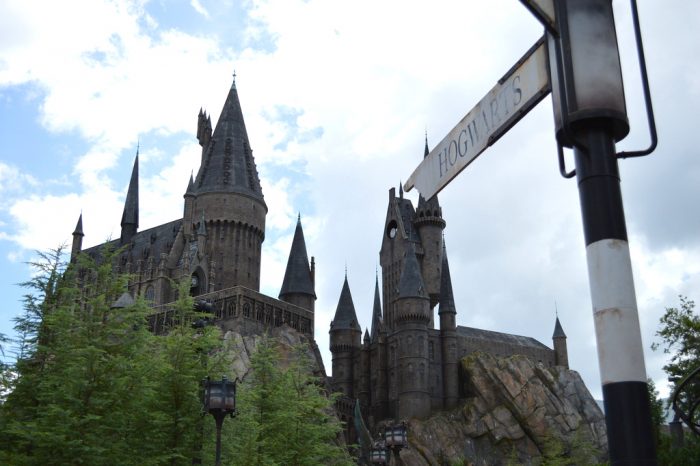 Ten years later and Harry Potter and the Forbidden Journey remains one of the high watermarks of the themed entertainment industry. Epic in scope and execution, Forbidden Journey was the first attraction since the Tower of Terror that shoved attraction design forward. Every time I take new riders onto the attraction they walk away speechless from the experience. The attraction, along with Hogsmeade, revitalized Universal Parks & Resorts and redefined the industry for decades to come.
Be warned: Harry Potter and the Forbidden Journey is the ride most likely to cause motion sickness outside of Mission: Space at EPCOT. If you are prone to motion sickness we suggest walking the queue then ducking out right after the Gryffindor Common Room.
Restrictions & Accommodations
Guests must be 48 inches or taller to ride
Forbidden Journey features roller coaster-like movements, theatrical fog, strobe lights, and scary scenes. Expectant mothers and those with heart, neck, or back injuries are advised not to ride.
Rider Swap is offered for parties with members under the height requirement; see a Team Member at the entrance for assistance.
Guests must transfer out of an ECV or wheelchair to ride.
Guests with a waistline 40 inches or larger might not be able to fit on this attraction, a test seat is available outside the attraction to verify if a guest can ride.
Guests must be able to sit upright, brace their bodies with at least one upper extremity, and legs (natural or prosthetic) must extend to the edge of the seat.
Touring Tips
Harry Potter and the Forbidden Journey, along with Hagrid's Magical Creature Motorbike Adventure, draw guests all day. Ride either immediately at the park open or immediately before close. A Single Rider line is also available to cut waits down significantly but we suggest walking through the main queue once to take in the story and detail.