Foto Fridays – SpaceShip Earth Attraction Walthrough
Here at TouringPlans.com, we're constantly striving to improve your experience when touring the parks. One fairly recent addition to facilitate higher quality guest experiences is attraction photo galleries. Our idea behind these galleries is to provide first-time visitors to the attraction with an idea of what they might expect from the attraction. In so doing, we want to provide a visual representation of whether the attraction might be too scary or dark for young children, have too dull of a queue for long waits in line (although if you're following a touring plan and using our other resources, why would you be waiting in line?), or contain something else a guest might want to see before getting in line for the attraction. Alternatively, if you have visited the attraction before, the galleries (hopefully) provide nice photos to view!
One of my favorite galleries thus far is of SpaceShip Earth.
As you see below, SpaceShip Earth doesn't have much as far as exciting queues go. It's pretty much just metal dividers. I suppose you could count the underside of the geosphere as eye-candy, in which case it's a neat queue, but you can see this without getting in line for the attraction, so I don't think it qualifies. About the only thing of interest in the queue is the painting to the right of the queue visible right as you enter the show building to board your time machine.
Once you enter the building, you almost immediately step onto a moving platform and enter a ride vehicle affectionately known as a "time machine." Then, you begin your ascent into the history of communication, in almost complete dark, with the only light coming from your in-vehicle touch screen and a camera flash that captures your image for use during the descent. It is highly recommended that you make a funny face for this photo. Doing so will give the end of the ride marginal entertainment value.
The darkness in the ascent is really the only potential issue in the attraction; that is, unless re-purposed Audio Animatronics of Presidents give you scary flashbacks of grade school history class.
The scenes that follow give vignettes of different eras and/or events in the history of communication. These scenes are typically well done and entertaining. Judi Dench provides a narrative that, while possibly 'dumbed down' from previous scripts by legends Walter Cronkite and Jeremy Irons, is fairly powerful.
Following these vignettes, the ride goes downhill. Both figuratively and literally. You will first be asked a series of questions regarding your dreams of the future.  Assuming you made the funny faces as previously advised, the interactive touch screen story that follows will be marginally entertaining. Hopefully, at least. If not don't count on being entertained by what is happening outside of your time machine, as nothing there are no show scenes. All that surrounds the vehicle is chicken wire and triangles with glowing edges.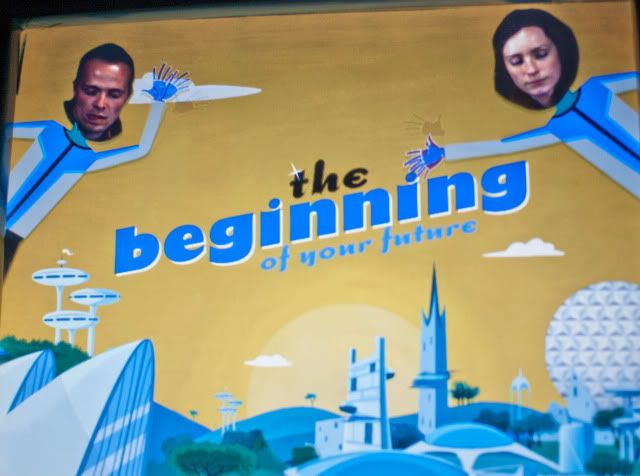 When the touch screen story concludes its prognostication of your future life, you exit the time rover in the same manner you entered it, onto a moving platform. Following that, the attraction unloads into "Project Tomorrow" an interactive game area that proves surprisingly entertaining. If you've pre-maturely written this off as silly kid's games, I would advise you to re-consider. These games are actually quite entertaining.
So there you have it. A visual Cliff Notes of SpaceShip Earth. As we continue to undertake the project of adding galleries to each attraction in the coming weeks and months, we hope you'll keep checking our attraction pages to see our progress.
Even if you've been on most attractions thousands of times, who knows, maybe you'll click upon a gallery of an attraction you've never thought to visit, only to find from the pictures that it actually looks pretty interesting!