Ten Reasons Why Every Walt Disney World Fan Should Visit Disneyland
I admit it!  I was a complete Walt Disney World snob for years.  I had no desire to fly all the way to California to see a smaller, inferior version of one of my favorite place on Earth.
Well, three years of living in California showed me the error of my ways!  Disneyland  is awesome.  Enough said.
Okay, maybe that's not enough said. So here are the top 10 reasons to visit Disneyland.
1. One of my cousins tried to sell me on Disneyland after she returned from a trip.  She insisted it was better than Disney World! What?  Better?  Why?
Her answer – "It's smaller and you can do and see everything easier."
That's like saying I don't want 31 flavors of ice cream to choose from, I only want 10. That doesn't make any sense!!
Or does it?  After I went to Disneyland, however, I realized she was kind of right. The thing is – if what you want is listed in those 10 flavors, it doesn't matter how many more there are!
Disneyland has everything you want, and because it's smaller, it really is easier to see everything!  The entrances to the two parks are directly across from each other and Downtown Disney is right next to them.  You can walk from one park to the other, or to Downtown Disney, in about 5 minutes.
2. From any of the three Disney hotels and from many of the nearby Good Neighbor Hotels you can walk from your hotel to both parks and Downtown Disney.  You heard that right!  There are  hotels in all price ranges right within walking distance of the parks.  No more waiting in line for buses, hoping it comes soon, when odds are that you just missed it.  No more trying to figure out how to get from your hotel to another one for your dining reservation that you're running late for.  No more huge monorail lines at the end of the night (although Disneyland does have a great monorail).
Let me say that again, you can WALK to your hotel from anywhere in the Disneyland Resort!
3. Disney's Grand Californian Hotel and Spa is such an incredible resort it deserves its own number.  So, number 3 is the Grand Californian.  This hotel is truly stunning.  Designed in the Arts and Crafts style of the early 1900's, you can't help but be impressed by its beauty the second you step through those stained glass doors.  And the location is unrivaled.  One exit of  the hotel is a gate into California Adventure.  Another is an entrance into Downtown Disney.  The monorail actually travels through part of the hotel!
4. Some of your favorite rides at Disney World are even better at Disneyland.  That's right!  They're better!  Pirates of the Caribbean – longer and better.  Space Mountain – after a two year refurbishment it's awesome.  Yes, I know Walt Disney World's version was recently refurbished, but it's not the same.  You will forever be disappointed by Disney World's Space Mountain after riding it at Disneyland (OK, it will still be fun, but just not as fun as Disneyland's).  Grizzly  River Run leaves Kali River Rapids in the dust.  it's a small world is in its own beautiful standalone building.  Recently, it's been very tastefully updated with some of your favorite Disney characters.  
5. Some of the best Disneyland rides aren't even at Walt Disney World.  Indiana Jones Adventure is one of the best rides in any theme park anywhere, and it is only at Disneyland.  The Unofficial Guide to Disneyland accurately calls it "a Disney masterpiece." California Screamin' is one of the smoothest, most exciting roller coasters there is.  Matterhorn Bobsleds, the first tubular steel coaster in the world, can be seen from all over the Disneyland area and it doesn't disappoint.  Finding Nemo Submarine Voyage brings back to life the classic submarines at Disneyland in a completely modern and engaging way.
6. There are some wonderful shows at Disneyland that also aren't replicated at Walt Disney World.  Disney's Aladdin – A Musical Spectacular is world class.  It could sell out on Broadway tomorrow.  Billy Hill & The Hillbillies seem like a side attraction when you stop in The Golden Horseshoe for lunch.  Once the show starts, however, you'll see they are anything but a side act.  In addition, Fantasmic! is better at Disneyland.  There's no random Pocahontas sequence here.  Peter Pan and Captain Hook battle it out on the Sailing Ship Columbia as she sails by.  And there are no words to describe the awesomeness of the dragon at Disneyland's Fantasmic!.  Now Disneyland also has World of Color.  If you've read any reviews of World of Color you know it's not to be missed.
7. Disneyland has some amazing holiday overlays as well.  They take classic rides and decorate them with unparalleled detail.  I'm not a huge "Nightmare Before Christmas" fan, but even I love the Jack Skellington layover of The Haunted Mansion.  And how great is it to see Small World decked out for Christmas and hear "Feliz Navidad" thrown in with the classic song?  Oh yeah, and take a picture at Christmas with a Santa in surf garb.  Space  Mountain even has some
Halloween special effects that will blow your mind.  Was that a skeleton that just tried to grab us when we rode by?
8. Disney California Adventure.  California Adventure has a lot of haters.  I am not and have never been in that category.  Our kids (while in grade school) spent hours playing in Redwood  Creek Challenge Trail while we relaxed in the cool shade.  California Adventure brought us the original Soarin' Over California, California Screamin', and now World of Color.  With Ariel's Undersea Adventure already open, once Cars Land is complete, it will be a destination unto itself.
9. The weather.  Southern California edges out Florida in the weather category.  Most days, even in the summer are very comfortable.  Humidity feels almost non existent compared to that oppressive Florida heat.  The fall and spring have too many gorgeous days to count.  There are also less rainy days to deal with at Disneyland.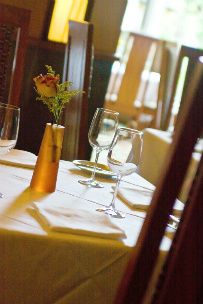 10.  The food!  Disneyland has some dining experiences that are unlike any you find at Disney World.  Who hasn't heard of the Monte Cristo in the beautifully themed Blue Bayou restaurant?  Napa Rose is an award winning restaurant in the Grand Californian.  Downtown Disney is loaded with delicious choices, and remember, they are all a short walk away from the parks!  The corn dogs from Corn Dog Castle are the size of your lower arm.  And there are free snacks!  At The Bakery Tour they give you fresh sourdough bread as soon as you walk in!  Where at Disney World do you get free food?
Okay, I fully realize there are some things at Disney World that can neither be replaced nor forgotten.  I'm certainly not saying you should give up Disney World forever, I wouldn't!  I'm just saying – every so often, take a trip to Walt's playground on the West Coast.  It's worth it!
Over the next several weeks I'll be going into more detail about some of these joys of Disneyland.  So check back frequently, and definitely let us all know what you think!