10 Reasons Every Disney Fan Should Try a Disney Cruise
A couple of years ago, I wrote a blog post on why every Walt Disney World fan should visit Disneyland. Well, now it's time for Disney fans to expand your vacation options again! If you haven't yet, it's a great time to try Disney Cruise Line.  The 2015 itineraries were just released, and there are some great options out there. The prices are high, but you may still want to consider it. Especially if you are a Disney fan! And here are 10 reasons why…
1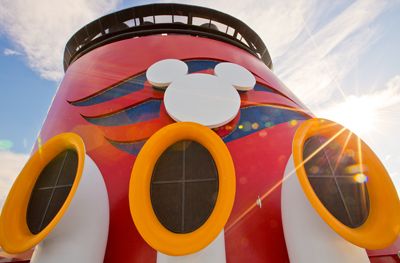 . Disney Difference – Disney has always been known for their service. Their goal isn't just to meet your expectations, it's to exceed them. If you're a Disney fan, you have probably been impressed by their customer service at some point during one of your park visits. Well, if you haven't been on a Disney cruise, you ain't seen nothing yet. I kid you not, the service will blow you away. You aren't just ushered onboard the ship, you're announced to an atrium full of guests and a cheering group of ship's officers. And that's just the beginning. When you walk down the halls, stateroom hosts who are not cleaning your room and will never see a gratuity from you, will greet you warmly and ask how you are. Maintenance men will stop working on their project to smile and say, "Hi," when you pass. You'll probably fall in love with your servers in the dining room and beg for them to come home with you after you disembark. Service on a Disney cruise is top notch. Truly.
2. Disney Details – Disney's ships aren't just beautiful. They have their own special touches that Disney is known for. The elevators have Mickey gloves on the hand. The staterooms have a picture of Walt and Lily. Cabanas on the Dream and Fantasy have the seagulls from "Finding Nemo" watching over the food. A crystal Remy watches over the diners in "Remy", the fine French dining restaurant on the Dream and Fanstasy. Huey, Dewey, and Louie's footprints lead the way up the stairs to the Aqua Dunk onboard the Magic. The details are all over and yet they strike a great balance. They're there for the fans looking for them, but they're not so in-your-face that those who could care less (gasp!) about Disney will be overwhelmed by them.
3. Animator's Palate – All of the main dining rooms onboard are very well themed, but Animator's Palate on all 4 ships is a uniquely Disney experience. On the Dream and Fantasy, our favorite sea turtle, Crush, makes an appearance on screens throughout the restaurant. He interacts with guests ala "Turtle Talk with Crush" and is a true delight. Onboard the Fantasy, on your second night inside the restaurant, you'll be treated to an amazing dining experience. When you first sit down you will be given place mats to draw your own version of a character (and you get to pick the character, be it a Disney favorite, yourself, your mother-in-law, or a crazy alien/monster/teddy bear mash-up). After dinner, and a little Disney magic, your characters will come to life dancing on the screens with familiar Disney characters. I promise you, you'll feel like a child when your character appears. Try not to squeal! On 7-night cruises on the newly reimagined Magic, there is a similar "drawings-brought-to-life" experience. On shorter cruises, guests will experience "Drawn to the Magic" where an animation story of sorts plays out on the screens while the restaurant is transformed from black and white to color. On the Wonder, the characters on the walls and screens are transformed as you eat from a black and white restaurant to one that's alive with color. Even the server's vests change! This is a do-not-miss experience on all four ships.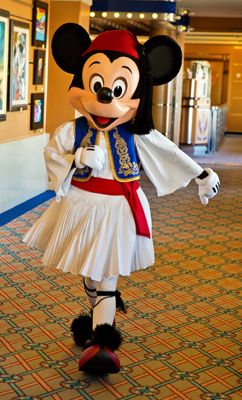 4. Excellent Character Experience – You've probably heard about the three to four hour waits to see Anna and Elsa in Epcot? That just doesn't happen on a Disney cruise ship. There may not be quite as many characters as in the parks, but there's a lot and even at peak times you won't wait that long. Elsa was not onboard the Dream in November when "Frozen" premiered, but we met Anna after only about a twenty minute wait. Additionally, there's usually a special meet and greet scheduled onboard with the Princesses. Yes, that Princess palooza line can be crazy, but it's not 4 hours long. And you're getting 4 princesses for the wait of one! The characters often dress for the ports they're in as well. Wouldn't you like to see Toga Mickey? There are tons of scheduled meet and greets as well as roaming characters that we like to call "characters in the wild". If you want characters, you won't have a hard time finding them.
5. Disney Movies – All four ships show first-run Disney movies in their state of the art movie theaters. They can, because as the cruise directors like to remind us, they own those movies! There will be movies playing in the Buena Vista Theater throughout your sailing. If a big movie happens to premiere on land at the same time you are sailing, there will even be a "Premiere at Sea". We were lucky enough to be onboard for both the premiere of Up and Frozen. Both were shown in the Walt Disney Theater at midnight on premiere night, and multiple times the rest of the sailing. For Up, one of the leading Pixar animators was onboard and introduced the movie, and he also gave a talk earlier in the sailing describing how the movie was made. And animated hits aren't the only movies shown. We've seen Pirates of the Caribbean, Thor, The Avengers, way too many to list here. They even show the 3-D versions if you prefer!
6. Broadway Quality Shows – If you're a Disney fan, you are going to love the nightly shows. Some are original stories, others are shows based on classic Disney movies, and still others are stories with segments of Disney movies and songs weaved in. The music, the sets, the costumes, the acting – I love them! You, and your children, will be enchanted. The shows are shown twice nightly and there are sometimes matinees as well. You'll want to see all of them at least once. Some of them you'll want to see over and over.
7. Disney TV – There's not just Disney in the theaters, there's Disney on the television! The stateroom TVs show Disney Channel shows all day every day. There are also classic Disney movies, and a good selection of free On Demand (family friendly) movies. You probably won't be in your stateroom much, but if you just need something to occupy the kids while you get ready or want watch a little TV in bed? The stateroom TV is your friend.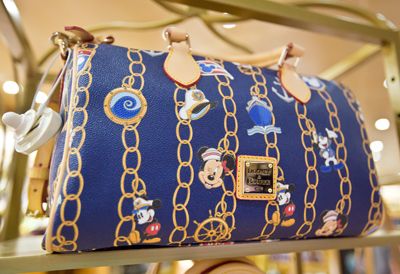 8. Mickey Merchandise – There are at least two stores on every ship stocked with merchandise designed to separate Disney fans from their money. Princess dresses, Mickey polo shirts, collectible pins, stuffed animals, T-shirts, Dooney and Bourke purses, home décor, etc. etc. Just try to get in and out of one without seeing something you want. I dare ya.
9. Hidden Mickeys – Are you a hidden Mickey searcher? Not surprisingly, there are hidden Mickeys on the ships! There are even hidden Mickey's on Disney's private island – Castaway Cay! Official, unofficial, who cares? You can have a great time seeking them out.
10. MickeyBars! – Any regular reader of my blog posts knows of my love of the premium Mickey bar. What about on a Disney cruise? They're free!! included in the price you've already paid for the cruise. And there's no limit! Even though they aren't listed, room service has them, as well as any of the main dining rooms! And because they are free!! included in the price of the cruise, that means the more you eat, the move value you're getting for your cruise dollar! At least that's what I tell myself as I am eating one (that I didn't pay extra for!) every day of the cruise.
Are you a Disney fan? What reasons would you add?
Pre-order Our Disney Cruise Line Book Today!
The Unofficial Guide to the Disney Cruise Line by Len Testa, Erin Foster, and Laurel Stewart is available for pre-order on Amazon and will be released in April.