December 2019 Walt Disney World Crowd Calendar Update
The December Crowd Calendar update is now live. We are in the busiest time of year at Walt Disney World. During Thanksgiving week we are seeing peak crowd levels. Then will see a brief lull before the Christmas/New Year's crowds descend on central Florida. It is always a good plan to arrive well before park opening and to use a good touring plan, but these practices are especially valuable on high crowd level days.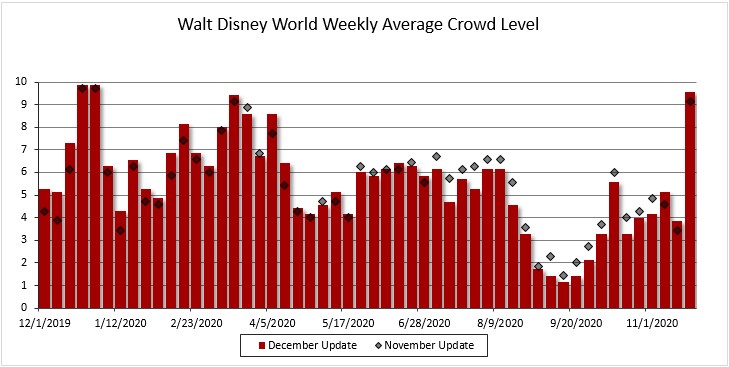 After the underwhelming effect of the opening of Galaxy's Edge in August, it is hard to know what impact Rise of the Resistance's opening will have on crowds. Disney put out scary warnings prior to the opening of the new land that Hollywood Studios and/or Galaxy's Edge may close due capacity. In addition, Disney extended park hours for Magic Kingdom, Hollywood Studios, and Animal Kingdom for nearly two months in order to absorb the anticipated influx of guests. Those additional guests never materialized: the Walt Disney Company Earning Report from November 7, 2019, states that Walt Disney World's attendance was flat.
December 5 is the opening date for Star Wars: Rise of the Resistance in the Star Wars: Galaxy's Edge land at Disney's Hollywood Studios. This time around, there are no scary warnings on Disney's website to deter guests from trying to ride a freshly opened Rise of the Resistance. Aside from its December 5 opening day (when the closing time at Hollywood Studios was moved from 9 p.m. to 10 p.m., and Epcot and Animal Kingdom gained 8 a.m. openings plus Morning Extra Magic Hours), Disney has not adjusted park hours based on Rise of the Resistance being open. For the most part, business is continuing as normal.
We are taking a wait-and-see approach on the long-term effect of the opening of Rise of the Resistance. If Rise of the Resistance transforms attendance patterns at Disney World, we will react, and Disney will make operational adjustments. However, in general, we expect peak wait times to be a bit higher than usual over next twelve months.
Park Hours
In my last blog post I took a deep dive into how park hours change. The initial park hours released for Walt Disney World are practically useless. This month we tweaked the weight we give to our projected park hours over Disney's published hours. Most dates in this update that show a large change in crowd level are the result of this change in methodology.
December 2019 (Crowd Levels WDW:7.2 MK:6.5 EP:7.3 HS:8.9 AK:7.3)
December will have three weeks of moderate crowds before the Christmas and New Year's crowds start arriving on December 20. Magic Kingdom is hosting 13 Christmas Parties between December 1 and 22. The nine days without a party will have higher crowd levels. Visiting the Magic Kingdom on party days is a good strategy if you can hop to a different park in the afternoon or are willing to have a short park day.
Rise of the Resistance at Hollywood Studios opens on December 5. The opening of the highly anticipated super-headliner attraction of the new Star Wars land will bring in the crowds in early December. We expect wait times to be higher than normal for early December as locals and others try to experience the new ride before the holiday crowds descend on central Florida.
We expect the opening of Rise of the Resistance to increase attendance at Walt Disney World overall. The biggest impact will be at Hollywood Studios, specifically in the Star Wars: Galaxy's Edge land. We expect the crowd levels at Hollywood Studios to be 2 points higher compared to prior years.
January 2020 (Crowd Levels WDW:6.1 MK:6.3 EP:5.6 HS:6.5 AK:6.4)
The first six days of the new year will still be filled with Christmas and New Year's crowds. And once these folks leave, they will be quickly replaced by those involved in the Walt Disney World Marathon events the following week. Martin Luther King, Jr. Day weekend (January 18-20) will also have high crowds. The biggest changes in crowd levels are for Saturdays at Magic Kingdom due to our expectation that closing times will be extended to 10 p.m. or 11 p.m.
February 2020 (Crowd Levels WDW:6.7 MK:6.9 EP:6.3 HS:6.2 AK:7)
Early February will have low crowds. The weeks of Presidents' Day (February 15-23) and Mardi Gras (February 22-29) are popular times for many school districts to take a break. Luckily, the two holidays are on different weeks in 2020, and that will help spread out the crowds.
March 2020 (Crowd Levels WDW:7.9 MK:8.4 EP:7.5 HS:8.2 AK:7.3)
April 2020 (Crowd Levels WDW:6.1 MK:6.3 EP:5.6 HS:5.5 AK:6.1)
Spring Break has become a very popular time at Walt Disney World, even more popular than the summer. Peak spring break season for 2020 is between March 7 and April 13. With Easter moving around the calendar from year to year, the crowd pattern also changes. Easter 2020 is April 12. The week before Easter (April 4-11) will have the highest crowds of spring break.
May 2020 (Crowd Levels WDW:5 MK:5.1 EP:5.6 HS:4.5 AK:5.4)
The time between Easter (April 12) and Memorial Day (May 25) is a great time to visit Walt Disney World. The crowds are low, and the weather is moderate. Some school districts start their school breaks after Memorial Day and summer season begins at Walt Disney World.
June 2020 (Crowd Levels WDW:6.1 MK:6.1 EP:6.3 HS:5.8 AK:6.7)
July 2020 (Crowd Levels WDW:5.6 MK:6.6 EP:4.4 HS:5.3 AK:5.7)
August 2020 (Crowd Levels WDW:4.8 MK:5.2 EP:4.3 HS:4.8 AK:4.5)
Most schools will be on summer break by the end of June. Over the past three years, summer has not been peak season. The summer heat and longer park hours help spread out the crowds. It will be interesting to see what Disney comes up with to entice guests to visit during Summer 2020. Expect to see discounts and new activities to supplement the Remy's Ratatouille Adventure and Mickey & Minnie's Runaway Railway rides that are expected to open.
September 2020 (Crowd Levels WDW:1.4 MK:1.9 EP:2 HS:1.5 AK:1.4)
October 2020 (Crowd Levels WDW:3.9 MK:3.8 EP:4.7 HS:4.8 AK:3.7)
November 2020 (Crowd Levels WDW:5.7 MK:5.4 EP:5.7 HS:6 AK:5.5)
The further we look into the future, the less we know about school schedules and about Disney's plans, in general. In April and May, schools will start finalizing their schedules for the 2020-2021 school year. Until we have updated school schedules, crowd levels for Fall 2020 are based on data from previous years.
What We Are Watching
2021 is the 50th anniversary for Walt Disney World. We expect Disney to have a 16-24 month celebration. Guests who do not go to Walt Disney World every year will likely postpone their vacations until 2021. Disney's marketing will be in full force, trying to entice guests to visit before the 50th anniversary celebration. We also will be watching for the impact of Rise of the Resistance and other attractions opening in 2020.