A Look Back at Last Year's Super Bowl Parade at WDW
A perennial component of Super Bowl Sundays past has been a post-game proclamation from the winning team's key player. When queried, "What are you doing next?" The joyful player shouts, "I'm going to Disney World" (or sometimes "I'm going to Disneyland"). This is all followed by a parade and fanfare at the parks a day later.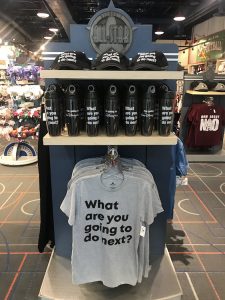 Under normal circumstances, with the Super Bowl played in nearby Tampa, you'd expect post-game Monday to be positively packed at WDW, with rapid fans filling every crevice of the Magic Kingdom. But given that circumstances are so different this year, with Disney placing tight caps on park capacity and eliminating parades in general, it's unclear what will happen to with cheerful tradition. I'm curious to see whether the campaign will be placed on hiatus, or how it might be modified with COVID precautions in place. (A Feb 3 article in the Orlando Sentinel implies, but does not outright state, that there will be in-park festivities this year.)
Some have speculated that the 2021 "What happens next" parade will take the form of the now familiar character cavalcades, unannounced parades featuring just one or two floats and some flanking dancers. This makes sense, though, as you'll see below, the post-game parade is not much longer than a cavalcade in normal times.
While I don't know how "What are you doing next?" will play out this weekend, I can take you on a look last year's festivities. I happened to be at Walt Disney World on post-Super Bowl Monday 2020 and decided to head to the Magic Kingdom to see what the merriment was like.
A few things to note:
Disney didn't widely promote the parade on site, but everyone seemed to know where and when it was anyway.
People started lining up 2-3 hours in advance of the Magic Kingdom parade.
There was Kansas City Chief's red apparel EVERYWHERE in the Magic Kingdom. The 2020 game was played in Miami, within driving distance of Orlando. At the time, I found myself wondering if the team spirit would have been as evident if the winning team's fans were not as close at hand. With this years game being played by in Florida (Tampa) with a local team in competition (Tampa Bay Buccaneers) there is plenty of opportunity for team spirit to be in force at Disney World.
While fans lined up for hours, the parade itself was short. I filmed the entire thing and found that my recording lasted about four minutes, including the marching band opener and the post-float generic cheerleaders.
My look at Chiefs star Patrick Mahomes lasted just a few seconds, mostly obscured by other onlookers.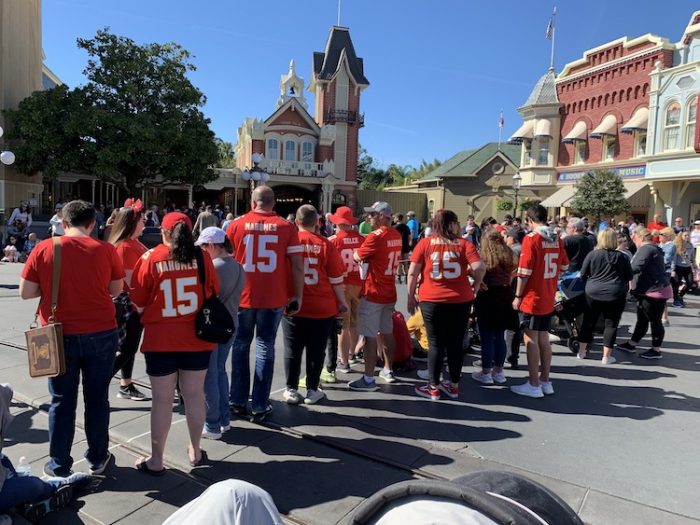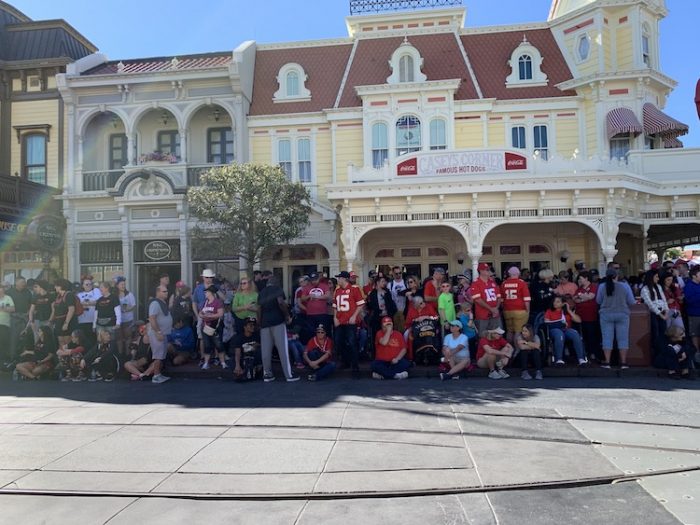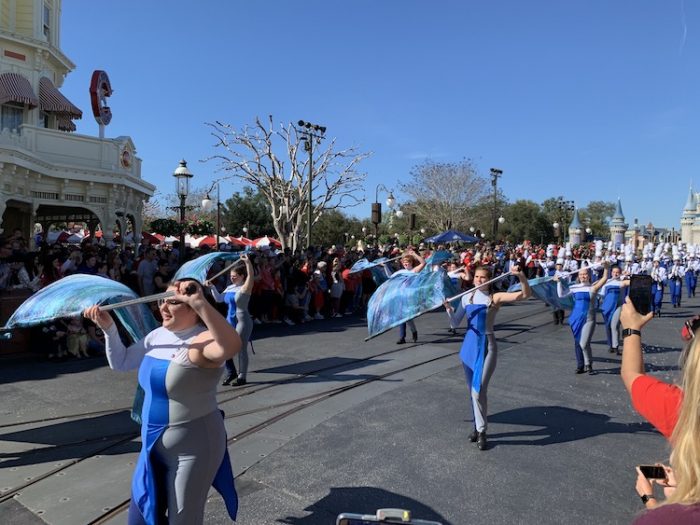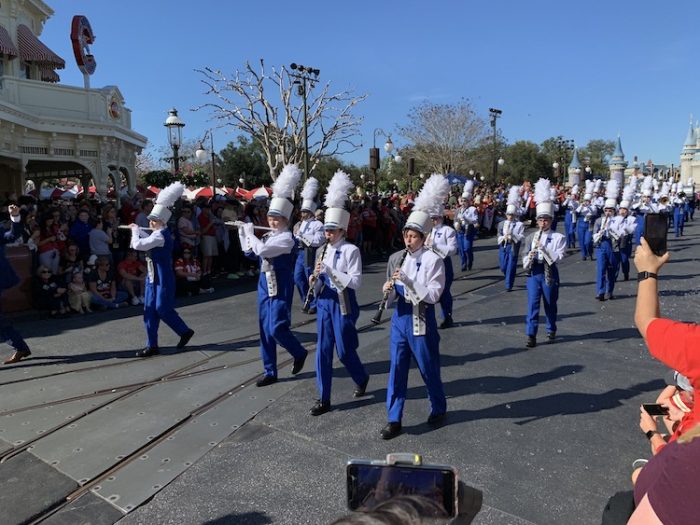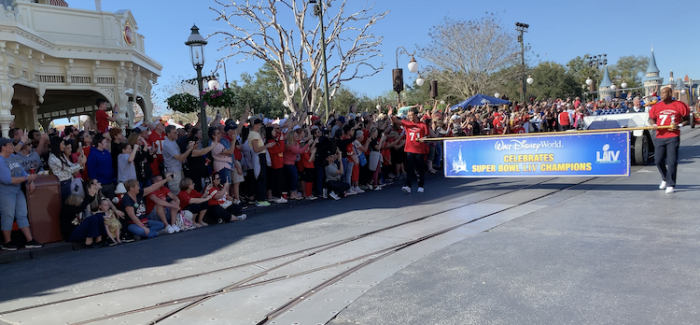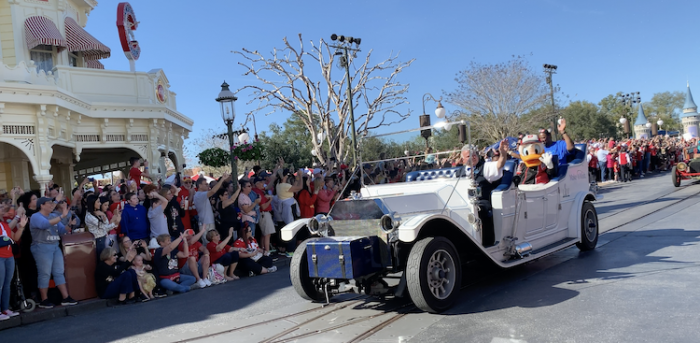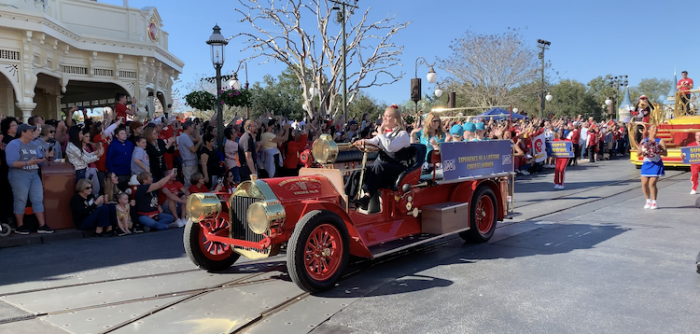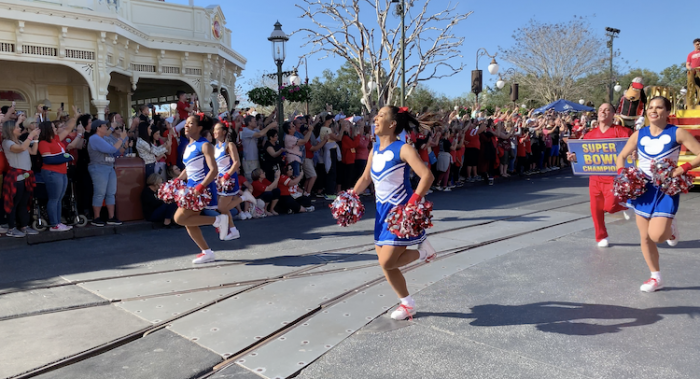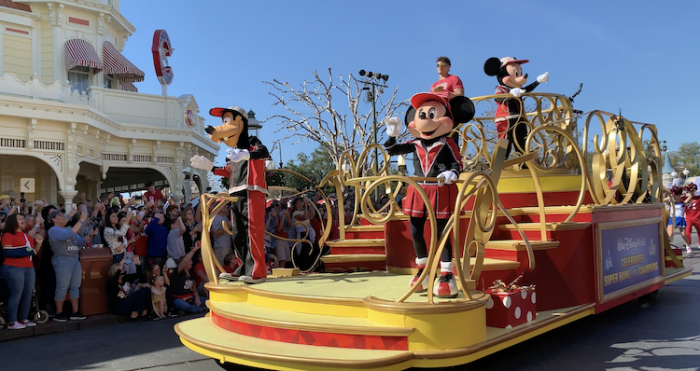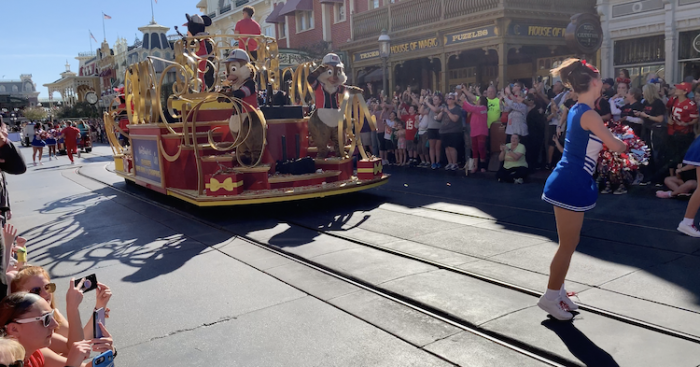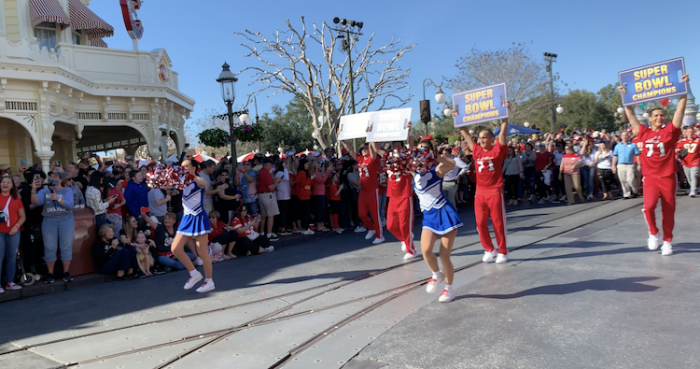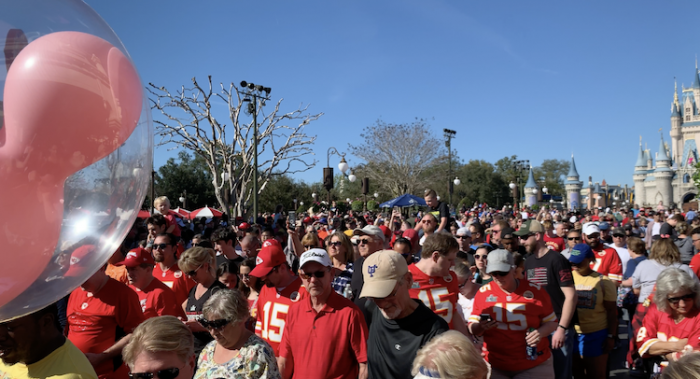 If you had asked me the next day how I felt about this parade, I would have said it was a waste of time [heavily modified with the knowledge that I'm not a Chiefs fan]. But now that large gatherings, parades, and communal merriment are no-nos, I'm grateful that I got to see this slice of Americana up close.
GO TEAM!
Edit: The Disney Parks Blog has now announced that there will be no 2021 post-game parade. There will be an "I'm going to Disney World" commercial.