A Meal in a Castle – Without Princesses
Table service restaurants in Magic Kingdom are … generally not very impressive. Several are quite expensive (looking at you, Cinderella's Royal Table, Be Our Guest and Crystal Palace). Others have hit-or-miss cuisine (hey, Tony's) or serve very heavy meals for hot days (you didn't think you could hide, Liberty Tree Tavern). But sometimes you need to stay in the park and have a long, relaxed meal. And it just so happens that within the past few weeks, both Jennifer Heymont and I have taken our families to a meal at Cinderella's Royal Table. So now we can provide you with a well-rounded review!
Whether you'll be travelling with young kids, or with an older crew, we've got you covered. We'll talk about pricing, availability, the experience and the food. All so that you can make a better decision about whether it's a good choice for your family.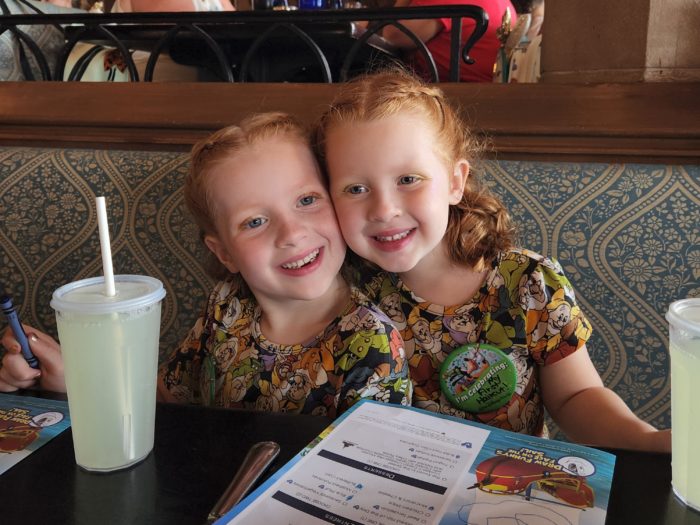 The Cost
If you choose to eat lunch or dinner in the castle, the meal will set you back $62 per adult and $37 per child (ages 3 – 9). This is actually a price reduction compared to pre-pandemic costs, but we'll see why later in this post. It does include a three-course meal – appetizer, entrée and dessert – even for the little ones.
Choosing to eat breakfast here instead will save you some money ($42 for adults and $27 for children), but only includes a pastry plate and an entrée.
One more note! Meals at Cinderella's Royal Table are prepaid at the time of your reservation. So if you're booking in advance, you have to pay when you reserve.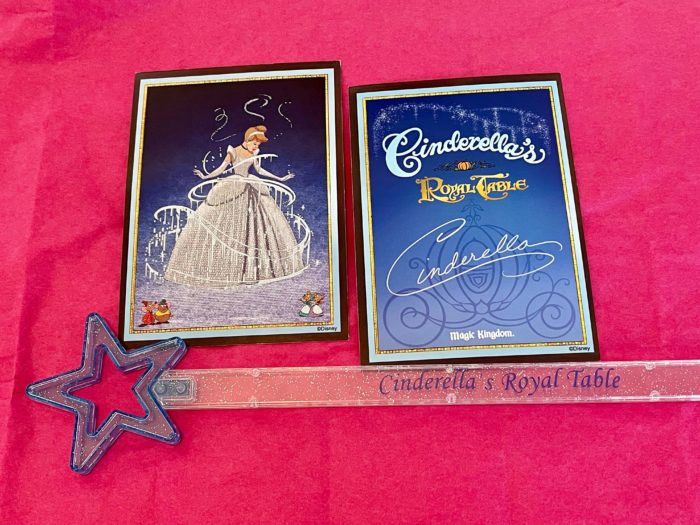 Availability
Like always, meals at Cinderella's Royal Table are a very hot ticket, and they tend to book up well in advance. In fact, as I write this, I looked for reservations for a party of four exactly 60 days from now and there are none.
Thankfully, when our parties visited on two separate park days, it appeared that the restaurant was up to full capacity. Every table was seated and was turning over to new parties pretty quickly. So availability is only limited by demand, not because of any lowered capacity.
Still – if you want to eat here with your friends, family, or significant other, be prepared to put in the work. Start attempting to make reservations 60 days before your desired date. If nothing shows up, then it's time for the handy dandy reservation finder! Let us check regularly for you, and then you'll get an email and/or text to let you know to go book your reservation.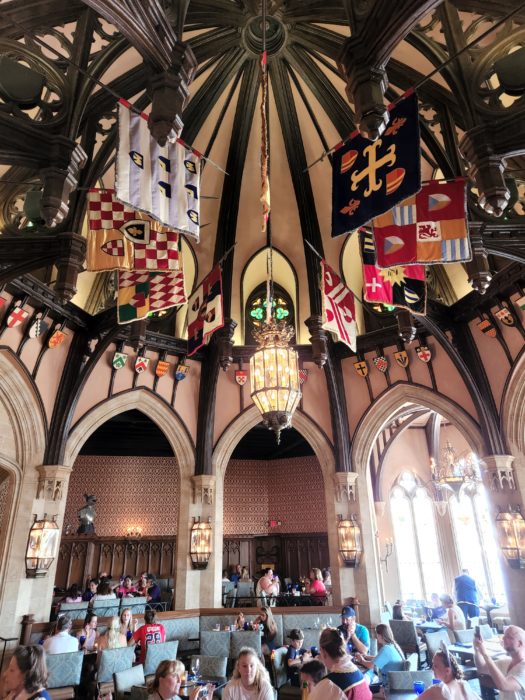 The Experience
When your meal time is near, you can check in for your reservation using the My Disney Experience app, as long as you're somewhat nearby the restaurant. But because of this location's unique experience and setup, you don't have to wait for your party to be called in order to walk up to the desk. Instead, you'll want to go there as early as possible, because they'll get you in line to meet the castle's royal resident even before your table is ready.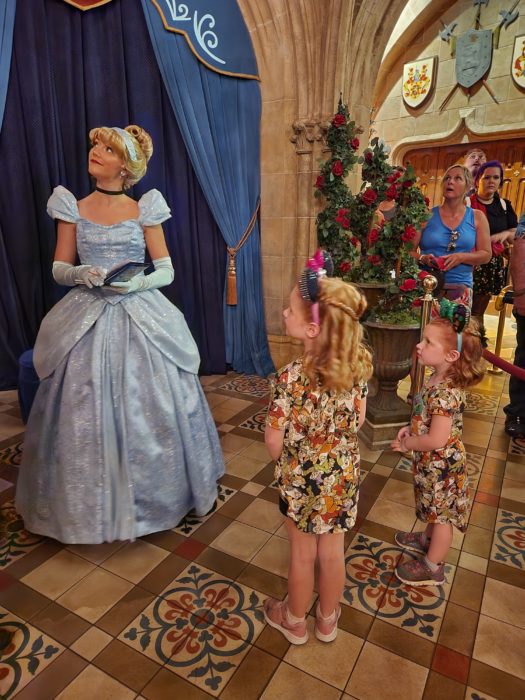 Cinderella and her assistant have everything all ready for the princess meetup and pictures of your dreams. She'll sign autograph books, answer any questions you have, show you where her friends the mice live, and even tell you about the lovely meal that you're about to enjoy. Like most other character meet-and-greets, you're welcome to take as much time and as many pictures as you'd like, within reason.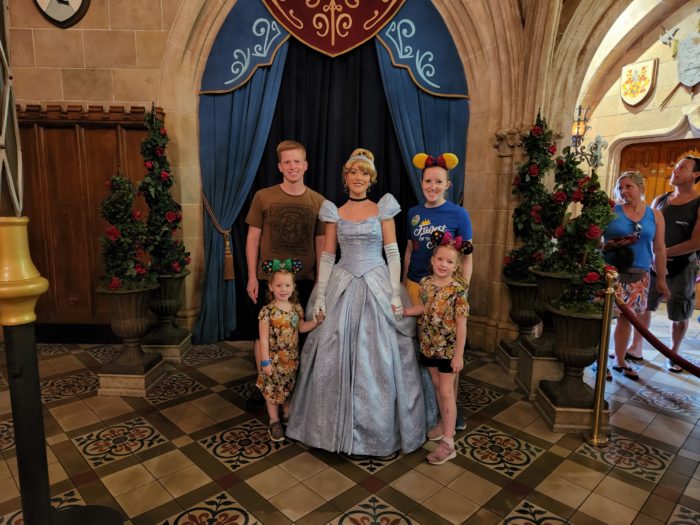 Once your time with the princess is over, if your table is ready you're welcome to proceed directly upstairs. But if it's not, you still get to wait in the comfort of shade and air conditioning, with ample seating – instead of the hot sun outside.
After you arrive upstairs, you'll be shown to your party's table. There's really not a bad seat in the house, but be sure to request a table by the window upon check-in if that's something that is important to you. You still might not get it, but it never hurts to ask.
My family ate at lunch time. We weren't directly next to a window, but we still got to see the views. Jennifer's family enjoyed dinner at the castle instead. And they got the extra bonus of being inside the castle during fireworks. You're obviously not going to get the best view of the show from indoors, but it is certainly a unique and pretty rare vantage point. One note – if you have a dinner reservation, but want to view fireworks from outside of the castle, or if you want to make a quick escape from the park after fireworks, you'll want to make extra sure that your meal wraps up well before showtime. For safety reasons, you won't be allowed to exit the castle starting 20 minutes before the fireworks begin, and lasting until 20 minutes after they end. If you add in the duration of the show, that can mean sitting in the castle for a very long time if you don't mean to do it.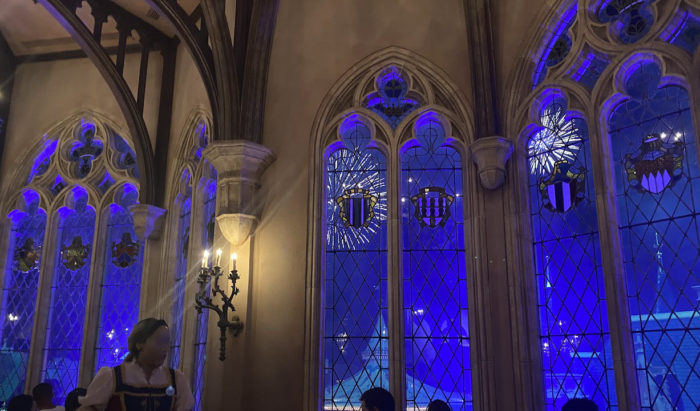 The Food
Let's start with kids meals, since those have the fewest options, and my girls were the only ones to eat those meals.
Appetizers: Sliced Apples; Grapes and Cheese; Garden Salad (with fat-free ranch – yummmmm)
Entrees: Seared Fish; Beef Tenderloin; Chicken Nuggets; Macaroni and Cheese

Sides (choose 2): Seasonal Veggies; Rice Pilaf; Mashed Potatoes; Buttered Corn
One note about buttered corn – if your kid is like mine and missing a significant percentage of their front teeth, avoid this one. It's served on the cob.

Desserts: The Sword in the Sweet; Build-Your-Own-Cupcake; Yogurt Parfait (everybody likes parfait!)
My children are incorrigible and order macaroni and cheese whenever and wherever it is an option. When we go on cruises, they eat mac and cheese for almost every meal. Therefore, they both ordered Macaroni and Cheese, with Grapes and Cheese (because … more cheese) as their appetizer. They both got seasonal veggies – green beans! – and one chose mashed potatoes while the other chose rice pilaf.
Then for dessert, they were both tempted to build their own cupcakes. That ended up being what the little one did, while the big kid eventually opted for the Sword in the Sweet. It was surprisingly tasty, but altogether too large for someone who had just downed a large portion of cheese, followed by noodles covered in more cheese.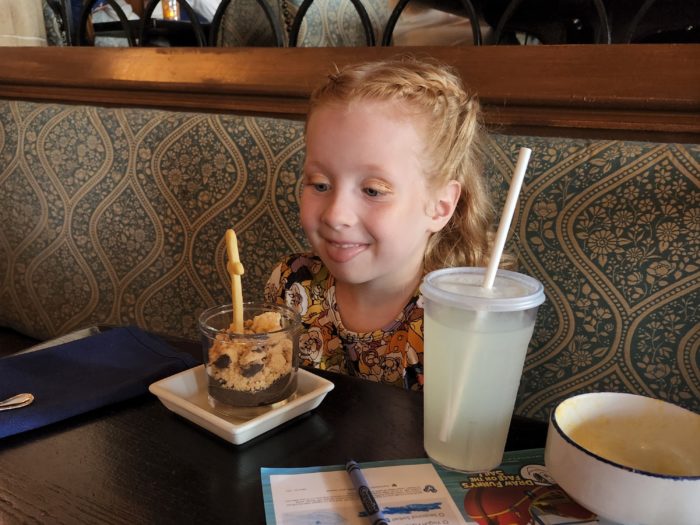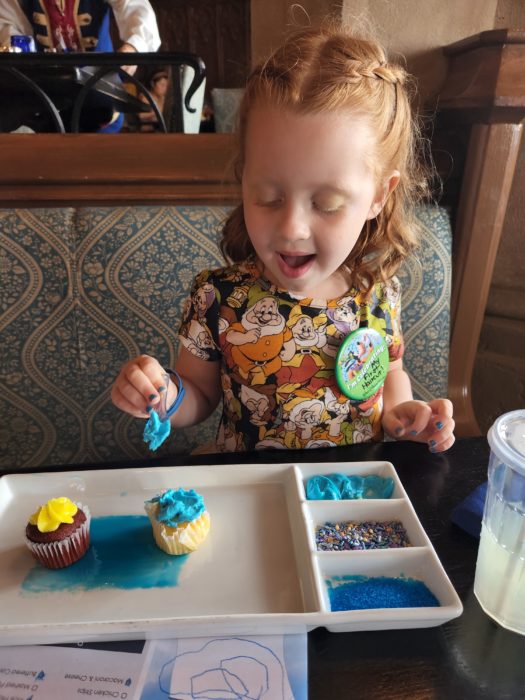 The adults have a few more options available to them:
Appetizers: Soup of the Day; Steamed Mussels; Charcuterie; Castle Salad
Entrees:

Magic Carpet Ride (Spice-crusted pork tenderloin and pork belly with curry couscous, glazed rainbow carrots and a peppercorn flying carpet, obviously)
Tenderloin of Beef (Grilled beef tenderloin, whipped potatoes, seasonal vegetable and sauce bordelaise)
When Will My Life Begin Chicken and Pasta (Tangled pasta, braised chicken, forest and moss flowers, and pine nut pesto served in a frying pan)
Chickpea Panisse (Crispy chickpea panisse, tomato jam, roasted carrots, chermoula-spiced garbanzos, and chive powder)
Sustainable Catch en Papillote (Served with marbled potatoes, chimichurri, and seasonal vegetables)

Desserts:

Jaq & Gus (Cheesecake with seasonal flavors and garnishes)
The Clock Strikes Twelve (Dark chocolate mousse with a caramel and crunchy praline center, served with chocolate sauce and hazelnut gelato)
Coffee Pots de Creme (Coffee-infused coconut 'custard', passion fruit gelee, and crumbled chocolate-espresso beans
I won't do an item-by-item review, because we'd be here all day. Of the appetizers, the charcuterie board is small but well-stocked. The mussels were tougher than I was hoping they'd be. When Jennie's family ordered them, they were not tough, but too salty. Overall, probably unreliable. And the soup and salad are … good soups and salads, but still soups and salads.
The beef tenderloin was cooked perfectly, but served with the exact same potatoes as my kids received. This wouldn't be bad if the kids' potatoes were amazing, but as it was – everyone got mediocre potatoes. The real standout of the entrees for us was the Magic Carpet Ride. This dish was actually pretty adventurous in its flavor profile. It reminded us of Indian cooking, in a very good way. The actual flying carpet itself was a little gimmicky, but that pork totally made up for it. And Jennie attests that the fish was also really good – a solid option if you're pescatarian, or if you want a lighter option.
If you want a large dessert, you absolutely must choose The Clock Strikes Twelve. It is a lot of pretty heavy food. I'm a chocolate lover, and this dish was right in my wheelhouse. I ate it all even though I definitely didn't need to. The Jaq & Gus seasonal cheesecake was slightly less inspired. The texture was light and fluffy and lovely, but the overall flavor profile was otherwise bland. Perhaps this will change with the "season".
What Does This Mean For You?
Princesses still aren't roaming the dining room at Cinderella's Royal Table. So if that's the deal-breaker for you, avoid it for now. Otherwise, it's still a relatively calm and elevated (literally) dining experience, especially for a special occasion with kids. But also … thanks to all of the kids, I wouldn't recommend it for a romantic dinner. Head out of the parks for that.
It's fun to watch the fireworks from inside the restaurant, but it's definitely not a full view of the show. Being inside for fireworks will add about an hour to your meal if you accidentally wrap things up a couple of minutes too late, so be careful about timing if that's important to you.
Thankfully, the absence of princesses has led to some of the dishes becoming higher quality to "make up" for the lack of entertainment. Disney knows you won't be distracted by Ariel or Snow White, and that instead you'll be focused on your pork, so they have put some effort into making sure it's good pork. Order the pork.
Have you dined at Cinderella's Royal Table recently? Or are you waiting for all of the princesses to make their return? Let us know in the comments!