A Review of Disney's Enchantment Dessert Pre-Party
If you didn't end your Magic Kingdom night with fireworks, did you even go to Walt Disney World?
While there's no question that Enchantment is the perfect way to cap off a Magic Kingdom day, there's more than one to take in the show.
In addition to camping out on the hub or on Main Street, U.S.A., Magic Kingdom guests can also book a variety of fireworks parties complete with drinks, desserts, and snacks!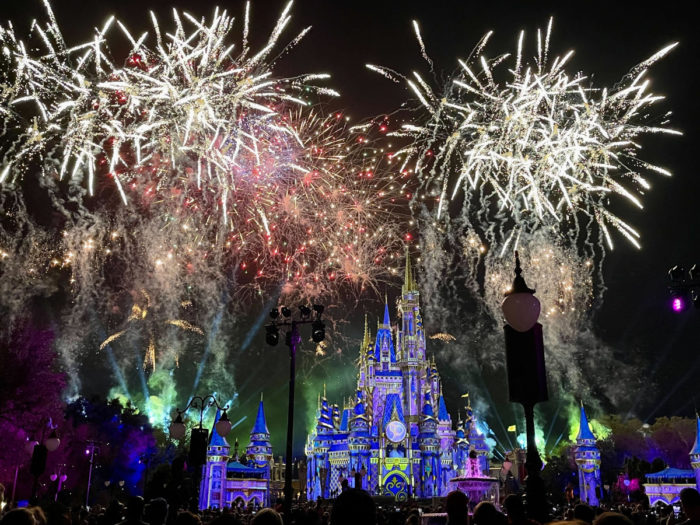 In addition to reviewing the Celebration at the Top: 50th Flavors and Fireworks, our team recently checked another Magic Kingdom 50th dessert party – the Disney Enchantment Pre-Party.
This exclusive, ticketed event begins at Tomorrowland Terrace where attendees can snack on 50th Anniversary-themed treats and savories, along with both non-alcoholic and alcoholic beverages.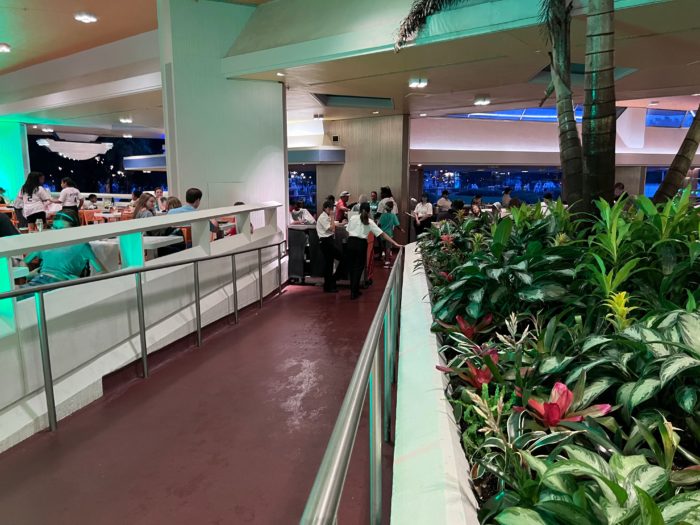 Our team was able to check in at 7:25 p.m. for their 7:50 p.m. reservation. Those over 21 years old were given a wristband for access to the party's alcoholic beverages.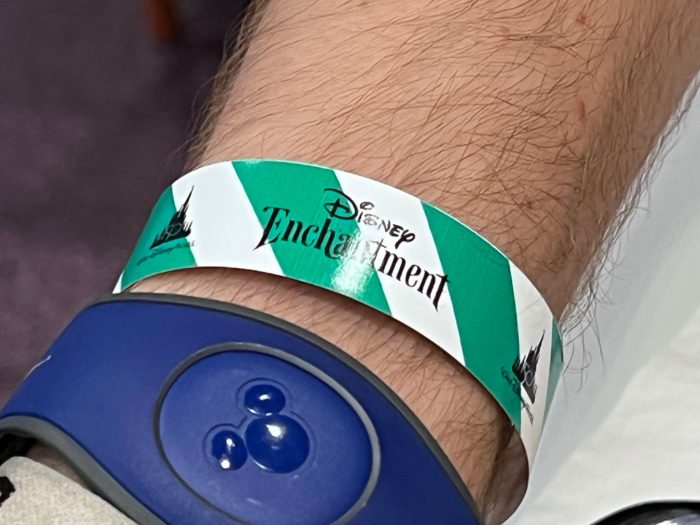 Food, Drink, and Desserts
As for those adult beverages, the party has a 2 drink per person limit at one time but no exact limit on the total number of drinks.
But for teetotalers and younger guests, the Pre-Party offered a variety of hot and cold beverages, including Disney's beloved POG (pineapple, orange, and guava) juice!
Since this is a dessert party, we're happy to report that the dessert options are fantastic!
Our favorite is the new Snickerdoodle cookies with vanilla caramel buttercream rolled in hazelnut praline. It's incredible.
In addition to the mini pies and puddings, and the chocolate-covered strawberries, we strongly recommend the new cake balls that have been added to the spread. They're a winner.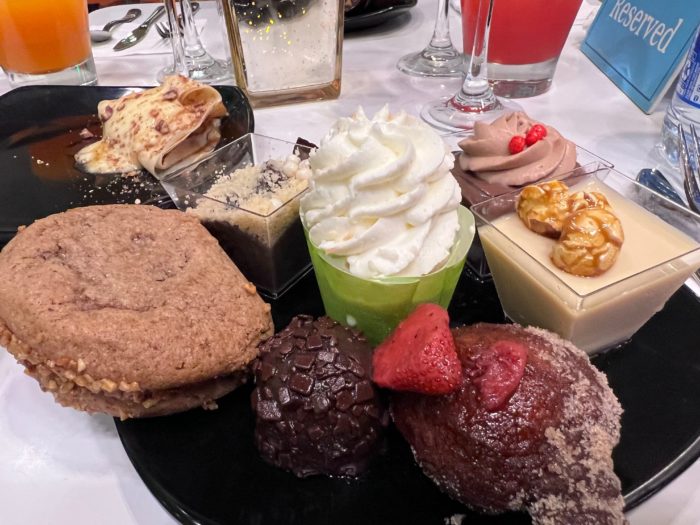 As for the party's savory items, they mainly consisted of cheese and crostini. Overall, just meh. The desserts are where the party's at.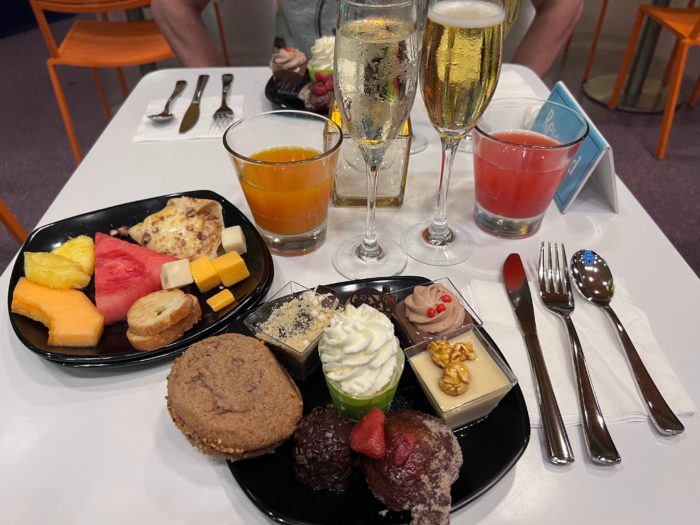 The Fireworks
After guests have snacked and before Enchantment begins, Cast Members will escort attendees to a reserved area in the Plaza Garden to view the show.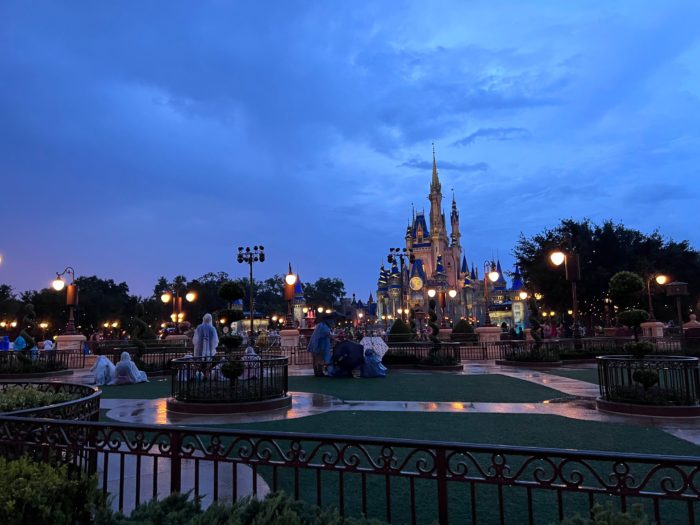 But unlike the Disney Enchantment Treats & Seats dessert party, which is also at Tomorrowland Terrace, the Enchantment Dessert Pre-Party is standing-room only.
Now, during our team's party night, it started pouring and continued to do so throughout the event. We learned that Enchantment won't be canceled for the weather but keeps getting pushed back to park close if needed.
While, again, a Cast Member usually takes party participants to the Plaza Garden viewing area about 15 to 20 minutes before the show, in the event of lightning, Cast Members will not be able to do so but guests can still go on their own.
The Cost
The Disney Enchantment Pre-Party costs $99 per adult with tax (ages 10 and up), and $59 per child (ages 3 to 9). Gratuity is not included or required.
What You Need to Know
Theme park admission and park reservations are required and NOT included in the price of this event.
If Enchantment is delayed and/or canceled, guests will not be given a refund since they still had access to the party.
Advance reservations are encouraged!
Is It Worth It?
Since the Pre-Party is priced at $99, it's hard not to compare it to Celebration at Top which – for $129 + tax and gratuity – offers seating, air-conditioning, better food and drink, plus the yummy desserts and views. You also don't need a park ticket or a park reservation!
Celebration at the Top also edges out Disney Enchantment Treat & Seats which allows guests to sit and enjoy the show from Tomorrowland Terrace for $114.
However, if you and yours are set on a dessert party in the park, book Treats & Seats for the extra $14 instead of the Pre-Party. For a few extra bucks, you get to watch the fireworks sitting down, and Tomorrowland Terrace offers a bit of relief from the elements if, in fact, the show does go on.
But what do you think about Disney's Enchantment Dessert Pre-Party? Is this a worthwhile splurge? Let us know in the comments!