A Sweet Guide to The Wizarding World of Harry Potter
Want to satisfy your sweet tooth in a truly magical way? Look no further than The Wizarding World of Harry Potter at Universal Orlando (UOR), which is bursting with tasty treats and sweet surprises!
UOR certainly had a lot of source material to pull from when creating their Wizarding World – 7 books and 8 movies worth! The world of Harry Potter and his pals was so vividly imagined and expertly described that no detail was left out, right down to the large variety of unique treats and sweets enjoyed by witches and wizards of all ages.
Let's take a look at some of those treats and where you can find them, both in the Hogsmeade and Diagon Alley areas of UOR.
Butterbeer 
First introduced in Harry Potter and the Prisoner of Azkaban, when Harry, Ron, and Hermione visit The Three Broomsticks restaurant in the village of Hogsmeade, Butterbeer is the most popular drink in the wizarding world.
In the series, Butterbeer is described as having a butterscotch flavor and a slight alcohol content. UOR's version is non-alcoholic and can be enjoyed by guests of all ages. The delicious beverage definitely has a sweetness to it, sort of like a cream soda. Throughout UOR, Butterbeer is served three different ways – hot, cold, or frozen. I personally think the frozen tastes the best and is perfect for a hot Florida day.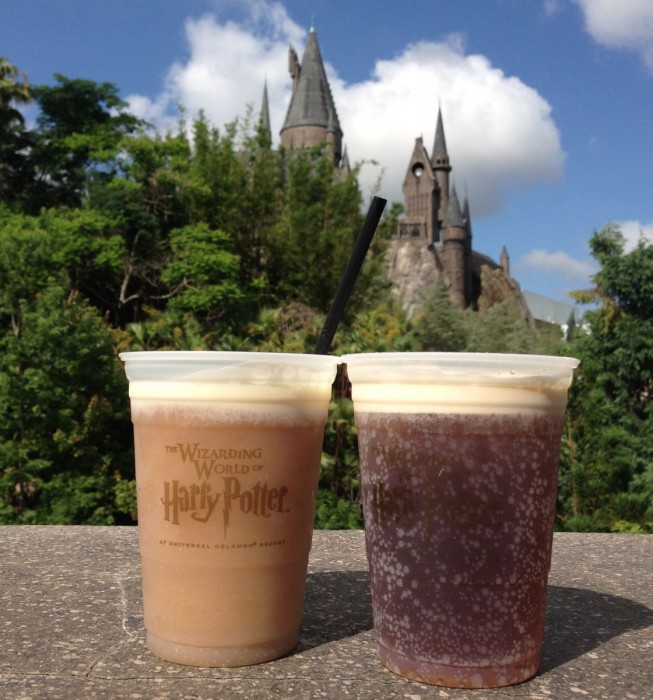 You can purchase Butterbeer at The Three Broomsticks, Hog's Head, or the Butterbeer stand in Hogsmeade, and at The Leaky Cauldron or Butterbeer stand in Diagon Alley. The lines at the carts can get long, so if you are already planning to eat at one of the restaurants, I'd recommend just getting one there to enjoy while you eat. You can also purchase Butterbeer in a souvenir mug. Not only is the mug a cute keepsake, but you can even refill it with discounted fountain drinks for the rest of your day.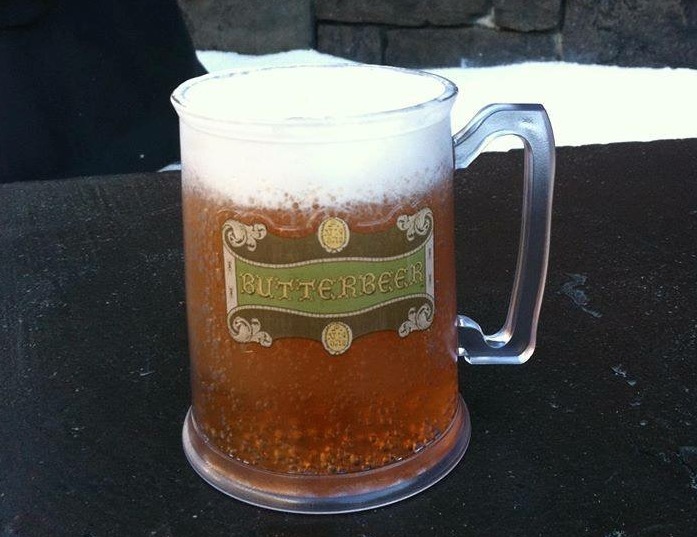 There are only a handful of places in the entire world where you can get "official" Butterbeer, so make sure to give this wizarding staple a try while you're here!
Confections 
Harry starts to learn about the different types of wizarding candies and pastries from Ron, including favorites like Chocolate Frogs and Bertie Bott's Every Flavor Beans, during his first voyage on the Hogwarts Express in Harry Potter and the Sorcerer's Stone.
Readers discover even more treats throughout the series as Harry explores more of his world, including Honeydukes sweet shop, which he first visits through a secret passageway using the Marauder's Map in Harry Potter and the Prisoner of Azkaban.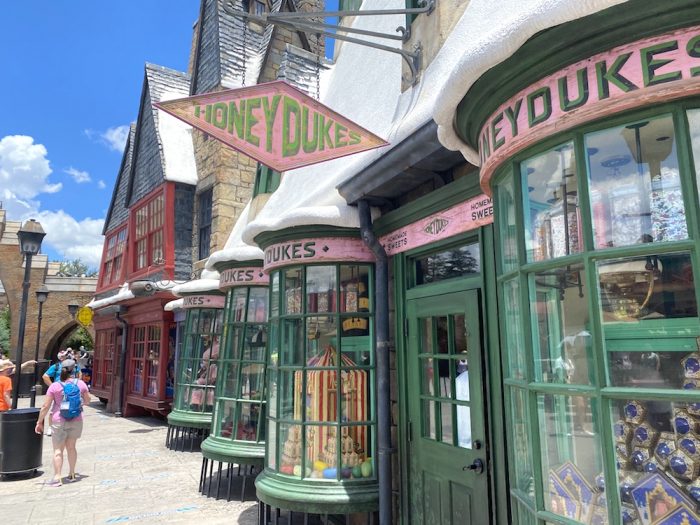 UOR features its own Honeydukes, which is located in the Hogsmeade area, and is the best place to stock up on sweets in the Wizarding World of Harry Potter. As you enter the charming shop, decorated in pinks and mint green, you can pore over the shelves filled with brightly packaged candies of all types.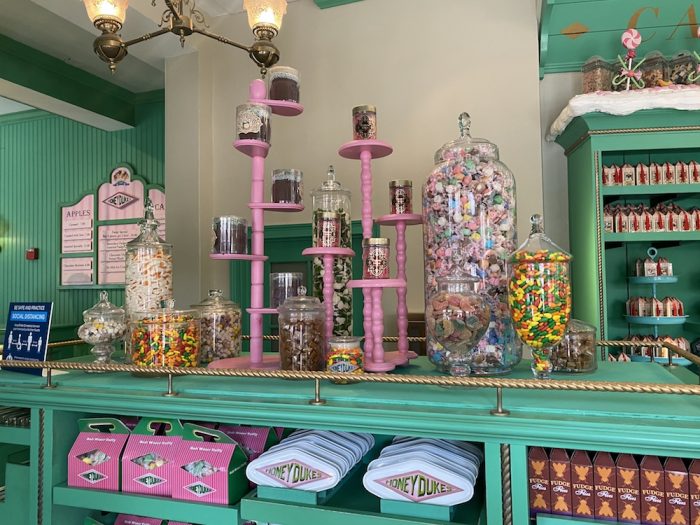 Fans will discover tons of treats mentioned throughout the series, like Chocolate Frogs (including collectible cards), Fizzing Whizzbees, Peppermint Toads, Bertie Bott's Every Flavor Beans, Acid Pops, Fudge Flies, and even Dumbledore's favorite muggle candy – lemon drops. Some, but not all, of these candies can also be purchased outside of UOR, online or at your local bookshop.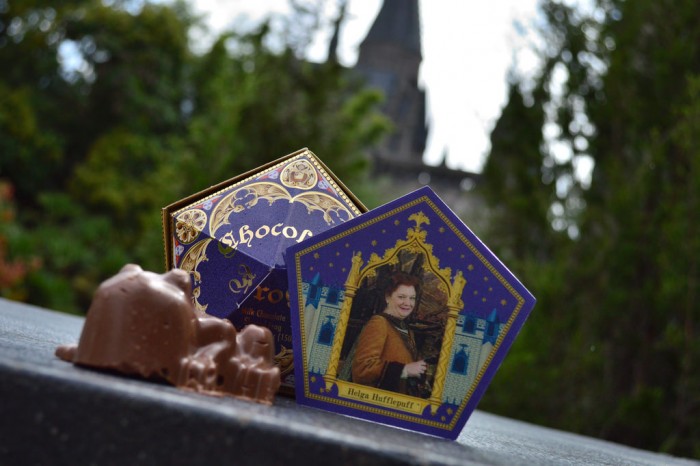 Once you've made your candy selections, check out the gleaming glass counter filled with familiar wizarding pastries like Cauldron Cakes and Pumpkin Pasties, as well as other favorites like fudge and caramel apples.
Honeydukes is sure to satisfy both Harry Potter super-fans with its great attention to detail, and sweet lovers with its wide variety of delicious delicacies.
Ice Cream 
If you are like me and can never have enough sweets, you'll also want to pay a visit to Florean Fortescue's Ice-Cream Parlour in Diagon Alley. Harry spends a lot of time at this shop in Harry Potter and the Prisoner of Azkaban when he is staying in Diagon Alley after fleeing the Dursleys.
Here you can enjoy traditional flavors like chocolate and vanilla, as well as specialty wizarding flavors, including Butterbeer, Clotted Cream, Orange Marmalade, and Harry's favorite – Strawberry & Peanut Butter. Some flavors come in soft serve, others in hard-scoop. Specialty sundaes are also available.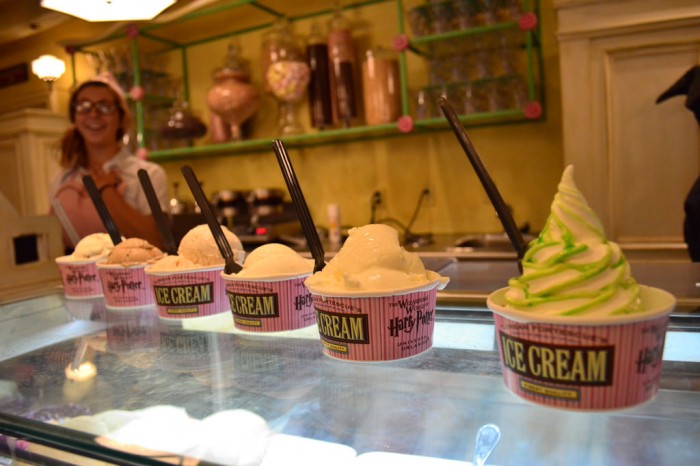 You can choose between a waffle cone or souvenir dish, and add your favorite toppings like chocolate chips or nuts. My favorite is Butterbeer ice cream in a waffle cone with chocolate chips – yum! Take a little break from your busy park day and enjoy a delicious frozen treat in Diagon Alley!
As you can see, there are numerous ways to satisfy your sweet tooth in The Wizarding World of Harry Potter. This immersive world makes you feel like you really are visiting these beloved wizarding restaurants and shops, and enjoying some of Harry's favorite treats right alongside him.
What are your favorite wizarding sweets? Let us know in the comments!