Getting to Know: Gideon's Bakehouse
Let's be honest. Disney Springs is basically a theme park for foodies. The shopping? Just additional cardio. Honestly, though, it would take weeks to check out every yummy dining destination at Disney Springs, and the list just keeps growing.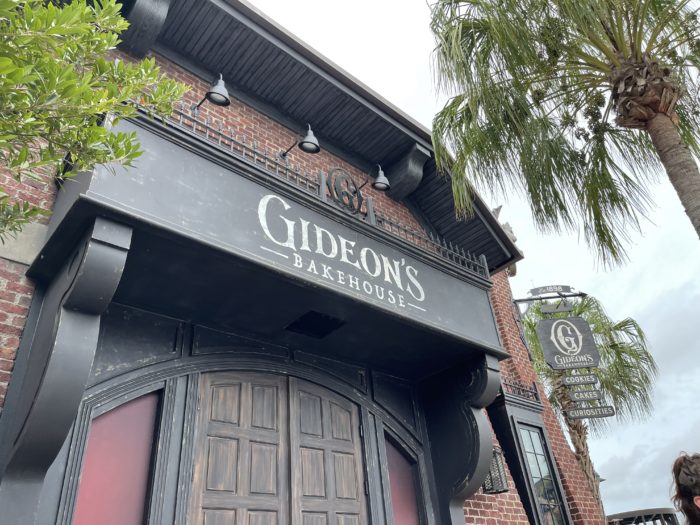 One of the newest additions to Disney Springs's roster of deliciousness is Gideon's Bakehouse. The bakery's original location at the East End Market in Orlando gained quite a fan base through the years due to its nearly half-pound cookies loaded and coated with chocolate chips and extras.
In fact, the Polite Pig at Disney Springs sold their cookies for years before the bakery finally received its own establishment at Disney's shopping and dining district.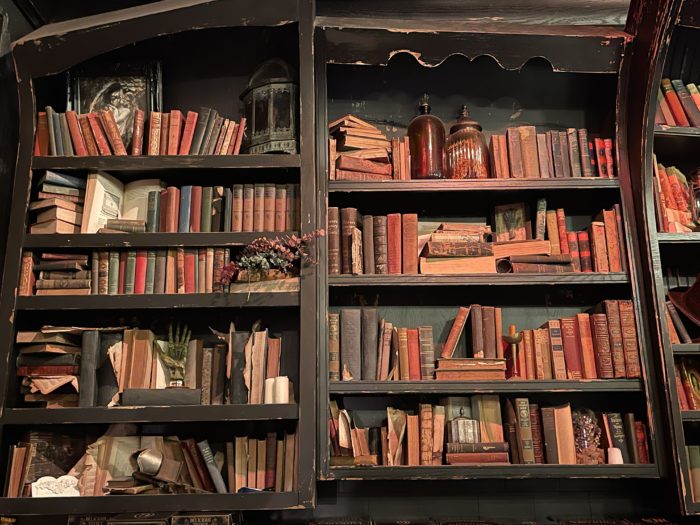 There's also a fascinating story behind the name of the bakery. Apparently, the owner purchased an 1898 cookbook filled with notes and sketches from a boy named Gideon who dreamed of being a baker. To make the boy's dream come true all these years later, the establishment was christened Gideon's Bakehouse.
What You Need to Know
Today, a Gideon's Bakehouse can be found at The Landing neighborhood of Disney Springs across from Jock Lindsey's Hangar Bar in what looks like a vintage bookstore.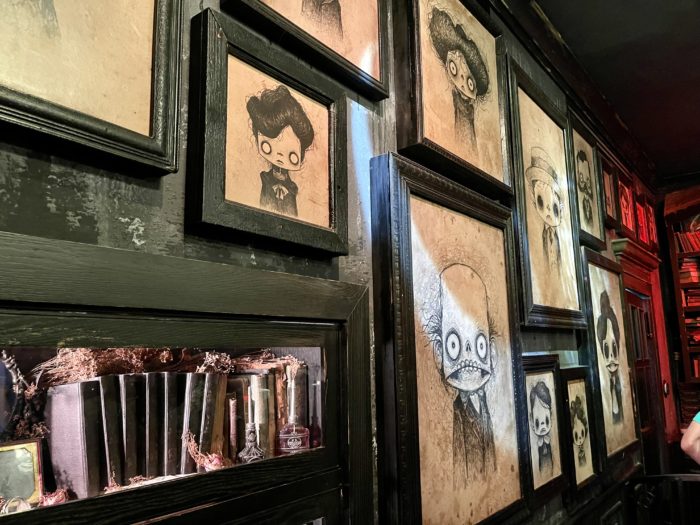 The motif here is a cross between the Haunted Mansion, Tim Burton, and Hot Topic, but theming is strong, consistent, and, at times, even an experience!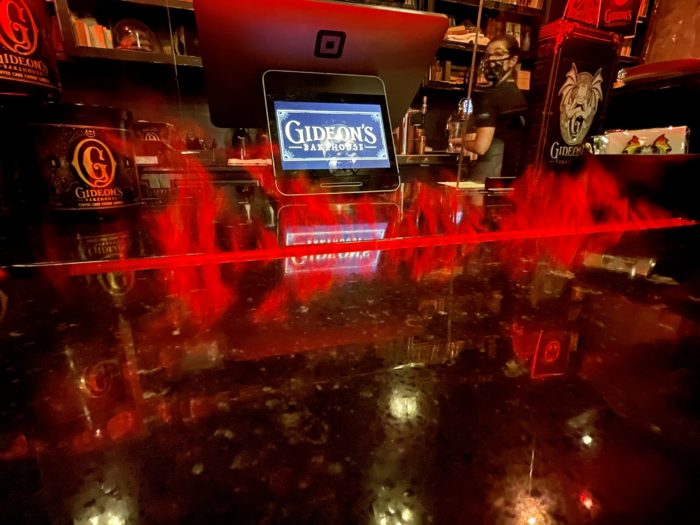 For instance, there's a simulated flame effect at the registers!
While Gideon's is best known for its Original Chocolate Chip, the bakery also offers a variety of other flavors, all of which take 24 hours to make! You will also find a selection of cakes, their famous Original Peanut Butter Iced Coffee, and secret Limited Edition treats throughout the year.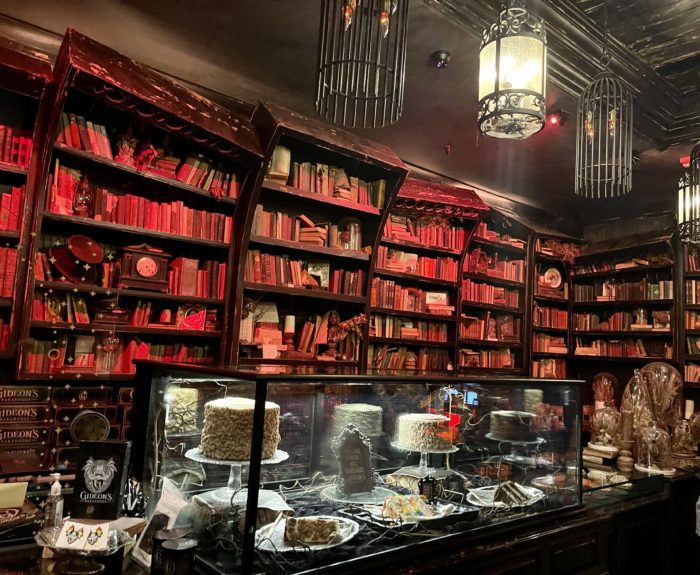 The demand for Gideon's has forced the bakery to, in their words, operate like a park attraction! While they open at 10 a.m., the line usually begins at 9 a.m. when the parking garage opens. If the line is manageable, guests wait there. If it gets too long, Gideon's reverts to a virtual queuing system.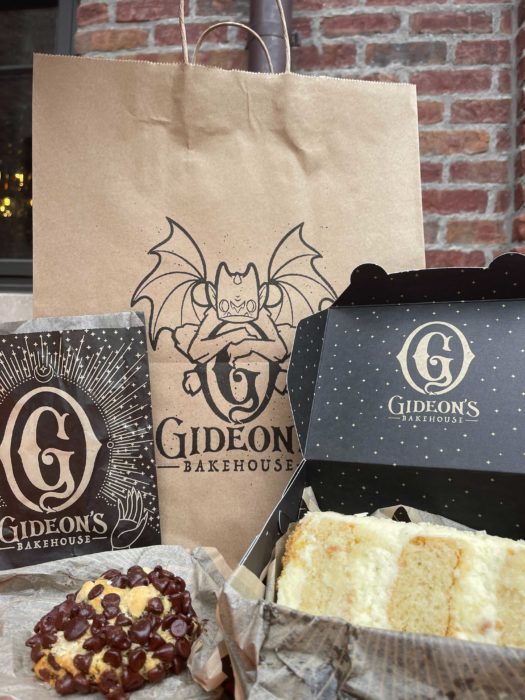 In order to utilize the virtual queue, guests must sign up for the queue in person to the right of the front door and under the gargoyle. Guests will then be notified via text to enter a return line that averages a 15-minute wait. However, the virtual queue typically closes around 6 p.m. or 7 p.m.
Tip: The line and/or virtual wait is usually shorter on weekdays.
The Menu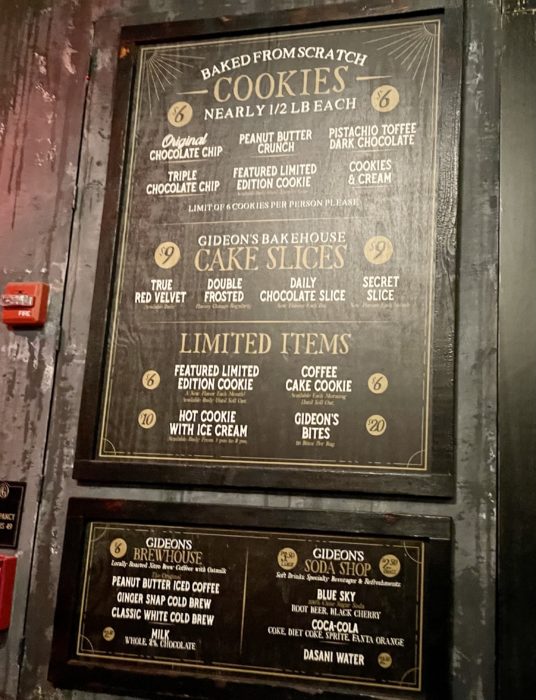 Cookies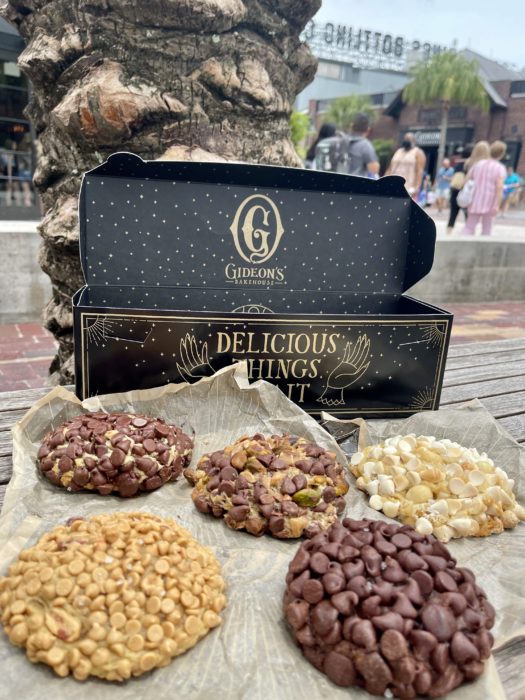 Original Chocolate Chip Cookie – $6.00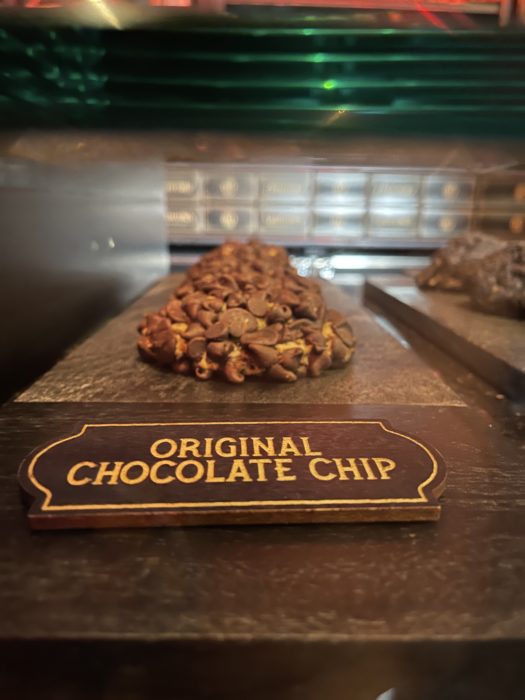 The recipe took 15 years to perfect!
Pistachio Toffee Chocolate Chip – $6.00

Orlando Weekly suggests you try this one first.

Cookies & Cream – $6.00

Ultra-soft vanilla bean cookie filled with chunks of Double Stuff.

Triple Chocolate Chip – $6.00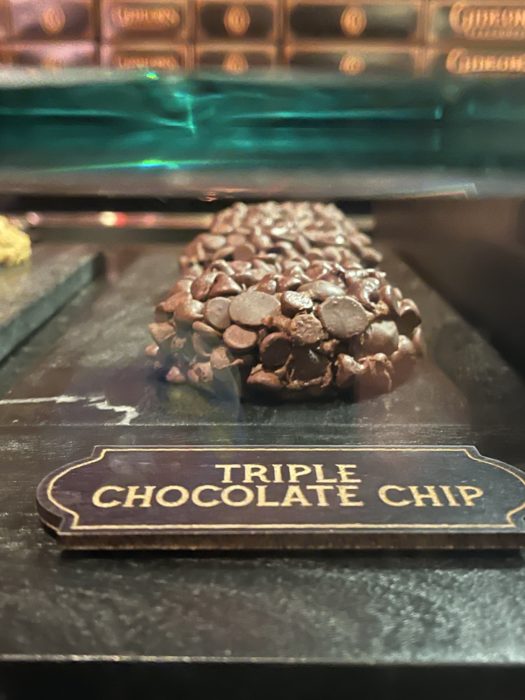 Actually made with five kinds of chocolate including Ghirardelli.
Peanut Butter Crunch – $6.00

The dough is mostly peanut butter and topped with candied peanuts.

Coffee Cake Cookie (Exclusive Daily Limited Edition Disney Springs Flavor) – $6.00

Meant to be paired with their original line of cold brews.

Monthly Limited Edition Flavor – $6.00
Cake Slices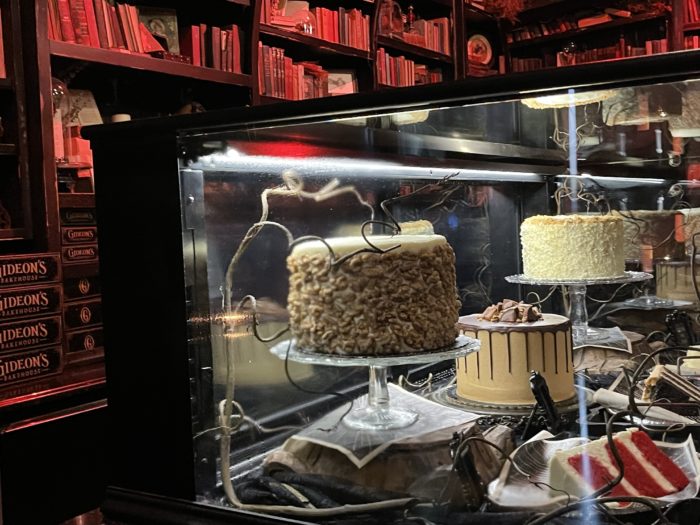 True Red Velvet Cake Slice at Gideon's Bakehouse
A traditional buttermilk-based cake & lined with double-baked candied walnuts.
Daily Chocolate Cake Slice (Rotating Each Day) – $9.00
Peanut Butter Cake Slice at Gideon's Bakehouse
Flavors range from Peanut Butter Cup to Andes Mint or Cookies and Cream.

Daily Double Frosted Cake (Rotating Flavors) – $9.00

3 layer cakes covered in two complementary layers of buttercream.

Secret Slice (Random Release) – $9.00

Watch Gideon's social media for info and be ready to give the password to get a slice!
Limited Special Item
Hot Cookie Hour (every day at 7 p.m.)

Served with or without homemade ice cream.

Gideon's Cookie Bars – $12.00

Randomly appear in the shop and are hand-poured chocolate bars with a Gideon's Bakehouse cookie in the center.

Death by Gideon's – $15.00

2 Gideon's Basehouse Chocolate Chip cookies half-dipped in chocolate with a layer of vanilla buttercream in between, covered in crunchy goodness and sprinkles.

Gideon's Bites – $20.00

Quartered cookies that have repetitively been dipped in chocolate.
Gideon's Nitro Cold Brew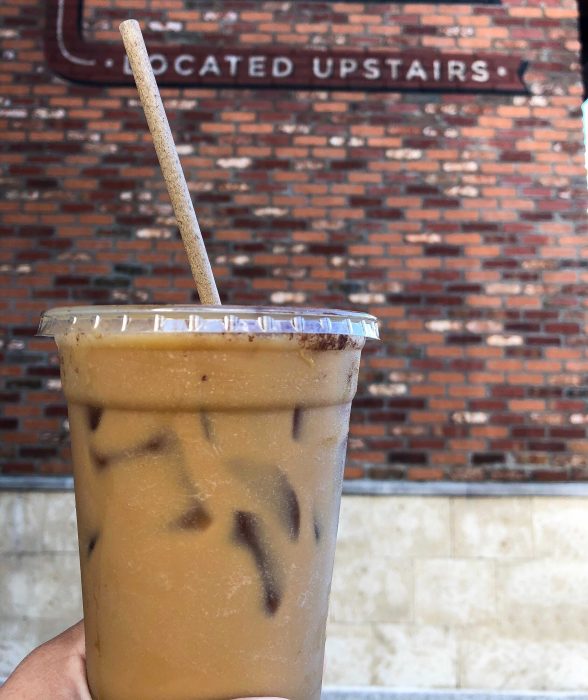 The Original Peanut Butter Cold Brew – $6.00

Oat Milk Cold Brew with a dark roasted peanut blend and sweetened with maple syrup.

Classic White Cold Brew – $6.00

Pairs with every item on the menu.

Ginger Snap Cold Brew – $6.00

A combo of cookie butter and ginger and mixed to order.
Gideon's Soda Shop Offerings
Good Old Fashioned Local Milk – $3.50

From Dakin Dairy Farm in Florida.

Blue Sky 100 percent Cane Sugar Soda 16 oz – $2.50

Cola, Black Cherry, Blood Orange, Ginger Ale, Lemonade, and Root Beer

Blue Sky 100 percent Cane Sugar Soda 21 oz – $3.50

Cola, Black Cherry, Blood Orange, Ginger Ale, Lemonade, and Root Beer
Have you ever tried a sweet treat from Gideon's Bakehouse? Is this bakery a must-do for you and your family? Let us know in the comments!