Menu Monday: Appetizers for Dinner at California Grill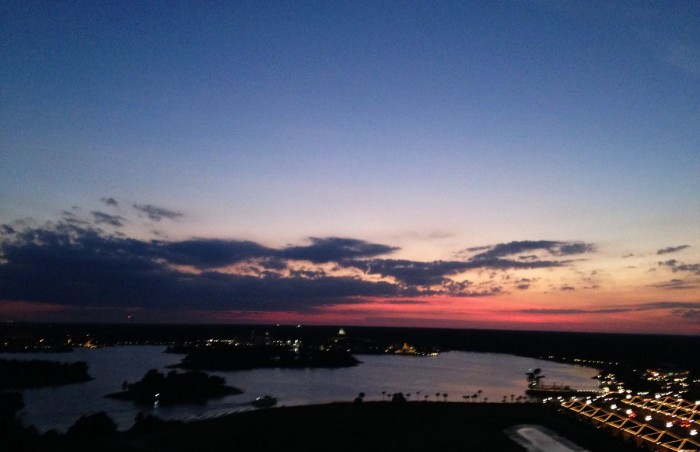 Since its opening, Disney's Contemporary Resort has always featured fine dining on its 15th (top) floor. At one time, the space was the Top of the World restaurant which had entertainment and dancing.  These days, it's California Grill, and is at the top of many Disney diner's lists. The restaurant is not just popular for its panoramic views of the Magic Kingdom, surrounding resorts, and the nightly fireworks show. California Grill's menu features one of the more interesting selections at Disney World including some of the best sushi to be found at the resort, a notable wine list, and a show kitchen that gives the dining room a nice energy.
Very much in demand, California Grill can–and does–command some high prices for its meals. Entrees start at $35 (for the potato gnocchi) and quickly make the jump to $50 (for the bison tenderloin).
What we found while scanning the menu, though, was just what we had found at Carthay Circle a few months ago–the really interesting flavors seemed to be on the appetizer menu. As nice as roast chicken is, I make it all the time. And bison tenderloin sounds great, though hardly unique,  but I've never seen bison "summer sausage chorizo" on a menu in my life. Before this night, that is. Reservations made, we spent the next six months getting very excited for an evening of drinks, fireworks, and an array of appetizers for dinner at California Grill.
When you're setting off to California Grill for dinner, be ready for a few steps along the way. The first step is stopping off at the second floor check-in desk, where your reservation is confirmed and you are whisked up to the 15th floor in a dedicated elevator. The second step is checking in at the podium in the restaurant itself, where you pick up your buzzer to alert you that your table is ready. And the third step, depending on your thirst level, is either to go to the bar and let the talented bartenders work their magic, or head straight outside for the view.
We'd just had a drink downstairs, so we opted for the latter. It was a purple and orange dusk over the Seven Seas Lagoon, and I was almost sorry when the buzzer started leaping around.
After chatting with a friend over drinks, we ordered an array of appetizers. Our server was very patient as we took about half an hour to gab, get up and take pictures, walk on the observation deck, etc., before ordering anything, but he did wait until we ordered food to bring us the bread basket! Sourdough rolls and focaccia, with lavender butter, tided us over while we watched the flames leaping in the nearby show kitchen, and plate after plate of picture-perfect food was borne away by a seemingly endless supply of wait staff.
When our own food arrived, there was a minor delay while we hastened to clear enough space for all the plates. Once it was all spread before us, he gave us a grin. "I'm jealous. Those are good choices," he said, before leaving us to it.
I began with the Heirloom Tomato BLT Flatbread ($16.00) because it looked like it would get soggy if it wasn't consumed immediately (and, yes, it will). Disney is pretty good at flatbreads, and the light lemon mayonnaise and fresh romaine really made this a summery little appetizer. But once I had gotten into the more savory dishes on the table, subsequent bites lost their appeal. I'd order this again with a white wine at the bar, not as part of a meal.
The Wood-roasted Mussels with house bacon, tomato broth, and hearth-baked brick bread very quickly became everyone's focus. At $18.00, this was a steal; there were plenty of mussels to make a handsome meal for one person. The bread was rustic, flat and wood-charred, and soaked up the juices and gravy from the mussels beautifully. To our regret, once we had nothing left but a pile of shells, we discovered just how much broth was left. Next time, we're saving bread for that curry-spiced soup underneath the mussels.
Looking rather pitiful next to the tower of mussels, the Sonoma Goat Cheese Ravioli in its pool of tomato-fennel broth ($15.00) seemed disappointing at first glance. Sure, it was a giant ravioli, but just one ravioli? One bite revealed that one ravioli was plenty. All that potent goat cheese within had more flavor than most people eat in a week. With just a little tomato broth to counter its pungency, this giant ravioli was perfectly balanced and delicious.
With many of the dishes, the accompaniments were as outstanding as the main entree. The Three-Meat Signature Meatballs ($16.00) were no exception; the meatballs were fantastic, but the bed of piquillo pepper and parmesan grits they were served upon had us practically licking the plate. Rich, savory, creamy grits are hard to come by, and these were perfect.
California Grill's 2014 reboot included adding house charcuterie to the menu. Inventively cured meats might seem like they're for the adventurous eater only, but if you haven't tried a charcuterie plate yet, let California Grill show you the way. The House-made Charcuterie ($18.00) is served chilled, on a wooden board, with a rack of thin crispy toast alongside. The Bison Summer Sausage Chorizo was my personal favorite, spicy, rich, and smoky. Other diners loved the duck liver pate best, "whipped light and airy" as the menu says, and outstanding with the thin toast. The Pork Belly Rillettes received "most unusual" for being shredded pork belly that was somehow whipped with duck confit and duck fat, turning it into a spread. Accompaniments were equally thoughtful: Orange-Honey Picnic Ham was accented with house-made pickles and dijon mustard; the Lamb Marguez sausages got a sweet kick with the Tomato-Harissa Jam. 
From the sea of dishes that covered our table, we ate until we couldn't eat any more, looked at the dessert list with some regret, and abandoned our table in time to grab a good spot on the observation deck for Hallowishes. But my mind was more on the incredible meal I'd just had than the fireworks display–and on the final check.
For a family of three (two adults, and one ten-year-old with a pretty substantial appetite),  the food-only check came in under $90. We'd spent a very long time at our table (it was a 7 PM reservation, and Hallowishes was at 9:45 PM), so even with a few drinks and a substantial tip for the wonderfully accommodating server, California Grill served us gourmet food in an incomparable location, including entertainment if you count the fireworks, for less than the average character dining buffet. It would have been much more expensive, and less interesting, if we'd gone for an entree each at about $40 a plate. And we were still too full to sample dessert! I blame the mussels.
If you add California Grill to your next Walt Disney World trip, check the sunset time for Orlando as well as that night's fireworks show. Sunset and twilight over the Seven Seas Lagoon are every bit as enchanting as Wishes, (if not more so) and you can return to the restaurant's observation deck with your receipt if your dinner ends before the fireworks begins. But don't be surprised if your dinner spins out for much longer than you anticipated–indeed, we kind of wished ours never ended.
California Grill's dinner menu changes seasonally, but most items are similar or slight variations to what is listed here at Touring Plans.