Around the Universe – Discounts and News for November 2020
Halloween might be over but Universal already has their sights on next year with an exclusive preview of Universal's Halloween Horror Nights 2021. Plus holiday decorations, resort reopenings, deals, discounts, construction updates, news, and more in this week's Around the Universe!
Halloween Horror Nights 30 Preview
In a first, Universal Parks & Resorts takes us behind the scenes to preview one of the houses created for Halloween Horror Nights 30 (aka HHN 2021). Take a step into one of the houses featured in next year's event, Puppet Theatre: Captive Audience, and learn some of the tricks of the trade from make-up artists and house designers. If you pay attention you might see some hints and surprises for other houses.
Beetlejuice, Beetlejuice, Beetlejuice! pic.twitter.com/fptaDlxE2g

— Ashley Carter (@AshleyLCarter1) October 31, 2020
This week Universal also opened a small preview of next year for fans: Beetlejuice! The house briefly opened 10 a.m.-6 p.m. on Saturday, October 31, and Sunday, November 1. Word on the street is Universal opened the house for two days in order to continue its contract for the event next year – we expect Beetlejuice to be part of the 2021 lineup.
Halloween Horror Nights 30 will return in fall 2021 with dates running from September to November. Stay tuned for more details, dates, and information in the coming months.
CityWalk Construction
Opposing views of a section of CityWalk store redo. In foreground of the first photo is likely frame for a marquee. pic.twitter.com/cLeSR4ytcA

— bioreconstruct (@bioreconstruct) October 28, 2020
Current work at the high-traffic corner of a CityWalk store redo. Shorter wall being added in front. pic.twitter.com/D6eSqLZw7t

— bioreconstruct (@bioreconstruct) October 28, 2020
Progress is being made on a new venue at CityWalk that takes over the former Island Merchantile, Fossil, and Piq! stores. While Universal has not announced this replacement yet, we speculate this will house a new Universal Studios Store.
VelociCoaster Construction
We have movement! VelociCoaster began testing the full ride this week. In the below video you can see the coaster ride vehicle make its way through the inversions in the first half of the ride then launch over top hat and into the second half of the ride.
Construction on the waterfront, paddocks, and interior are progressing with the installation of foliage and waterfall testing.
Trees added near the South end of the Jurassic World VelociCoaster waterfront. pic.twitter.com/KhOzVKbITP

— bioreconstruct (@bioreconstruct) October 28, 2020
The planting continues… @UniversalORL pic.twitter.com/ozqp5QVdlT

— Inside Universal (@insideuniversal) October 29, 2020
Aerial look at the first launch area of Jurassic World VelociCoaster. Trains leave the station at top left, and return through the U-turn at right. pic.twitter.com/ZC4CzlQgxg

— bioreconstruct (@bioreconstruct) October 31, 2020
Jurassic World VelociCoaster opens Summer 2021.
Christmas Decorations
'Tis the season (okay, maybe a little early). Universal Orlando is already decorating for Christmas with decorations going up around Islands of Adventure and Universal Studios Florida, including The Wizarding World of Harry Potter. Talking about Potter, warm Butterbeer is back on tap!
Universal currently has not announced which holiday activities are returning during the pandemic – we expect Manheim Steamroller, Universal's Holiday Parade featuring Macy's, and Grinchmas show to be mothballed this year.
Loews Portofino Bay & Endless Summer Dockside Re-Opening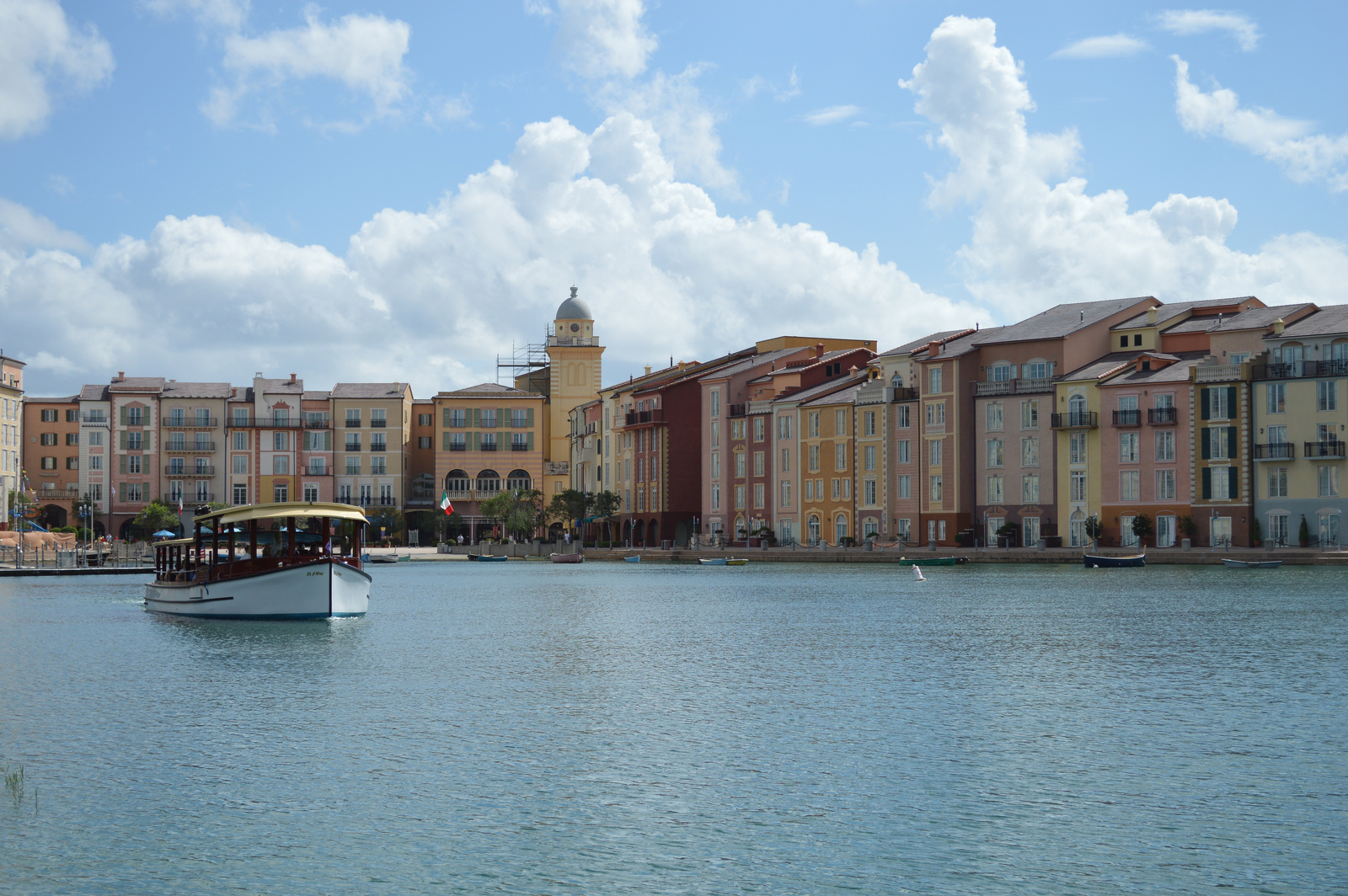 2020 has been a rough year for the travel industry, but in a sign of some good news, Universal has begun accepting reservations for Loews Portofino Bay Resort on December 1, 2020. Portofino has yet to open since Universal Orlando Resort closed in March 2020.
Universal's Endless Summer Dockside Inn and Suites never opened; its original opening date was the Tuesday after the resort shut down in March. Now after an 8-month delay, the hotel is opening f0r guests starting December 15, 2020. The newest Universal hotel, Endless Summer Dockside Inn and Suites has 937 standard rooms and 1113 2-bedroom suites at a value price point.
Looking to book your next Universal Orlando vacation? Check out our Touring Plans Travel Agents – receive a fast and free quote today.
Discounts and Deals
Buy 2-Day, 2-Park Ticket, Receive 3 Days Free – Starting at $243.99 plux tax for adults
Save 30% on Universal Express Pass (Annual Passholders only)
Annual Passholder Resort Discounts – Dates Now Through February 2021

Endless Summer Surfside – Standard rooms starting $74 a night plus tax
Cabana Bay Beach Resort – Standard rooms starting $79 a night plus tax
Loews Royal Pacific Resort – Standard rooms starting at $169 a night plus tax
Hard Rock Hotel – Standard rooms starting at $189 a night plus tax

Buy A Day, Go Every Day Through December 24 – $164.00 per guest plus tax (FL residents only)
Save Up To $100 On Select Annual Passes (FL residents only)
Refurbishments and Closures
The following attractions are closed due to COVID-19. At this time there are no dates for reopening unless otherwise listed.
Volcano Bay – Reopening March 1, 2021
Fievel's Playground
Curious George Goes to Town
A Day in the Park with Barney
Fear Factor Live
Fast & Furious: Supercharged
Kang & Kodos' Twirl 'n' Hurl – Closed weekdays
Camp Jurassic
If I Ran the Zoo
Jurassic Discovery Center
Me Ship, The Olive
Poseidon's Fury
Storm Force Acceleration
Leave your thoughts in the comments below!