Celebrity Cruise Lines Part 2: Comparing the Disney and Celebrity Experience
TouringPlans is happy to welcome Billy Hirsch for this three-part guest series about Celebrity Cruise Lines. You can read part 1 of this three-part series here.
Celebrity Cruise Line is actually a 'sister company' to Royal Caribbean – it's Royal's premium offering, and if you've sailed Royal there are some things that feel a bit familiar, but they're mostly insignificant – like the style of the receipts, or the "please get this out of my head" safety video.  Celebrity is quite different from Royal though in a number of ways.
Space Used the Way You Want it to Be

As we continued trying out different Celebrity ships (plus those from Holland America, Royal Caribbean, MSC, and others), I found a good way of explaining one reason I prefer some ships and lines over others:  Imagine you're walking around a cruise ship – any ship.  Now picture an area, especially a larger one, that has something that just isn't particularly interesting to you – maybe it's a waterslide.  Now, don't you wish they'd use that space for something that better suits how you like to spend your vacation?  
On Celebrity we continue to find so many spaces, like Craft Social on Celebrity Equinox, or the Rooftop Garden on Celebrity Edge, that feel like they're made just for us.  Now, I'll note that one of those spots is a bar (and you can get a drink at either), and not everyone drinks – but they're great gathering places, feature live entertainment and food, and can simply be a comfy place to enjoy views of the ocean.  Oh, and if you do enjoy some drinks, know that many Celebrity sailings allow you to build in the cost of alcoholic beverages and specialty coffees.  This made the cost of our cruises FAR more predictable than on Disney.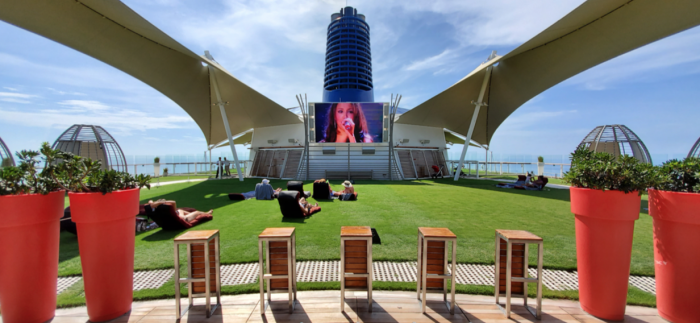 Similar to DCL, our experiences on Celebrity haven't left us dealing with the big crowds of some lines, and the ships all seem pristine – even the first Celebrity ship we cruised, which was just months from being retired at the time.  Other things we noticed is that everything just seemed to be "plussed" a bit.  The selection at bars we a bit nicer (we're big Islay scotch fans – keep this in mind if you see me at a bar and want to graciously thank me for…something), there were more interesting dishes to try, the entertainment was more creative and sophisticated, and loungers by the pools and in the atriums are comfortably padded, often with a fresh towel waiting for you.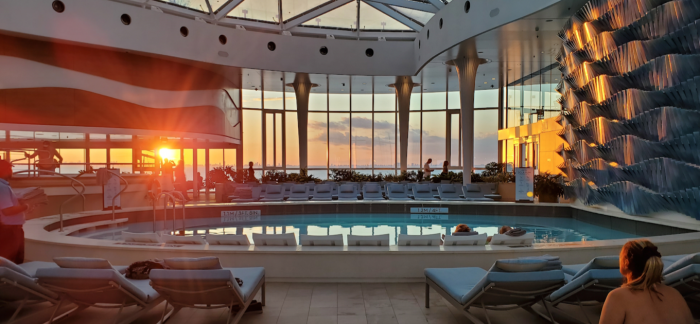 Technology…On Vacation?
It seems weird to mention technology as a factor when deciding how to vacation, but I think some lines are using tech to really make the vacation experience better.  Disney was the first cruise line to have an app, but beyond scheduling, they've still not done much with it – and if you need or want to go online while sailing one of Disney's great ships, your best bet is usually to wait until you're in port.  On Celebrity we love that we can not only track our schedule, but right from our phones we can easily make reservations for dining and excursions, open the stateroom door (that's handy when the door slams and you realize your key card is on the other side of it), and on some ships, you can even open your blinds, control your A/C, and more.
Even if you don't bring a device with you, you'll find interactive screens to help with booking excursions, finding your way around the ship, and even shopping for another cruise – all done in ways that seem intuitive and unobtrusive, even to less tech-savvy guests.  In this way the ships themselves just feel more advanced in ways that make relaxing and enjoying your vacation much easier, rather than worrying about buying excursion tickets from a desk, for example.
If you like to stay disconnected while cruising you absolutely can, but if you do want to check with with the outside world, or even get some work done (I sometimes work from cruises so we can sail more than we would otherwise) many Celebrity ships have great internet – fast and reliable enough to get work done, and without per-minute charges. 
Kids on Celebrity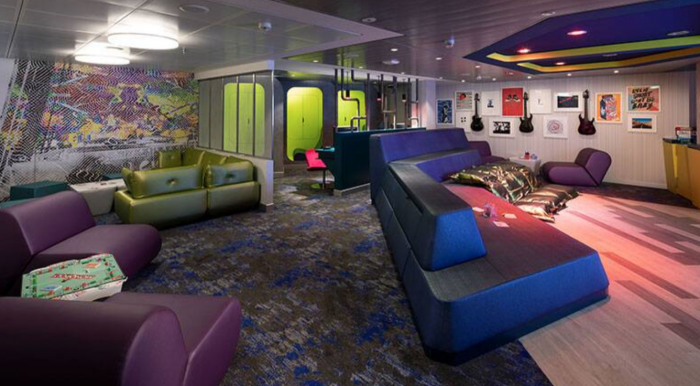 We don't have kids, so if we travel with them, their parents are either the ones in charge, or there has been a terrible mixup at the airport.  This means I can't compare the two lines as a parent (or a kid), but it's worth going over some aspects of the kids programs on Celebrity.  
Compared to Disney, you'll not likely notice nearly as many children in the dining rooms or other public spaces.   Don't get me wrong, there are some who travel with children on Celebrity (especially certain itineraires and times of the year), and they seem to have a great time – in fact I've toured the kids areas, and they left me a bit jealous.  Celebrity's "Camp at Sea" program has various activities for different age groups, but also has some STEM (science, technology, and math) programs to add an educational element.  On some ships, they partner with the The Frost Science Museum and Anturus – again, leaving me a jealous adult.  Their staff is also trained to offer an autism-friendly environment, and provide sensory-friendly films, toys, and services.
One thing I can imagine Disney being inherently better about for those traveling with families, is that there are more "family activities" on DCL.  The fireworks on deck during Pirate Night, the stage shows in the evening – they've got things that adults and kids can enjoy together. While there aren't any major "kids are off limits" situations on Celebrity, outside of the kids, areas, and depending on what your children might need to be entertained, there may not be quite as much to keep them happy.  Some of our friends who cruise with kids though find that they drop the kids off early in the day, and pick them up at night, and everyone is happy doing their own thing in between.  So in this way, it depends on how you plan on cruising as a family.
Onboard Atmosphere
The energy on Celebrity ships isn't sleepy, but you won't find family's dancing to kids songs, or people on waterslides or surf-simulators.  Parades?  Definitely not.  Think of the feeling at Quiet Cove on DCL ships (our favorite area) – that's the feeling onboard most parts of a Celebrity ship.  Instead of modern pop music on random play out of deck or in other public spaces, music, like the decor, food, and drinks, is curated to the space and time.  Most experiences onboard are much better suited for adults looking to relax at a more refined pace, enjoying "Modern Luxury" as Celebrity calls it.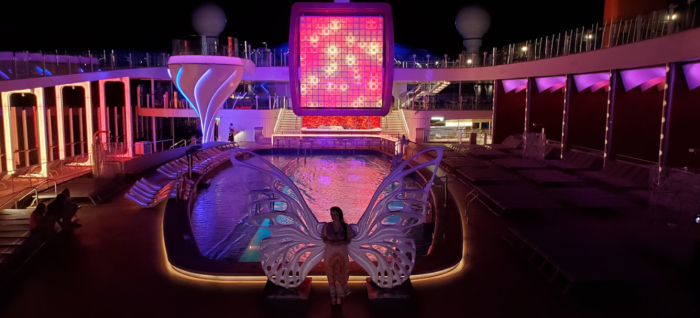 While the type of crowd can vary quite a bit on Celebrity, there are fewer people in general compared to some other lines, and in that way, I'd say they're comparable to DCL.  Sure you might have to queue up for an elevator on embarkation day, but other than that, you shouldn't expect to find yourself waiting or otherwise elbow-to-elbow on Celebrity.
On Celebrity's newest class of ship, Celebrity Edge, the pool deck is known as the Resort Deck, and I think that's a fitting description.  Picture a peaceful but hip resort in the Caribbean, or even Ibiza – it's an oasis at sea.  On some Solstice Class ships they have an area on deck called the Lawn Club, which is an area of real grass, with cushions, shade, and live music – just a place to relax, like nothing you'd imagine being on a cruise ship, and as I came to realize, more than just a gimmick.  
If you're looking for something more than just lounging by the way, you might find some of the activities they offer to be pretty neat.  On recent sailings we've watched cruisers try their hands at drone racing and glass blowing, enjoyed lectures on local history, embraced the quiet of a silent disco (just me?), and learned how to make some really creative drinks (which we promptly "cleaned up"), just to name a few events.  There are of course the classics too, like trivia, yoga on deck, and other things that happen before I wake up at the crack of noon.  For a truly unique activity at sea, Le Petite Chef and Le Petite Chef and Friends is an augmented reality dining experience and show where the meal unfolds in vivid color across your table, and even onto your plate – which gets us to the final topic for tomorrow . . . Dining! 
Tune in tomorrow for Part 3 of this series. In the meantime, have any questions about Celebrity Cruise Lines? Feel free to ask them in the comments.
Billy Hirsch is the creator of CruiseHabit.com where he shares tips, insights, and reviews of various cruises and related activities. He's a Disney nerd, a cruise nut, a tech junky, and a former travel agent. Having started cruising as a baby, Billy has been fortunate enough to have taken over 60 cruises on various lines in different parts of the world. He has had a lifelong obsession with cruising, both as a leisure activity and the inner workings of the industry itself. You can frequently find him as CruiseHabit on Twitter and Facebook answering cruise questions or broadcasting live from ship and shore.