Around the Universe – Discounts and News for August 2023
Universal Orlando is bumpin' this summer with updates on Villain-Con, a new DreamWorks land coming to the parks, Stranger Things returning to HHN, Epic Universal updates, and more! So grab a pastry and coffee from Today Cafe, kick up your feet, and let's go.
New DreamWorks Land Opening in 2024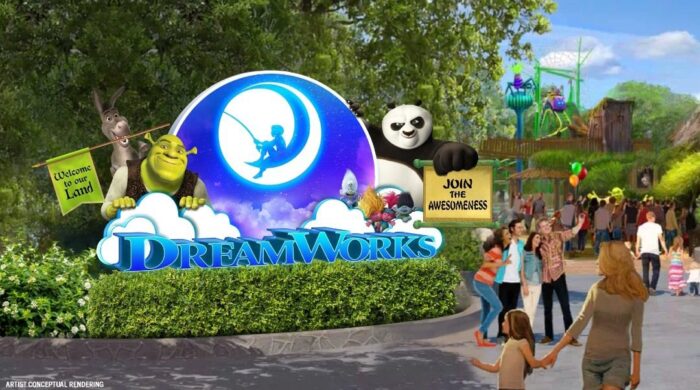 Universal Studios Florida's KidZone closed in January 2023 for "exciting new family entertainment" offerings. After months of rumors and speculation, Universal confirmed that a new DreamWorks land featuring characters from Shrek, Kung Fu Panda, and Trolls is opening in 2024. Guests will be able to visit the swamp to meet Shrek and Donkey, ride on a Trolls-themed kids coaster, train to be a kung-fu master with Po, and meet with Gabby from Gabby's Dollhouse. Rumors suggest the new land will be full of meet and greets, play areas, dance parties, and new interactive experiences but no new rides.
Watch the Touring Plans Blog for the latest updates and news on DreamWorks land at Universal Studios Florida.
Halloween Horror Nights Announcements
Stranger Things returns to Halloween Horror Nights 2023 with an all-new haunted house based on season 4 of the hit Netflix series. Return to Hawkins, Indiana as the kids attempt to solve the mysteries of a string of murders tied to the mysterious Vecna. Guests will come face-to-face with Vecna, a being destined to destroy the barrier between reality and the Upside Down, and will experience the Hawkins Lab, Creel House, and Venca's Mind Lair.
The Exorcist Believer is based on the new Blumhouse film and sequel to the original movie and house. Universal Monsters Unmasked features a new batch of monsters in the catacombs of Paris and features Dr. Jekle & Mr. Hyde, Phantom of the Opera, The Hunchback of Notre Dame, the Invisible Man, and more. Our full Halloween Horror Nights touring guide is coming in just a few weeks, so keep an eye out on the Touring Plans blog.
Multinight Horror Nights passes are now available. These passes are great for locals or tourists visiting more than one night. Book through Touring Plans Travel or purchase at Universal Orlando's website.
Halloween Horror Nights 2023 runs September 1 through November 4, 2023.
Villain-Con: Minion Blast Open for Technical Rehearsals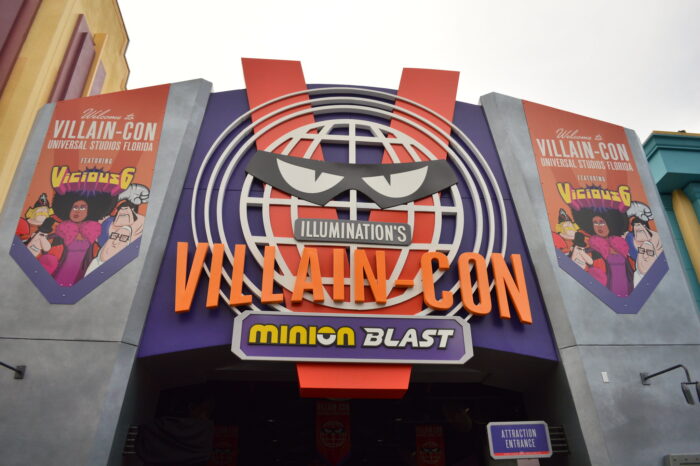 Villain-Con Minion Blast is now in technical rehearsals as Universal Creative tinkers with this new interactive attraction.  During technical rehearsals the attraction might suddenly close or have missing elements; currently, Villain-Con opens sporadically and the Universal Orlando app does not synch with the attraction. Universal Orlando has not announced an opening date for the attraction, but rumors say it will quickly officially open in early August.
Epic Update
It is time again for another Epic Update of Universal's upcoming theme park Epic Universe!
First up, Ashley Carter at Spectrum News 13 posted a brand new helicopter VIDEO of Epic Universe. At the end of the video is the recently completed Starfall Racers roller coaster. We can see the coaster station is framed, theming is going in, and the landscaping is going in. Starfall Racers will be a space-themed dueling and racing roller coaster featuring accelerations and inversions.
Post by @ashleylcarter1

View on Threads
But first, roads and transit infrastructure!
Universal is building new roads, bus lanes, and traffic clovers to expand the traffic capacity of Epic Universe. Buses will carry guests from the existing Universal campus to Epic Universe, and vice versa, in new dedicated bus lanes.
July 21 aerial photo of the redo of the Sand Lake Rd/Kirkman Rd interchange. Arrow at concrete walls. pic.twitter.com/Ftac0y89gY

— bioreconstruct (@bioreconstruct) July 23, 2023
The next photo is a fantastic shot of the park seen from above.
July 21, 2023 nearly straight-down aerial look at Epic Universe. Recent work includes theming underway at front of dual-racing coaster, railroad ties at the Donkey Kong coaster, stony walls in Dark Universe, much of the fountain viewing tiers, and small dome added at large dome. pic.twitter.com/sAEpGdyzek

— bioreconstruct (@bioreconstruct) July 23, 2023
From left to right:
Basin for the fountain show.
Dome frame is for the hub carousel
Octagonal shaped building is a sit-down restaurant
Entrance shops, restaurants, and turnstiles
Over in the Universal monsters-themed Dark Universe the spinning family coaster is taking shape. The crooked roofs are now covered and waiting for themed roofing material. The metal pieces are rumored to be trees or tents set up for travelers, possibly trying to avoid a run in with the Wolfman?
Aerial photo of current work at the Dark Universe roller coaster. The frames are believed to be for tents. The barn building at right is at mid-route launch of what is believed to be a spinning coaster. pic.twitter.com/MbN96NiVJM

— bioreconstruct (@bioreconstruct) July 23, 2023
Next up are the Parisian streets of The Wizarding World of Harry Potter, where the latest hyper-immersive Potter land is taking shape. This land will be massive, with huge townhouses on sprawling streets, a covered market, and even the Arc de Trimophe. Rumors say new interactive wand windows will debut here featuring iconic beastsa nd animals from the series.
A nearly straight-down aerial look into a Harry Potter related land in Epic Universe. pic.twitter.com/cqSudOZ6NQ

— bioreconstruct (@bioreconstruct) July 23, 2023
Super Nintendo World is shaping up nicely, but it looks like what was build in Japan and Hollywood. That's boooooooring. Instead, lets take our gase towards the Donkey Kong expansion where themed track elements are being added. Below you can see the brillaint Donkey Kong Mine Cart coaster illusion. The ride vehicle runs on a side rail perpendicular to the themed and non-functional mine car track. This allows the track to appear broken and create instances of jumping the tracks or skimming over the water.
Aerial look at the Donkey Kong roller coaster
1 Water to flow in this area
2 Work on a water-based show scene, with gap in track
3 Actual sideways track here is brown, matching the misaligned railroad ties
4 Upcoming concrete pour
5 Sideways track is other side of this break pic.twitter.com/HtZyPBhUGV

— bioreconstruct (@bioreconstruct) July 23, 2023
Finally, the coolest update is this neat color-changing paneling on the new Prime Value hotels. As guests pass the pannels the colors will morph, like a holographic card, and create a really impressive effect. I am really excited to see how this looks in person finished.
A look at first section of color-shifting tile added to the exterior of a Universal Resort South of Epic Universe. pic.twitter.com/HqCBCEVGqG

— bioreconstruct (@bioreconstruct) July 26, 2023
I am beyond excited about Epic Universe and the new resorts and so happy to have someone like bioreconstruct and Spectrum News 13 covering this park. Epic Universe is scheduled to open in the summer of 2025.
Discounts
FL Residents – Buy A Day, Get Two Days Free from now through September 29 (online only)
FL Residents – 40% off hotels based on availability
All Guests – 30% off 3-Park, 5-Night Vacation Packages
All Guests – Up to $824 Off Loews Portofino Bay Resort
All Guests – Buy Two Day Ticket, Get Three Days Free starting at $235 per adult plus tax
All Guests – 3 Additional Months on Annual Passes
For more deals, including discounts on vacation packages, visit the Universal Orlando website or book your Universal vacation with the TouringPlans Travel Agency.
Refurbishments
The following attractions are closed for refurbishment:
The Nighttime Lights at Hogwarts Castle (Return TBA)
Contact the travel agents at TouringPlans Travel Agency to assist you with planning and booking your next Universal Orlando vacation. All quotes are free, and if you decide to book through us we throw in a free year subscription to Touring Plans.