Around the Universe – Discounts and News for May 2023
HUUUUGE monthly update from Universal Orlando as an original attraction closes for good, nighttime show enhancements abound, new snack stands popping up in the parks, extra UOAP benefits for this month, and so much more!
Poseidon's Fury Closing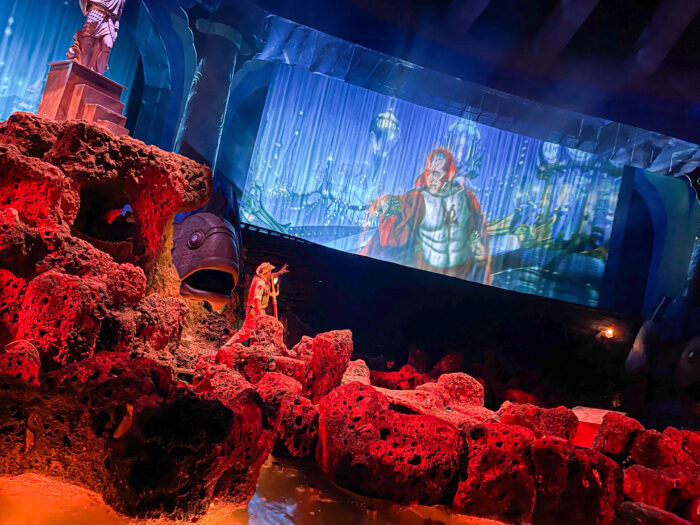 Taylor the Intern's final day will be May 9, 2023, as Poseidon Fury closes at the end of the day. Originally opening with Islands of Adventure in 1999, Poseidon's Fury was a walk-through attraction and one of two headliners in Lost Continent. Shortly after opening the show was reworked into the show we have now, with Poseidon attempting to defeat Lord Darkenon (we assume his surname was Americanized at Ellis Island).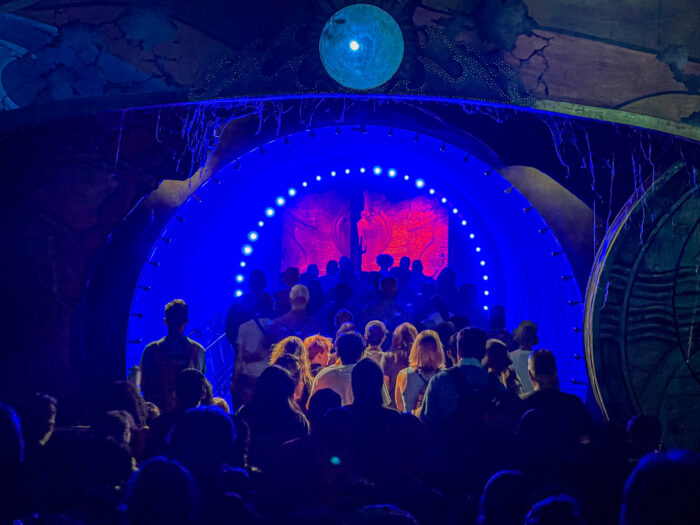 Poseidon's walkthrough experience showcased lighting, laser, water, and fire special effects to create an epic battle at the bottom of the ocean. The highlight of the show was the water vortex – a tunnel formed by high-speed jets of water that make it look like you're walking through a spinning drain.
No replacement attraction is announced for this area, but insiders are suggesting Universal is looking at a Legend of Zelda land to replace Lost Continent sometime after Epic Universe opens.
Nighttime Lights at Hogwarts Castle Closed for Refurbishment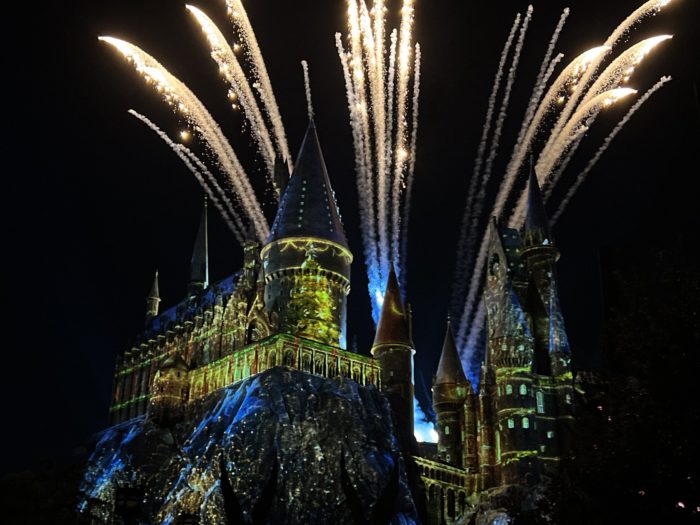 The Nighttime Lights at Hogwarts Castle show has gone dark as it receives projector and effects upgrades. We are expecting the show to return later this year.
UOAP Bonus Benefits
Universal is giving annual passholders extra benefits May 1 through May 26, 2023. Receive 45% off hotel rooms, exclusive food items, and even a passholder-only park entrance lane. There is even a brand-new UOAP magnet with a Jurassic Park design. For more information visit Universal's UOAP site.
Construction & Refurbishments
Construction has picked up around the resort as the spring break rush subsides.
"Universal Studios welcomes the Vicious 6" @UniversalORL pic.twitter.com/7pr76MoYt2

— Inside Universal (@insideuniversal) April 10, 2023
Exterior posters for Minion Blast have gone up showcasing the villains guests will see in the attraction. Universal has not given an opening timeframe for the new attraction, but we are expecting a mid-summer opening.
Exterior theme work is starting to be more noticeable over at the future Minion Cafe. @UniversalORL pic.twitter.com/IvSU0ikciy

— Inside Universal (@insideuniversal) April 24, 2023
Minion Cafe work is rapidly progressing with exterior theming showing up. This new counter service location will be comprised of the main cafe, a small dessert snack stand, and a possible meet and greet.
Exterior refurbishment continues on Despicable Me: Minion Mayhem. @UniversalORL pic.twitter.com/ksquBLqHhb

— Inside Universal (@insideuniversal) April 24, 2023
Across the street, Despicable Me Minion Mayhem is getting some much-needed TLC. The attraction's marquee is under construction for a refresh and new signage is popping up around the attraction.
Here is a look at one of the brand new alien zappers on Men In Black: Alien Attack.
Note the fresh paint and lights.
We call it the V2 Alienator. @UniversalORL pic.twitter.com/MOoAj0AxP2

— Orlando Amusement (@OrlandoAmusmnt) March 21, 2023
Universal's quiet attraction refreshes continue at Men in Black where the attraction is receiving several upgrades. All blasters have been replaced and the show scenes are being cleaned up. The animated figure company Garner Holt has set up shop in a tent next to the attraction, leading some to believe they are repairing animated figures.
A newly updated food stand has opened at Marvel Super Hero Island; featuring hot dogs and other snacks. @UniversalORL pic.twitter.com/caXCY9gk6c

— Inside Universal (@insideuniversal) April 13, 2023
New sets of snack stands are rolling out in both parks, with a new stand in Marvel Super Hero Island opening up and another in Production Central. Food reviews are positive and we are excited to try out some of the options.
Universal has started teasing the new home of the UOAP Lounge in Toon Lagoon. @UniversalORL pic.twitter.com/wmAvczOwLW

— Inside Universal (@insideuniversal) April 24, 2023
The new UOAP lounge is gearing up to open in Toon Lagoon – just find the big purple piano!
Construction continues on USF's new ticket entry area, with the structure now starting to peek over the walls. @UniversalORL pic.twitter.com/XXGclFjNb7

— Inside Universal (@insideuniversal) April 13, 2023
Universal Studios Florida's original ticket booths have come down and new structures have gone up. Plan for longer than normal waits at the entrance turnstiles till this project is complete.
https://twitter.com/ThemeParkShark/status/1648470826147254272?ref_src=twsrc%5Etfw%7Ctwcamp%5Etweetembed%7Ctwterm%5E1648470826147254272%7Ctwgr%5E%7Ctwcon%5Es1_&ref_url=
All the fountains and projectors on the Cinematic Celebration barge have been removed. The show quietly closed earlier this year to fix and upgrade the nighttime show. Universal has remained mum on the new show, but we have heard it will open in the summer of 2024.
Apr 14, 2023 Aerial overview of Epic Universe.
Recent work includes:
Arrival of frame for the dome in center of the park.
How to Train Your Dragon land's coaster track circuit complete, and 1 statue in front ready for paint.
Many small structures shaping up everywhere. pic.twitter.com/XZQUH6o1h5

— bioreconstruct (@bioreconstruct) April 15, 2023
Lets close out the construction update with an overview of Epic Universe. This brand-new theme park will open in the summer of 2025 and feature over a dozen new rides, shows, and attractions. The park will comprise five themed areas – the Celestial Gardens, Super Nintendo World, Universal Monsters, The Wizarding World of Harry Potter, and How to Train Your Dragon – Isle of Berk.
Discounts
FL Residents – Buy A Day, Get Two Days Free from now through September 29 (online only)
FL Residents – 35% off hotels based on availability
All Guests – 20% off Sapphire Falls rooms from February 4 through April 16, 2023
All Guests – 35% off Cabana Bay rooms from now through May 25, 2023
All Guests – $650 off five-night vacation packages at Cabana Bay
All Guests – Buy Three, Get Two Days Free Ticket starting at $235 per adult plus tax
For more deals, including discounts on vacation packages, visit the Universal Orlando website or book your Universal vacation with the TouringPlans Travel Agency.
Refurbishments
The following attractions are closed for refurbishment:
The Nighttime Lights at Hogwarts Castle (Return TBA)
Contact the travel agents at TouringPlans Travel Agency who can book you a Universal Orlando, Walt Disney World, Disneyland, or Disney Cruise Line vacation. All quotes are free, and if you decide to purchase through us, you will get a free year subscription to the TouringPlans Line app for Universal Orlando.