Tokyo Disneyland 40th Anniversary Trip Tips and Observations
Tokyo Disneyland started their 40th anniversary celebration last week. In this post we'll share our observations from the parks and beginning of the celebration, as well as some trip planning tips you'll find useful as you plan your own visit to Tokyo Disneyland and DisneySea.
If you enjoy this post and want more Tokyo Disney Resort trip planning advice, visit our condensed Tokyo Disneyland Trip Planning Guide, as well as our full Tokyo Disney trip planning site, which goes more in depth on every aspect of Tokyo Disney Resort.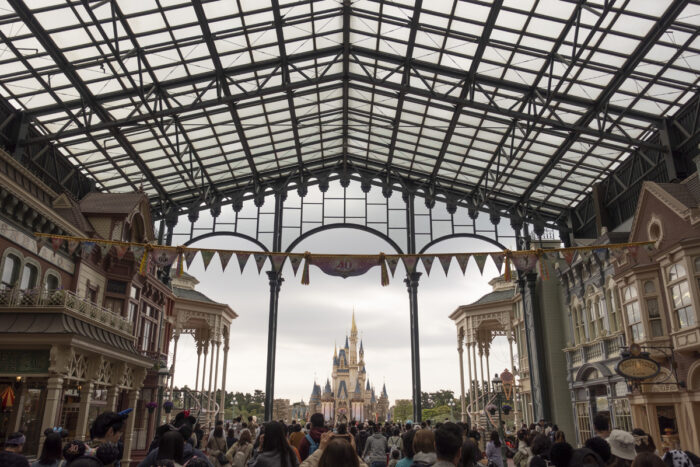 Tokyo Disneyland is Disney's first international theme park, and 4th park to open after Disneyland, Magic Kingdom, and EPCOT Center in Walt Disney World. The Tokyo parks are known for some of the most lavishly themed and well maintained attractions in the world, innovative merchandise and food, continuously refreshed seasonal entertainment, and unparalleled guest service. Also celebrating a 40th birthday is me, Guy Selga, TouringPlans' Disneyland writer. I turned 40 just 3 weeks before Tokyo Disneyland did so I had to be there to celebrate.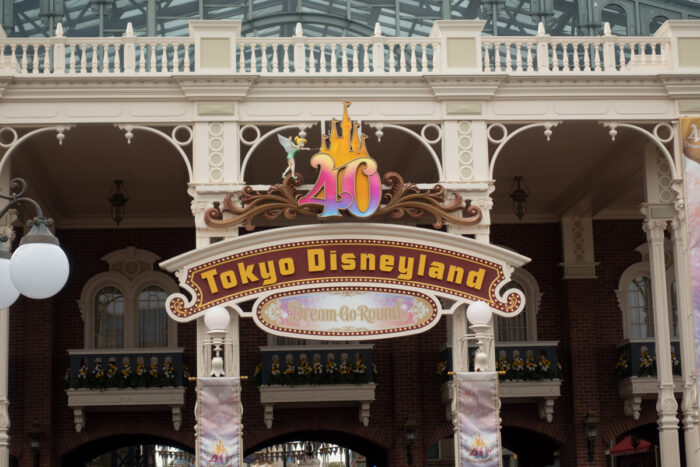 The theme of Tokyo Disneyland's 40th anniversary celebration is… pennants! Lots and lots of pennants. They've dubbed the celebration "Dream-Go-Round" and all around Tokyo Disney Resort and on every piece of 40th anniversary merchandise you'll find the pennants theme. Typically every 5 years Tokyo Disneyland goes all out for their anniversary celebrations with new parades, shows, and lavish decorations. This year they did get a fabulous new parade (more on that later) but the decorations are subdued to say the least. In World Bazaar, which is Tokyo Disneyland's version of Main Street, U.S.A. The 40th anniversary pennants are strewn across the walkway. This is much more lowkey than previous anniversary celebrations. For example, during the 35th anniversary, a large decoration with sculptures of Mickey Mouse in every special anniversary outfit was located in the center of World Bazaar. Meanwhile special lighting and projection effects were displayed. Not this year. This year it's all pennants.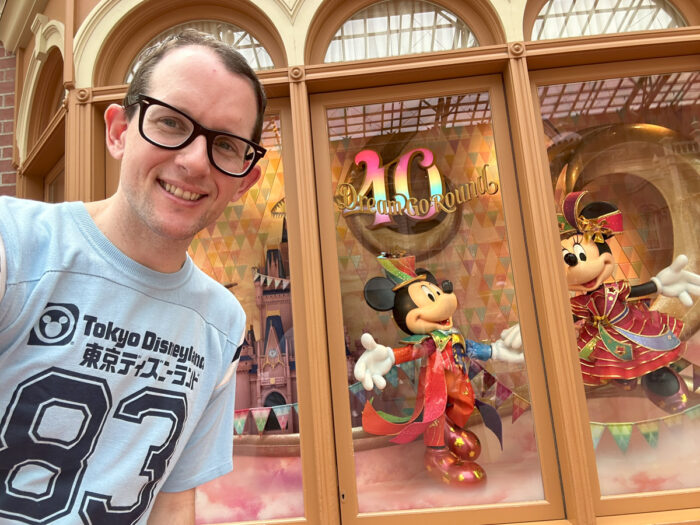 Why did Tokyo Disneyland, which is known for multiple extravagant seasonal celebrations a year, go cheap for their 40th anniversary celebration? I have some guesses. First of all, the multi-year pandemic wreaked havoc on not only Japan's economy, but the world's as well. Tokyo Disneyland spent multiple years either outright closed, or with severely limited attendance caps. It's reasonable to assume OLC, the company that owns and operates Tokyo Disney Resort, wants to and/or needs to scale things back in order to recoup some of the costs after losing money during the last few years. My second guess is that most of the company's money is going into getting Fantasy Springs and the new Tokyo DisneySea hotel finished and opened. Fantasy Springs is the newest expansion to Tokyo DisneySea. Included in the new land, or port as they're called in DisneySea, are 4 new rides, three restaurants, one shop, and one deluxe hotel. It's a $2 billion dollar expansion, so it's safe to assume all resources are going into getting the completed.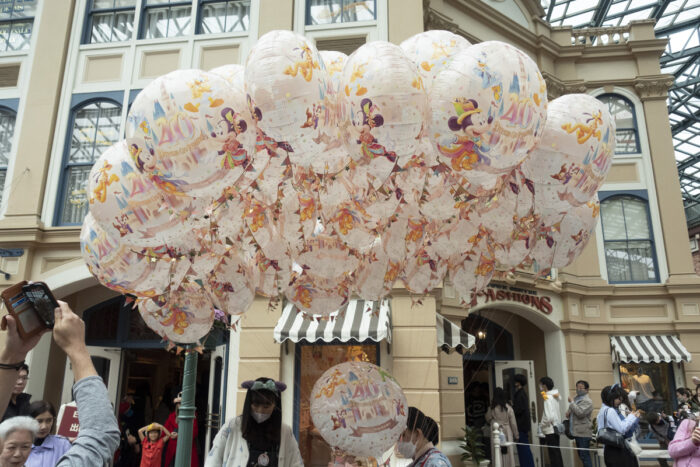 Is the "Dream-Go-Round" 40th anniversary celebration bad? Not at all. What is there is well done, very colorful, and the decorations are EVERYWHERE.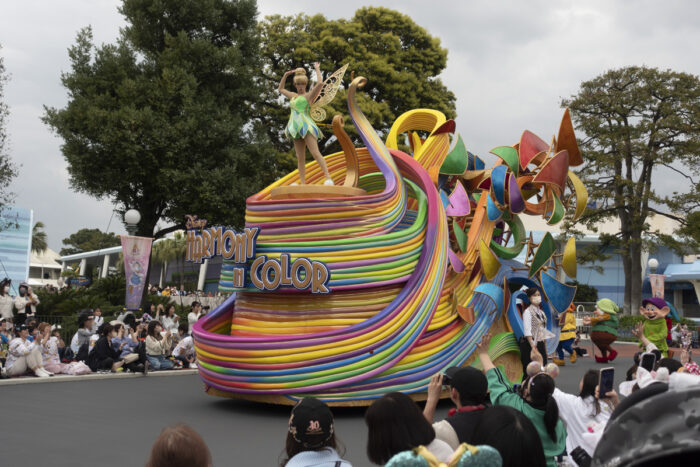 The headliner attraction of the 40th anniversary is Tokyo Disneyland's new parade, Disney Harmony in Color. Expectations are always high when Tokyo Disneyland introduces a new parade, especially with how well received the last two parades were (Happiness is Here and Dreaming Up). I'm happy to report that Harmony in Color does not disappoint. It's grand in scale, has colorful and dynamic floats, it's packed with talented performers, and it has a catchy new earworm of a theme song that gets stuck in your head for weeks after you hear it.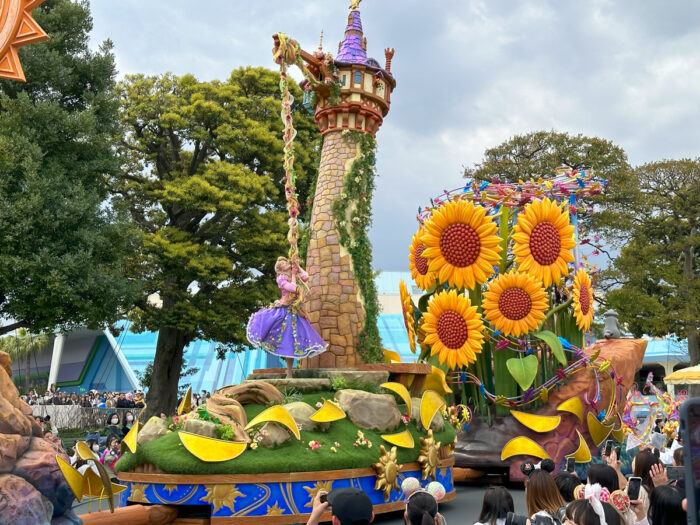 Rapunzel swinging from her hair is one of the highlights of the parade.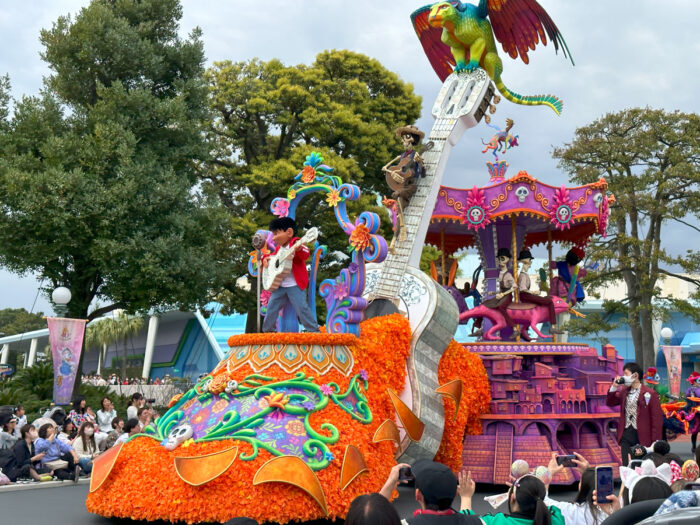 The Coco parade float is one of my favorites. These floats tower over the crowd and look very impressive.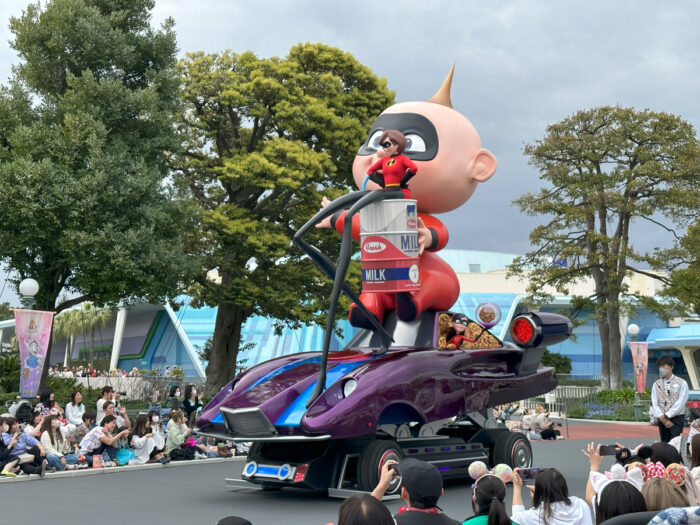 You have to love the Mrs. Incredible leg gag.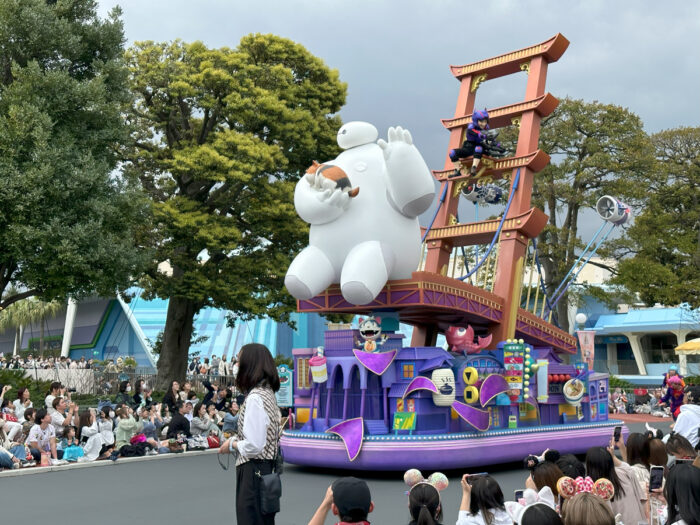 Big Hero Six and the fan favorite Baymax are also part of the parade.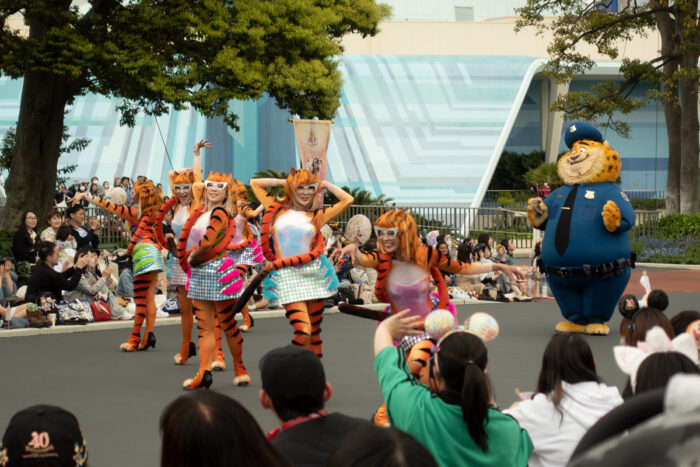 Besides the floats Harmony in Color is also filled with characters and performers in fantastic costumes.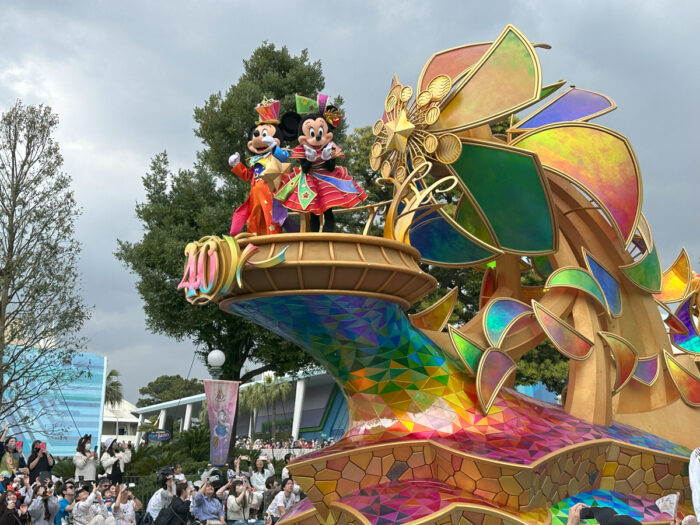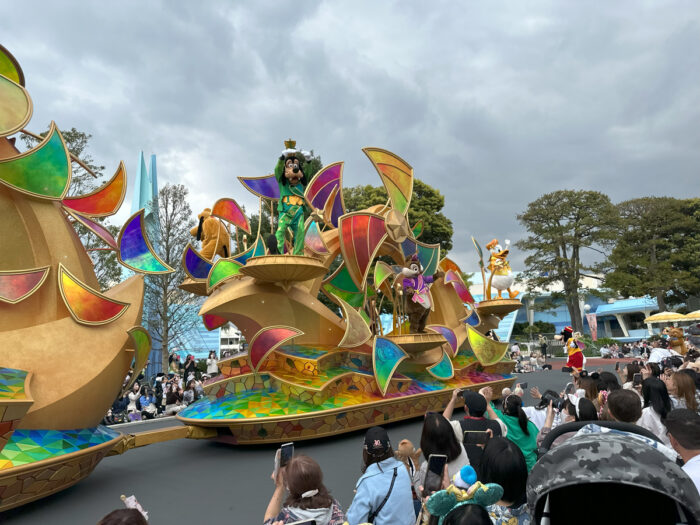 The parade ends with Mickey, Minnie, and the rest of the fab five.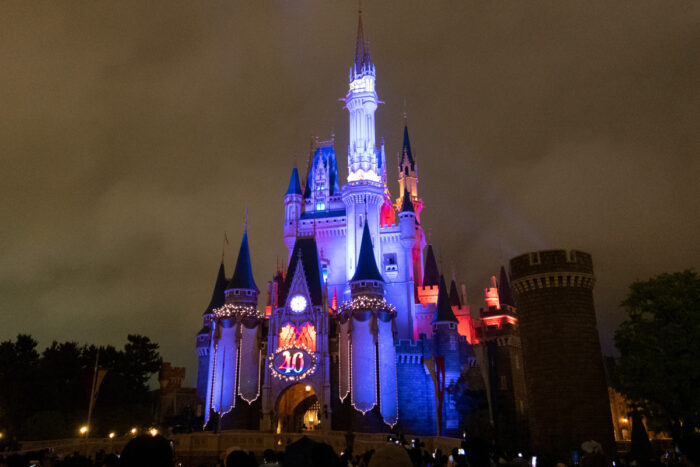 Back to the decorations, Cinderella Castle is adorned with banners and a giant 40 emblem. These decorations really come to life at night when they shimmer and sparkle with special lighting effects.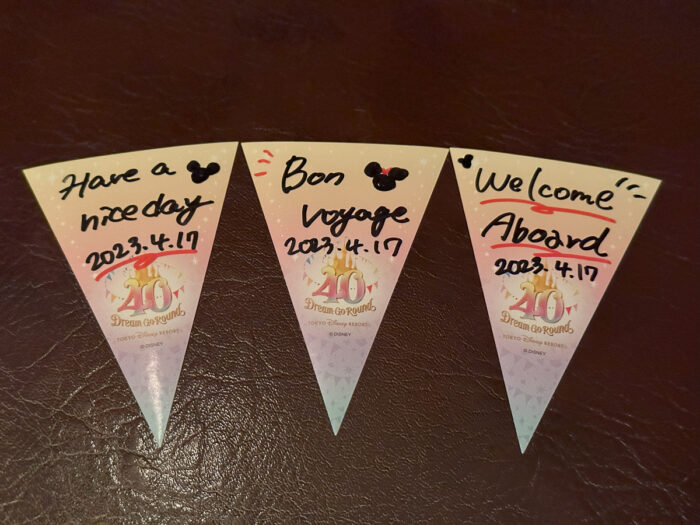 Disney cast members will randomly give you a pennant sticker with a little message written on them. We received these when we got drinks at Teddy Roosevelt Lounge in DisneySea. The lounge is located inside an ocean liner, which is why they say "bon voyage" and "welcome aboard."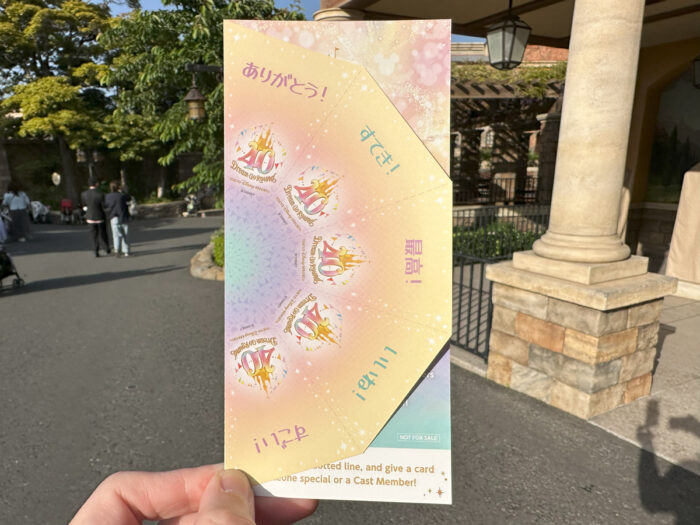 Not only can cast members give guests pennants, but guests can give them to cast members! Giving cast members these guest compliment pennants was a lot of fun. I wish the American parks would do something like this.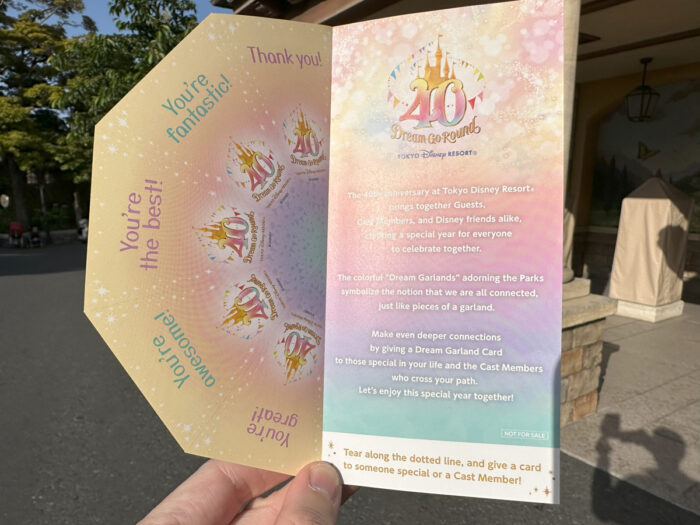 The guest compliment pennants have English and Japanese on them.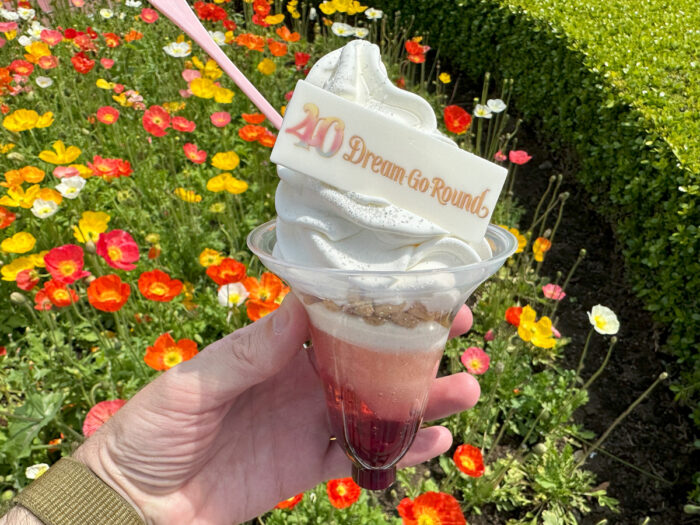 Like any Disney theme park celebration, special themed food is plentiful. I won't go in to every item but I do want to highlight some of my favorites. Pictured here is Special Sundae served at Ice Cream Cone (yes, Ice Cream Cone is the name of the restaurant). It's got soft serve ice cream, berry sauce, jelly, and cereal. Very tasty and perfect on a hot day.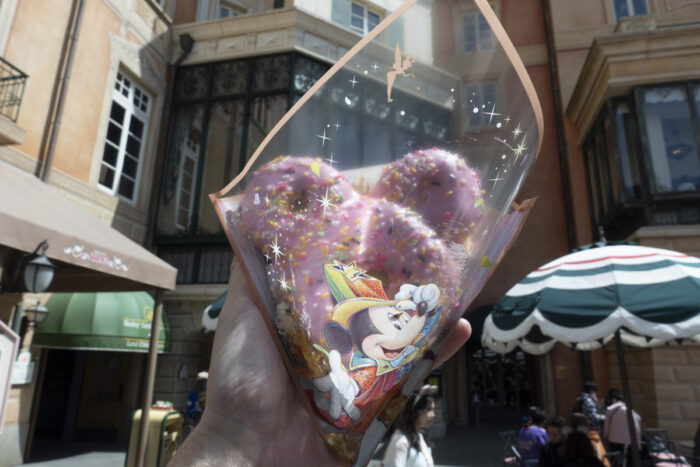 The Tiramisu Donut from Mamma Biscotti's Bakery is a big Mickey shaped donut with tiramisu filling. What's not to like about that?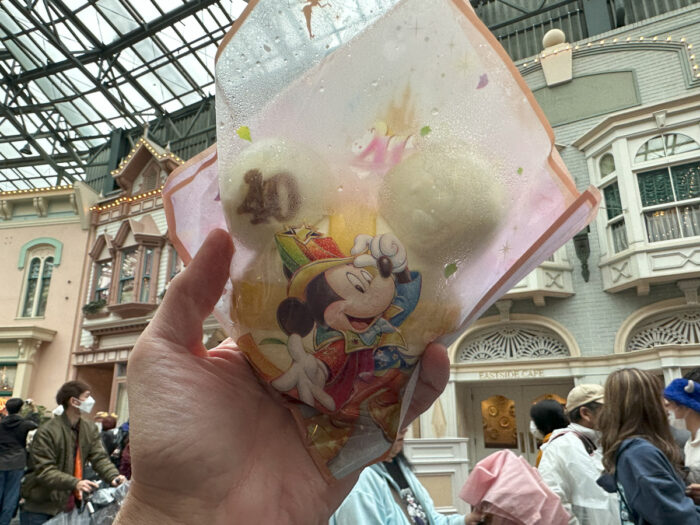 Mickey Ukiwaman Chicken from Boiler Room Bites is a soft steamed bun filled with chicken. Delicious!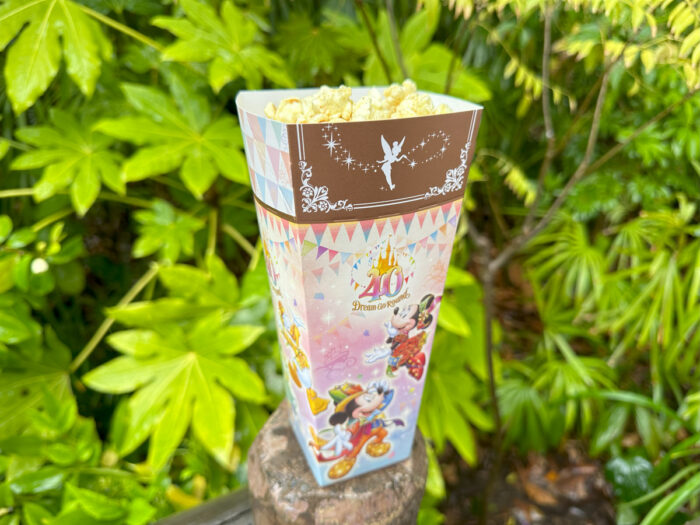 Tokyo Disney Resort if famous for their variety of special popcorn flavors. New for the 40th anniversary is the berry cheesecake flavor which my entire group really enjoyed. It's freshly made and served nice and warm which makes it even better.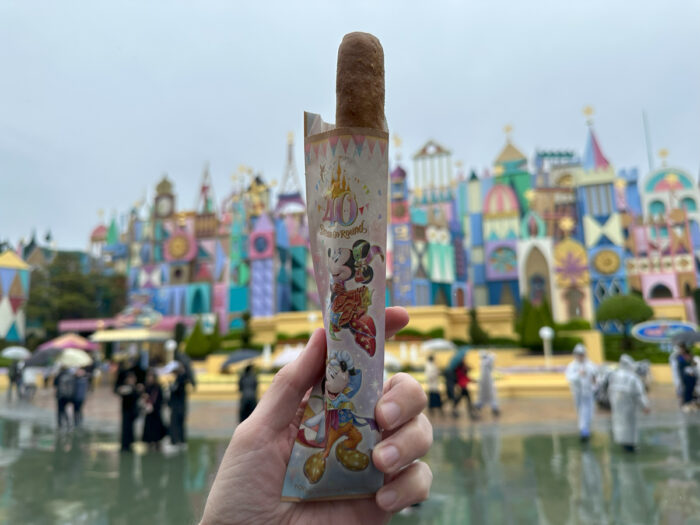 A mainstay of the Tokyo Disney Resort snack lineup is the Tipotorta. Think of it as a PopTart in stick form, but much better tasting. The special flavor for the 40th anniversary celebration is Orange & Chocolate, which was delicious.
I'm a fan of the special packaging the 40th anniversary food items are served in.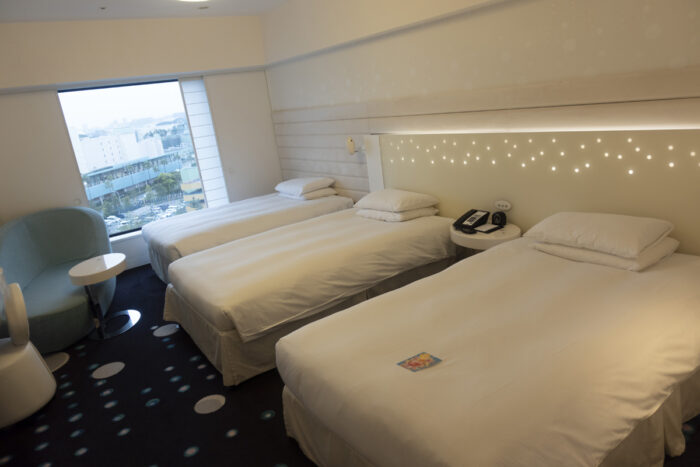 Before moving on, during this trip my party stayed at Hilton Tokyo Bay, which is located on site, and across from the Tokyo Disney Resort monorail station (Bayside Station). It's convenient and much cheaper than the official Disney hotels. Here's a look at our room.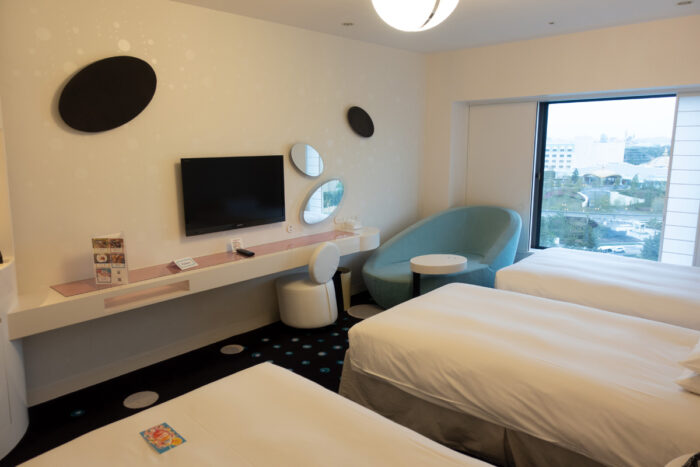 From our Tokyo Disney Resort trip planning guide:
The two non-Disney on-site hotels that are most convenient for foreign travelers are Sheraton Grande Tokyo Bay and Hilton Tokyo Bay. Both offer large rooms, staff that is fluent in English, good amenities, and are the two hotels closest to Tokyo Disney Resort Line Bayside station. If the prices between the two were the same I'd go with Hilton Tokyo Bay due to its large, and more modern looking rooms, but you can't go wrong either way. You'll be paying a slight premium to stay at these two hotels. Prices on the Hilton and Sheraton can range anywhere from $150 during some parts of the year up to $500 during the busy times of year. We have video room tours of the Hilton Tokyo Bay and Sheraton Grande Tokyo Bay on our YouTube channel. The other four hotels on-site (Sunroute Plaza Tokyo, Tokyo Bay Maihama Hotel, Tokyo Bay Maihama Hotel Club Resort, Hotel Okura Tokyo Bay) are owned by Japanese companies and have varying levels of quality. The only one of these four hotels I've stayed at is Hotel Okura. Okura's rooms are a bit dated, but clean and spacious. The only problem I had was that the beds were rock hard. This has been my experience in many hotels that are Japanese brands. We have a video room tour of Hotel Okura Tokyo Bay here.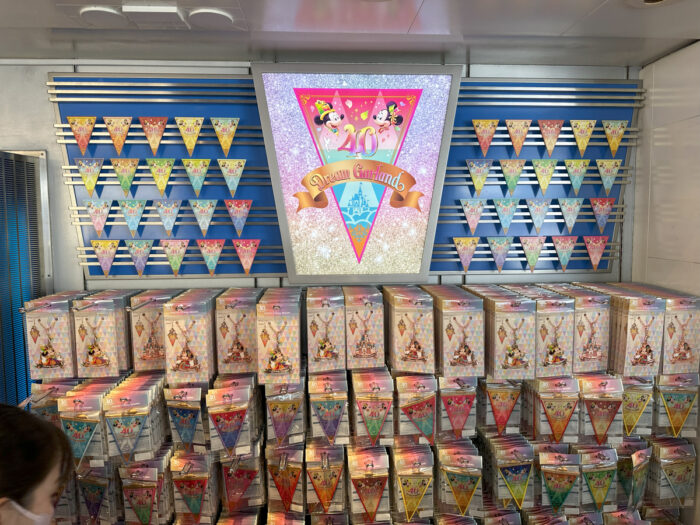 Back to the pennants, every Tokyo Disney Resort cast member wears one of them below their name tag. These same pennants are also available to buy. There's a large variety of colors to choose from. I of course went with purple and gold (go Lakers). The best part is when you come across a cast member that sees someone wearing the same color they are also wearing. They point it out and get excited about the matching colors. A lot of thumbs up were exchanged with excited cast members with matching pennant colors.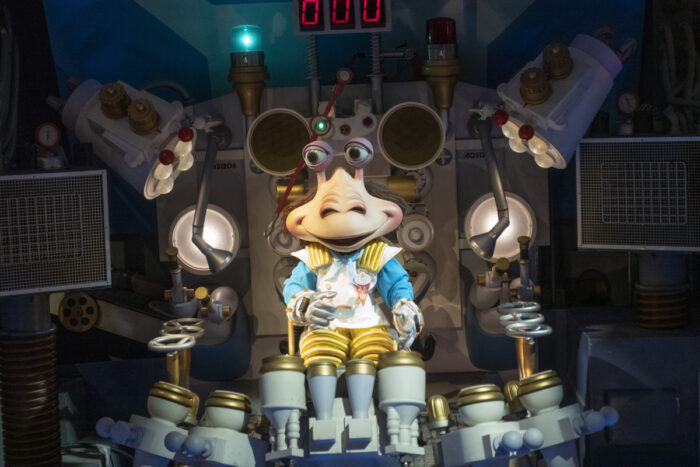 Tony Solaroni is everyone's favorite pizza making animatronic salesman. He's also wearing a pennant below his nametag.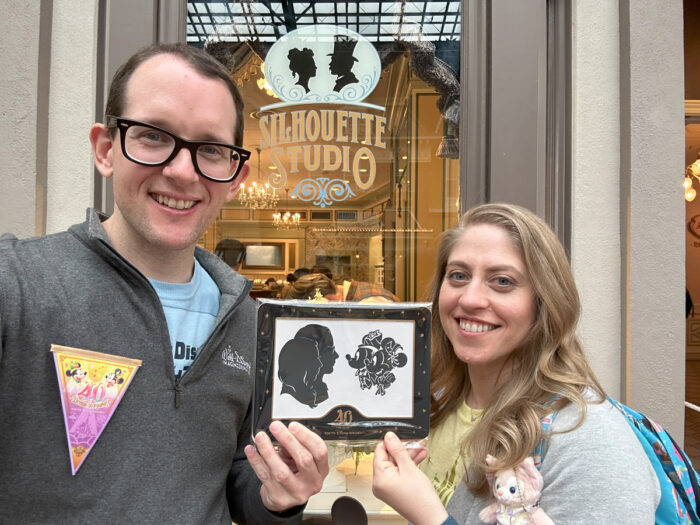 I wanted to commemorate mine and Tokyo Disneyland's 40th birthdays with a special souvenir. Luckily I found the perfect one. My girlfriend and I got our silhouettes done at the Silhouette Studio in Tokyo Disneyland. It included a special frame and silhouettes of Mickey and Minnie in their 40th anniversary outfits.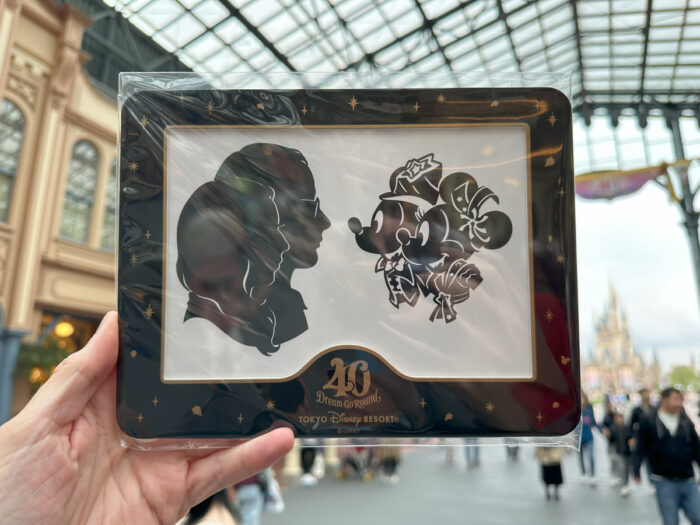 It turned out great!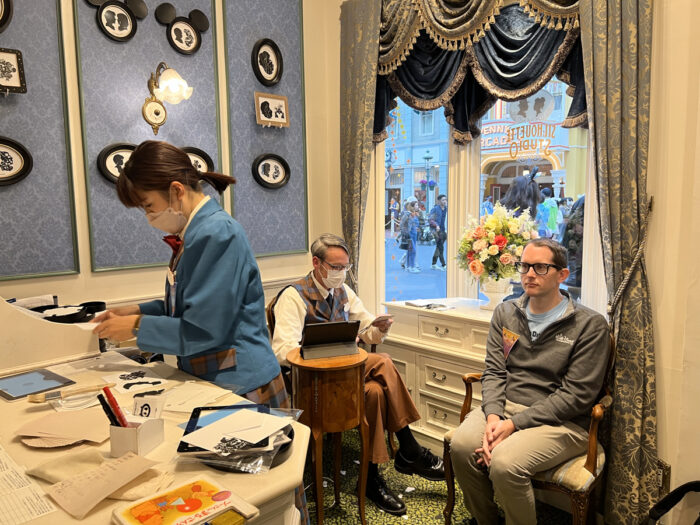 Here I am in the chair as the silhouette artist works his magic.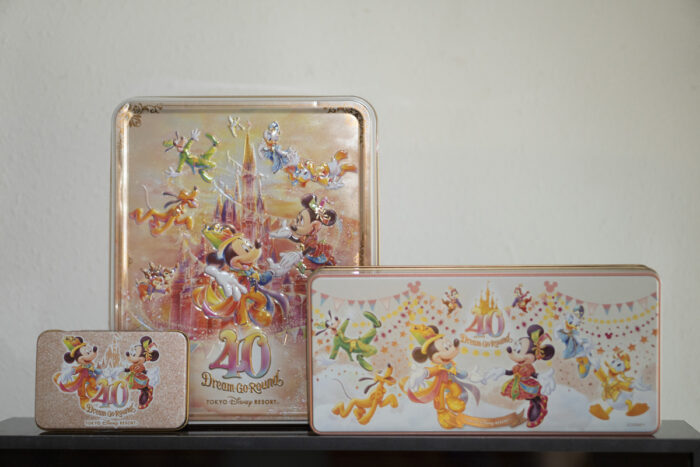 Now seems like a good time to bring up merchandise. This may be the hottest take I've ever put on the internet, but I think Tokyo Disney Resort merch is extremely overrated among Western Disney fans. Not only are most items are littered with characters, but there's also not much variety in terms of what kinds of merchandise are available. There's a lot of plush character charms, stationary, and multiple entire stores full of tins and boxes fill of snacks. This obviously has to do with cultural preferences and the Japanese gift giving tradition known as "omiyage."  Pictured above are some of the snack gift tins I picked up for friends and family. Other than that, I didn't buy much.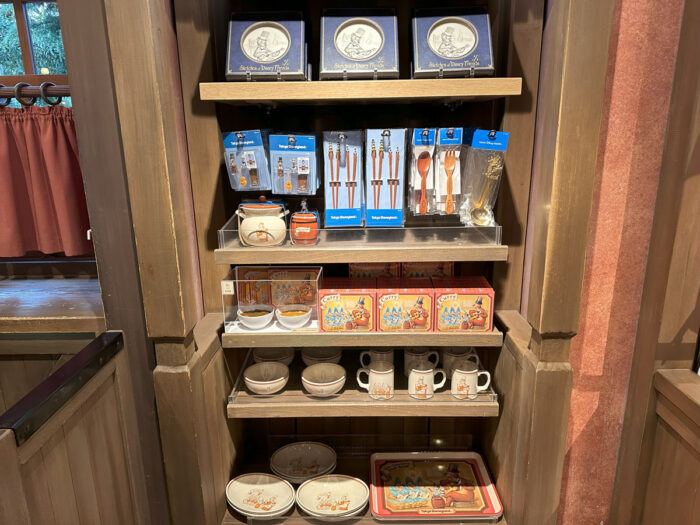 I'm a huge Country Bear Jamboree fan so I already own all of these items, but I wanted to take a moment to point out how cool it is that Tokyo Disneyland sells this many pieces of CBJ merch.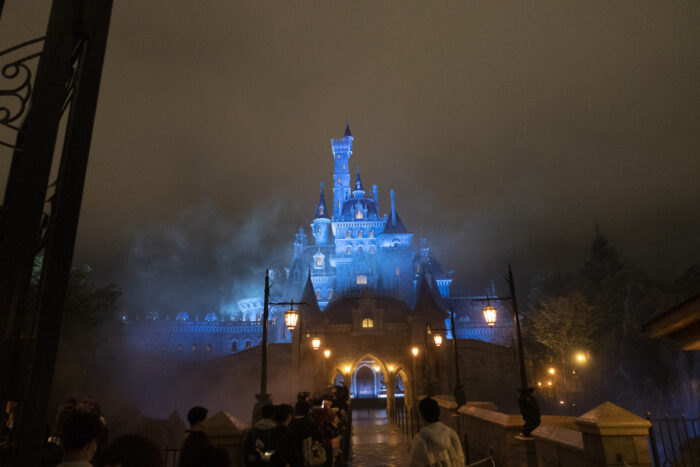 Tokyo Disneyland newest mega E-Ticket ride is Enchanted Tale of Beauty and the Beast. The ride is housed inside a large recreation of Beast's castle and it looks fantastic, especially at night.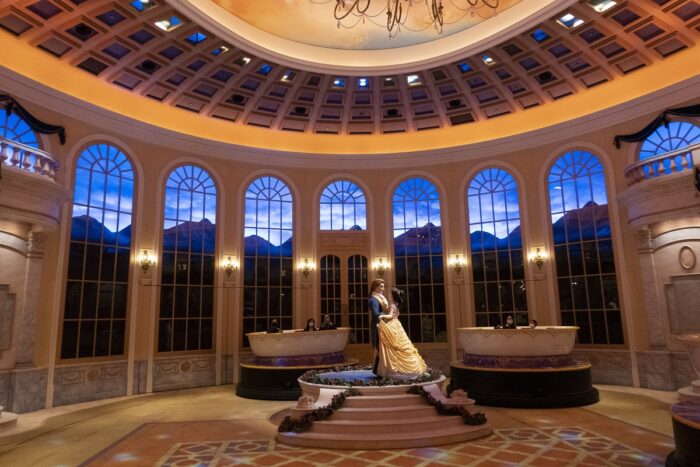 The ride is trackless and it takes you through the events of the film, including the scene were Belle and the prince dance in the ballroom.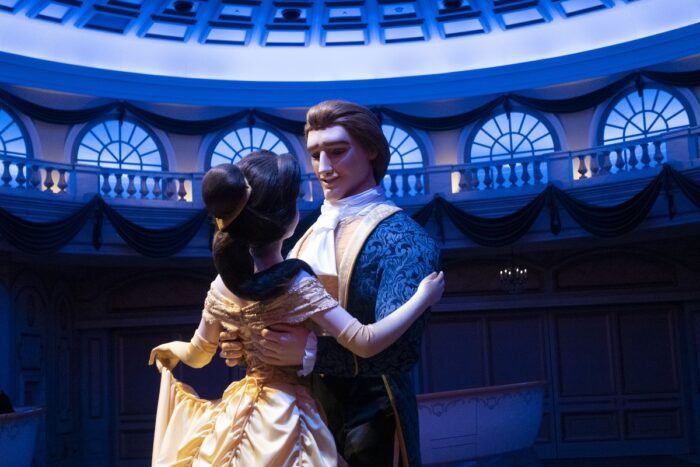 The animatronics in Enchanted Tale of Beauty and the Beast are some of the best Disney has ever done.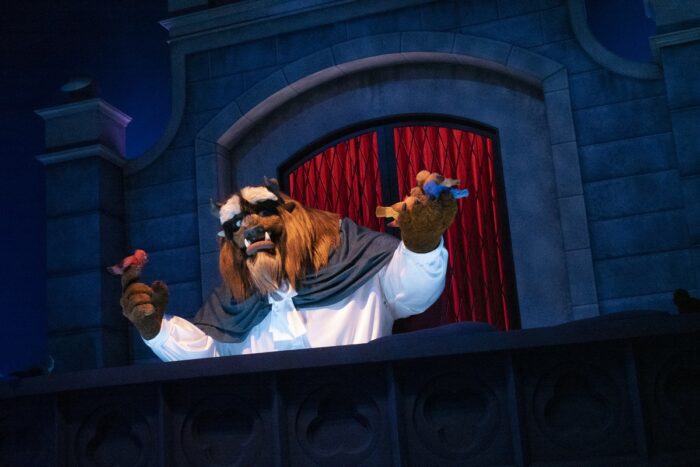 The Beast animatronic looks especially jaw dropping. If you want to experience Enchanted Tale of Beauty and the Beast with minimal wait be sure to head to it within the first 20 minutes after the park opens, or save it for the end of the day just as the park is about to close. Using this method we were able to ride it a few times a day with hardly any wait. Other than that it's one of the most popular rides in the park and will have the longest wait times throughout the day. You can also pay to skip the line completely by using Tokyo Disneyland's version of the Individual Lightning Lane. In Tokyo Disney it's called Priority Access, and it costs 1500 yen per a person, which is a little over $9 USD.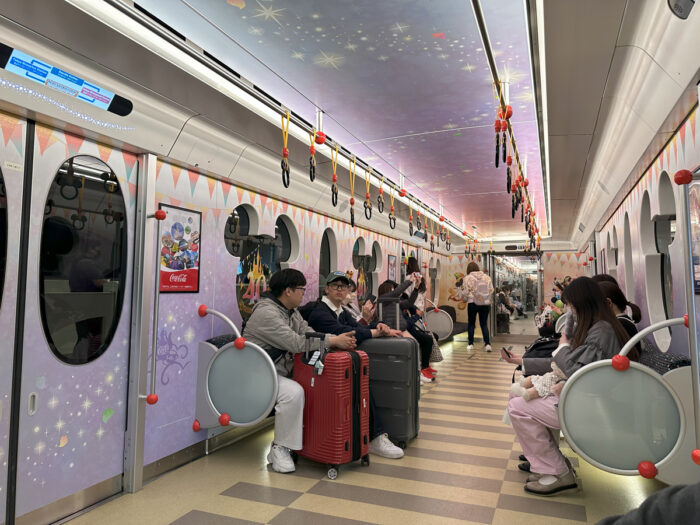 Before we head over to Tokyo DisneySea we'll take a trip on the Tokyo Disney Resort Line, which is Tokyo Disney's monorail system. One of the trains is decorated in the 40th anniversary Dream-Go-Round theme.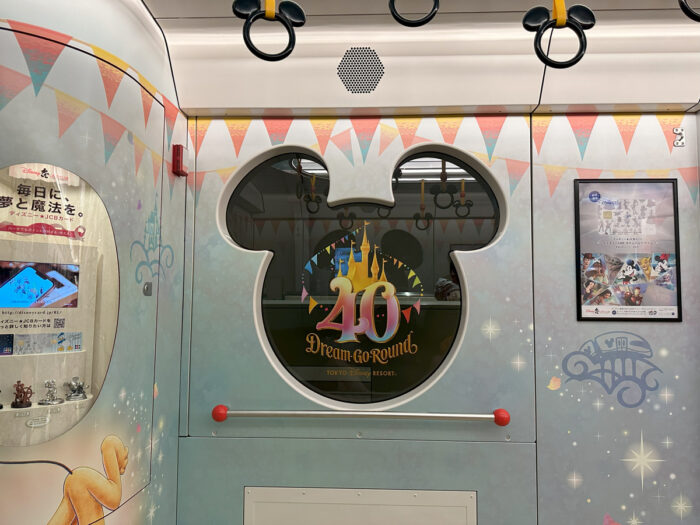 The inside of the train even plays the 40th anniversary theme song!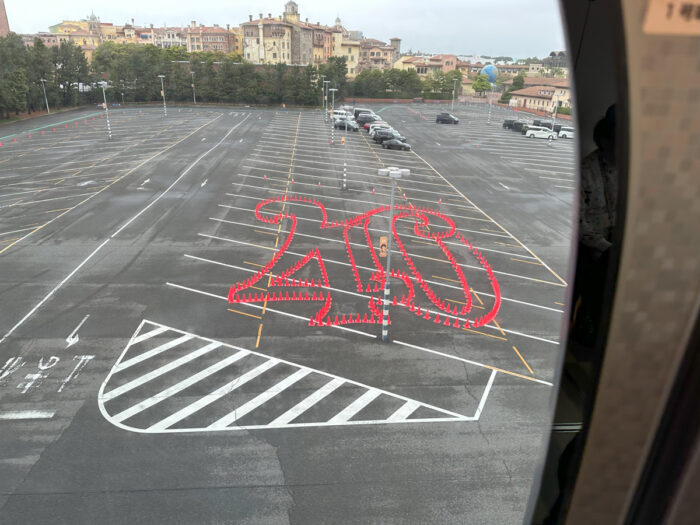 As you ride the Resort Line keep an eye out for the 40th logo made out of parking lot cones.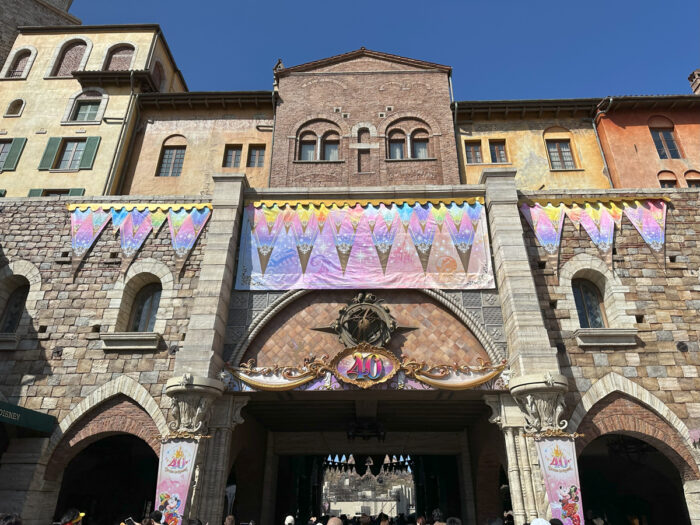 The pennant theme continues in Tokyo DisneySea. Here's more pennants hung on Hotel MiraCosta leading into the park.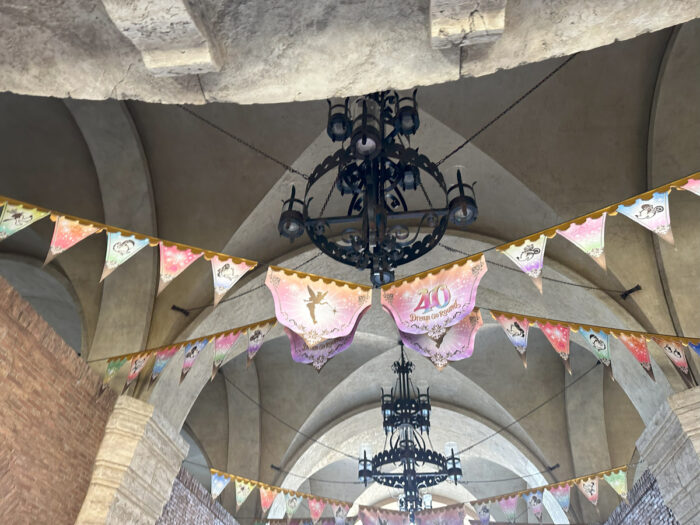 More pennants in the breezeway leading into the park from Aqua Sphere Plaza.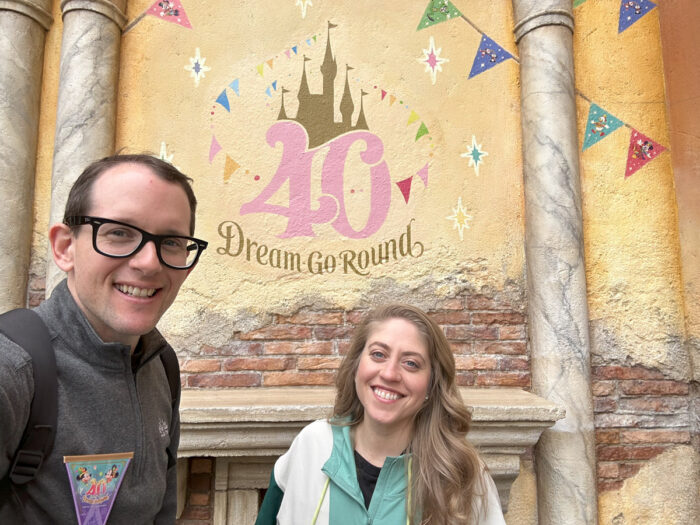 On some of the walls in Tokyo DisneySea and Tokyo Disneyland you'll also find special 40th anniversary decals.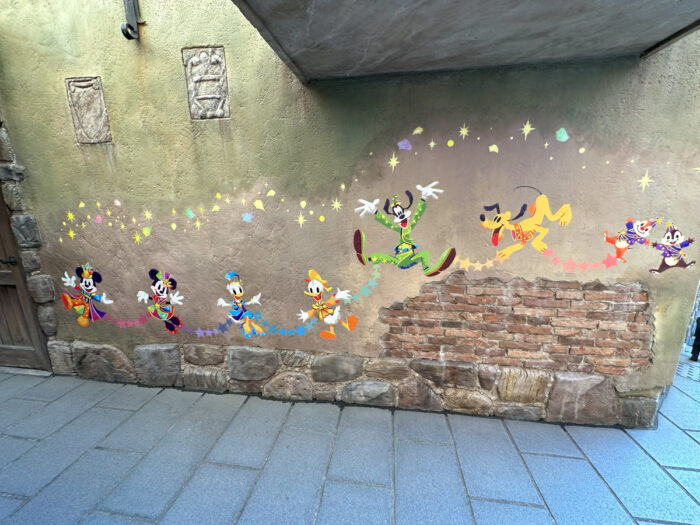 Here's a fun one with all the characters in their special anniversary outfits.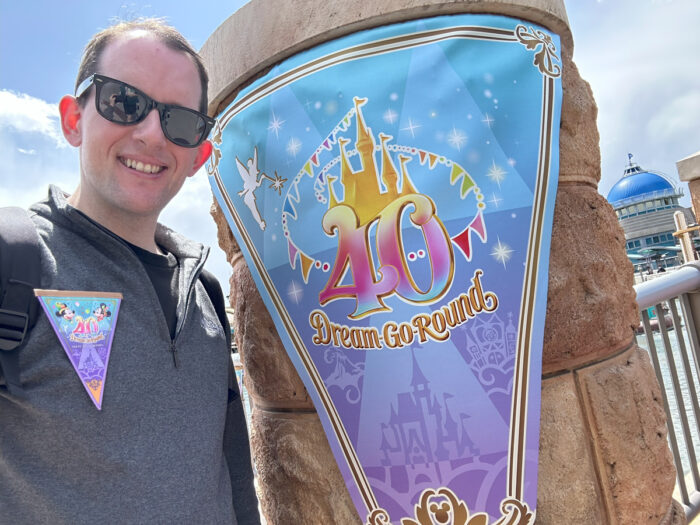 Pennants everywhere. I hope they got a good deal on pennants from the pennants supplier. I don't think I'll ever type the word pennants this much ever again. Pennants!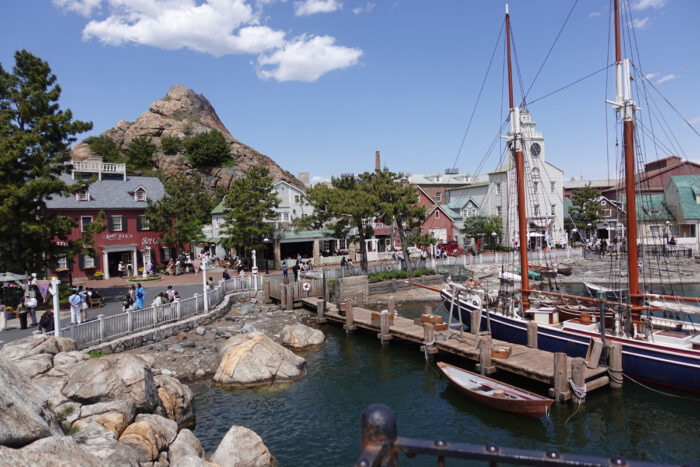 As usual there are so many parts of Tokyo DisneySea where you'll say to yourself, "I can't believe this is a theme park."
'Believe! Sea of Dreams' is Tokyo DisneySea's newest nighttime spectacular. It takes place in Mediterranean Harbor at the front of the park. The show uses all of the special effects you'd expect in any Disney nighttime spectacular, including fireworks and projections. As well a slew of characters and Disney songs. Thanks to the show taking place in the middle of a body of water there's not really a bad spot to view it from. We watched it at the base of Mount Prometheus near the entrance into Mysterious Island and had a decent elevated view of the show. We could have dedicated more time and got a view closer to water, but our time in the park was limited and we didn't want to spend too much time waiting for a show. It's not the best Disney nighttime spectacular I've ever seen, but it's worth seeing if you have the time.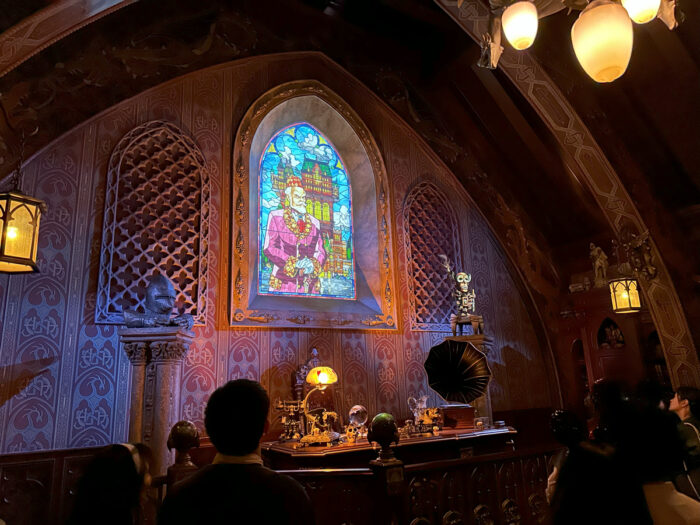 Before wrapping this up I wanted to mention that as usual, all of Tokyo Disneyland and DisneySea's rides are beautifully and perfectly maintained. The love and care that goes into these parks is evident everywhere you look. The United States dollar conversion into Japanese Yen is extremely good right now, with 1000 Yen converting into about $7.50. That means TDR tickets to the parks range from $70 to $80 USD. That's a spectacular value for what you get. Heads up if you're trying to buy Tokyo Disney Resort tickets. The official TDR website is extremely picky with the type of foreign credit card it will accept for payment. Klook is a way to bypass this. They're a travel discount website like Priceline, and are just reputable. Please use our link. It supports keeping this and other TouringPlans Tokyo Disney guides updated.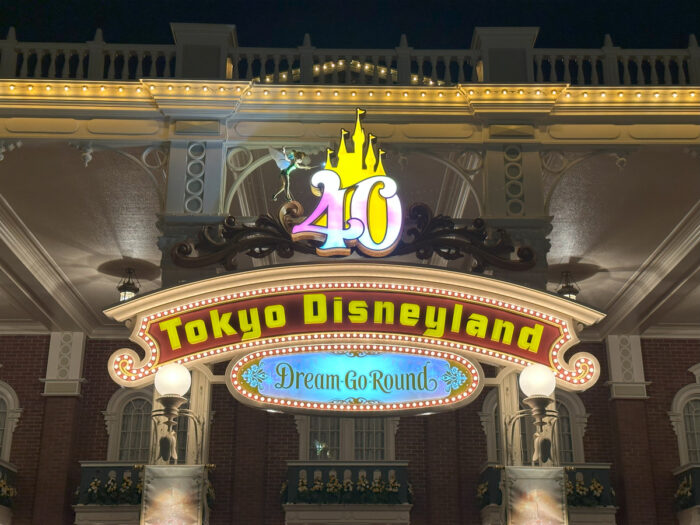 We had a blast at Tokyo Disneyland for the park's 40th birthday, and while we wish the celebration was more grand in scale, we thoroughly enjoyed everything that was being offered. This was my 10th visit to Japan and I always spend at least two days in the park when I'm in the country. The level of quality and fun is always consistent and if you're a Disney theme park fan the Tokyo parks are a must visit.
If you're planning a trip to Japan and Tokyo Disney Resort I again want to share some helpful links for your visit:
Our 2023 Tokyo Disneyland Trip Planning Guide
Our full Tokyo Disney Resort Trip Planning Website 
TouringPlans Travel Agents who are standing by to help you book ANY vacation