Ask It Results: Port Orleans – Riverside vs. French Quarter
Last week, we asked "Which is your favorite of the two Port Orleans resorts?" This week, we're back with your answers. The Port Orleans resorts have an interesting history at Walt Disney World. We recommend anyone who would like to learn more to check out PortOrleans.org, a fan site maintained by friend of TouringPlans, André Willey.
So how did you vote?
RESULTS
French Quarter – 800✅
Riverside – 595
Let's compare the two resorts.
Port Orleans Size
Riverside is by far the larger of the Port Orleans resorts. Port Orleans Riverside has two sections – Magnolia Bend and Alligator Bayou. It has 2048 rooms and four bus stops. French Quarter is more compact with 1008 rooms and one central bus stop. You can see interactive maps of Riverside and French Quarter in our Disney hotel coverage. Many of you who chose French Quarter as your favorite pointed out the manageable size of the resort as a big advantage over Riverside.
Port Orleans Pools
Riverside has one very well-themed feature pool at Ol' Man Island with a large and shaded bar and grill – Muddy Waters – for refreshments as you enjoy the water. Riverside also has five quiet pools. This is a tie with Caribbean Beach for most pools at a Disney resort (pre-Caribbean Beach construction anyway).
French Quarter has one "feature pool" and no quiet pools. It has a dragon-themed water slide, but the Doubloon Pool pales in comparison with Ol' Man Island.
Port Orleans Food
Both resorts have food courts that serve breakfast, lunch, and dinner. The offerings are similar, but Sassagoula Floatworks at French Quarter does offer hot, fresh beignets all day. This is a powdered sugar-covered WIN in my book.
Because of its larger size, Riverside does have a table service restaurant, Boatwright's Dining Hall. Dinner is the only meal served here. I'm not sure what it says about Boatwrights that I'm not sure if I've ever eaten there or not. I think I have (I've stayed at Riverside several times), but it must have been completely unmemorable.
It's worth noting that French Quarter is the only Disney Moderate with no full-service restaurant.
Port Orleans Entertainment and Recreation
Even though the River Roost at Riverside gets all the attention, Scat Cat's Club at French Quarter also has live entertainment. Both have more than decent food and drink menus. I think Scat Cat's is a hidden gem among Disney lounges, especially at a moderate resort.
Bike rentals and horse-drawn carriage rides are available at Port Orleans. You can book these at the Riverside marina. Boat rentals are no longer available. Catch and release fishing is offered at Riverside. You can find out more about these by calling 407-WDW-PLAY or 407-WDW-BASS for fishing.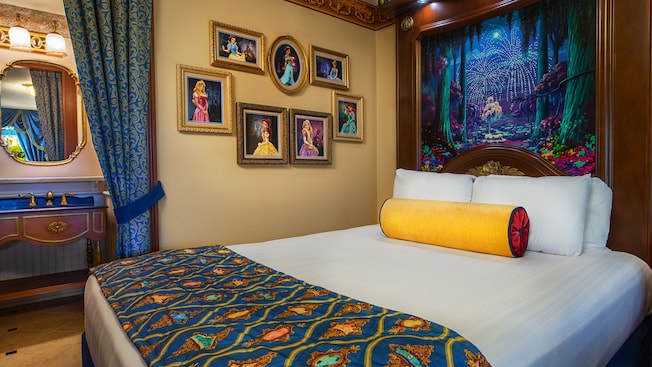 Themed Rooms and Other Room Notes
Riverside includes "Royal Rooms," which are princess themed. These are in the Magnolia Bend section of the resort. Riverside also has rooms with a pull-out bed to accommodate a fifth child or adult you don't like in your room. French Quarter rooms all sleep four. Riverside is dog-friendly with a $50/night surcharge.
Transportation and Getting Around Port Orleans
Riverside and French Quarter are connected by a walking path that runs along the Sassagoula River, a manmade canal. Allow about 10 minutes to walk from lobby to lobby. Free water taxi boat service connects Riverside and French Quarter with continuing service to Disney Springs. Disney calls this journey "leisurely" and "soothing," which is true, but also Disney-speak for "slow." Allow an hour, or drive or take a bus if you're trying to make a dinner reservation at Disney Springs.
Depending on crowd levels, Riverside and French Quarter may share buses to the theme parks and Disney Springs. Guests at Port Orleans may use the bus system to get around the resort as an alternative to walking or the boat. Frankly, it's a little convoluted to do it and may not be an option all day. If you've used Disney buses as internal transportation at Port Orleans, let us know how it went in the comments.
Finally, be aware that both resorts charge $19/night for guest self-parking. Parking for dining and recreation is free.
Choosing one resort over another involves making trade-offs in size versus amenities, but in truth the two resorts do mostly operate as one entity and moving from one to another isn't much of a hardship.
Thanks for voting and look for today's poll.