Best and Worst Places in Summer at Magic Kingdom
Ah, summer at Walt Disney World. Although it's hot everywhere, and afternoon thunderstorms can come out of nowhere, not all places to experience summer at Walt Disney World are created equal. Today we're counting down the best and worst places to experience summer at the Magic Kingdom.
Main Street USA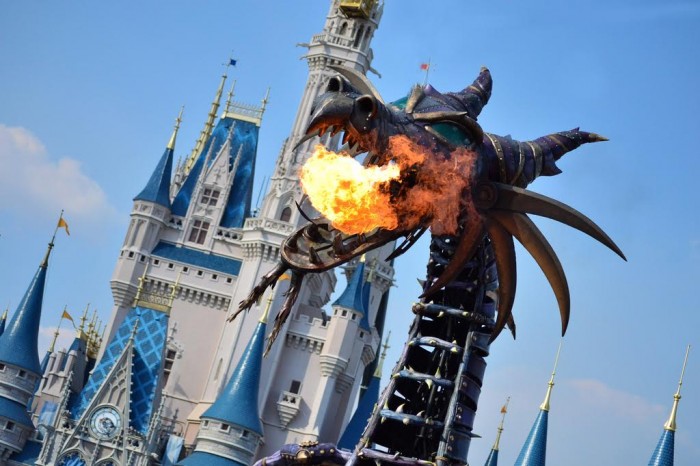 Best: Meet Mickey and Minnie Mouse at Town Square. During the heat of the day, sometimes you just want a hug from a friend. Okay, the real reason you're waiting in this meet and greet is for the air conditioning–but we won't tell Mickey that.
Worst: Waiting anywhere on Main Street for the afternoon parade. Sitting on the curb down near the super-heated pavement can quickly cause overheating. Although it might be tempting to get a Mickey bar, that will be a quick mess. A bottle of water will probably be a better option.
Adventureland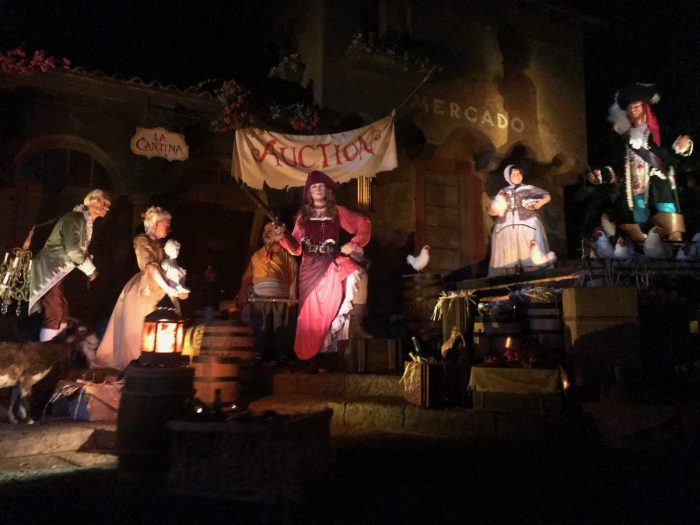 Best: Pirates of the Caribbean. Although the Tiki Room would seem to be an obvious choice, sitting in an air conditioned room, the pre-show is still outside (albeit under cover) and the show is far, far shorter than its Disneyland counterpart. Just when you're starting to get cool, it's time to go. The indoor queue for Pirates of the Caribbean on the other hand means that you're cooling off while you wait and then have a comfortable boat ride as well.
Worst: The Jungle Cruise. A hot, narrow queue. And then you get on a crowded boat where you won't be moving fast enough to get a breeze. Bonus? You might sit one one of the seats near the very hot engine. Oh, and if a storm comes by? Yep, this gets shut down. Maybe then go with everyone to get in line for Pirates?
Frontierland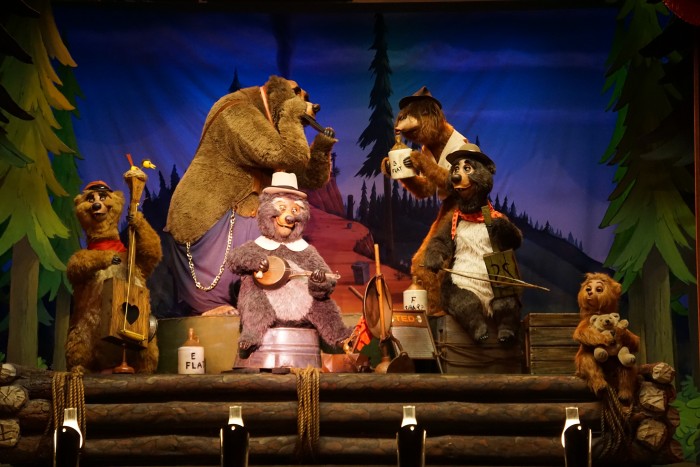 Best: Country Bear Jamboree. Although Splash Mountain can feel refreshing on a hot day, the odds of a thunderstorm rolling in and shutting the ride down are enough to knock it out of the top slot. Being able to sit down for Country Bears makes a way to get out of the heat, if for a little while.
Worst: Tom Sawyer Island. Yes, there are places to be in the shade over on Tom Sawyer Island. Even with that, it feels like the jungle over there in summer. It's also the one place in Magic Kingdom where I always seem to pick up a mosquito bite in summer. If you want to duck inside somewhere cool, you may have to wait for a raft to head back to shore–along with everyone else on the island.
Liberty Square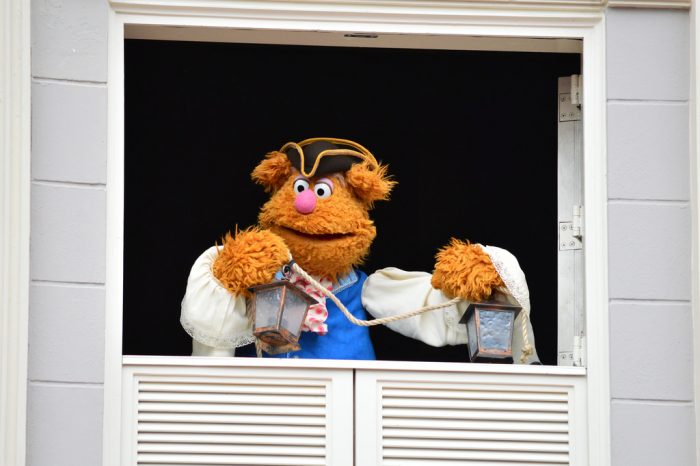 Best: Columbia Harbour House. Okay, a bit of a cop out here, and certainly the Haunted Mansion (including the water effects in the queue) and Hall of Presidents (for another long, air-conditioned show) are great choices as well, but Columbia Harbour House wins for me–grab something to eat or drink, head upstairs, and rest for a bit out of the heat. Sometimes you can grab a seat near the window to watch the afternoon parade go by–or to watch people running for cover when it rains.
Worst: Muppets. Look, I love the Muppets. I really do. Their show is hilarious! It's also hot to stand around for it–try to catch the first or last show and then go somewhere to cool off. The middle of the day can be brutal.
Fantasyland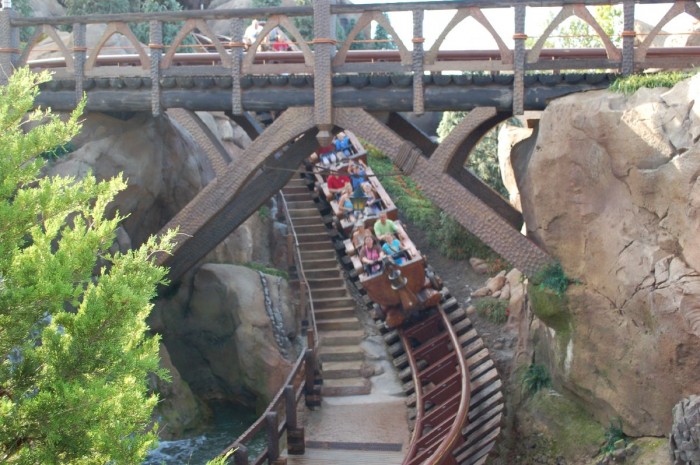 Best: Philharmagic. This movie is one I can gladly watch again and again. It's mellow. It's relaxing. It's cool. It may be one of the best places to cool off in Magic Kingdom.
Worst: Mine Train. Another "your wait might be for naught if storms hit", Mine Train also has a lengthy outdoor queue for a short ride. Once you get moving, you'll pick up some breeze–and then the ride is over.
Storybook Circus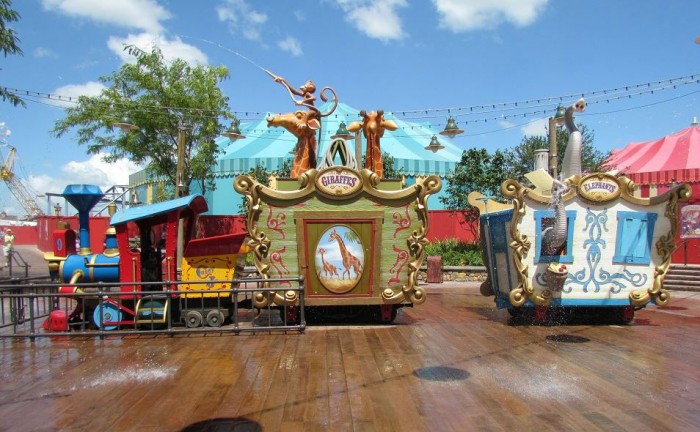 Best: Dumbo and Casey Jr. Splash 'n' Soak. The answer for this will depend on whether you want to have a wet kid around (or whether you mind getting wet). The Casey Jr. Splash 'n' Soak is a wonderful way to cool off by getting soaked. If you're looking for a way to cool off without getting wet, head inside the play area for Dumbo. If you've got young kids, they'll enjoy playing on the playground. If you don't, just relax on benches for a few minutes to cool off.
Worst: Barnstormer. Another tightly-packed queue with a very short ride at the end. With the target demographic for this ride, you may also be treated to kids (and their parents) having heat-related meltdowns while you wait, too.
Tomorrowland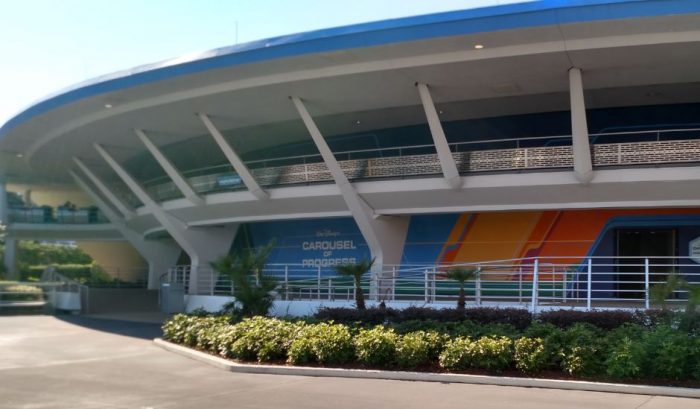 Best: Carousel of Progress — PeopleMover (tie). Yeah, I can't pick between these two. In fact, I could gladly spend time going back between the two for a way to while away the hours. Even better, you'll have little to no wait for each, so you can have the option to do both more than once.
Worst: Speedway. Heat. Fumes. Heat. Sun. Fumes. Heat. It's a great ride at night, but during the peak of summer, it shouldn't be your first choice.
Do you agree with these choices? Have other options that you avoid or rely on during the summer months at Walt Disney World? Let us know in the comments.