Best Places to Get Pizza at Universal Orlando Resort
In Back to the Future 2, we hear the words: "Oh boy, oh boy, Mom. You sure can hydrate a pizza." If you have ordered pizza in an Orlando area theme park. you may have wondered if your pizza was somehow hydrated instead of cooked from scratch. Many Orlando area theme park guests have been shocked by the low quality of pizza served. If you need a feed a group of hungry teenagers quickly then below average pizza may be a good option. However, there are some lovely spots to get pizza at Universal Orlando Resort as well.
As you may have gathered, I am not a fan of the quick service pizza at any Orlando area theme park. I am not alone in that opinion. In-park pizza will fill your stomach but a positive taste adventure it is not. If you feel compelled to get pizza while inside Islands of Adventure (IOA) or Universal Studios Florida (USF), then there are some better options of the not so good. At IOA, I would suggest getting pizza at Café 4 since it tends to taste better than Pizza Predattoria or Circus McGurkus. In addition, you can purchase an entire pizza, not just a slice, so you can feed a whole family.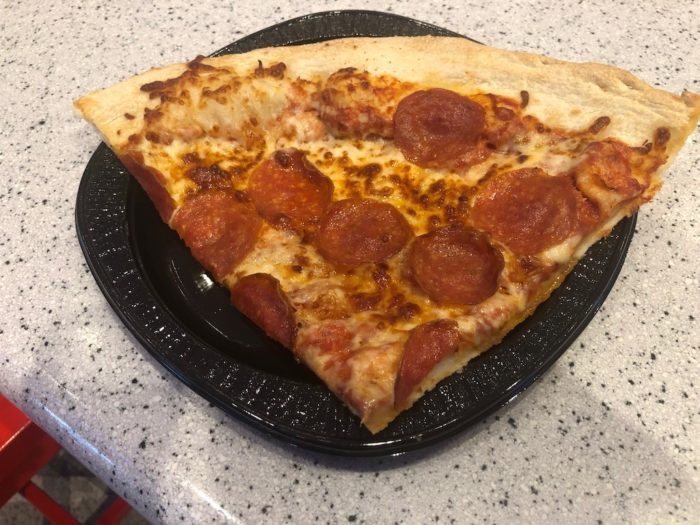 However, the best quick service in-park option for pizza is at USF at Louie's, a place that many Universal Orlando veterans consider to be a great quick service option.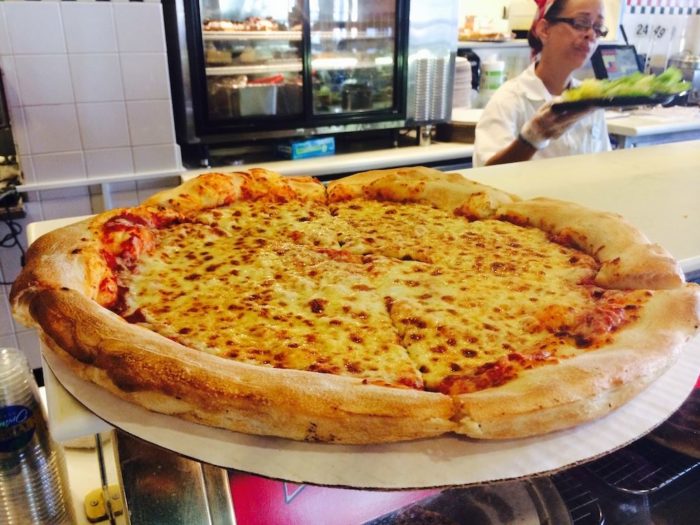 Before we explore pizza of higher quality, Universal Orlando offers several tasty pizza-tasting snacks. If you are a Halloween Horror Nights veteran, then you know about pizza fries so enough said there. The Green Eggs & Ham quick service location serves an improvement (in my opinion) over pizza fries known as pizza tots. Pizza tots are pepperoni, sausage, mozzarella cheese, tomato sauce over tater tots. If that does not fit you palate, then, hopefully, the Lemon Slush stand in Marvel Super Hero Island will be open so you can get a pizza stuffed pretzel. If I were choosing a pizza tasting treat while in park, I would choose these treats over an actual slice of pizza.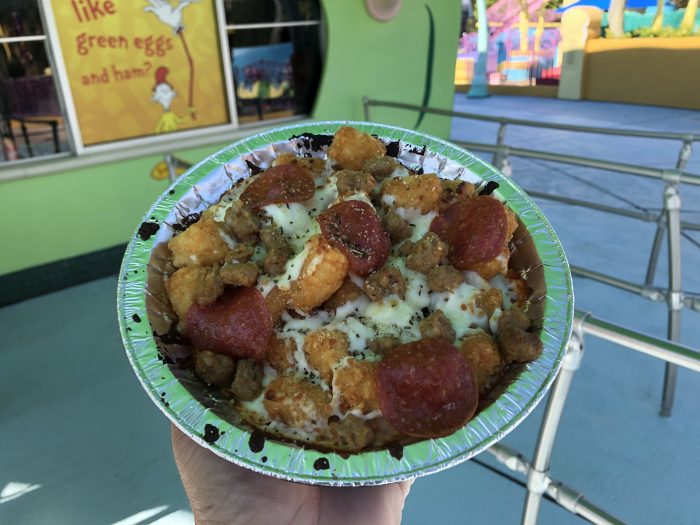 Now if you have your heart set on pizza, there are a few options outside the parks. I would start with the flatbreads at Toothsome Chocolate Factory in CityWalk. These flatbreads range from $11-14 with BBQ chicken, mushroom, short rib, margherita, and pepperoni options. There are other flatbreads sold at Universal Orlando, but this is most consistent in quality. Also, if you do not enjoy your pizza, you could drown your disappointment in one of their signature milkshakes.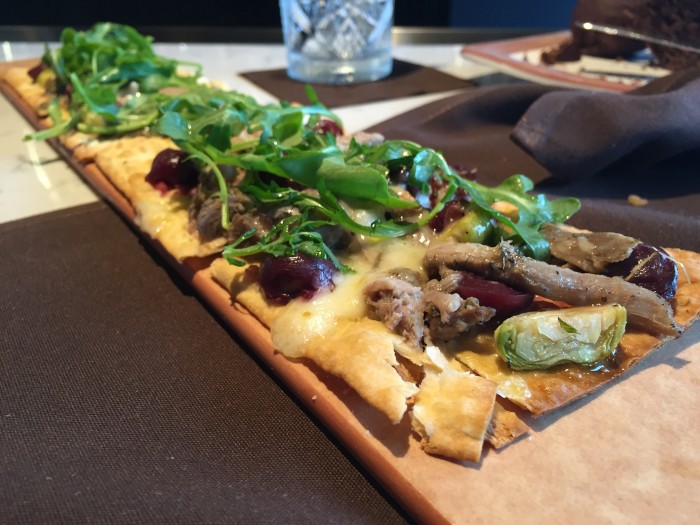 If you are looking for pizza in its more normal circle form cut into triangle slices, then perhaps Red Oven Pizza Bakery is more your speed. Red Oven presents Neapolitan style pizzas with fresh ingredients prepared in a quick-fire oven. These pizzas can serve 2 people. This place also has quality salads if you like vitamins and nutrition. Red Oven can best be compared to pizza places like Blaze, MOD, and Pieology in preparation style. Touringplans.com guest surveys rate this place far better than any pizza options in the parks.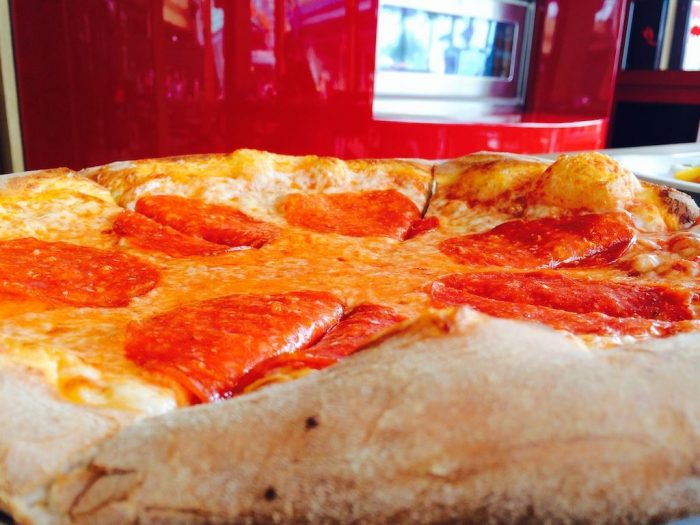 If you are looking for a more upscale table service pizza, then Vivo Italian Kitchen is for you. Vivo is an excellent Italian restaurant with great pasta dishes ranging from linguine with seasonal clams, black squid ink pasta with seafood, and risotto with short ribs. This is arguably the best dining option in CityWalk. For me, one of the beauties of this place is that you can order upscale Italian cuisine without destroying your budget. You can even order pizza so you can take it back to your room for breakfast the next morning as I did on recent trip to Universal Orlando.  The current wood stove pizza options on the menu are Quattro Formaggi which consists of mozzarella, fontina, italico, ricotta, and sage, Margherita style with tomato sauce, basil, extra virgin olive oil, and buffalo mozzarella, and Italian Meat featuring mozzarella, Italian sausage, pepperoni, and San Marzano tomato sauce. These pizzas will cost you around $16 each. The first two are vegetarian. An insider truth is that both Red Oven and Vivo use same pizza ovens but the Vivo versions use slightly higher quality ingredients as far as my Midwest USA palate can tell.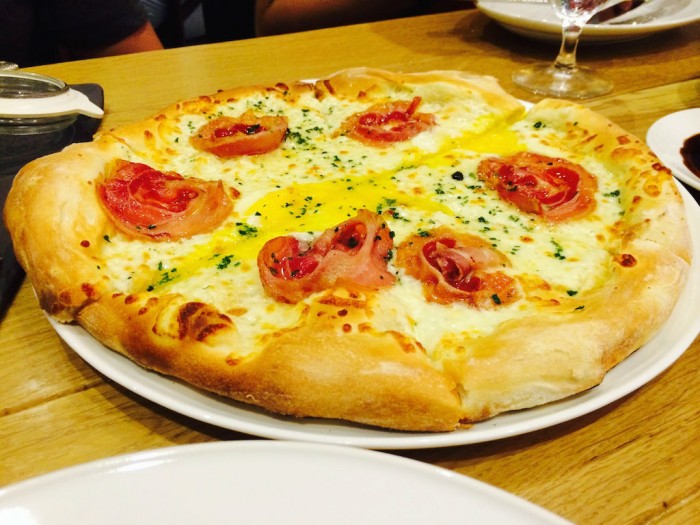 There is one more pizza suggestion at Universal Orlando that cannot be ignored or lose all credibility with the Great and Powerful Oz of the Saturday Six, Derek Burgan. This is perhaps the best suggestion of them all. One thing that Universal Orlando does so well is in room pizza delivery. Now this may sound like a simple thing, but I cannot count the number of below average delivery pizza that I have attempted to eat. I can verify that in-room delivery pizza from even the value resorts is high quality. For example, the Endless Summer resorts and Cabana Bay Beach Resort both offer in-room delivery specials that include soft drinks, sides, and maybe even a dessert for a relatively reasonable fee. If that is not enough, you should enjoy the careful handiwork on the pizza boxes themselves. Some may call them works of art. In fact, the boxes at Surfside Inn and Suites won the coveted Howard R Berman Memorial Award.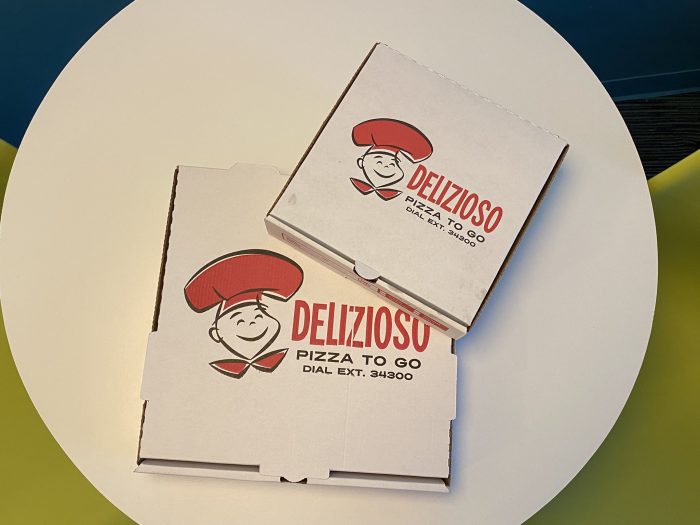 Maybe you have never met a pizza you did not like. Good for you…but at Universal Orlando, these are recommendations to make you pizza experience better than just average.