FAQ: Dining with Babies and Toddlers at Walt Disney World
There are dining options at Walt Disney World ranging from food carts to fine dining. Understanding these options is relatively straightforward for adults and older children, but dining with babies and toddlers adds another level of planning. Here's what you need to know if you're dining with babies or toddlers at Walt Disney World.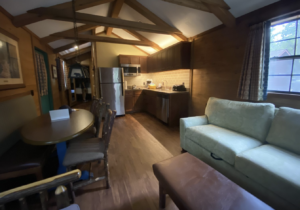 Can I bring my baby into the Disney World restaurants?
Yes, with one exception. Guests must be at least 10 years old to dine at Victoria & Albert's at Disney's Grand Floridian Hotel. V&A's is Disney World's quietest and most expensive dining venue, with meals often taking several hours to complete. Other than that, you're welcome to bring your small child to any WDW restaurant, including other signature (fine dining) locations.
Can I breastfeed my baby at the Disney World restaurants?
In a word, yes. If you want lots of words on this topic, check out our post on frequently asked questions about breastfeeding at Disney World.
Can I bring baby food into the Disney World parks?
Yes. There are security screening stations at the entrances to the Disney World parks, but they're mostly looking for weapons, not food.
There is no limit on the amount of food you're allowed to bring into the parks. There are, however, restrictions on the size of the cooler/container you can bring with you. Coolers and bags can be no larger than 24″ x 15″ x 18″.
Also note that while Disney prohibits guests from bringing glass bottles into the parks, this rule does not apply to glass baby food jars or glass baby bottles.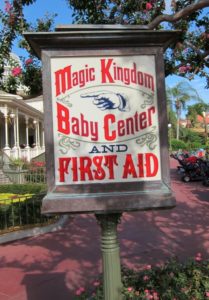 Can I keep baby food refrigerated anywhere at Walt Disney World?
All Disney World hotel rooms include a refrigerator of some sort, so you're fine in your room. Unfortunately, there is no refrigeration for guest use available inside the park. As noted above, you're welcome to bring a cooler with you. You can store this under your stroller or in a locker at the park entrance.
If your cooler warms up during the day, stop by any quick service restaurant and they'll be happy to give you as much ice as you need.
Is there any place to heat my baby's bottle/food at Disney World?
Yes. Each of Disney's four theme parks has a Baby Care Center that is equipped with bottle warmers and a microwave. Use of the Baby Care Centers is free and no reservations or appointments are needed.
Health regulations prohibit the Disney restaurants from heating up food that did not originate in their kitchen. However, you can ask them to bring you something like a cup of hot water or warm milk to help prep your child's food.
Can I buy baby food at Walt Disney World? What about formula?
In addition to providing a place to breastfeed or to warm baby food, the Baby Care Centers also have a small selection commercial baby food and formula for sale. These are the generally the same items that are sold in the WDW resort gift shops.
Please note that the selection available is extremely small. You might find 3-4 flavors of Gerber baby food and one or two brands of formula. They have you covered in an emergency, but you should generally plan to bring your own.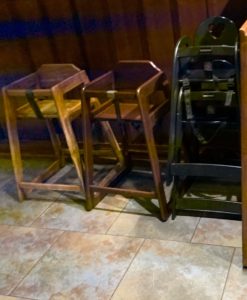 I'm flying to Disney World and won't have a car. How can I get access to a larger selection of prepared baby food choices?
You could ship a box of supplies to yourself at your hotel or you could take a taxi/Uber/Lyft to a local supermarket. There are also a number of grocery delivery companies that service the Disney and Greater Orlando area. Check out this post for a closer look at grocery delivery.
Also keep in mind that they are many regular food items sold at Disney World that work for babies. Look for thinned oatmeal, mashed potatoes, mashed banana, yogurt, and hundreds of other smooth or pureed options.
If I'm making a reservation, do I include my baby in the head count?
Yes! If you're making a reservation at a Disney World table service restaurant, please include your baby in the head count for your reservation.
Even if the baby will be sitting on your lap, they need to keep count of how many humans will be in the restaurant for things like the fires code and COVID-era occupancy restrictions.
Do I have to pay to have my baby eat in the park restaurants?
Often not, but it depends.
For dining locations that have a fixed price, such as family style meals, some character meals, and buffets (when/if) they return, children under the age of three may dine free of charge. Your baby/toddler may also share your food at WDW restaurants at no additional charge.
However, if you're at a standard menu-based restaurant and you order something specifically for your child, then you will be billed. For example, if you're at Chef Art Smith's Homecomin' at Disney Springs and your own plate of food comes with mashed potatoes, you're welcome to have your child eat them. However, if you place a separate order of mashed potatoes for your child, that will show up on your bill.
My toddler is large for his size. Do I have to prove that he's under age three in order for him to dine for free at restaurants that offer this?
Nope. Disney cast members will take your word for it on your child's age.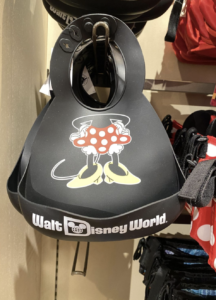 Are there high chairs at the restaurants?
Yes. All table service restaurants and most quick service restaurants have ample high chairs on hand. Some also have booster seats.
Please note that nearly all of the available high chairs are of the standard wooden variety, suitable for babies who can sit up on their own. If you have a little one who is not quite sitting up yet, you should plan to wear them in a front carrier or wrap so that you can use your hands while eating.
Can I bring my baby into a restaurant in our stroller?
Generally not. There are a few quick service venues where all the seating is outdoors (Flame Tree BBQ at Animal Kingdom, for example). At these places, you can often leave your child in the stroller for an entire meal. If there is indoor seating at a restaurant, you will typically see a stroller parking area where you will be required to leave your wheels. When my own kiddos were small, I was allowed to wheel them into a restaurant twice, both times the restaurants were virtually empty and my child was asleep when we arrived. The cast members at the check-in podium took pity on us and didn't make us wake the baby. This situation is unusual and is completely up to the discretion of the folks on staff. Do not plan on using your stroller in a restaurant.
If you have a stroller system with a baby seat that clips out, you can bring that with you into most restaurants.
The trip will be just me and my baby. I'm worried I won't have enough hands to manage both the baby and my food at quick service venues. Any hints on how to deal with this?
Cast members are very willing to help you carry a tray. Just ask at the register and they'll find someone to help you.
Is there childcare if I don't want to bring my baby to a sit-down dinner?
Yes. Kids Nite Out is a sitting service that covers the Orlando theme park area. You can contract them to find a sitter to watch your kids while you go out for a nice meal.
My toddler is very picky. I'm not sure he'll want to eat the type of food served at our favorite Disney World restaurant. Can we bring him different food to eat?
If this were anywhere else but Disney, I might counsel you otherwise, but there are so many kids with so many issues visiting Walt Disney World every day, that they're used to people bringing in food for kids. I've done it myself a few times. On one particularly memorable occasion, my daughter was in a phase where she was NOT going to eat anything on the menu at Teppan Edo. Just NOT. The rest of the family was insistent on eating there. We ended up bringing her different food to eat while we enjoyed the yummy hibachi meal.
That being said, you should be aware that your child is taking up space at a table that could be used by a paying customer. Please tip your server as if your child had eaten food from the menu. That goes double if they've made any sort of mess that needs to be cleaned up.
Are there bibs or placemats available for babies in the Disney restaurants?
You will find non-disposable bibs for sale in many of the larger Disney World shops. I have never seen disposable bibs offered in any WDW restaurant. If this is something you want, plan to bring your own.
Similarly, a few table service restaurants might have a paper placement, but I've never seen one with plastic disposable placements. Plan to bring your own.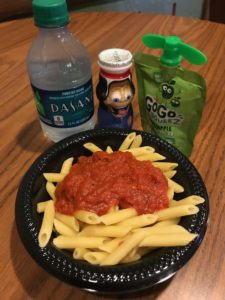 Are there child-size utensils available for kids to use in the Disney restaurants?
Again, they sell these in many of the WDW shops, but they are not normally available in the restaurants.
If I need to do a little baby meal prep in my hotel room, what supplies are available?
All WDW hotel rooms are equipped with a refrigerator and you may also borrow an electric kettle or bottle warmer from many hotels. Additionally, every Disney World hotel has a food court or quick service restaurant that includes a microwave oven for guest use. If you want more than that, you should plan to stay in a unit with a kitchen or kitchenette, or at an off-site property with cooking facilities.
My baby's sleep schedule is a little erratic. What happens if this impacts our ability to make it to one of our dining reservations?
When you're traveling with a little one, any number of things can impact your ability to make it to a dining reservation on time: naps, meltdowns, diaper blowouts, etc.
For most table service restaurants at WDW, there is a $10 per person penalty if no one shows up for a scheduled reservation. However, as long as SOMEONE shows up, you'll be fine. So if the baby is having a hard time, send part of your party to the restaurant and you won't incur the penalty fee.
My toddler drinks a lot of whole milk. Is this available?
Whole milk is available at almost every restaurant on Disney property. Additionally, you can find this at your hotel gift shop, along with many other varieties of milk products.
My toddler has food allergies. Can we eat in the Disney World restaurants?
Many of the most common food allergies (eggs, wheat, nuts) are easily handled at almost any Disney World restaurant. If your child has uncommon allergies or multiple allergies, contact Disney's Special Diets department. They are incredibly adept at finding ways to help families in your situation.
What other questions do you have about dining with littles at Disney?