SATURDAY SIX Presents: The 22nd Annual BURGYS – Honoring Theme Park Excellence in 2019
This week's SATURDAY SIX is proud to present the 22nd Annual BURGY Awards! Nominations were announced this week for the Academy Awards, and that means it's time for theme park's most prestigious ceremony: The Burgys. Let's face it, most of us "hi-res thinkers" aren't going to spend 3 hours watching The Irishman. Nay Nay. We're going to use that time to rope drop DHS and get a Rise of the Resistance Boarding Pass! So let's check out the awards for theme park excellence in 2019, starting with…
# 6 – Best New Character (Female) – Vi Moradi (Star Wars: Galaxy's Edge)
When Star Wars: Galaxy's Edge made its highly anticipated debut this year, many people were focused on things like Smuggler's Run, Savi's Workshop, and Oga's Cantina. Going under the radar was the debut of a new walk around character: Vi Moradi. An original character not seen in the movies – although Vi is the main character of the novel Galaxy's Edge: Black Spire – Moradi interacts with guests on Batuu in ways that generally go beyond the normal interaction with Disney characters. Vi can often be seen having an adventure with kids, showing them the ways of The Resistance. With a background as a spy, Vi shows guests how to avoid the First Order in a way that can truly make a vacation memorable for years to come.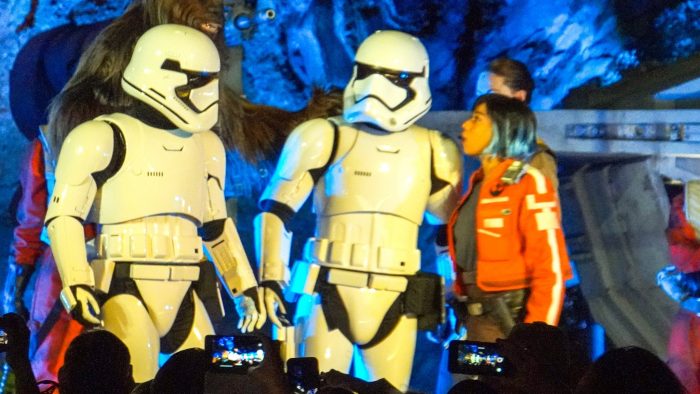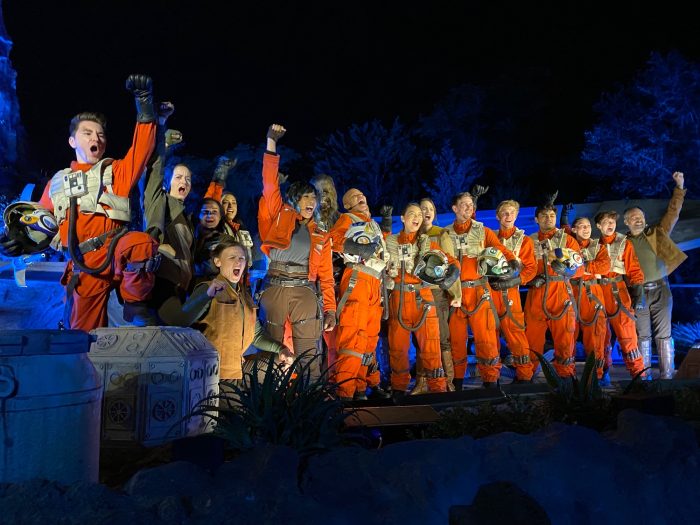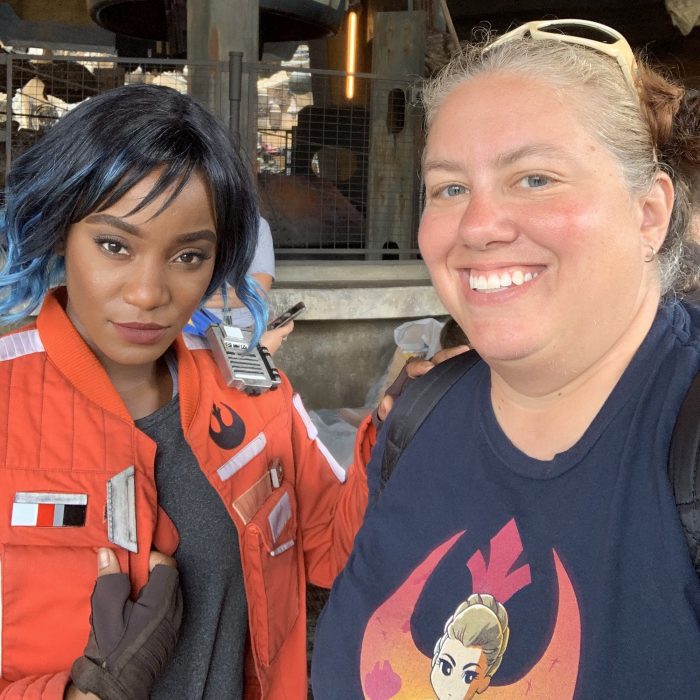 Runner Up – She-Ra: Princess of Power (Islands of Adventure)
The Universal Orlando Resort has done a lot in the last decade to close the quality gap between itself and Walt Disney World. You'll often hear people talk about the Wizarding World, the new value hotels such as Aventura and Surfside Inn, Volcano Bay, and a complete revamp of CityWalk, but another area which has taken a gigantic leap is in meet and greets. Transformers, Minions, and a velociraptor are just some of the characters you can now meet at the parks (although in our book Spider-Man is still pound for pound one of the best overall meet and greet experiences in any theme park).
This past summer, Universal dropped a new meet and greet into the parks out of nowhere. With so many "insiders" and people covering the parks, it's almost impossible to surprise guests in today's day and age, but when She-Ra made her debut in Islands of Adventure, no one saw it coming. With a new animated series on Netflix, She-Ra has a new generation of fans and its always great to get more female representation in the parks. Disney has had their mega popular Princess meet and greets for years, while Universal tended to focus more on male characters (along with Betty Boop, Marilyn Monroe, etc.). However, Universal has been offering more female characters with a lot of appeal to everyone including: She-Ra, Gru's daughters from Despicable Me, Marge & Lisa Simpson, and Hello Kitty among others. The future of theme park meet and greets is definitely looking better than ever.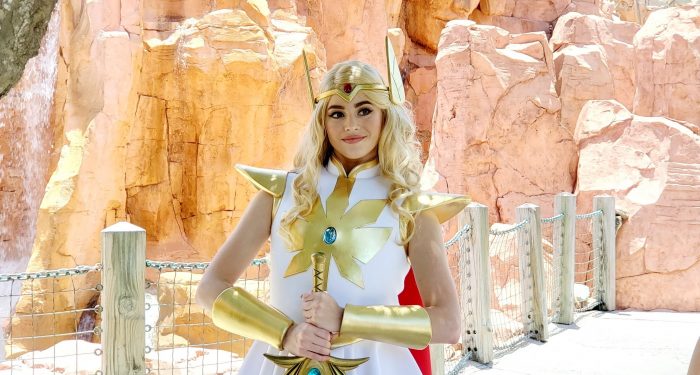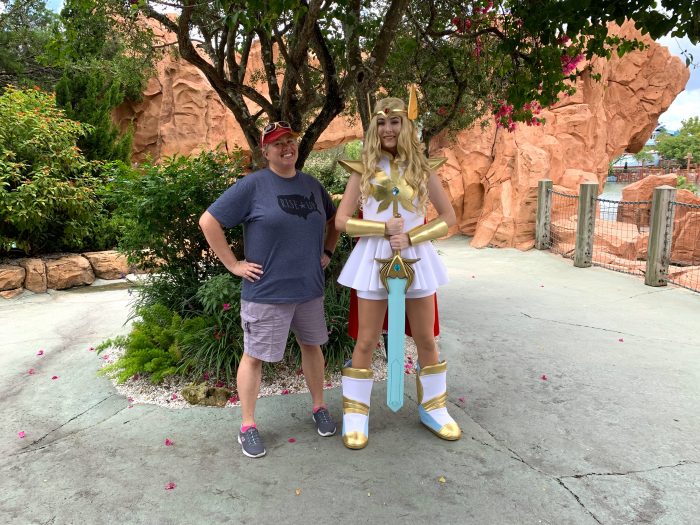 # 5 – Best New Character (Male) – Naked Glitter Farting Troll (Universal Studios Florida)
When Universal bought DreamWorks Animation, it may not have made as big of a splash as Disney buying Marvel or Star Wars, but the DreamWorks deal has already made an impact in the theme parks. She-Ra: Princess of Power is made by DreamWorks Animation, and so is the Netflix show Trolls. The TV show continues from the shockingly fun Trolls movie in 2016 that had some catchy songs and was better than it had any right to be. One of the Trolls in the movie was Guy Diamond, a character who walked around naked and… farted glitter. Like you could make that up. Now, Universal already had Poppy and Branch, the two main characters of Trolls, as meet and greet characters in the park for a while. This past year they brought in Guy Diamond. Just having the goofy, fun loving character of Guy Diamond would have been enough…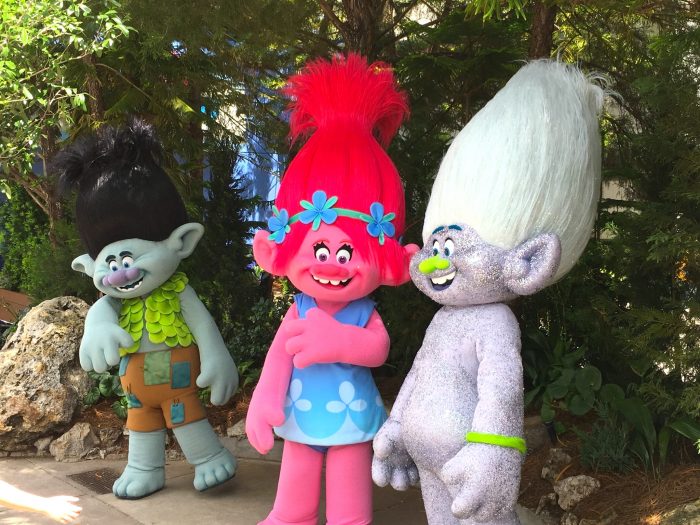 But NAY NAY, this meet and greet character has a special ability as he actually…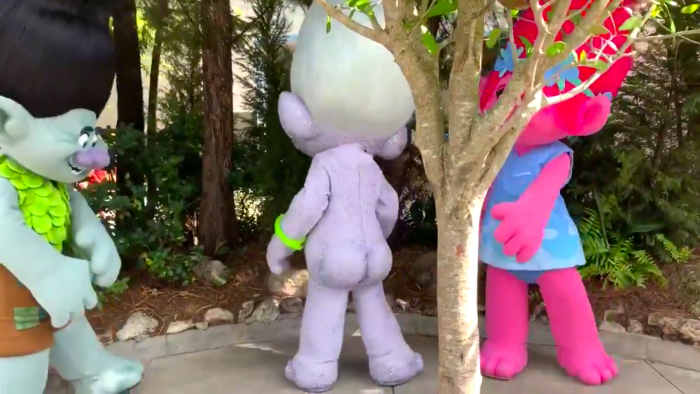 FARTS GLITTER.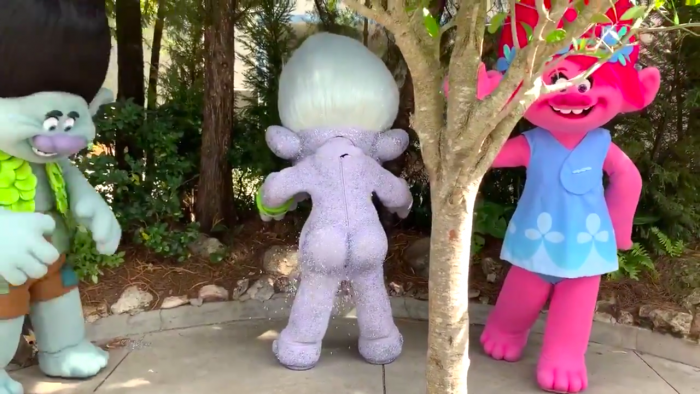 Runner Up – (tie) Donald and Mickey in their new outfits at Toppolino Terrace/Death Eaters (Universal Studio Florida)
We love character dining at Disney as much as the next person, but usually are wanting for some new characters to be added to the mix. The Fab Five are great, but we've all met them a million times. When Disney's Riveria Resort opened in December, the beds falling off the walls got everyone's attention, but the real star of the resort was the character dining experience at Toppolino's Terrace. Having the characters dress up as "artists" was a wonderful addition. We loved them all, but "sculptor" Donald and "painter" Mickey were just terrific. Forget everything we said about needing new characters in the mix if we get quality outfits like this.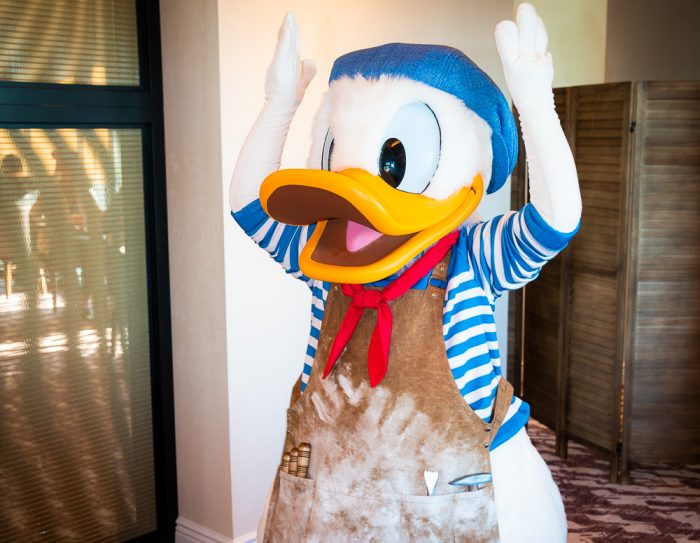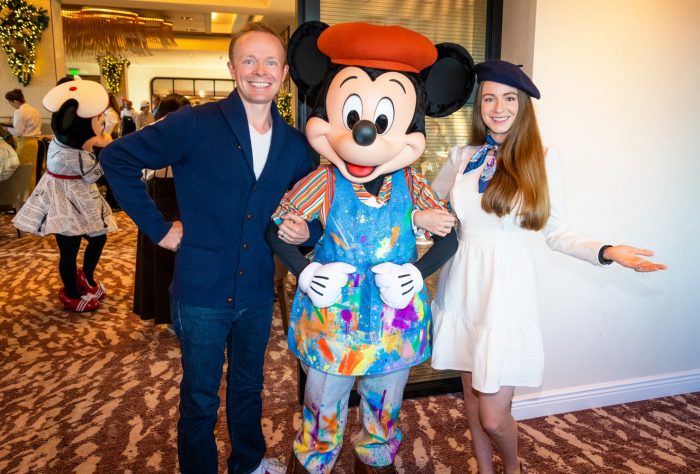 Going in the complete opposite direction, Universal finally brought to USF what many of us have been wanting for years: Death Eaters. Before each showing of the Dark Arts at Hogwarts Castle, Death Eaters would terrorize Hogsmeade Village with a mini-show and interacting with Muggles. While it's rare seeing "the baddies" out and about at Disney or Universal, when they do it can be truly amazing. Whether Gaston or Lady Tremaine and Cinderella's stepsisters at Disney, or Green Goblin and Dr. Doom at Marvel Superhero Island, the villains can add a whole new level of guest interaction. (And yes, we know that Death Eaters can be women – like Stormtroopers in Galaxy's Edge and Green Army Women in Toy Story Land -, and hopefully we'll see them in the Universal parks in the near future.)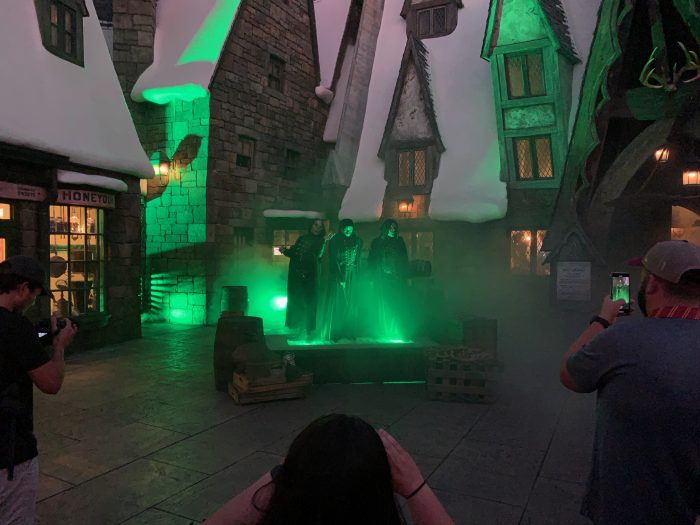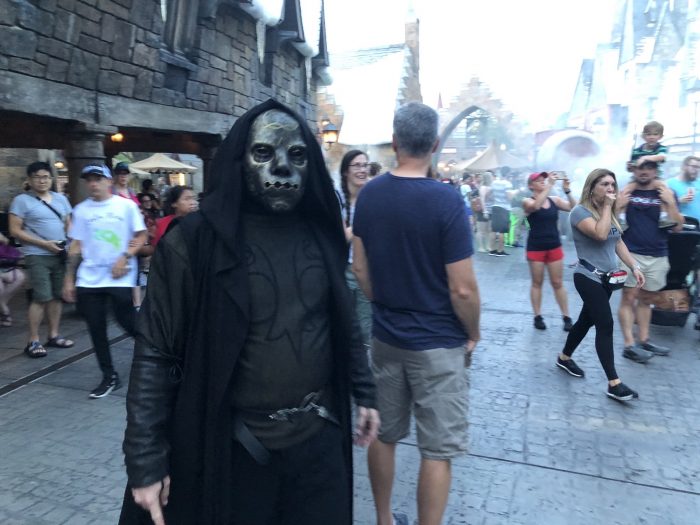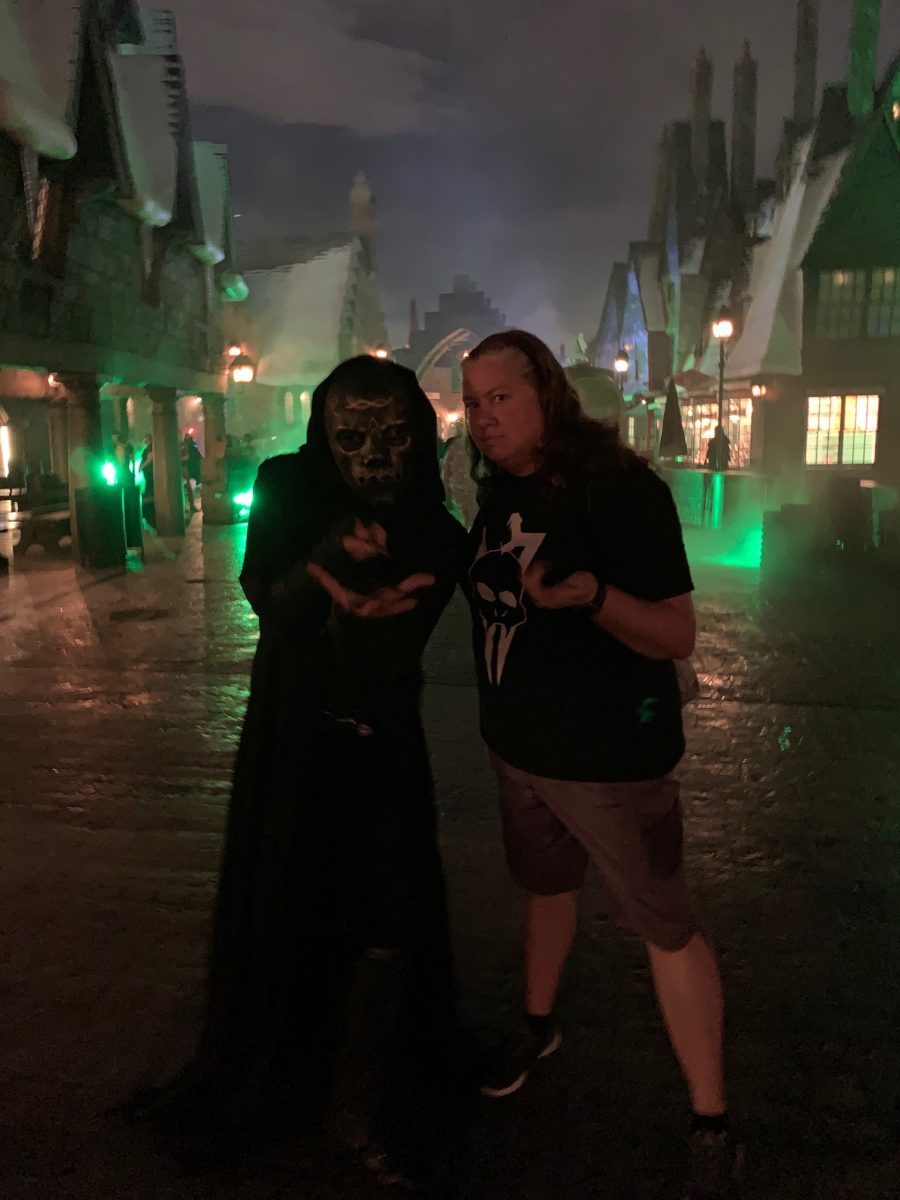 # 4 – Best New Bar or Lounge – Three Bridges Bar & Grill
Disney's Coronado Springs made a case for being the best Moderate Resort at Disney last year by adding Gran Destino Tower and Three Bridges Bar & Grill. Built on Lago Dorado itself, and connected to every part of the resort, Three Bridges has a menu that can hold up to any WDW restaurant!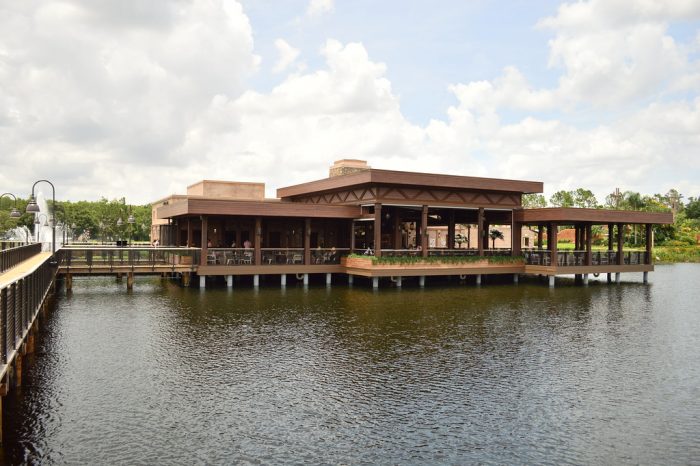 The theming of Three Bridges includes pages from Uncle Scrooge comic books!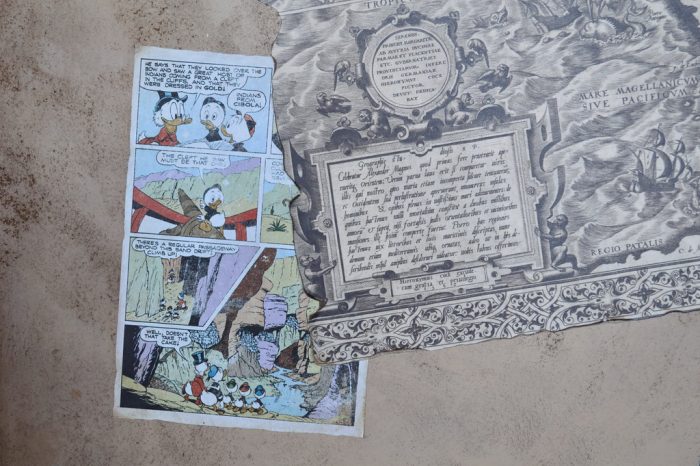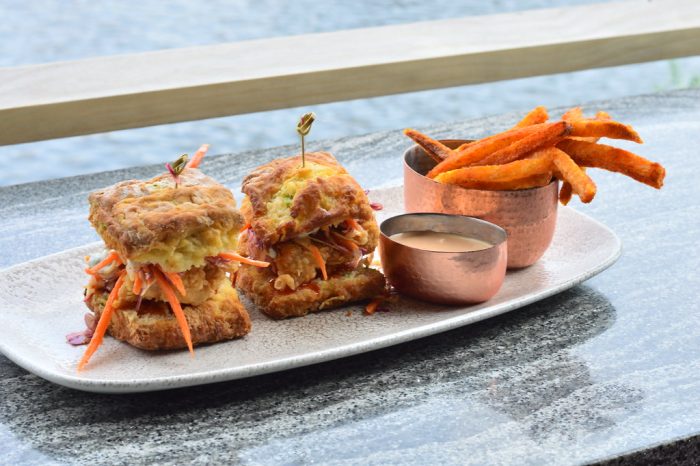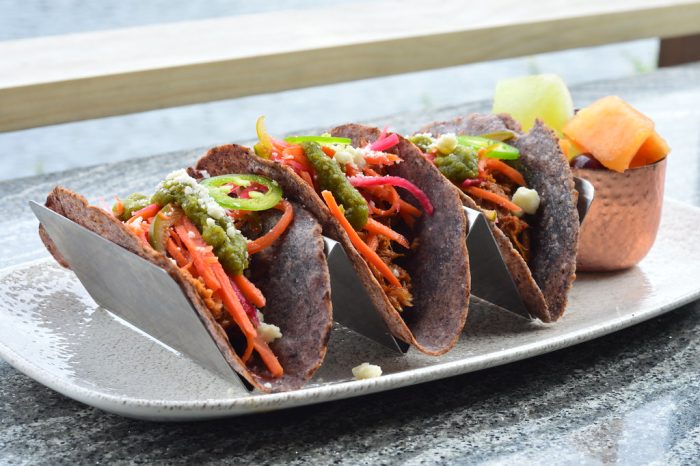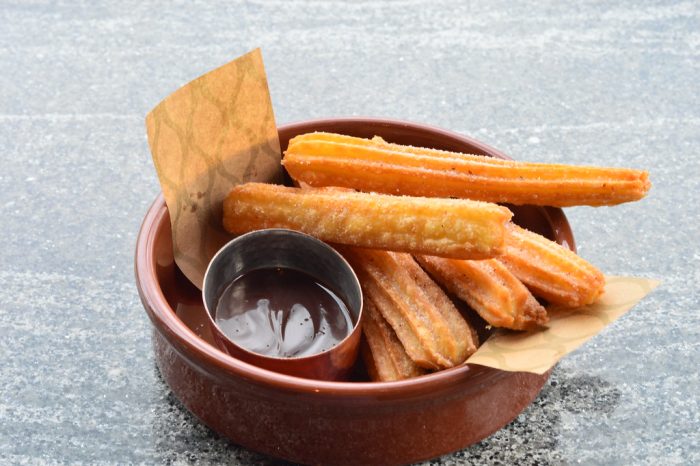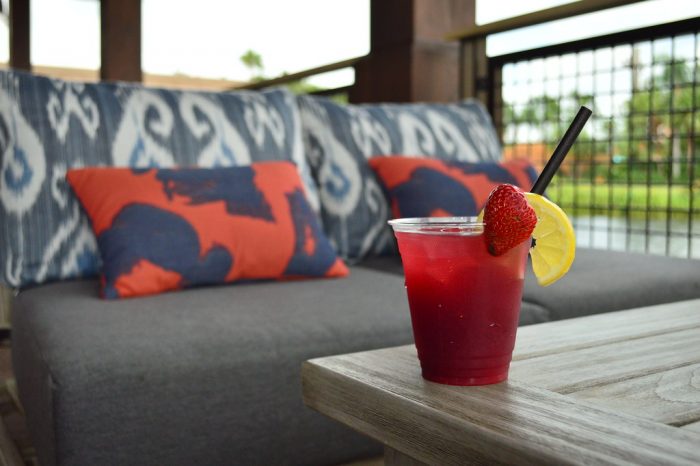 Runner Up – Dahlia Lounge
Speaking of Gran Destino, one of the hotel's great bars is located on the 16th floor, offering guests an almost unmatched view of Walt Disney World. When Universal opened Aventura Hotel in 2018, it gave us the incredible rooftop lounge, Bar 17. Destino's Dahlia Lounge delivers a similar birds-eye view of WDW that you've never seen before (unless you follow blogger-in-the-sky @bioreconstruct and his amazing theme park aerial photos).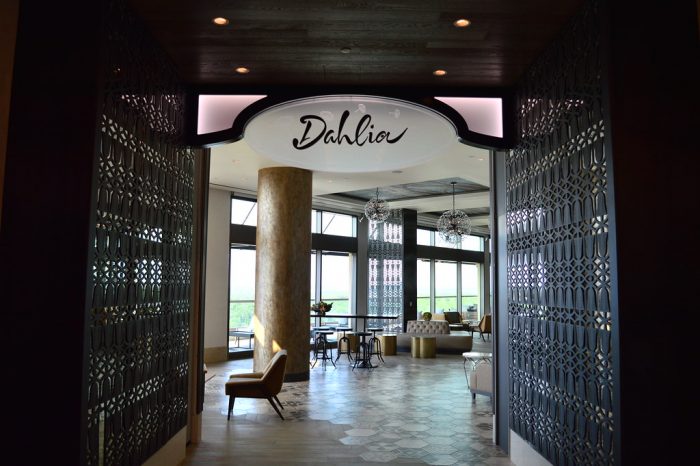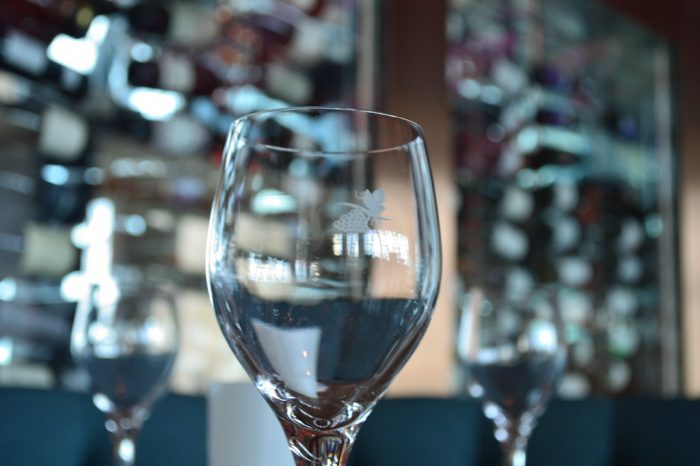 While there are floor to ceiling windows throughout the lounge, guests also are able to sit outside and get a unique view of Walt Disney World.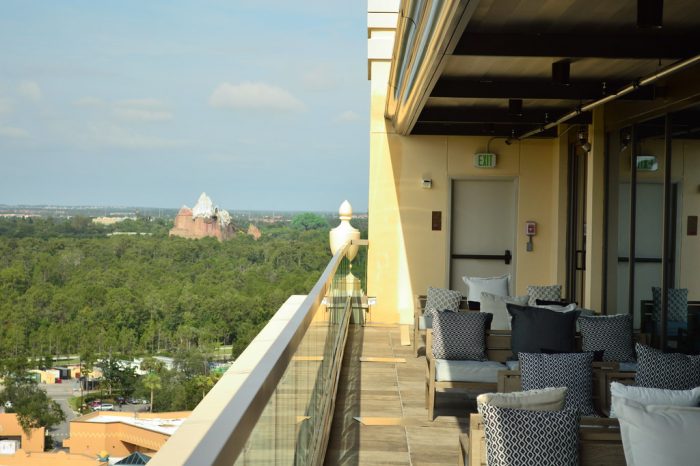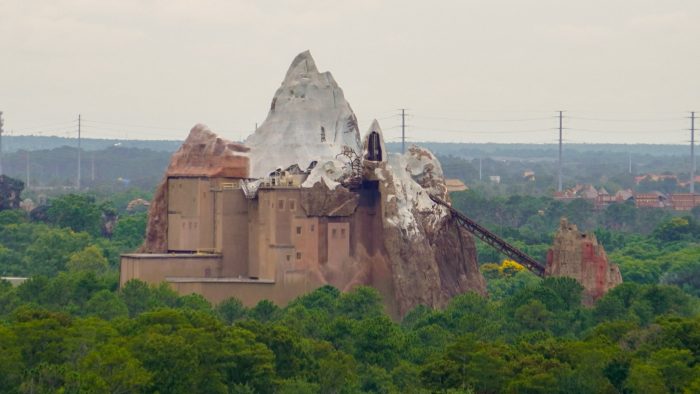 The view from Dahlia bar gives guests an overview of almost the entire Disney Skyliner transportation system.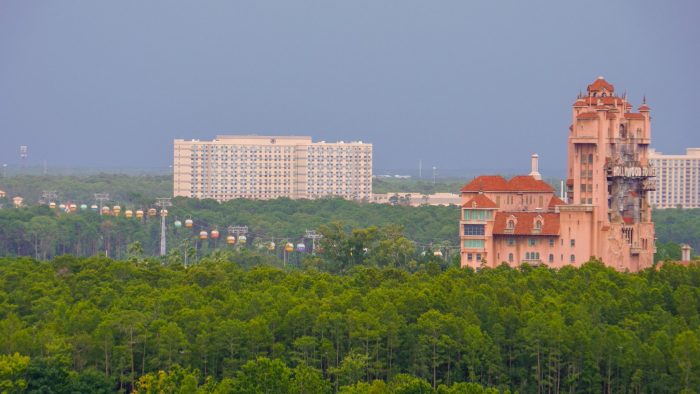 Dahlia also offers a back side look at Star Wars: Galaxy's Edge where you can truly understand how large the area is in a perspective you just can't get from the ground. It also shows you that Disney Imagineering only fully themes areas that guests are intended to see, much like how an actual movie set in Hollywood would look.

At night, guests can get a look at the nighttime spectacular playing at EPCOT.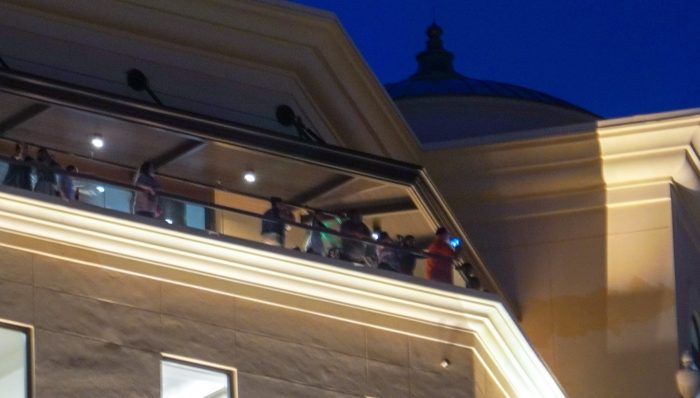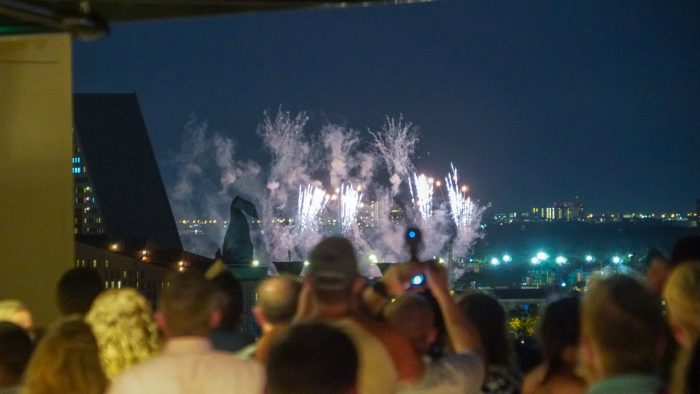 # 3 – The Howard R Berman Memorial Award for Best New Themed Pizza Box – Universal's Surfside Inn & Suites
We all share a common love of theme parks, but we also have our own reasons for why we are so emotionally attached to these immersive worlds. For some it's the E-Ticket attractions like Flight of Passage or Forbidden Journey. For others it's stepping into themed worlds like Pandora: The World of Avatar or Diagon Alley. Many can't get enough of the onsite resorts such as Wilderness Lodge or Portofino Bay Hotel. Elaborate meet and greets, streetmosphere characters like the Dapper Dans, background music, and being able to share the experience with anyone from any age are just some of the reasons guests return year after year.
For me personally, it's the "little things." I love the references to previous attractions that Disney Imagineers put into rides. I love that Universal has a whole bunch of references to Disney throughout its parks. I love resort-specific merchandise.
And I love themed pizza boxes.
Okay, I hear you, "there's no such thing as themed pizza boxes!" The branded pizza boxes found throughout the Universal Orlando Resort always brings a smile to my face. One of the reasons I enjoy them so much, is because it's something Universal doesn't have to do. The lack of any branded pizza boxes at Disney clearly hasn't hurt sales. But at Universal  you're going to get a Red Oven Pizza Bakery branded box at Red Oven. A completely different box at Cabana Bay Beach Resort or Aventura Hotel. This year Universal opened its newest hotel – and first true value resort – with Surfside Inn & Suites, and along with it came a new pizza box.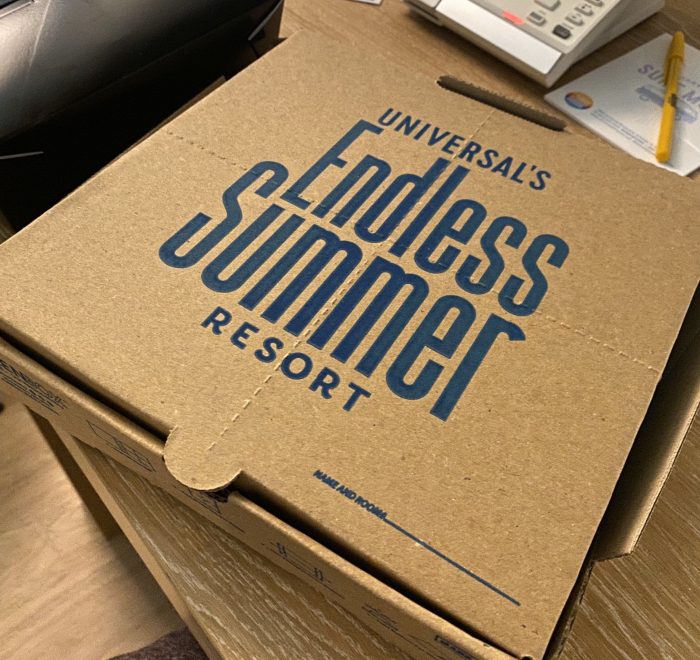 Runner Up – Stranger Things Pizza Box (Cabana Bay Beach Resort)
Sometimes I need to pinch myself to make sure Cabana Bay is real. A value friendly hotel with a lazy river and a pool slide. Pool bars with great food. A bowling alley. A huge gym. Analog clocks in the room. Themed bathroom products. Half a dozen resort-specific refillable mugs. Coke Freestyle machines. They also have a Cabana Bay branded pizza box in their food court. Last year they took it up a notch. The hotel had a Stranger Things photo op experience in which guests could take pictures in front of two set pieces, including the Byers' family living room with the Christmas lights on the wall.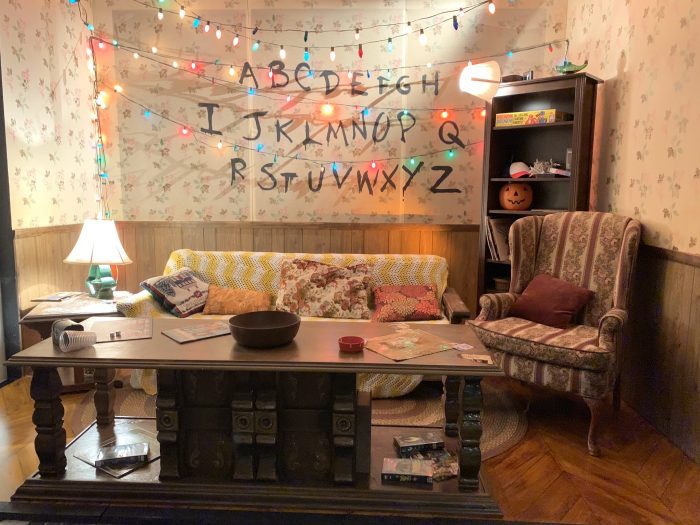 The food court ALSO had a tie-in to Stranger Things with a new branded pizza box!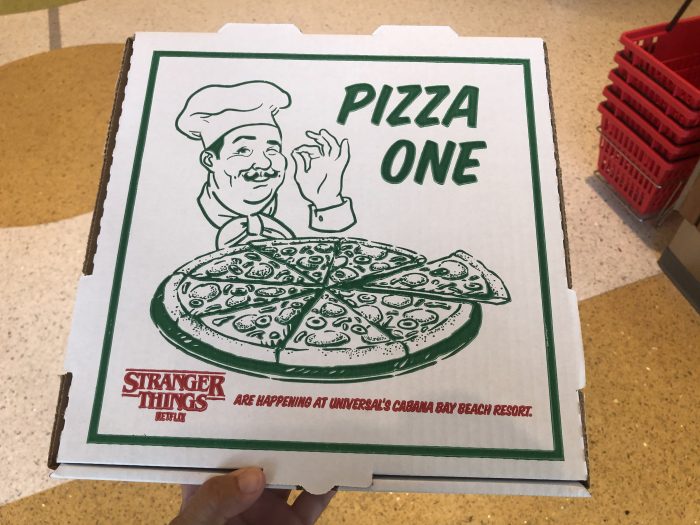 # 2 – Best Queue Feature in STAR WARS: GALAXY'S EDGE – Waterfall in the Rise of the Resistance
Most people reading this are probably Disney+ subscribers, and if you're like me, one of your favorite programs on the platform is The Imagineering Story. The amount of Disney managment and Imagineers talking candidly about the theme parks was a breath of fresh air and an amazing look at what goes into the parks we treasure. In the first episode, Imagineer Tom Morris described the "kinetics" of Disneyland when it originally opened. He described as a kid being in wonder while he looked around and saw so much energy going on around him. When Star Wars: Galaxy's Edge opened in 2019, one of the knocks against it was the lack of kinetics. For many, the land felt "flat" compared to Pandora: The World of Avatar, where there are even fake waterfalls in the "floating mountains."
That issue was fixed later in the summer with the addition of a water element in the queue of Rise of the Resistance.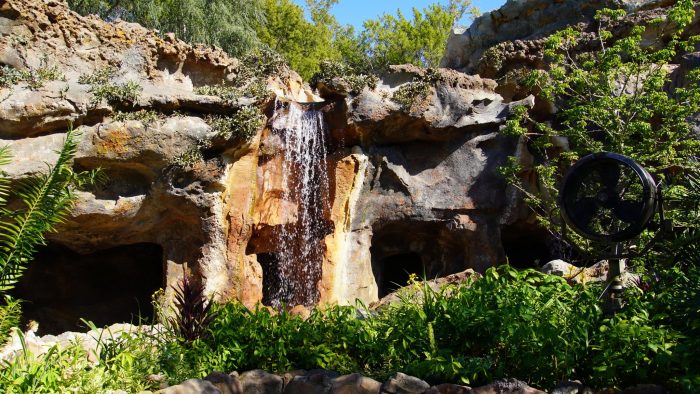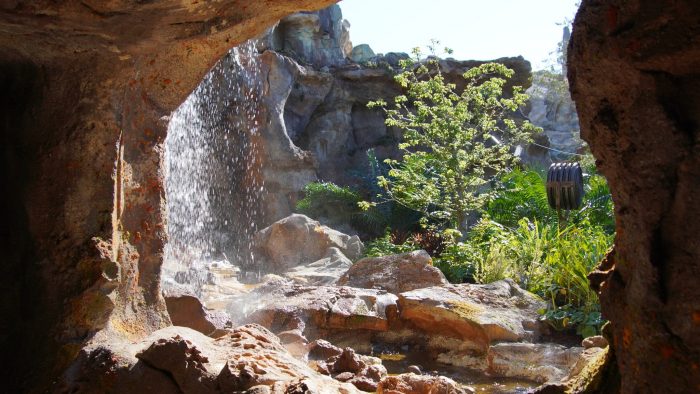 Runner Up – Bags of Popcorn in Millennium Falcon: Smugglers Run
Years ago, when the movie Wayne's World came out, there was an incredible scene poking fun of blatant product placement in movies. The theme park world – especially Disney – has had corporate sponsorships since day one. Most of the time, the synergy is pretty seamless and doesn't take you out of the story. Like a casino, we also know Disney is in business to make money. It's an unspoken agreement  between Disney and us guests that we will gladly continue to pay $5 for a 20 oz bottle of Coke and show a line of credit for a popcorn bucket, as long as The Mouse doesn't take us out of the "story" with product placement.
A whole new world began last year when bags of popcorn from Ka-Saka's Kettle were added to the queue of Smugglers Run. If you've been to Galaxy's Edge, you'll know Ka-Saka's Kettle because it's probably the only place in the entire land that didn't have a line.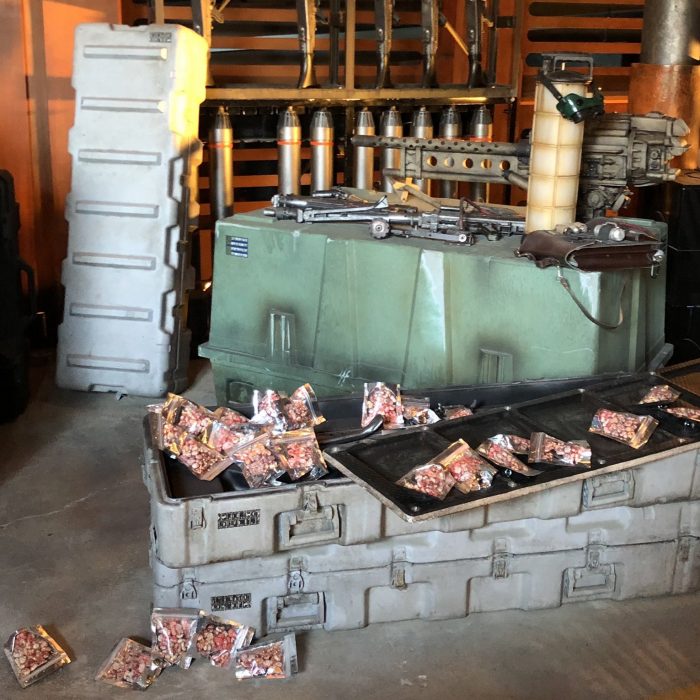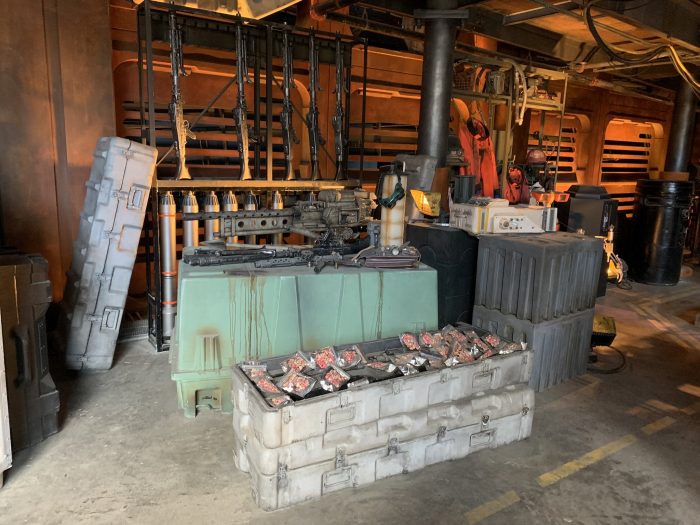 # 1 – Most Bonkers Food Item – Voodoo Doughnut Burger
The game has been changed.
Extreme Eats at the theme parks are what you would call my raison d'être. Oh, there's a hot dog served inside a baked potato at the Grand Floridian? I'm there. A Pop-Tart Sandwich at Pop Century that uses egg shaped like a hockey puck? On it. Animal Kingdom Poop Snacks? Feet don't fail me now!
So when I saw that Universal was selling a Doughnut Burger in CityWalk, my eyes bulged out of my head like Jim Carrey in The Mask.
Then came the kicker.
The doughnuts that were being used for the "buns" weren't just regular doughnuts, they were my beloved VOODOO DOUGHNUTS. I wasn't there when Thomas Edison invented the light bulb, but after seeing the Voodoo Doughnut Burger I know how he felt when that first lightbulb lit up!
Now, it is strange enough that the burgers are not made to order, and are actually pre-made. You would think that would make them taste horrible, but they are actually really good! The glazed doughnut gave almost a maple syrup like flavor to the overall burger. For those wondering, I'm not 100% sure these are Keto-approved, but calories don't count on vacation anyway, right?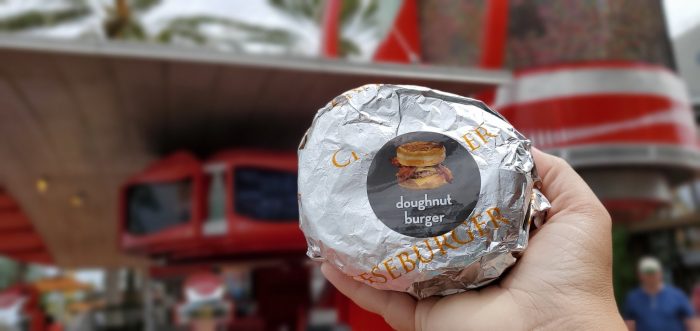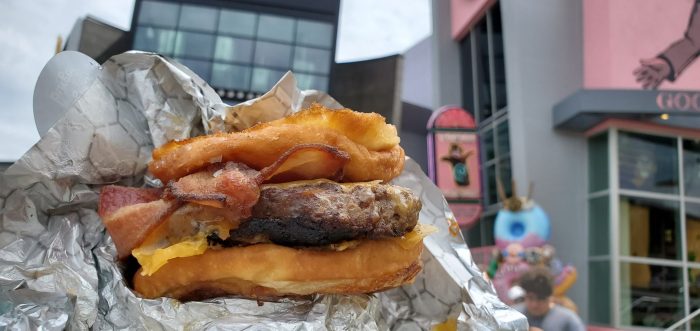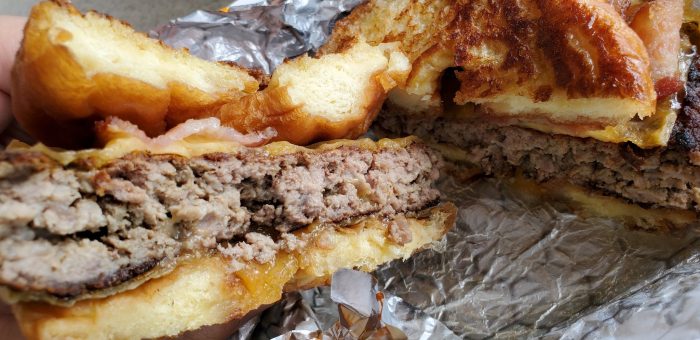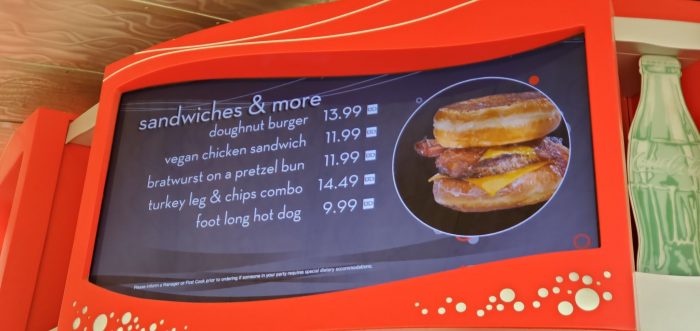 Runner Up – Grub Burger at D-Luxe
Presented without commentary.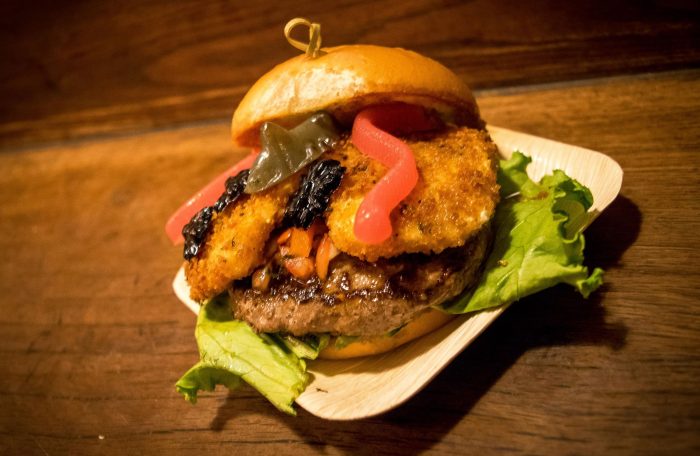 So there you have it: The 22nd Annual BURGYS honoring excellence in theme parks for 2019! See you next weekend for the latest installment of the SATURDAY SIX, where we'll look at something fun from the world of Disney and Universal. If you enjoyed yourself, be sure to check out The Magic, The Memories, and Merch! articles covering the latest from the Disney Outlet Stores. You can also follow Your Humble Author on Twitter (@derekburgan).
If you enjoyed this article, you will surely like the following: 
6 Reasons You Need to Check Out Universal's VOLCANO BAY
6 Pieces of Disney Merchandise We REALLY Want to See!
SATURDAY SIX SPECIAL INVESTIGATION: An in-depth look at theme park photography
Special Thanks to The Elite Brandon Glover, the bio-est of all reconstructs @bioreconstruct, Captain Cruiseline Scott Sanders of the world famous Disney Cruise Line Blog, my personal protege Hunter "Elvey" Underwood, the SAT SIX Fun Squad of Parkscope Joe and Nick, hot shot Michael Carelli, and Hermione Granger's tutor Megan Stump for their invaluable assistance with this article. The SAT SIX is inspired each week by goofballs Aengus Mackenzie and LitemAndHyde and you Potterheads will  enjoy Meg's other blog work over at the Central Florida Slug Club.
EXTRA SPECIAL THANKS to artist Brian Cooper for our spotlight drawing. Brian's artistic work is second to none in the theme park Universe and he never bats an eye at whatever next level bonkers idea we throw at him. We don't ask much here at the SATURDAY SIX, but we would consider it a personal favor if you took the time to follow Brian on Instagram. He does a lot more than just theme park related drawings, so be sure to check out his work related to pro sports, movies, and just about everything else under the Pop Culture umbrella.