Bluetooth Disclaimer for Disneyland App
I'll be the first to admit, I'm one of the people who rarely updates apps until it becomes necessary. With my trip next week to California, I figured it probably was time to update the Disneyland app. When I launched it, I saw this interesting and very non-standard opt-in box.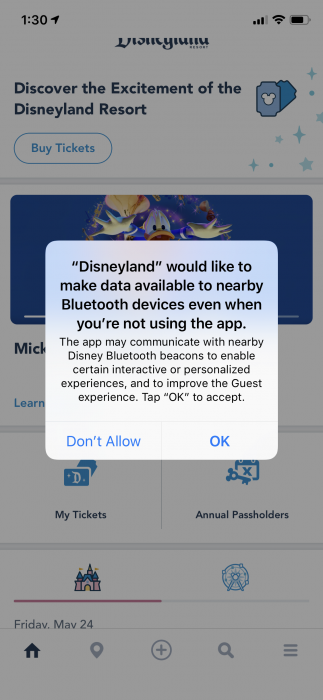 Because Disneyland does not have MagicBand capability to trigger surprise moments (like seeing it's a small world wish you Goodbye at the end), it is not surprising that the use of the Disneyland app will take its place. If you keep Bluetooth turned off on your cell phone, or if you opt out on this screen, you may find limitations for some of the interactive features in Galaxy's Edge. Of course Disney doesn't want to spoil the magic by giving away all their secrets, but this unusual opt-in box gives some interesting food for thought about how the magic happens in the theme parks.