Can WDW Quick Service Dining Be Romantic?
Just when I thought I had pondered every Disney question under the sun, I was asked something I had never heard before, "Can you suggest a budget-friendly, romantic meal at Disney World for a young couple (not table service)?" Essentially this guest was asking, "What's the most romantic quick service restaurant?"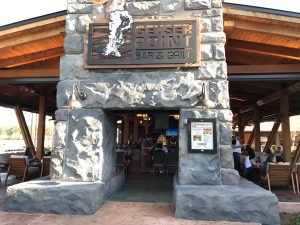 There are plenty of articles about romantic Disney table service restaurant (Victoria & Albert's, and many others). Could there be such a thing as a romantic quick service?
First, let's consider what makes a restaurant romantic. Some factors that might be conducive to a romantic atmosphere include:
Lighting: Harsh light looks good on no one. Romance is about soft shadows, so we're looking for something with dim lighting, or perhaps candles.
Ambient noise level: When you're whispering sweet nothings, you want to be able to hear them. So, the overall decibel level needs to be low to moderate.
Music: Music in the background could be fine, but you probably don't want anything too frenetic or powerful.
Personal space: With romance, you want to have at least the illusion personal space. No one needs to overhear your pet names for each other.
Sight lines: You don't want to be looking at anything that takes you out of the moment. Lovely outdoor scenery is perfect. A view of the bathroom door is not. Most things in between are neutral.
Food: There are romance-friendly foods from many cuisines, but for an important romantic meal, you'll want to avoid menus that are heavy on the garlic or other breath-killers.
Alcohol: Of course, alcohol is never mandatory, but sometimes a glass of wine or a perfectly blended cocktail can warm up the mood.
Are there any Walt Disney World Quick Service restaurants that meet at least some of those criteria?
According to the Disney website, there are 196 quick service venues at WDW. Many of them are food trucks, stalls, or windows where there is no place to sit. Since romance involves lingering, let's eliminate those right off the bat. Let's remove the quick service places at the ESPN Sports Complex and at the Water Parks due to too much background screaming, as well as the food courts at the value resorts because you're likely to be swarmed by a cheer team at any moment there. That still leaves well over 100 options for quick service.
Being more surgical, let's look at some options park by park.
In the Magic Kingdom, contenders are:
Be Our Guest, lunch: plus points for dim lighting, pleasant decor, French-ish menu, and availability of wine; minus points for noise level of excited children. Also the most romantic-sounding dish, Coq au Vin, will cost a not-so-budget-friendly $18.99 each. Ouch.
Columbia Harbor House: plus points for the isolated and quiet second floor dining space, and the grilled salmon and lobster roll are relatively refined foods for a theme park; minus points for the lack of adult libations, and while the upstairs is dark and quiet, it's not particularly pretty.
Casey's Corner: This is clearly a dark horse candidate. It's nearly impossible to look dreamy eating a hot dog, but if you take your food to the nearby lawn, you can have a sort of picnic with a view of the castle. Sigh.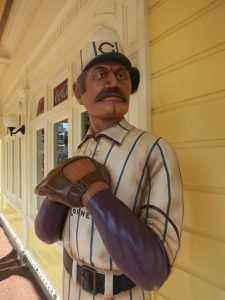 At Disney's Hollywood Studios, contenders are:
Docking Bay 7 in the soon-to-be-opened Galaxy's Edge: I haven't see the seating area yet, and it's sure to be a zoo for many months, but having the ability to say, "I love you," "I know," to each other in Star Wars Land might just be the most romantic thing I can think of.
Other than that the pickings are slim. No one is finding romance at the ABC Commissary.
At Disney's Animal Kingdom, contenders are:
Satu'li Canteen: plus points because the food is good and there are beer and wine options, and the lighting is on the darker side. If you can manage to grab and outside table near dusk when it's not too hot or crowded, the view of Pandora is amazing. On the minus side, it has literally never been not too hot or crowded in Pandora.
Yak & Yeti Local Food Cafes: plus points because there are outdoor tables that are often sparsely populated, the sangria is OK, and the mango pie is nice, shareable dessert. On the minus side, the food is only meh, and is it possible for a place with "Yeti" in the name to be romantic?
Harambe Market and Flame Tree BBQ are both so-so choices. On the right day you might be able to find a quiet table near the water, but sausage and pulled pork are not typically thought of as romance foods.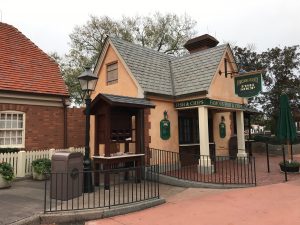 Epcot's World Showcase is practically the epicenter of theme park quick serve romance. There are themed drinks and lovely views absolutely everywhere. Some contenders are:
Katsura Grill: The outside tables have trees for shade and in the later afternoon, it's rarely crowded.
Les Halles Boulangerie-Patisserie: Ooh, la, la, perfect French food. But the seating there is horrible and loud. Take your cheese and baguette to a bench by the water, grab a glass of champagne from the walkway stand and problem solved.
Tangierine Cafe: The food is tasty and, depending on what you order, it could be light. There are a few tables inside in the back that are dark and quiet.
Yorkshire County Fish Shop: Like the hot dogs at Casey's at the Magic Kingdom, the fish and chips served here aren't exactly romance food, but the view of the World Showcase from the lakeside tables is perfection.
La Cantina de San Angel: Again, great views of the lake and lots of tables for two nudge this into romance zone.
While the value resort food courts are too loud and too bright for real romance, there are a few spots for romance at the moderate and deluxe resort quick service spots, as well as at Disney Springs.
Hurricane Hanna's, Yacht & Beach Club resort: On the plus side, great views of the lake and Stormalong Bay pool on the minus side, boring menu and not very private.
Maji Pool Bar, Animal Kingdom Lodge Kidani Village: On the plus side, nice pool view and very isolated. On the minus side, the menu is limited and you're never going to there if you're not staying there.
Sassagoula Floatworks, Port Orleans French Quarter resort: Beignets are romantic. That's all you need to know.
Geyser Point Bar and Grill, Wilderness Lodge resort: This hybrid quick service restaurant and bar has comfortable seating, delightful views of the lake, and a fun cocktail menu. No much to say in the minus column except that since is also a bar, the servers tend to hover, asking if you want more drinks.
Amorette's Patisserie, Disney Springs: This is primarily a bakery, so the meal menu is not large, but they do have savory crepes, champagne, and eclairs – really the perfect formula for romance. The setting is not particularly nice though, and if it's busy it can get loud.
Also keep in mind that many of the hotel lounges serve table service food at less than full table service prices. The lounges are often dark and quiet, sometimes with low-volume background music. These can be great choices for a romantic light meal, but if you're trying to keep costs down remember that with any dining where there is service, you'll have to budget for gratuities.
Among the options here, my choices would be Geyser Point, Satu'li Canteen, Amorette's, and, oddly Casey's Corner. But of course romance is in the eye of the beholder and anything can be romantic if you're in the right mood.
What would your choices be for romantic quick service restaurants at WDW? Let us know in the comments.