REVIEW: Is Docking Bay 7 the Best Quick Service Dining at Disney's Hollywood Studios?
When Star Wars Galaxy's Edge opened one year ago, there was much discussion about the food and beverage offerings at the galactic outpost. One of the ways a theme park can immerse its guests into each themed environment is the food. At Docking Bay 7 Food and Cargo, inside Star Wars Galaxy's Edge, you'll find immersive details, even down to the menu and the meal itself. Our team ventured to a galaxy far, far away to have lunch, based on your votes on Twitter.
Docking Bay 7 Food and Cargo is the main food and beverage location inside Galaxy's Edge. It is a counter service location with indoor and outdoor dining spaces that are well-themed. It is a fun environment in which to dine. Mobile ordering is available here, making it a great choice for convenience, environment, and flavor.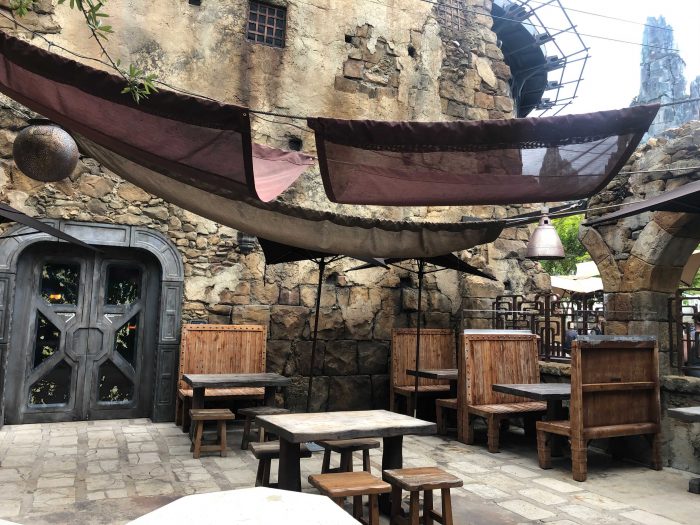 Cast Members are stationed outside of Docking Bay 7 to assist with mobile ordering questions and direct guests to the appropriate window once their order is ready. Moving to exclusive mobile ordering reduces crowds and enhances social distancing.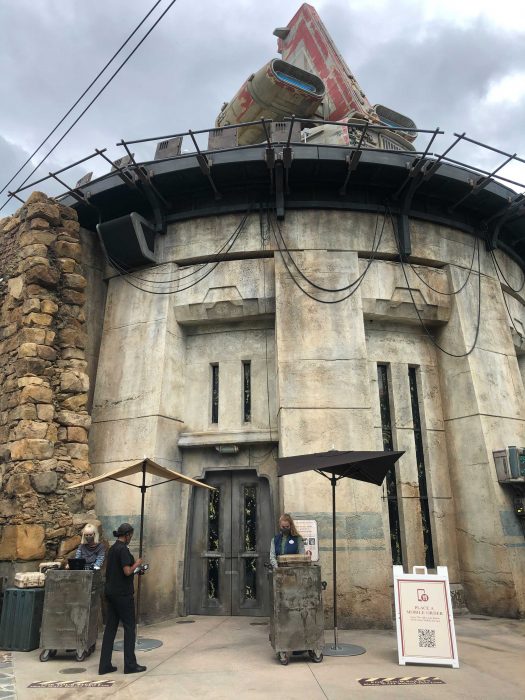 Our readers have submitted over 500,000 surveys in the past few years and Docking Bay 7 is well rated. It has earned an 88% thumbs up rating and is ranked number 38 out of 109 counter service and quick dining options at Walt Disney World. The menu is a good balance of simple approachable options like ribs and fried chicken, as well as fare that some might consider adventurous like the plant-based Felucian Kefta and Hummus Garden Spread – which is one of the most popular plant-based dishes in all of Walt Disney World. Specialty cocktails and non-alcoholic specialty drinks pair great with your galactic meal. Breakfast is a great option here too.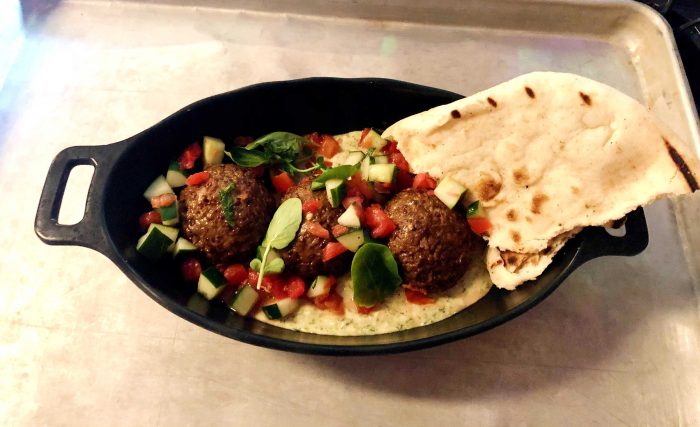 The plant-based Felucian Kefta and Hummus Garden Spread is exactly what our field reporter ordered. It is a great option if you want something satisfying without being weighed down. The plant-based meatballs have some spice to them without being overly spicy. The texture does give away that it is plant-based, but the flavor is delightful. The hummus and diced tomato and cucumber are refreshing, and the pita bread is light and airy. For $12.99 it is a decent value, but would feel like a better value at $10 -$11.
If you want to escape the traditional burgers and fries or pizza options found in all theme parks, Docking Bay 7 is the way to go. For many Disney fans, it is the best quick service inside Disney's Hollywood Studios in terms of overall experience.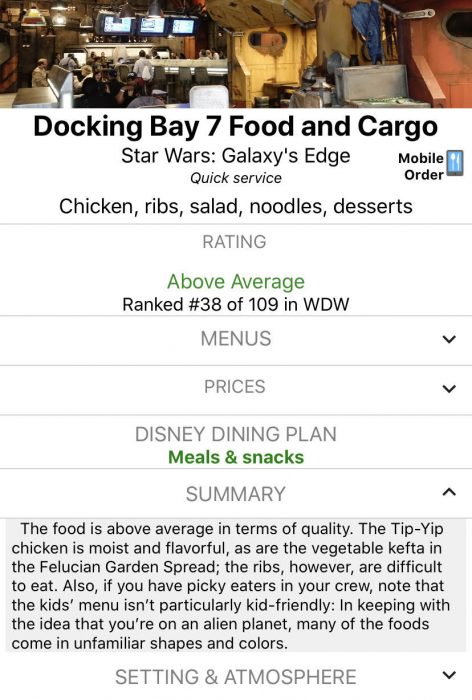 Become a TouringPlans Subscriber and you'll have access to ratings for all Walt Disney World restaurants, right at your fingertips in our Lines app.
Have you ventured to Docking Bay 7? Make sure to follow us on Twitter and Instagram so you can be part of our polls, and come along with us during our daily visits to the parks!