FAQ: Get to Know Quick Service Dining at Walt Disney World
When you're planning a Disney World vacation, one term you'll run into quickly is "Quick Service Dining." Here's everything you need to know about what it is and where to find it.
Last updated June 2023
So what is Quick Service Dining?
Quick Service Dining is what folks out in the non-Disney world might call fast food. In general, Quick Service Dining is a food service venue where you walk up to a counter, place an order, receive a tray of food, and take it to a table on your own.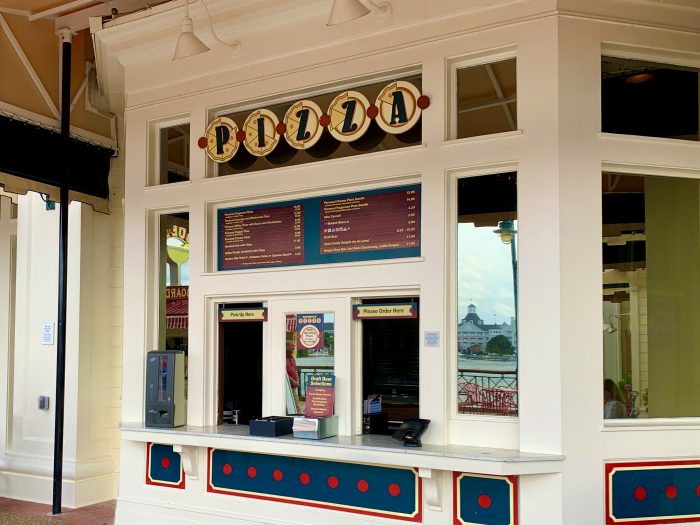 So it's what most people would think of as theme park food?
Well, there's certainly plenty of Disney World Quick Service food that feels theme park-ish (burgers and fries, hot dogs, funnel cake), but there are also healthy and inventive quick service fare available throughout Walt Disney World.
What do you call Disney World food that's not Quick Service?
Other terms that Disney uses to describe food service locations are "table service," "signature dining," "buffet," "family style," "casual dining," "character dining," "bar," or "lounge."
The terms you might hear that are in some ways related to, or synonymous with, Quick Service Dining are "counter service," "fast casual" (which is not the same a casual), "food truck," or "food cart."
How many Quick Service restaurants are there at Disney World?
It depends a little on how you're counting, but overall there are approximately 200 quick service places to eat at Disney World. Though many have remained virtually unchanged for decades, others are regularly added, subtracted, or reconfigured.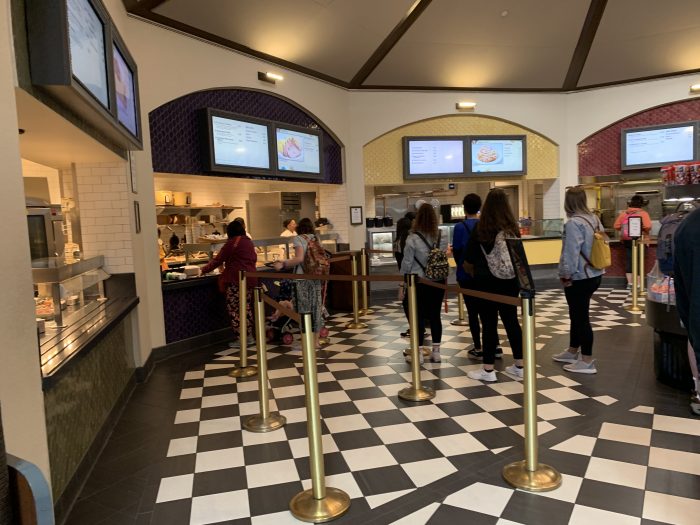 Where are the Quick Service restaurants at Disney World?
Pretty much everywhere. There are Quick Service venues at all four theme parks, at both water parks, at every resort hotel, at Disney Springs, at ESPN Wide World of Sports, and I'm sure somewhere else that I'm forgetting.
OK, so there are a lot of them. How do I find them?
Quick Service locations are indicated on the park maps (both print and online) for park locations, on the resort maps for resort locations, on the Disney Springs app for Disney Springs location.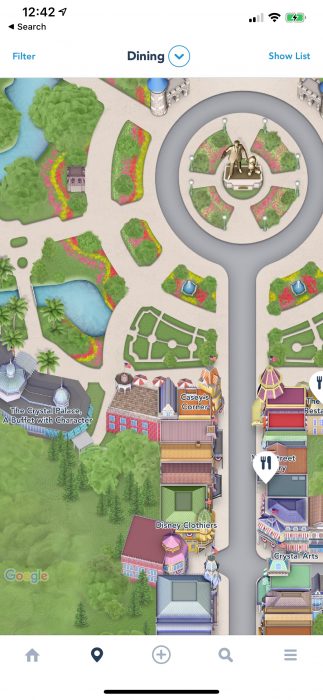 On the My Disney Experience app, go to the park (or other location) map, selected the "Dining" filter, and you'll see the map populated with little fork and knife symbols. Click on the symbols for more information about that dining location. One helpful feature is that restaurants that are not open are not marked by the fork and knife symbol.
Do I need a reservation for a Quick Service restaurant?
Not usually. That's generally one of the defining features of Quick Service dining.
What do you mean "not usually"?
Every once in a while Disney creates a venue that has hybrid service, for example an restaurant that has Quick Service (counter ordering) at lunch and has table service (wait staff service) at dinner. Currently, the notable example of a hybrid restaurant is Be Our Guest at Magic Kingdom. Breakfast and lunch at BoG are sort-of quick service, in that you order your food at a kiosk, and you collect your own utensils and beverages, but a cast member brings the food to your table. Due to the popularity of this location, you do need a reservation, even for this hybrid Quick Service experience. [Dinner at BoG is a traditional table service.]
Why would I eat at a Quick Service restaurant at Disney World?
Lots of reasons, including:
The restaurant offers the food you want to eat.
You want to adhere to a modest budget.
You don't want to take much time out of your park touring to eat.
The restaurant is in a convenient location. [For example, the WDW value resorts only have Quick Service food options.]
You're on a version of the Disney Dining Plan that requires you to eat Quick Service meals. [Note: the Disney Dining Plan is returning in 2024.]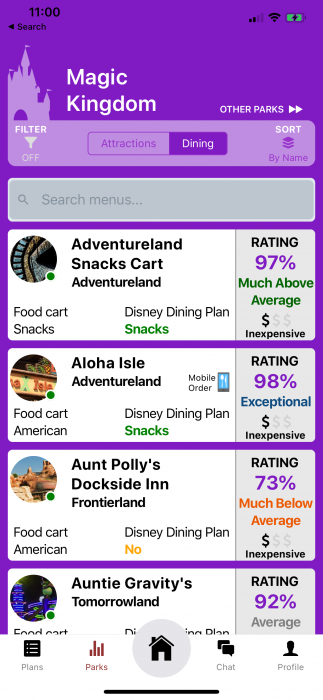 So, for Quick Service, I walk up to a counter and order?
There are two ways to order at Quick Service venues. You can walk up to the counter and order or alternatively you can mobile order your food at most WDW Quick Service restaurants.
What's mobile order?
Mobile order is placing your food order for a restaurant on a smart phone or other device rather than by speaking directly with a person. (If you've ever mobile ordered at a place like Starbucks, then you understand the procedure.) Disney World mobile order takes place on the My Disney Experience app. The app will ping you when your food is ready and you pick it up at the counter.
You can see a complete description and a video on how mobile order works on the TouringPlans.com website.
What are the prices like at Disney World's Quick Service restaurants?
As with all things Disney, it depends. You can get a sour pickle at food carts in the parks for about $2.00 or you can get a three meat combo platter with a side dish and Texas toast at Epcot's Regal Eagle for about $19.00. Most Quick Service full meals cost about $13-16 at lunch and dinner. Breakfast is a few dollars less.
Are there meals for kids at Quick Service restaurants?
Absolutely! (You know this is Disney World, right?)
For the complete scoop on Disney World Quick Service kids' meals, see our dedicated post on that topic.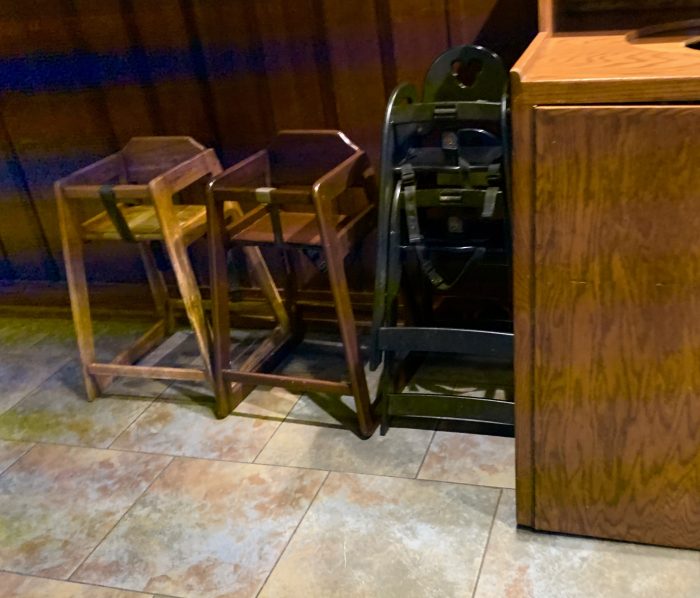 Are there high chairs at the WDW Quick Service restaurants?
Mostly, yes. In my experience, there are high chairs and booster seats available at all the Quick Service venues that offer indoor seating. Some, like the Magic Kingdom's Lunching Pad, have solely outdoor seating. High chairs may be in short supply there.
I'm a single parent with a lot of kids, how do I get all my food from the counter to the table?
Disney cast members are happy to assist anyone who needs help with this, whether it's single parents or guests with physical challenges. Just ask and a cast member will carry your tray for you.
Can I bring a stroller into a Quick Service restaurant at Walt Disney World?
Usually not, though if you're eating at a particularly empty time and find a particularly kind cast member, they might let you, say, bring a stroller inside if your child is asleep.
If you really want to keep your child in a stroller while you dine, look for a venue that has outdoor seating.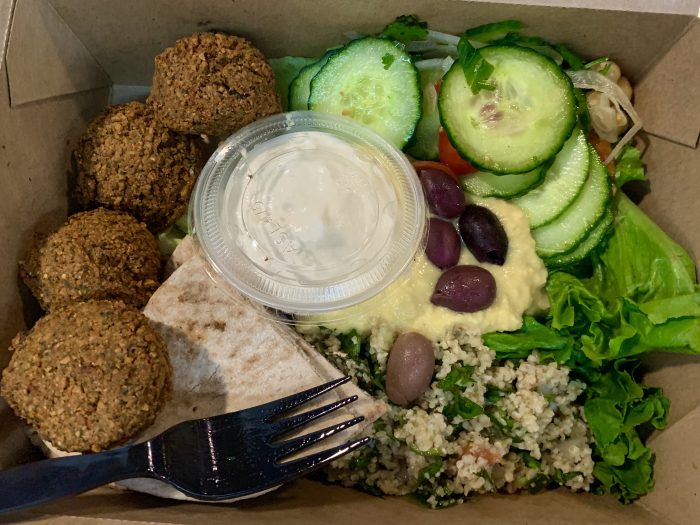 Can adults order kids' meals at Disney World Quick Service restaurants?
Yes! There are lots of reasons why adult might want to order a kids' meal: preference for the food offered, cost control, portion control, and so on. There is no one checking the ages of who is buying kids' meals at Quick Service restaurants.
I just want a simple hamburger. How do I know where to find this?
You can use the TouringPlans website to search for any food item. You can refer to our post on how to do that.
I'm a vegetarian. Are there Quick Service options for me?
Sure. Just about every Quick Service venue has at least one vegetarian entree option, or at least an option that's easily modified to become vegetarian. For example, Cosmic Ray's Starlight Cafe in the Magic Kingdom offers a Greek Salad with Chicken. You could ask them to omit the chicken to create a vegetarian dish. Cosmic Ray's also serves a decent plant-based vegan sloppy joe, as well as several vegetarian side dishes.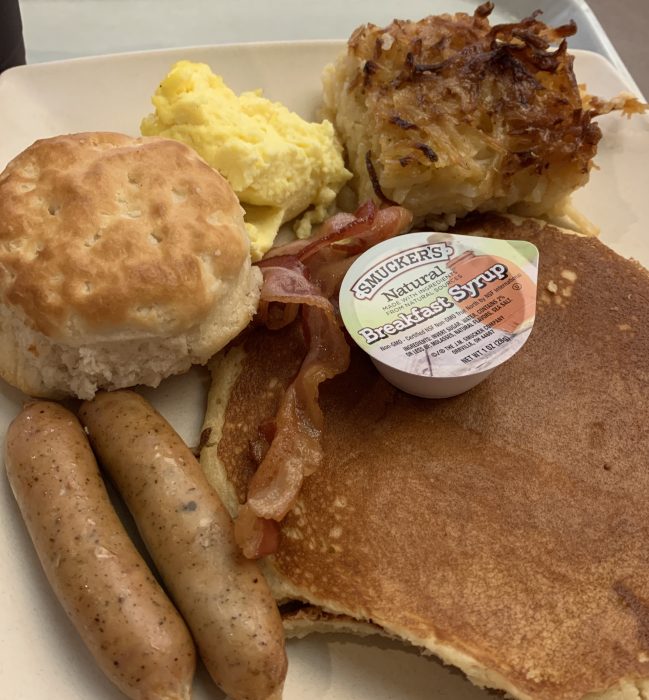 Someone in my party has a food allergy, how do I know if the Quick Service food is safe for them?
The TouringPlans website includes listings of allergy-friendly menu items at each restaurant. For example, our page on Cosmic Ray's shows allergy-friendly options for both adults and kids.
Additionally, all Disney Quick Service restaurants keep a binder in the kitchen which includes the complete ingredient list for every item they serve. You are welcome to ask to look at this binder to understand the ingredients in the food your child is consuming. Just ask anyone behind the counter.
There may be off-menu items available to guests with allergies or food intolerances. Again, ask at the counter. You may also want to consult Disney's official statements related to dining with allergies.
I don't want junk food while I'm at the parks. What can I eat at a Quick Service restaurant that won't make me feel ick?
Disney has done a decent job in recent years of adding healthier, "real food" menu items to Quick Service locations throughout the parks and resorts. If the Quick Service restaurant you're closest to doesn't offer what you're looking for, try a few others and you're likely to find something that meets your needs.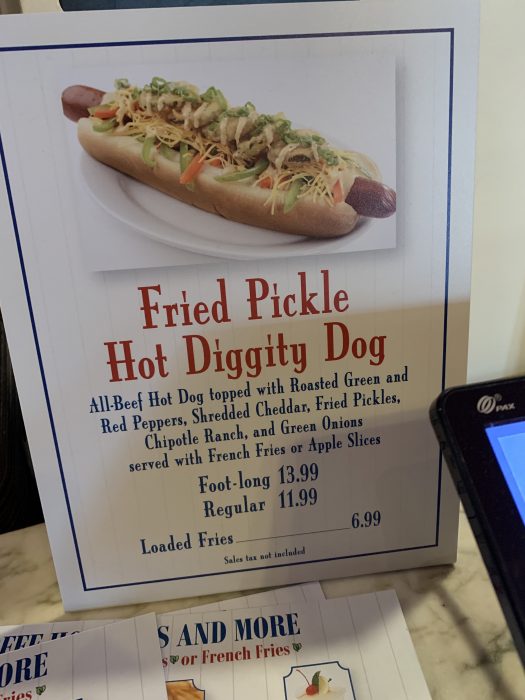 Do you have any examples of real food at Walt Disney World Quick Service restaurants?
Sure. Here are some possibilities:
Pecos Bill Tall Tale Inn (Magic Kingdom) – Chicken and rice bowl, topped with black beans, lettuce, and tomato
Docking Bay 7 Food and Cargo (Hollywood Studios) – Raw tuna tossed with sriracha dressing, served with green papaya salad
Satu'li Canteen (Animal Kingdom) – Chili-garlic shrimp, topped with vegetable slaw
Sunshine Seasons (Epcot) – Oak-Grilled Salmon with mashed potatoes and ratatouille
Landscape of Flavors (Art of Animation resort) – Greek salad with red pepper hummus, grilled shrimp, or grilled chicken
What's your favorite Quick Service restaurant at Walt Disney World?
This is like asking me to choose my favorite child. There are so many! Some that I return to frequently are Columbia Harbor House (Magic Kingdom), Flame Tree BBQ (Animal Kingdom), and Katsura Grill (EPCOT, Japan).
What do TouringPlans readers think the best WDW Quick Service restaurants are?
All of TouringPlans reader ratings are available online. To find their Quick Service picks, change the last filter menu from "all categories" to "Quick Service." The top rated places are below.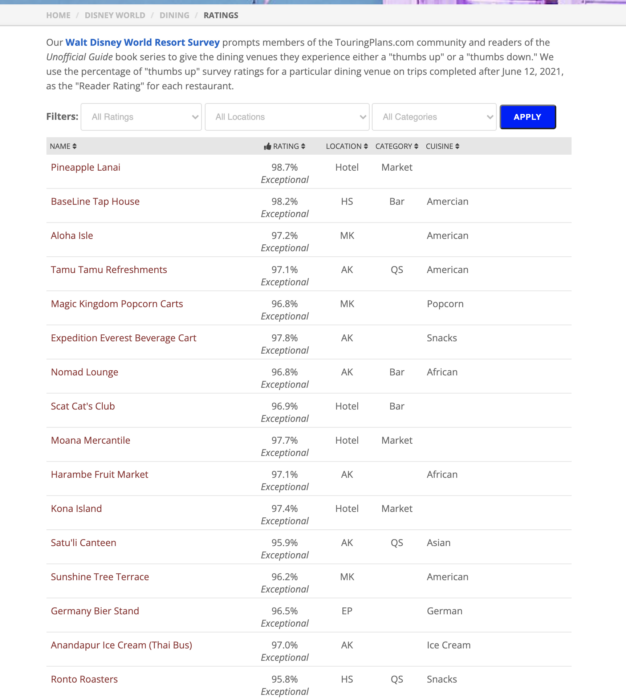 Have any other questions about Quick Service dining? Let us know in the comments.
Originally published September 14, 2020