Are You Sure This Is Quick Service? (At Disney's All-Star Sports)
The man behind me looked at the menu board, and nudged me. "Do you know if this would be a quick-service dining plan credit?" he asked. I nodded, and before I could continue he said, "They have steak here, so I'm not sure."
If your Disney dining plan quick-service experience has been an abundance of chicken tenders and burgers, the offerings at Disney resort hotels may surprise you. At All-Star Sports, a Value resort, the dinner menu includes specials of the day, grilled steak, roast turkey, salmon, and more. (And yes, you can still get burgers, including plant-based versions, and chicken tenders, too.) On a recent trip, my husband and I tried two dinner entrees. First up, the aforementioned steak.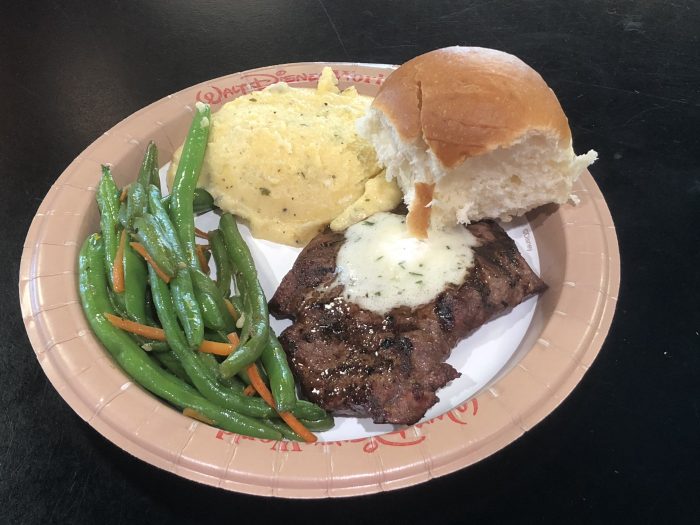 The steak comes with a choice of sides, and I went with the sautéed green beans and the cheddar polenta. Although I was wondering how the steak would fare on a paper plate and with plasticware, the steak was tender enough that it was easy to cut. With the herbed butter on top, it had great flavor and the sides were the perfect complement. The polenta was creamy and flavorful–better than I've had at some table-service restaurants. The green beans were fresh, and the portion size was good. The price for this meal is $15.99.
My husband ordered the special of the day–a pork ramen bowl.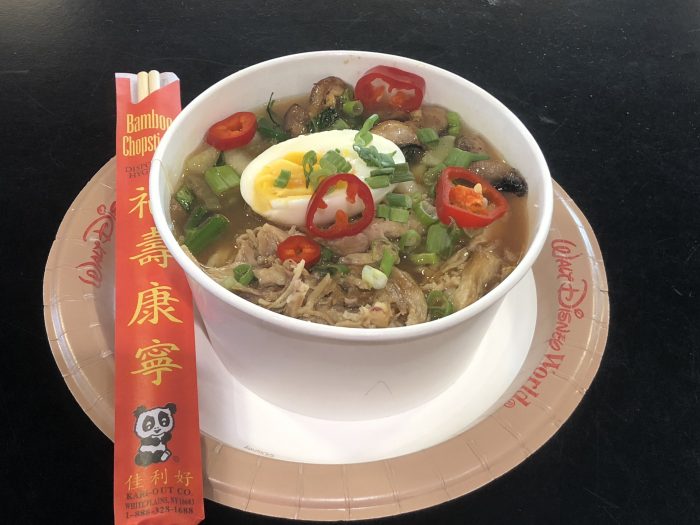 The pork ramen bowl comes with yakisoba noodles, broccolini, mushroom, and bok choy, with a half a hard boiled egg on top and with green onions and peppers available. The broth is a miso broth–very mild and not "ramen broth" per se. Overall, the dish was good, but on par what you would expect from a grocery store ramen bar. Still, for the $11.49 price tag it was filling, tasty, and a decent dinner. Other nights include specials like crab cakes, pork Osso Bucco, and pot pie, so if you're staying at All-Star Sports, you will have many options throughout your stay.
Do you think Value resort food courts get a bad rap when it comes to food quality? Have you had a stand-out dish? Does it seem a bit strange to get a steak dinner as a quick-service dining plan meal? Let us know what you think in the comments.