Carthay Circle World of Color Lunch Dining Package
For a delicious view with a guaranteed viewing location for World of Color, Carthay Circle at Disney's California Adventure offers lunch and dinner prix fare options. In many respects, dining packages with reserved viewing are hit or miss–when crowds are high, it is nice to know that you'll have a guaranteed place for seeing a show, but sometimes you're paying a premium unnecessarily. Still, any meal at the Carthay Circle is a delight, and since my family and I had never seen World of Color (and only had one night to make it happen), we figured it was worth the premium.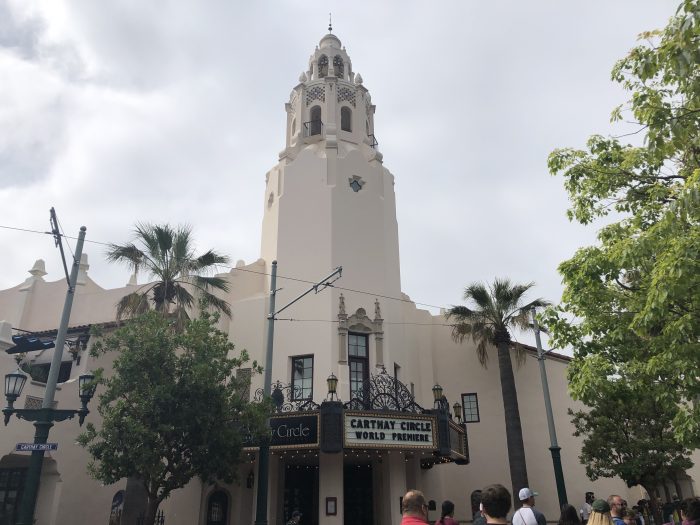 The interior of the Carthay Circle is simply gorgeous, with rich colors and elegance. It was suggested that we explore around the restaurant to see the historic photos and nods to Snow White and the Seven Dwarfs which premiered at (you guessed it) the Carthay Circle Theatre.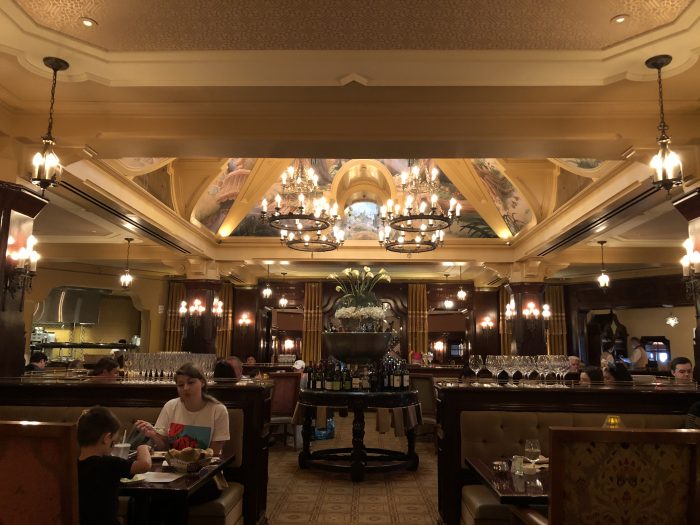 At Carthay Circle, if you're doing a World of Color lunch dining package, you are offered a prix fare menu, which highlights selections from the main menu. Both adults and kids have their own menu to select from. The adult menu is $56 per person for a three-course meal plus soft drink, coffee, or iced tea.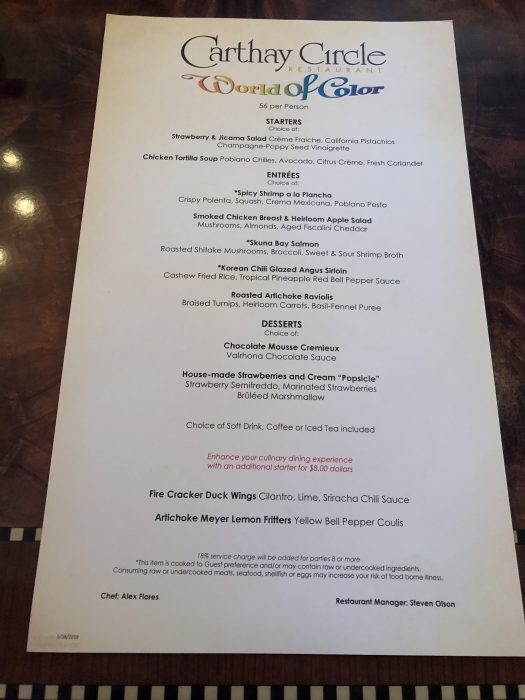 The kid's menu is $25 and also includes three courses. The drink was not listed as being included in the price, however we did not pay extra for a non-alcoholic kids' beverage.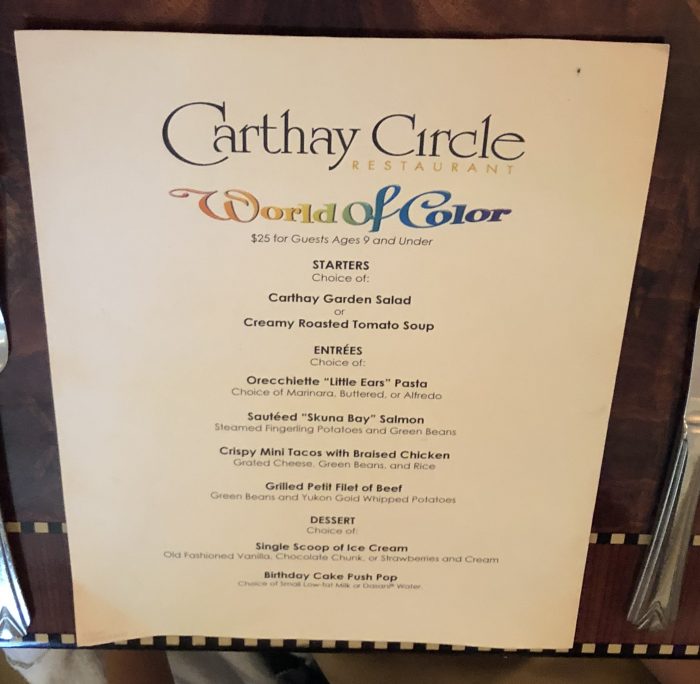 For appetizers, my husband went with the chicken tortilla soup. The soup had a good flavor, moderately spicy (in his view, but too spicy for my tastes), but a little on the thin side. Overall, it worked well for him because it was cold out (by our Floridian summer standards!), but it isn't something he would order if it didn't come with the meal.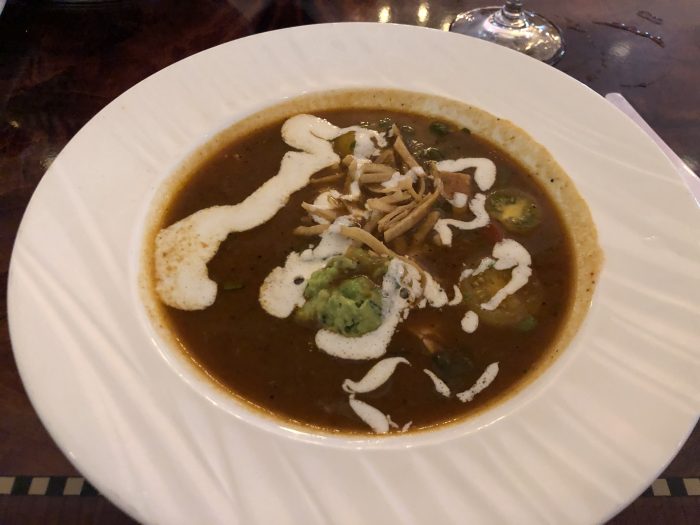 Instead, I went with the strawberry and jicama salad. I was intrigued by the idea of using herbed oil and crème fraîche in lieu of a salad dressing, but now I want to try that idea at home. Essentially it was a deconstructed salad dressing–and it was delicious. The crunch and slightly sweet taste of the jicama with the strawberries made this a refreshing springtime salad choice. I know I'm going to make this one at home.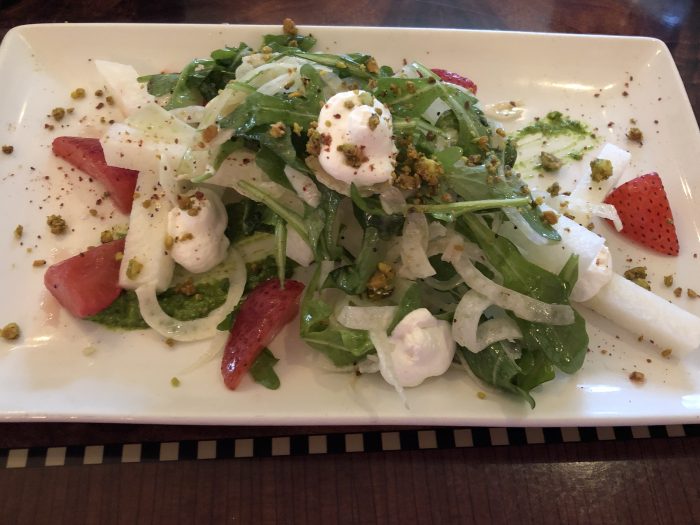 For my daughter, she also went with the salad on the kid's menu and was delighted to see it was iceberg lettuce, cucumbers, and croutons–her idea of a perfect salad.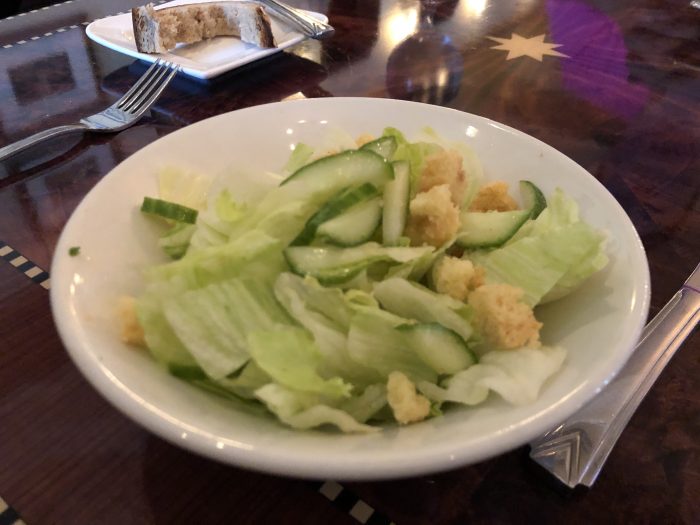 Moving on to entrees, first up was the Korean Chili Glazed Angus Sirloin with cashew fried rice. The flavor was good and surprisingly not all that spicy. (I see the words Korean Chili and I avoid out of habit, but this was a dish I could comfortably eat.) The steak was cooked more done than was requested (shown here is what was supposed to be medium-rare). The rice with it was an interesting take, but overall, I think there are better options on the menu.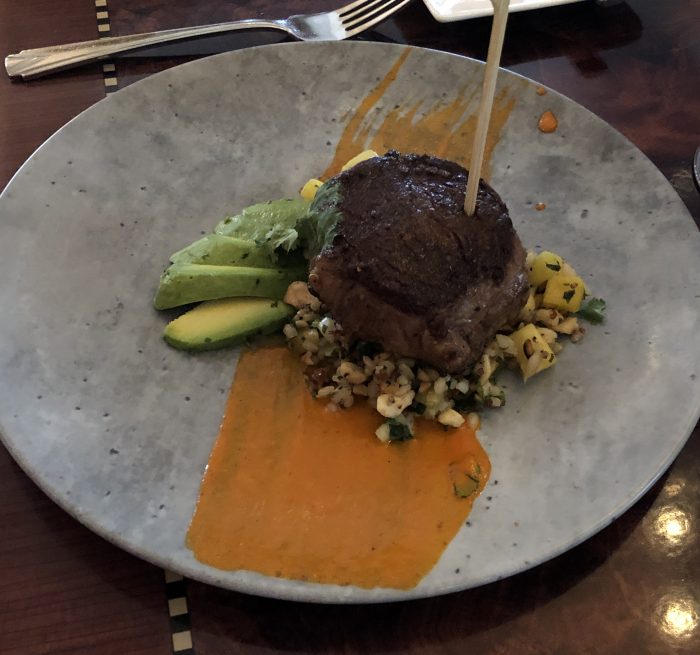 The other entree we ordered was the Skuna Bay Salmon. Before I talk about this dish, I want to give a huge shout out to the serving staff at Carthay Circle. By far, they were the most attentive, most knowledgable, and most cooperative servers that we had during our stay at Disneyland when it came to working with everything from the picky eater in our party to the various allergies and sensitivities. If you're looking for top-notch service, this is a fantastic option. Make sure to use their resources to answer any and every question you have about the menu.
Although I have food allergies, most of them are not severe enough that I have to request an allergy menu or speak to a chef to figure out if the food will not kill me. In general, I'm okay with looking at the menu and can avoid my allergens and only if the description is not that precise do I need to ask. (For instance, does the "Vegetarian Pad Thai contain tofu?") And while I don't require that every menu item lists every single ingredient, if there's a significant aspect to the dish, I like to see that declared. For the salmon, which (spoiler alert) was delicious, the salmon had a sesame crust on it that wasn't mentioned in the menu. Moral of the story, it's always better to ask in all cases, but I would also like to see Disney be more proactive about the menu description. Simply adding "Sesame-Crusted" to the name of the entree would have solved this nicely.
Now, onto the dish–on the east coast, the "designer salmon" of choice is Verlasso, so I was not familiar with Skuna Bay. Overall, I don't think I'd be able to tell the difference between the two, but compared with "normal" salmon the quality is far superior. Having the sesame crust on it was delightful and really made this dish pop with the slightest bit of crunch to an otherwise soft meal. The broth didn't taste particularly over-the-to- sweet or sour to me, nor "shrimpy", but added just the right bit of flavor to bring the dish together. Overall, you're ordering this dish for the salmon–the shrimp, broccoli, and mushrooms are just along for the ride (and that is a-OK with me!).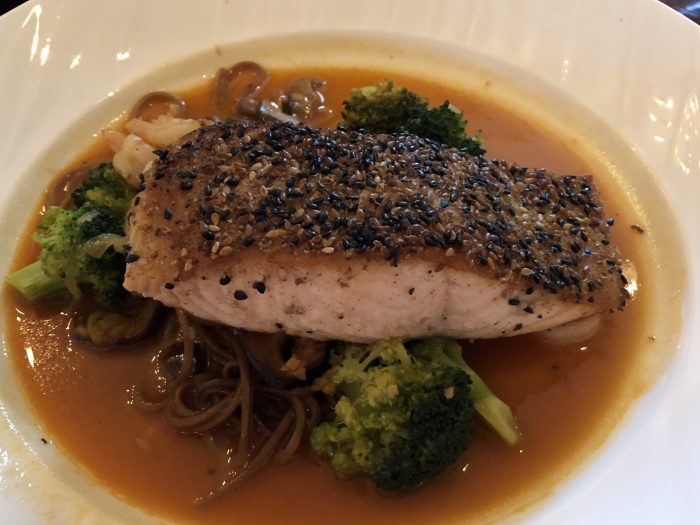 And when it comes to a kids' meal, I'd say that there's no way to ruin plain pasta with butter, but I've seen from experience how that can actually happen. Thankfully in this case, the dish was exactly as advertised–plain pasta with butter (and a hearty side of parmesan brought upon suggestion of our server).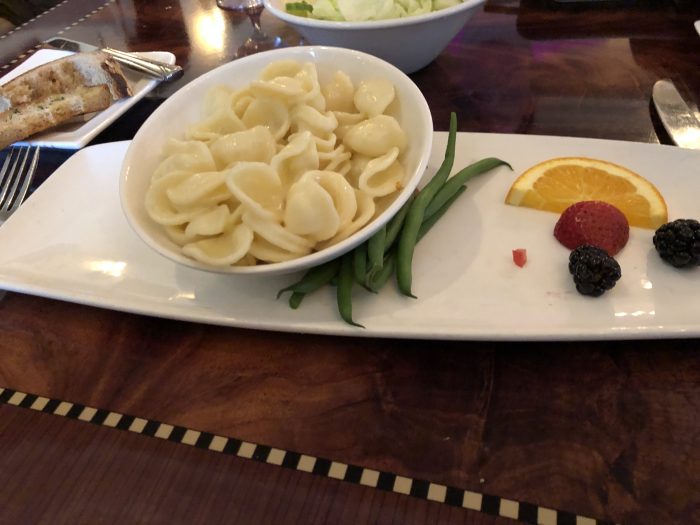 For dessert, the idea of the strawberries and cream "popsicle" intrigued me. When it came out, I had quite the dilemma–what's the proper way to eat a dish like this? It's a popsicle, so I thought about picking it up by the stick and gnawing on it. But it's a dessert with several items on the plate, and so I went with a knife and fork. I don't think there's a way you can go wrong with this, and if you like strawberries, this is the dessert for you. Realistically, I wouldn't have missed the marshmallow fluff if it wasn't on the plate. I was just there for the popsicle, which tasted almost like a white chocolate-dipped strawberry ice cream bar. It may not be the fanciest dessert ever, but it was delicious and that's what matters.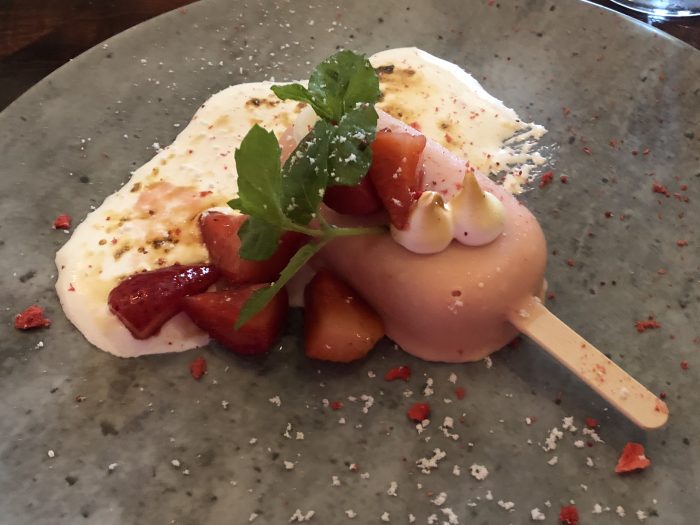 In the category of "this looks like a high-end dessert" was the chocolate mousse, which I believe was shaped to look somewhat like the dome of the Carthay Circle theater. The mousse was light and fluffy, but the dish was not painfully sweet (thankfully). Overall, I preferred the strawberry dessert, but if this was the only option, I would have been pleased with it as well.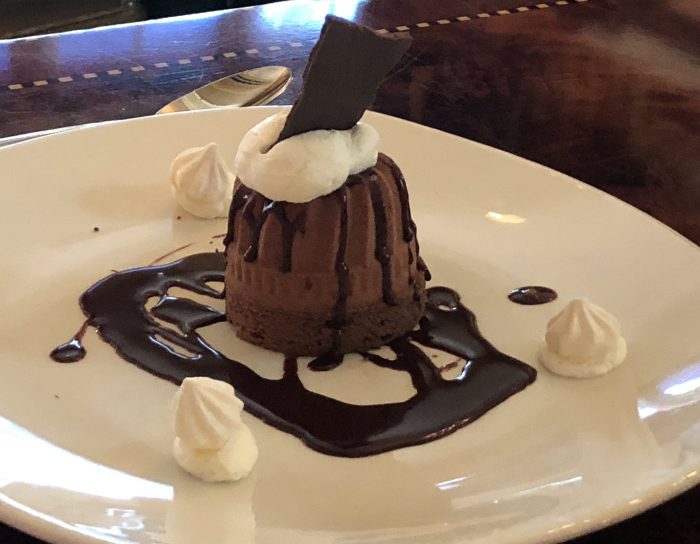 On the kids' menu, my daughter went with the birthday cake push pop. If you need your kids to have a massive sugar rush, may I suggest this dessert. When "push pop" was mentioned, my daughter was thinking perhaps that it would be birthday cake-flavored ice cream in the push pop. What you see there is pretty much frosting with a bit of cake bits mixed in. Yep, a big ol' push pop of frosting. For some kids, this is a dream come true, but my daughter found it too much for her sweet tooth. (That said, when I was her age, I would have been licking that thing clean because FROSTING!!)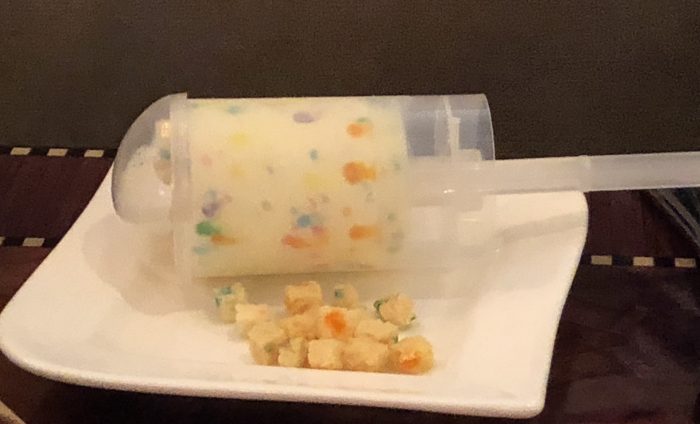 Overall, our meal was wonderful, and the price felt reasonable for what we ate. Because it is a seasonally influenced menu, what you see on the menu on upcoming trips may vary. On our way out, we took some time to look around–it is an amazingly beautiful place to dine.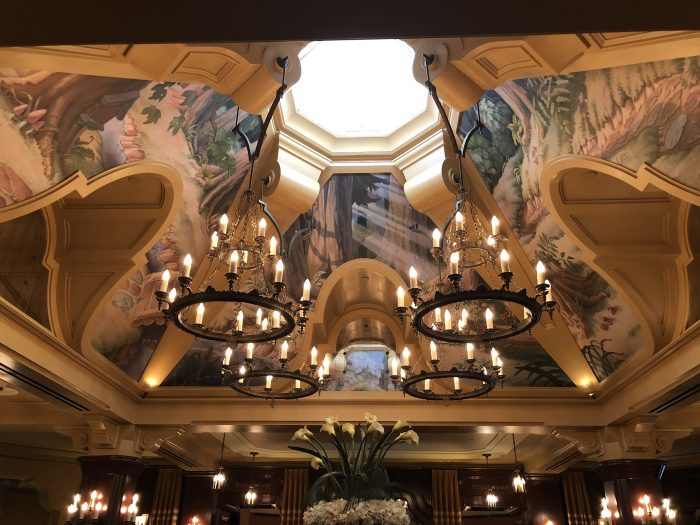 Part of the premium we paid for the meal was to have reserved access to World of Color so that we didn't have to try and figure out where we were going or arrive horribly early to stake out a spot. The reserved area is across from the entrance for the Little Mermaid ride, and consists of an open area with steps where were were encouraged to sit while waiting for the show. FastPass seating is actually closer to the show (down on the water), and so I was a little surprised about why our "paid" area was behind the "free" area. The announcement at the beginning of the show that people in that area would get wet provided the perfect explanation. Our area was maybe 1/3 full, so we didn't feel crowded into the space the way everyone in other sections seemed to be packed in. Having access to steps to get a little bit higher was a huge plus for my daughter and I, but even on the lowest step, we still had a good view of the show. Standing next to the hand rail for the steps meant that we were certain that no one would stand directly in front of us, too.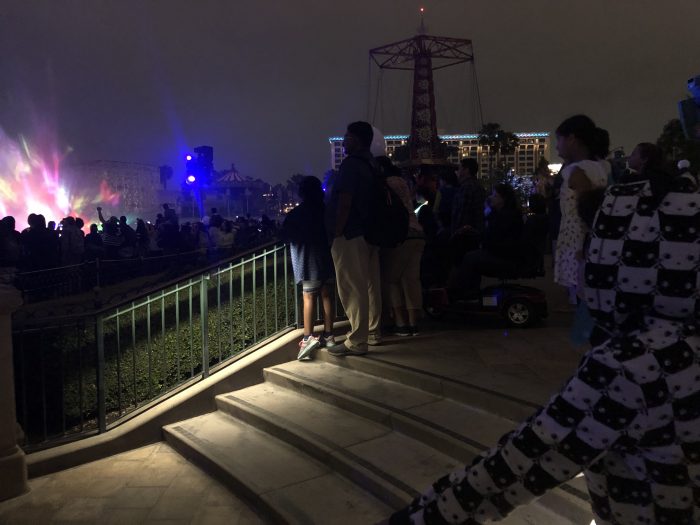 Was it worth the extra price? Probably not for people who are likely to catch World of Color more than once on their trip, but being first-timers and not knowing where the best viewing areas are, being concerned about arriving too early or too late, and not wanting to stress over details because we're on vacation, it was worth the added cost. One note for people coming from Walt Disney World, dining reservations are, by and large, much easier to get at Disneyland than at Walt Disney World. We were able to make this dining reservation the night before and had our choice of times still available. If you know this is a must-do, I'd suggest booking early, but if you're on the fence, unless it is a busy time of year, you may have luck booking closer to your actual visit.
What are your thoughts about dining at Carthay Circle or doing a World of Color dining package? Let us know in the comments.