More Big Changes for Epcot With New Play Pavilion and Park Entrance
The Epcot we know will soon be very, very different. While we've known about the Guardians of the Galaxy coaster, and Remy's Ratatouille Adventure for France, as well as other additions that have been announced, the big changes for this park appear to be sweeping. Today, we got confirmation that there's even more to look forward to.
Disney announced that a brand new pavilion is coming to the park – the Play Pavilion. The new pavilion will include first-of-their-kind experiences that are devoted to playful fun. At the Play Pavilion, Guests will be invited into an innovative, interactive city that will be filled with games and hands-on activities. Guests will also be able to meet their favorite Disney characters in a metropolis unlike anything ever seen before at Epcot. While the Play Pavilion isn't the area's official name, the new pavilion will be located in the former Festival Center/Wonders of Life Pavilion.
The Play Pavilion has a feel of Ralph Breaks the Internet, at least to me. Honestly, I'm very intrigued by the "sections" I see…the "Hotel" section, is very intriguing to me. I'm also curious about the "Cinema" and of course, there's a "Dance" section.
This new pavilion will open in time for the Walt Disney World Resort's 50th anniversary.
But wait…there's more!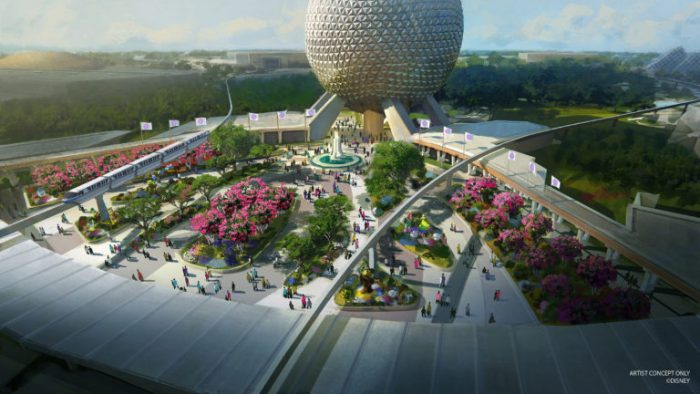 We also finally got confirmation that the front entrance of Epcot will be changing! (Bye bye Leave a Legacy Tombstones!) The new entrance plaza will welcome guests with new pathways, sweeping green spaces and a newly reimagined fountain. This new design will pay homage to the original park entrance with fresh takes on classic elements. (For those who have a Leave A Legacy photos, you'll still be able to see them. They will be moved, however, and will be located just outside the park's gateway.)
I am in love with all the green and foliage. Also, if you look close at the concept art, there are topiaries. I'm sure it's just showing what the park will look like around the Epcot Flower and Garden Festival, but I wish we'd see these topiaries all the time, like we used to see around Walt Disney World. And just look at the fountain! It's absolutely reminiscent on the one that used to be there.
There will also be significant redevelopment between Spaceship Earth and World Showcase Promenade, however details on that have not been announced, just yet.
Want to learn more about the redevelopment work that will be occurring at Epcot? Guests will be able to see the exciting plans for Epcot at the new Experience Center which will open later this year in the Odyssey Events Pavilion.
So, you see….Epcot is changing and in just a couple of years, the park will be completely re-imagined from what we currently know it to be.